I was finally able to help host another shower on March 3rd for Elana who is another girl in my young married's group. There are SO many couples pregnant right now, but this was one of the few showers I finally asked early enough about to be able to help. Anyway, all of us girls did different parts of the shower, and I think it turned out very nice. This was the weekend right before Grant left for Chicago for training for work, so this weekend was VERY busy. Right after the shower, I had Ally's birthday party to go to. Simon and Sarah were also visiting that weekend, and so Sarah came with me to the shower while Grant and Simon had guy time.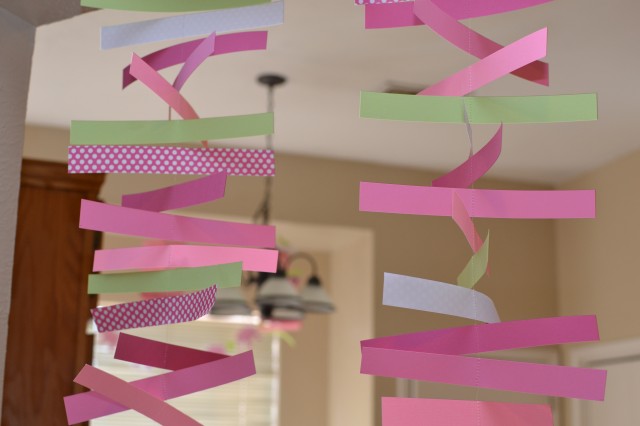 Some of the streamers that we saw on pinterest, Rachel cut out the strips, and I sewed them together.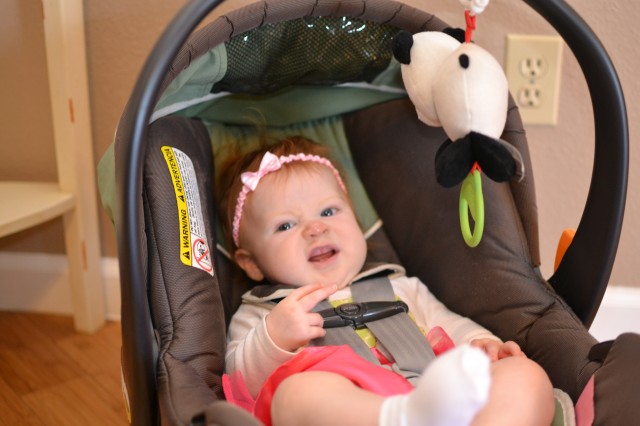 An updated Ruby picture who I helped throw my first shower for! This is her cute smiling face!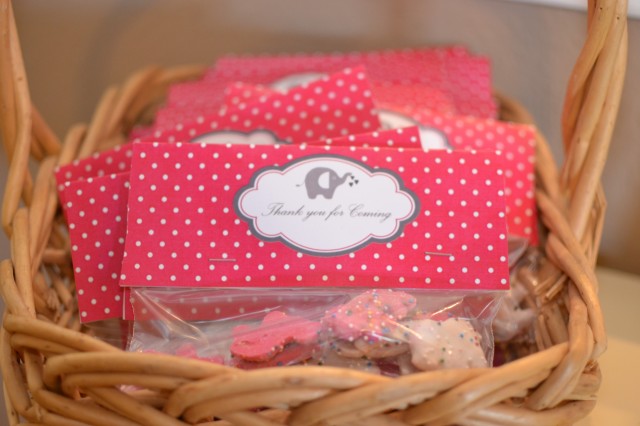 These are the doggy bags to take with you; the theme was elephants since that is what Elana is using for the baby's room. For this shower, I again made all of the signs/labels.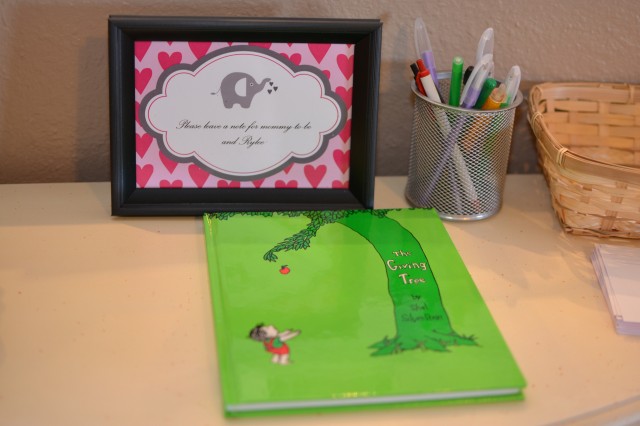 Here is Elana's favorite children's book. People left a cute message for Elana & Rylee(what they will call their daughter) to read later.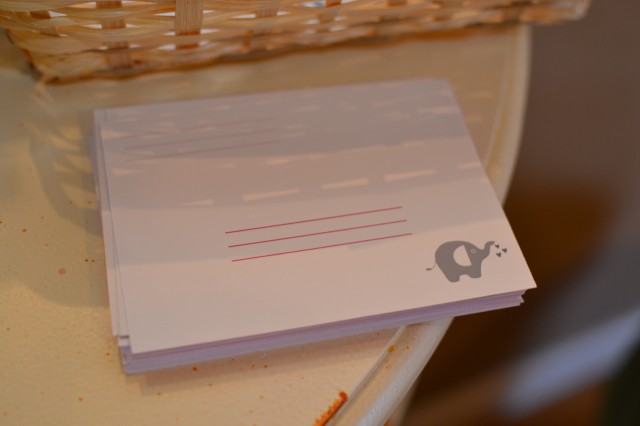 We try to design thank you cards so people can write their address down so that Elana only has to write her message and mail them.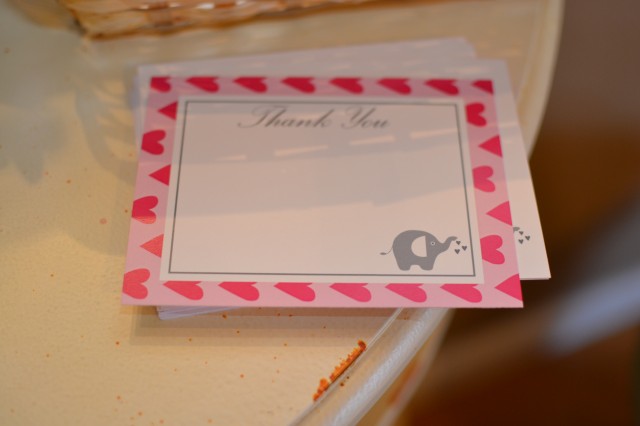 Here is the front side.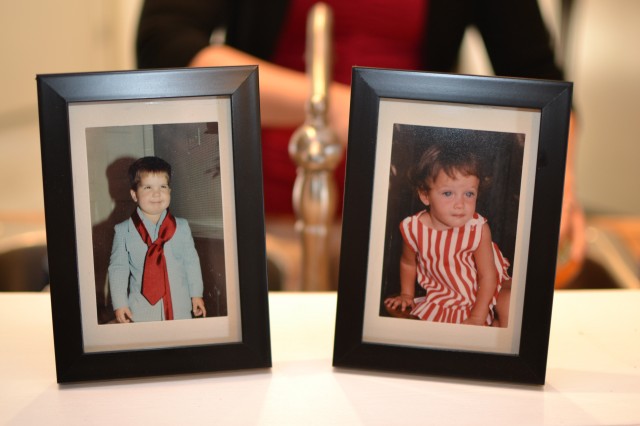 Here are some pictures of Ryan and Elana when they were younger.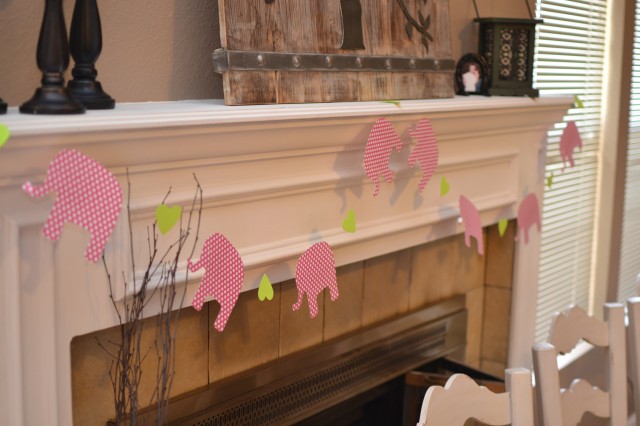 Some more decorations to support the elephant theme.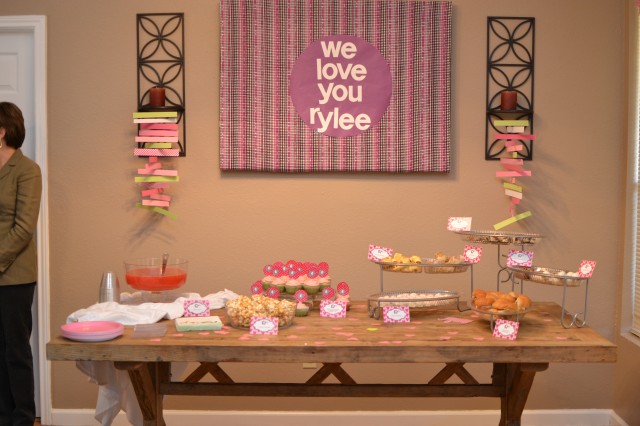 Here is the table with all of the food on it. Ashley and Rachel made the beautiful sign behind the table.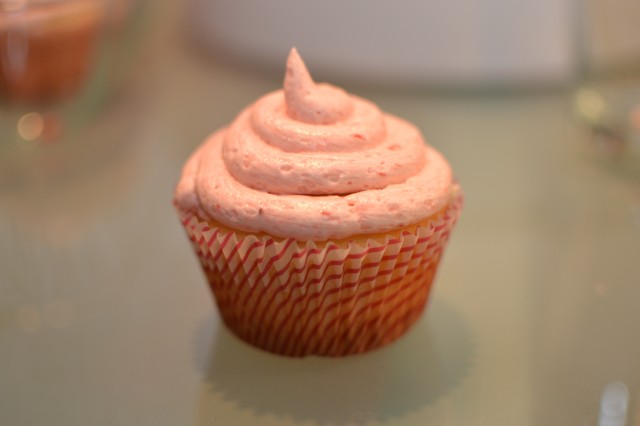 I made the cupcakes for this shower. I used my favorite Lemon Cupcake Recipe, but instead of the lemon icing, I made a strawberry icing.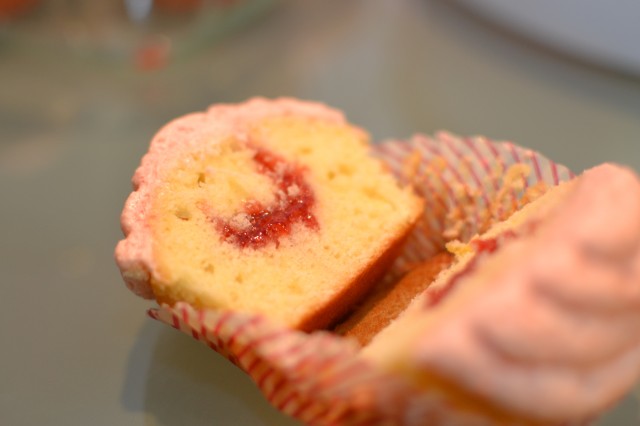 I also made a strawberry syrup that I put inside the cupcakes for a fun surprise.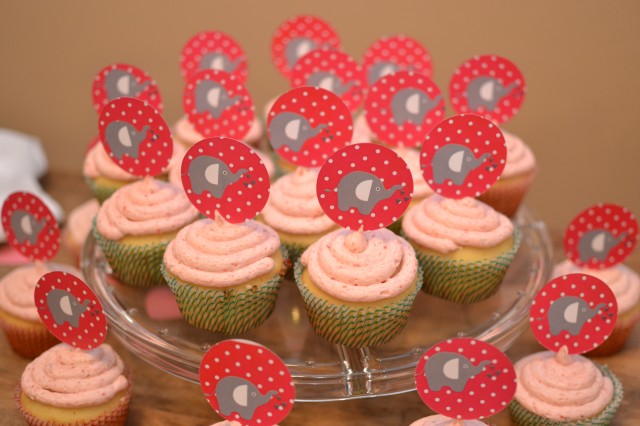 Here are the cupcakes with the elephant toppers.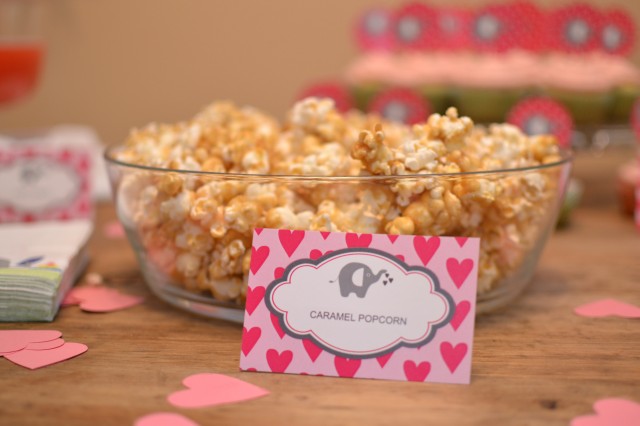 Here is the caramel popcorn that Ashley made.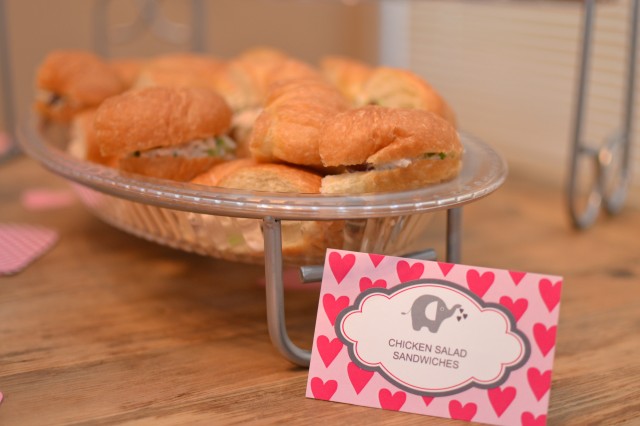 The Chicken Salad Sandwiches that Becky made.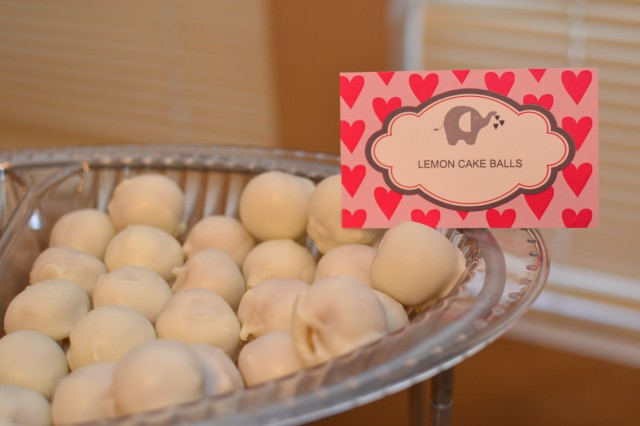 The Lemon Cake Balls that Rachel made.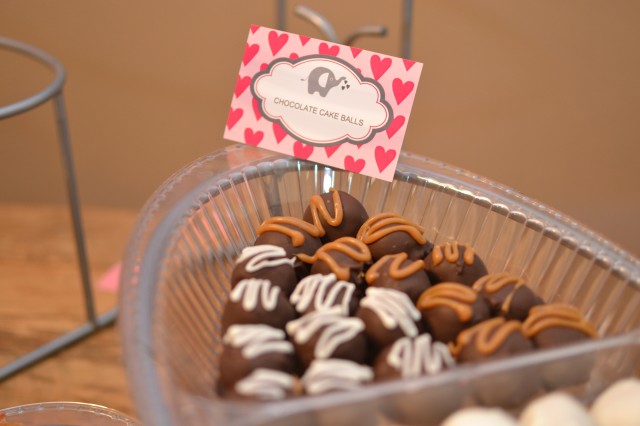 The Chocolate Cake Balls that Rachel made.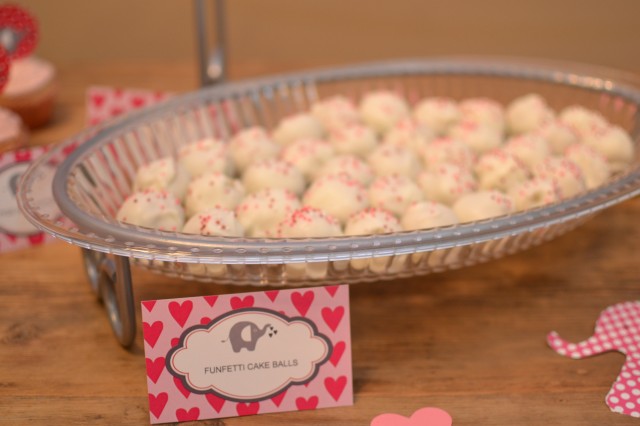 The Funfetti Cake Balls that Rachel made.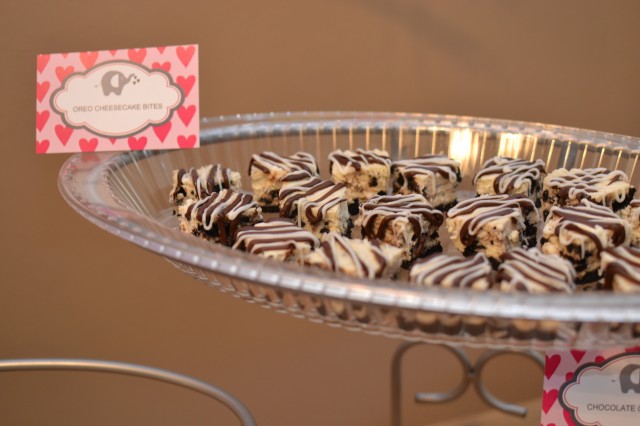 The Oreo Cheesecake Bites that Rachel made.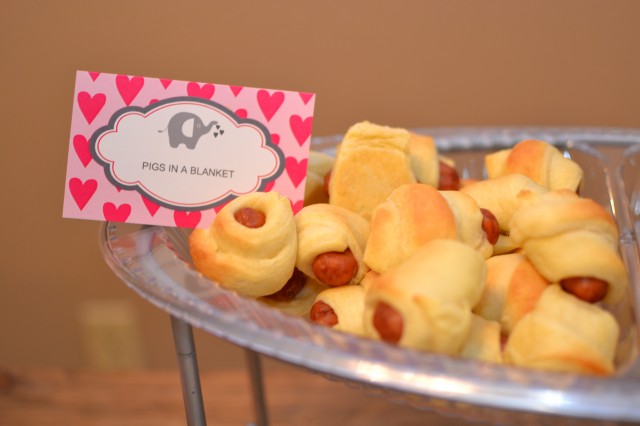 The Pigs in a Blanket that I made.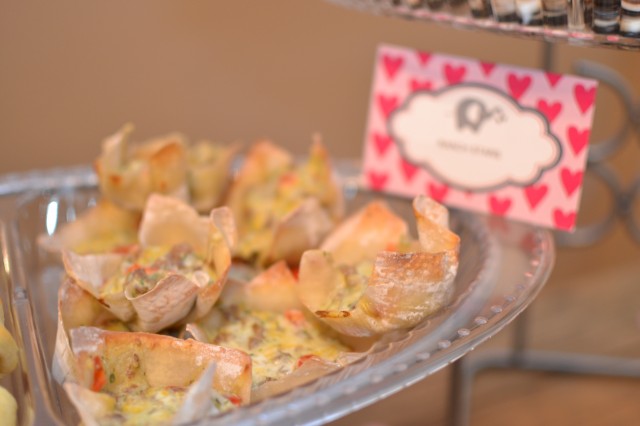 The AMAZING ranch stars that Ashley made. These were so good we begged her for the recipe which can be found HERE!!!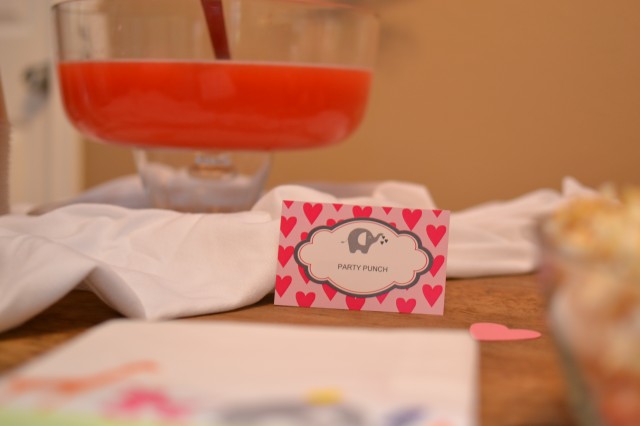 The Punch that Becky made using Tanya's Amazing Punch Recipe.
The water and Pink Lemonade that Brandie provided.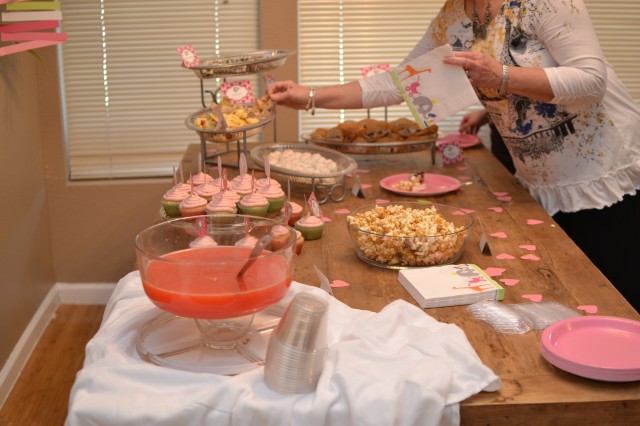 People eating food.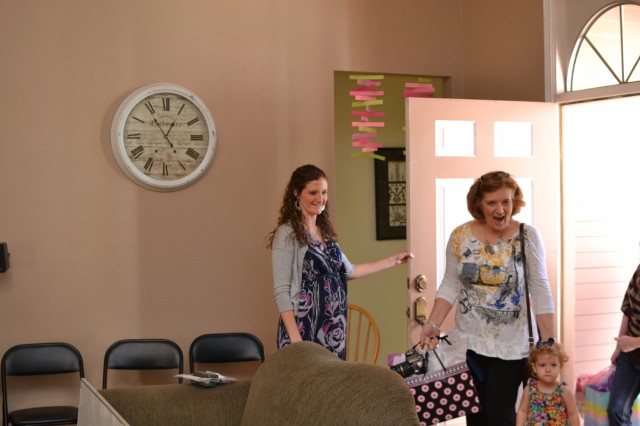 Elana and her family arriving!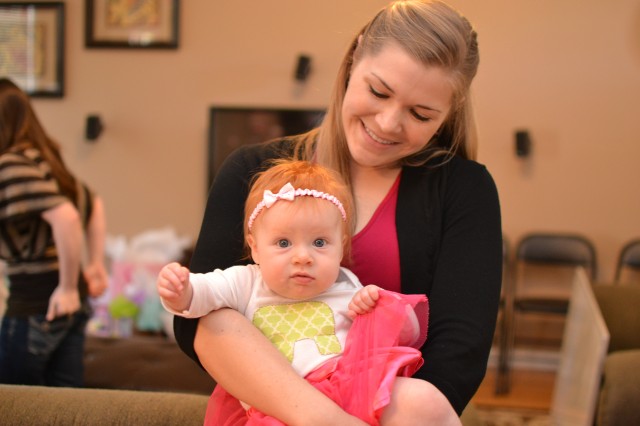 Ruby and Becky.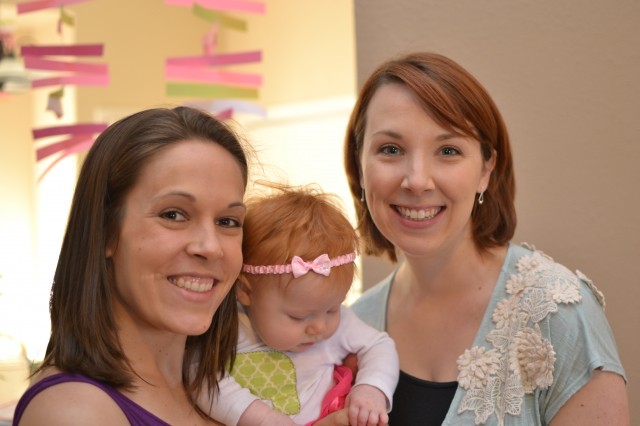 Rachel, Ruby, and Ashley.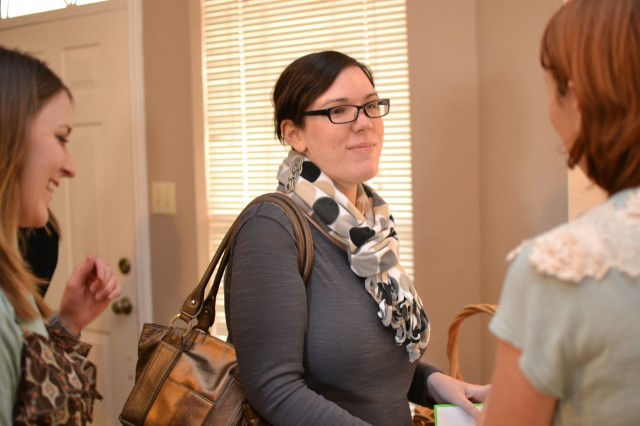 Pamela and Erin.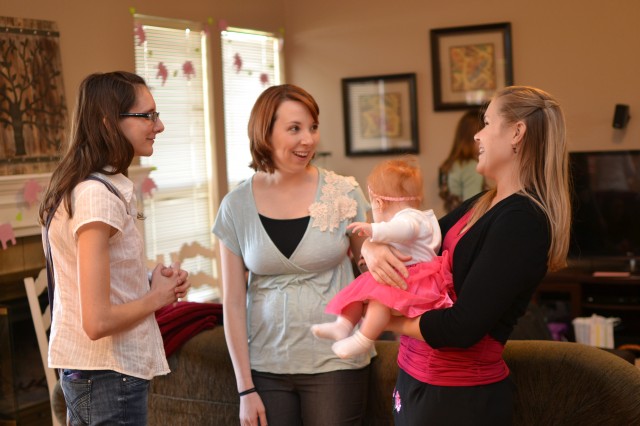 Sarah, Ashley, Ruby, and Becky all chatting.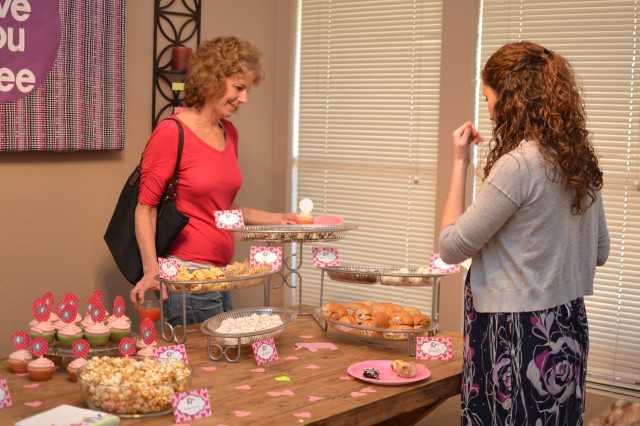 Elana and her mom picking out their food.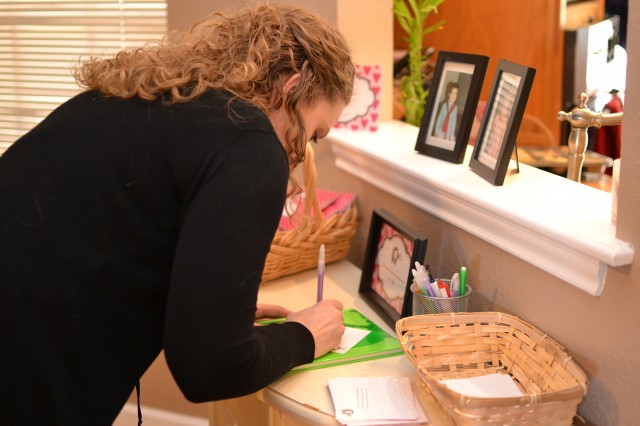 Brandie writing in the book for Elana and Rylee.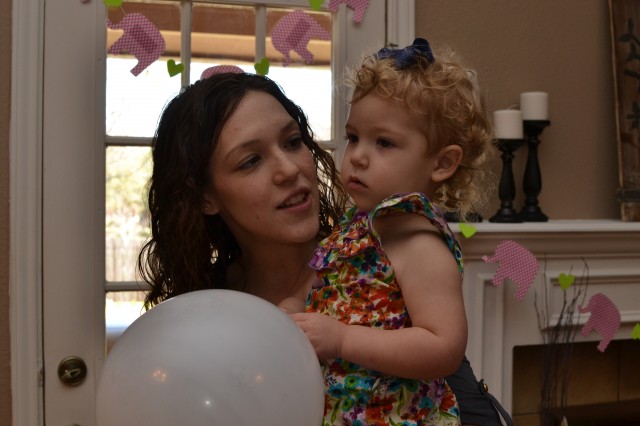 Elana's Sister in Law and Niece.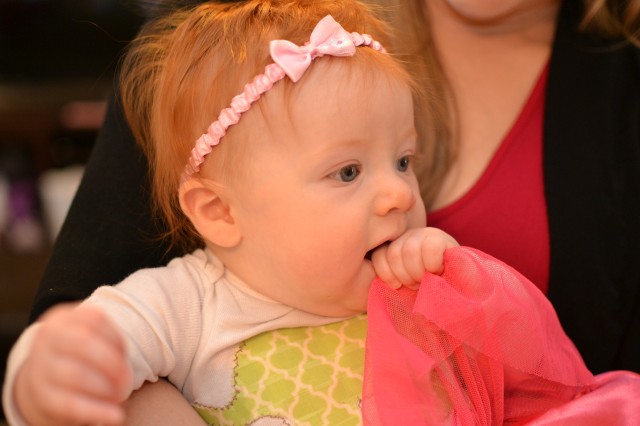 Ruby eating tulle.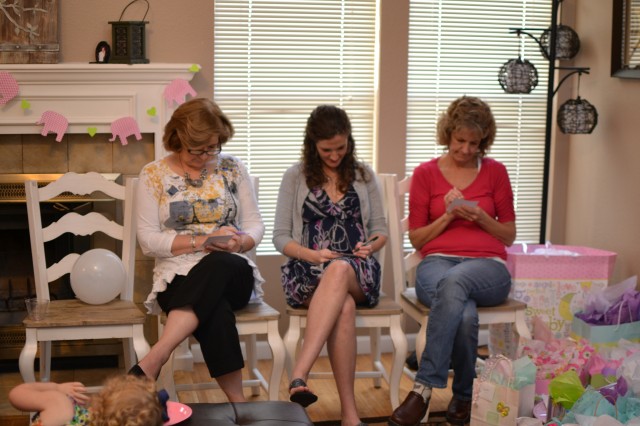 We played a game about the gestational periods of animals.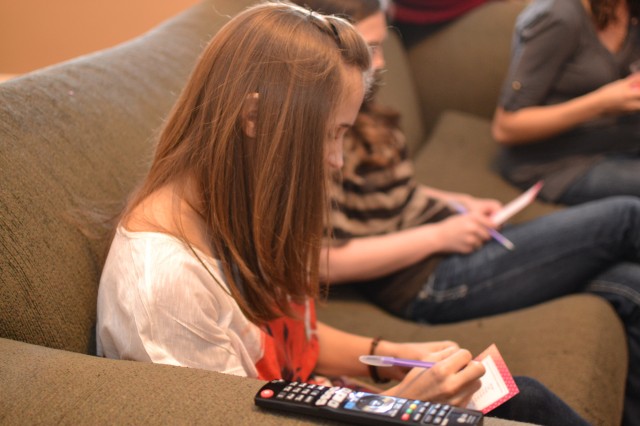 Here is Sarah playing.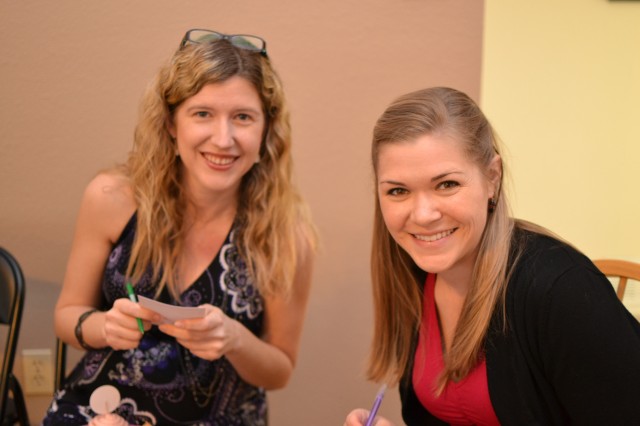 April and Becky playing as well, we all didn't do well,but ironically enough, Elana won with the most correct answers.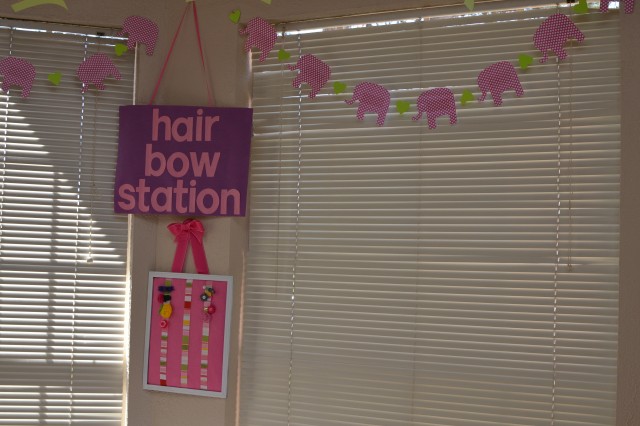 As another activity, we had a hair bow making station.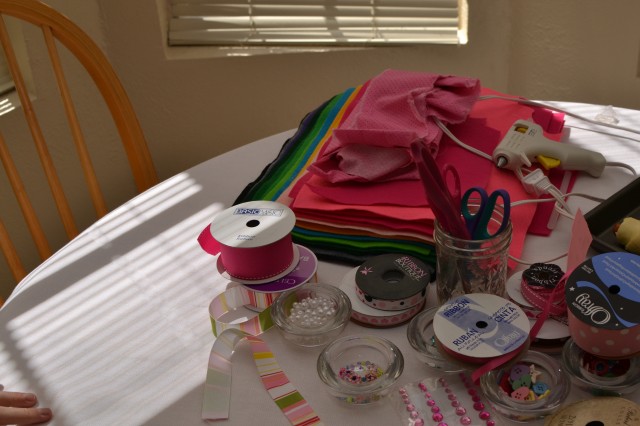 Here are the supplies.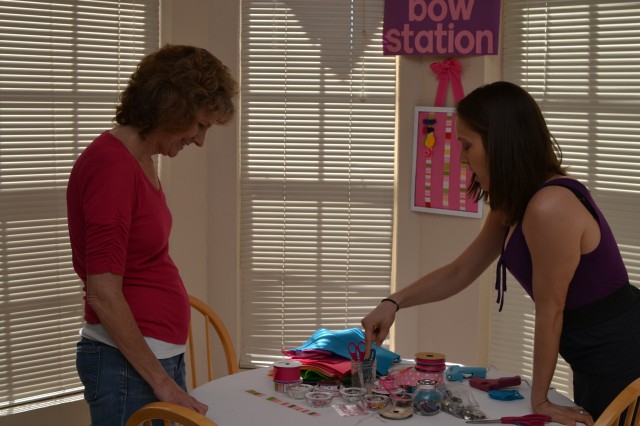 Rachel showing Elana's mom all of the supplies.
Working in action to make some cute bows for Rylee.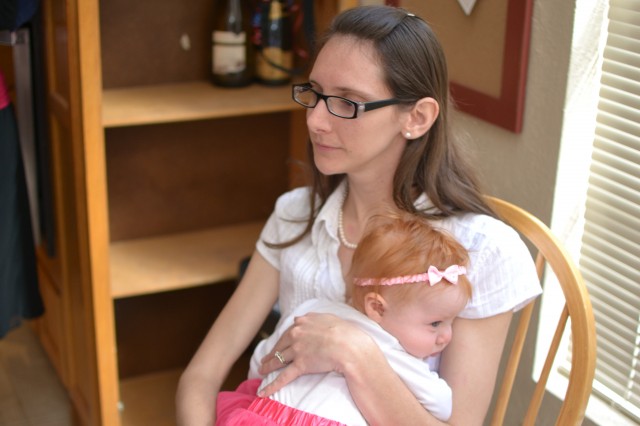 Sarah being a great help to Ashley while she was helping to host.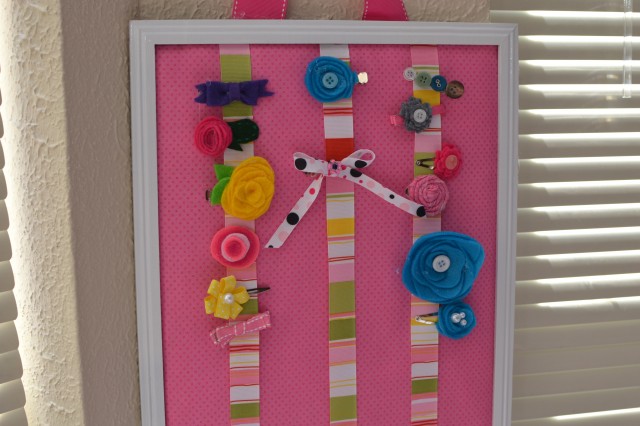 The finished hair bows for Rylee as well as the picture frame that Elana got to keep for the nursery.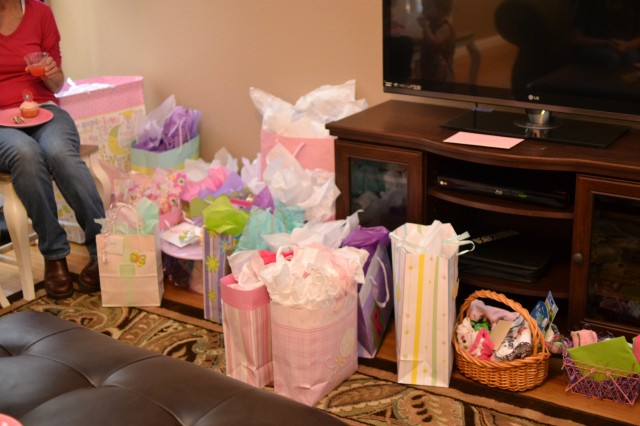 All of the presents that Elana had.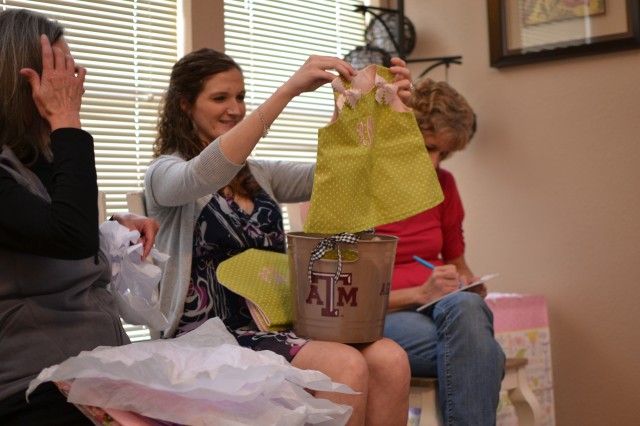 The gift that Brandie gave Elana, Brandie's mom has a business where she makes kids clothes which can be found here.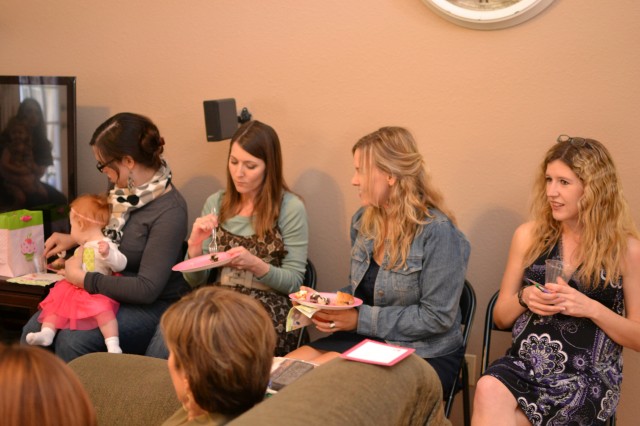 Ruby, Pamela, Erin, Lindsey, and April watching Elana open gifts.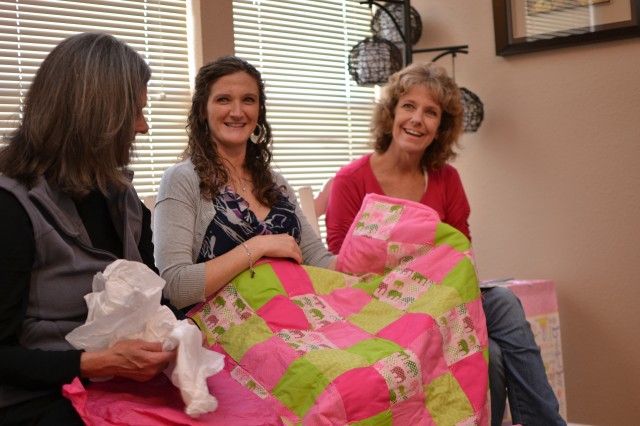 Elana opened the quilt that Ashley and Rachel made for Rylee.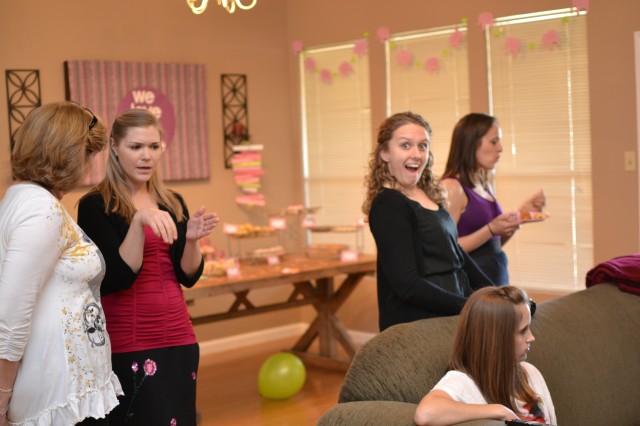 Brandie showing us how excited we SHOULD be about these gifts. 🙂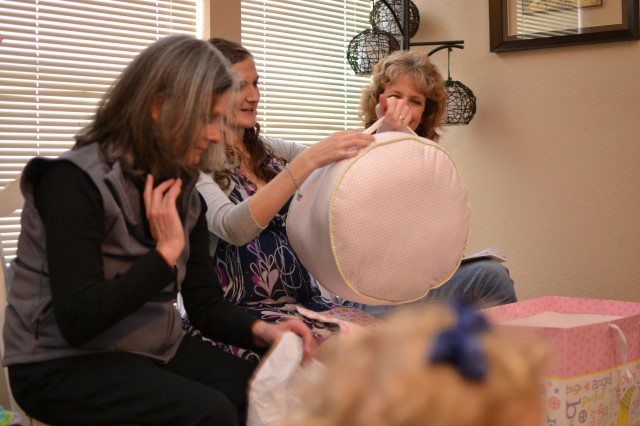 Elana opening my floor pouf that I made for her; you can find how I made it HERE.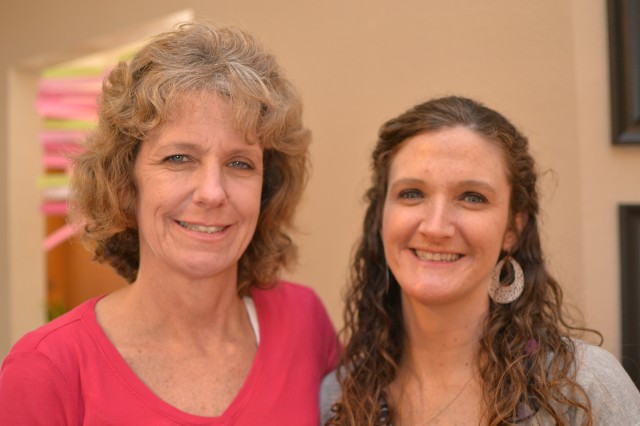 Elana and her mom.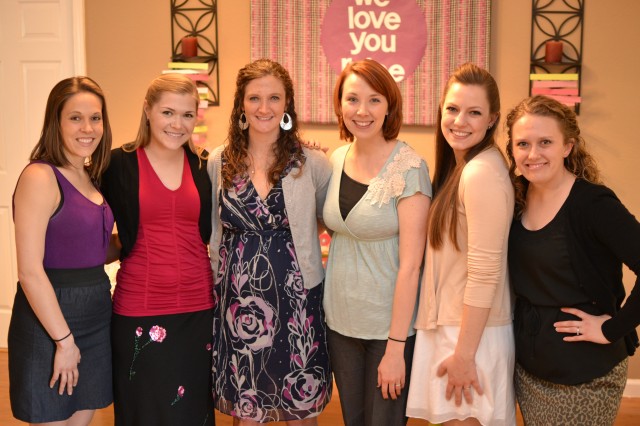 Here are the hostesses with Elana. Left to Right: Rachel, Becky, Elana, Ashley, Me ,and Brandie.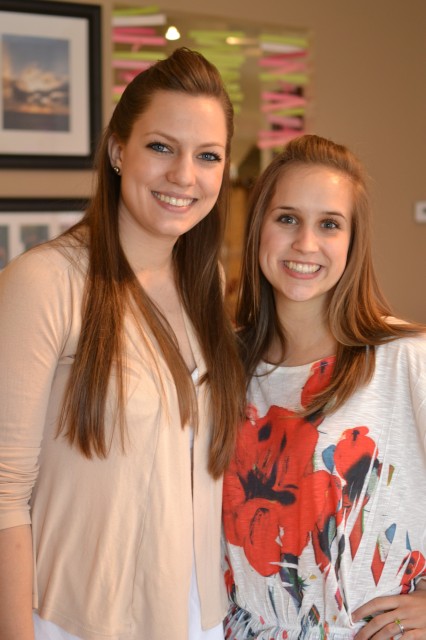 Finally a picture of Sarah and I before we headed to Ally's birthday party which will come in an upcoming post.
Overall, the shower was a huge success, and I hope that Elana felt loved and provided for by all of the gifts that everyone gave her.