Well, Week 7 is now in the books, and I am playing catch up, but here are some of the meals that I we ate this week. Grant and I have been loving eating this way. The one hour workouts are really wearing on us mentally because it seems so long, but once the 80 days is up I plan to switch back to the 30 minute workouts. However, I think we plan to continue eating this way. We really like how much more prepared we are, and especially how much healthy food we eat. We also have almost no waste as far as food goes which is a huge change from before. We hated how much food was wasted, but just never had a good game plan on how to change that.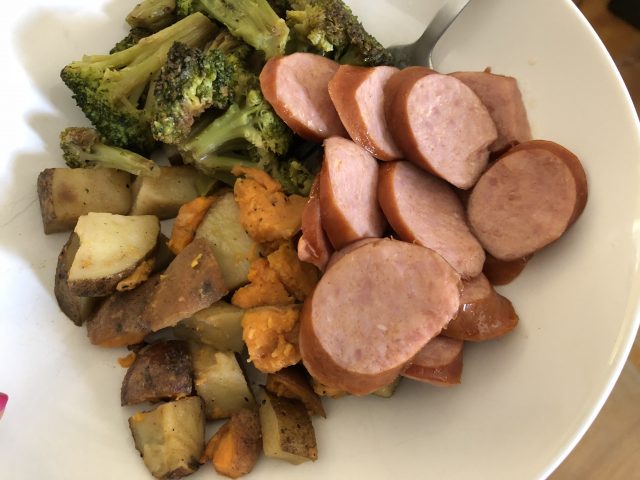 This week we also had this summer sausage from Aldi, it is pretty inexpensive. I cut it diagonal like that so the skin doesn't seem as tough. I heat it in a skillet with a little bit of coconut oil and cook them until a hot throughout and a little crispy.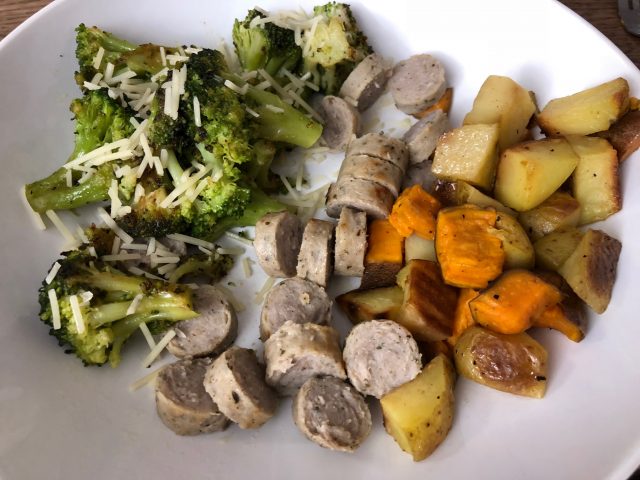 Or I eat the same thing with Bratwurst, above is a chicken bratwurst from Aldi, and we normally buy our broccoli and green beans frozen from Sam's Club because they are the best priced and you get real florets not only stems.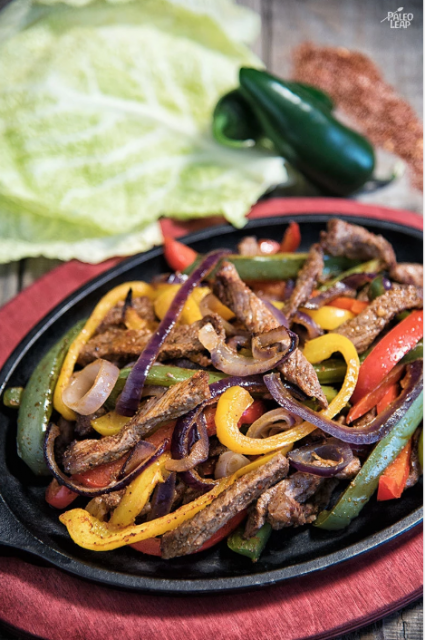 These Paleo Fajitas are made in the oven, and are super quick.
For the kiddos, we cut up some of the meat, onions, and bell peppers and add them to quesadillas for them since that is easier to eat. Grant and I measure out our meat and veggie portions and eat them on two small corn tortillas.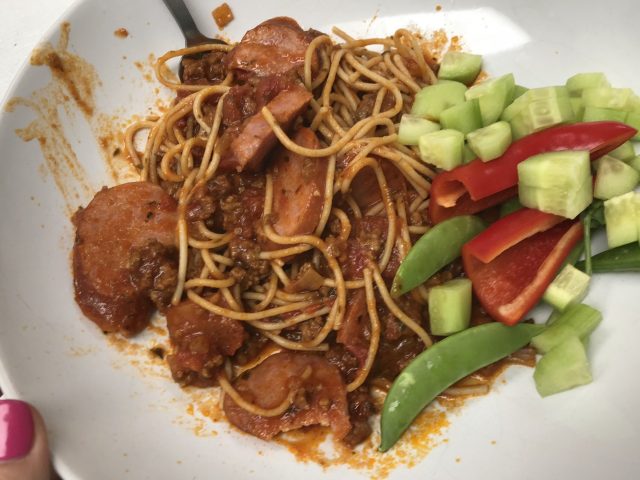 This week, I also made homemade spaghetti using the following sauce recipe. Here you can see a Saturday dinner, I didn't have as much meat in my portion of the sauce, so I added a few piece of smoked sausage. Then raw veggies on the side, and whole wheat noodles. On the weekends, we eat a random assortment of food. Whatever is premade in the fridge, we will combine into meals so we waste less.
Brown Ground beef in your pot. Without draining add in onions and cook until silvery. Next add the garlic and cook for a minute or so. Next add the canned tomatoes and tomato sauce.  Then add in seasonings, and let it simmer so it can reduce and thicken for about 20-40 minutes until you have your sauce consistency that you prefer. I don't add the extra water, but if you prefer you can add that too. If measuring the meat is an issues add frozen meat balls instead and you olive oil or coconut oil to sauté onions.
Cook the pasta according to the package directions.  Top with fresh parmesan cheese.
House Seasoning:
Mix ingredients together and store in an airtight container for up to 6 months.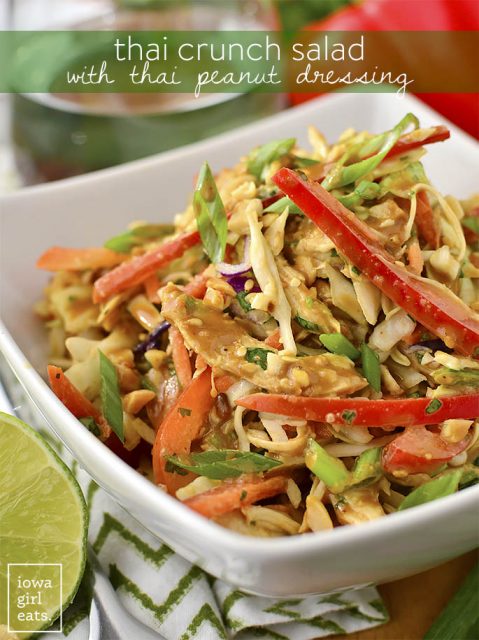 Thai Salad Crunch recipe, it was really good, but very very peanut buttery. As a side salad, it would be great rather than a whole meal in my opinion.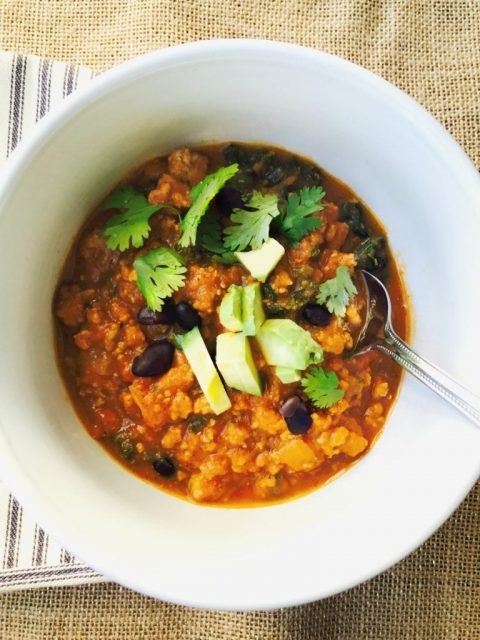 This chili is super good, since we have had cold weather this really hit the spot. It is also nice to make one pot of this which then makes 6 servings for the week.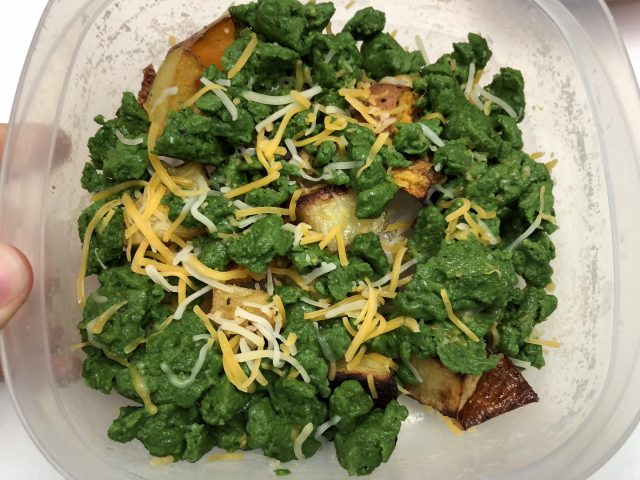 The usual pureed eggs and spinach over the roasted potatoes.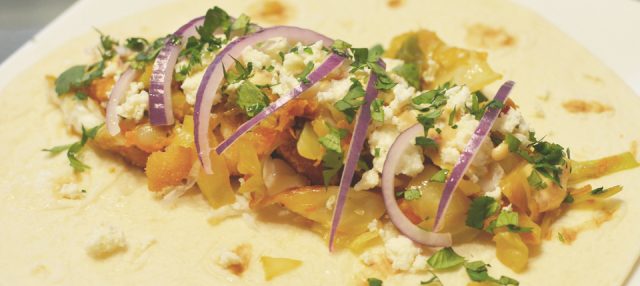 We had friends over for dinner this week, so we made FISH tacos. Grant and I ate them with corn tortillas, but boy are they good. Portion out the fish on your tacos for one Red, the cabbage mixture with onions as 1 Green, and the two small corn tortillas as one Yellow.