So we currently have an Ikea dresser which has held up very well considering we bought it used. We have wanted to build ourselves some real wooden bedroom furniture,but for a while we didn't know where we would be living or how much room we would have whenever we did get a house. So, now that we have a house, we still plan to build ourselves new bedroom furniture. However, our current set still functions very well, so we haven't really gotten to that point since there are so many other things that are a higher priority for us. Our ikea set is made with particle board which has held up well, but the drawer bottoms are a cheap thin almost cardboard type material. So even though I don't put super heavy stuff in it, over time it does tend to sag. So, we started looking up a way to fix it without having to get rid of the dresser. Some tutorials pretty much show building a new drawer and attached it to the existing face frame which would be doable,but just overkill for how much longer this dresser might actually last us.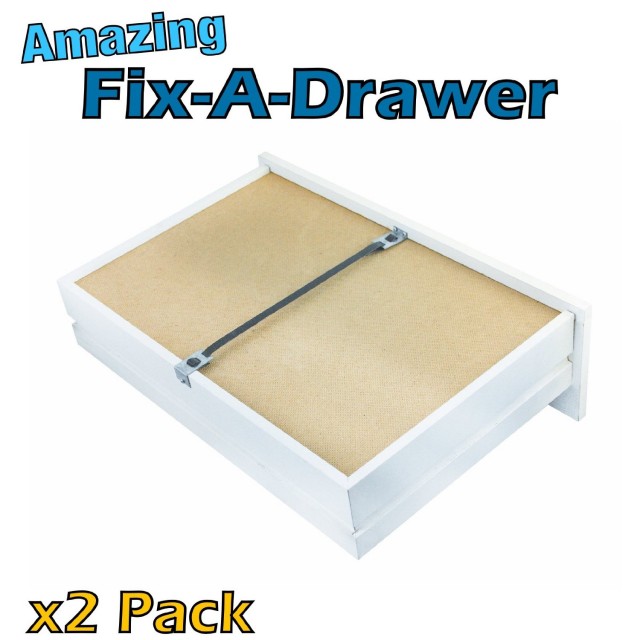 UPDATE!!! They now sell these kits on amazon.com HERE so if you want to avoid doing the work below, just buy them here!!

So, we followed this tutorial instead.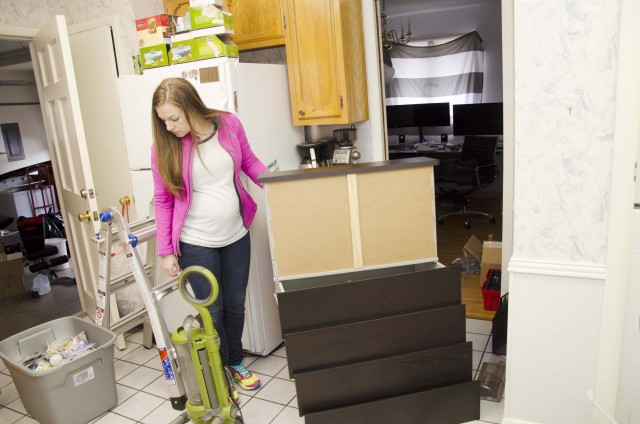 We had six drawers total to do, and I'm pretty sure that it took about an hour to make a cutting template, cut the wood, screw in the brackets, and vacuum everything out. This could be a one person job, but it went faster for us having us both working on it to make sure the drawer bottoms were completely flat. We didn't want to screw in the wood only to have it scraping on the bottom whenever you opened or shut the drawers.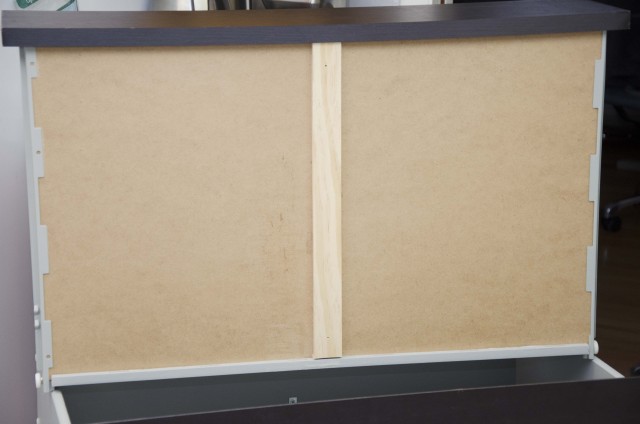 Here you can see the bottom side of the drawer. Only two of them were actually sagging, but we figured we might as well fix all of them while we were at it. A few tutorials fixed these drawers by putting some E6000 glue onto the edges and letting it dry, but we didn't see that actually fixing the issue. However, you can always add some glue the whole way around if you want double protection.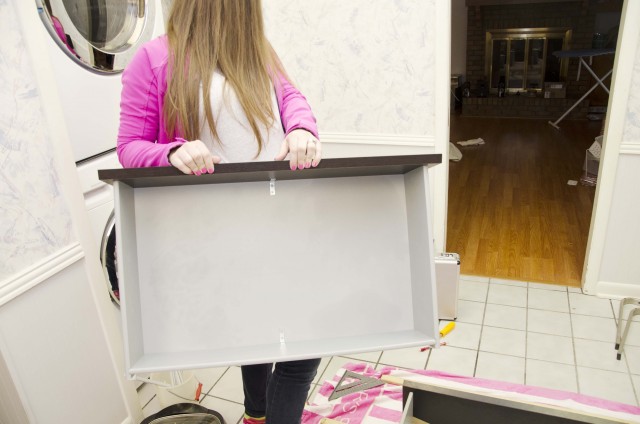 Here you can see the brackets on the inside of the drawers. We actually had the brackets and screws already from previous projects, so the cost for us was less than $7.00 for just two of the wood pieces that we bought and cut down to size.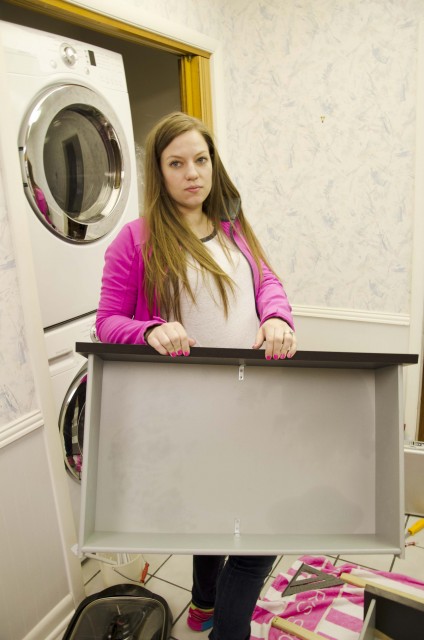 I know I look ecstatic here, but I didn't realize he was including me in the photo. 🙂 We did this before a lot of moving in, because it is hard to move in without a place to put your clothes. We still have to figure out a system for Grant's clothes because he isn't a fan of drawers and prefers shelves. So, we will probably have to build him some shelves in his closet since the wardrobes we used before don't really fit into our master bedroom without looking weird.
But anyway, this was an easy, cheap, and fast solution to a problem we were having. Eventually we will upgrade all of our furniture to real wood, but that takes more time, money, and lots of design and thought. I also know a LOT of people have Ikea furniture, so if you need a quick fix for now, this has done the trick for us. Please let me know if you have any questions or if something is unclear on this.