I love to bake, and the problem with liking to bake is that it can get expensive and make you fat. Most of the time with I bake, we eat a little bit and give the rest away. This makes others happy,but doesn't help the whole saving money thing. Anyway, I had been dying to try and make a butter beer cupcake recipe since they all looked so good. My goal was to also make them very moist cupcakes so that Grant would like them. Below you can see what recipe I used.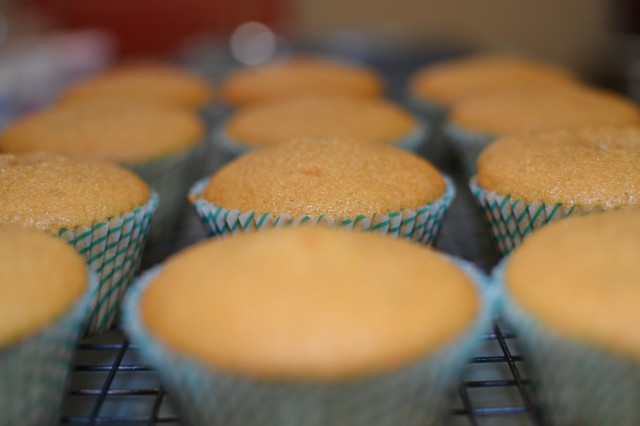 Here are the cupcakes baked.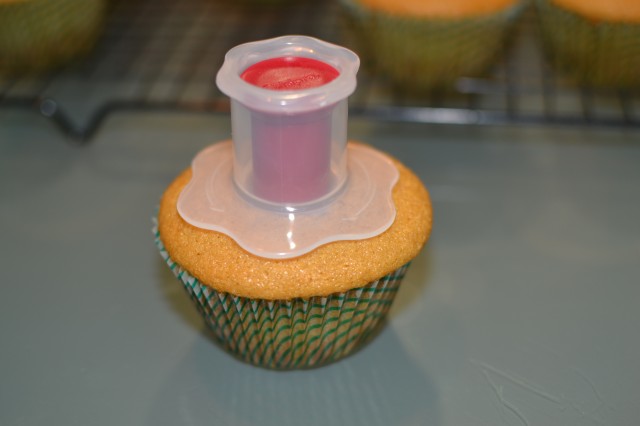 Grant totally made fun of me for buying this,but I had a gift card to William and Sonoma and so bought this cupcake corer.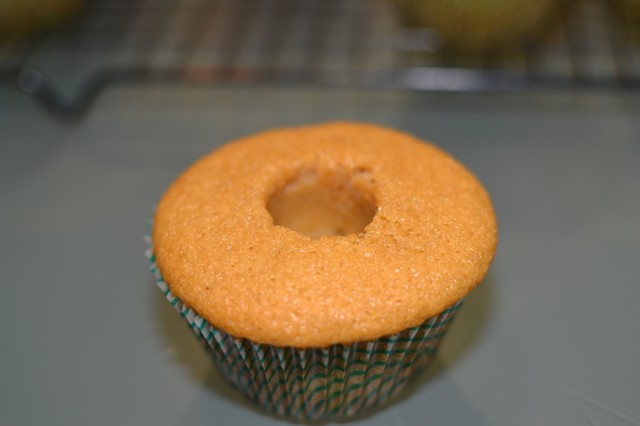 Here you can see the cupcake cored.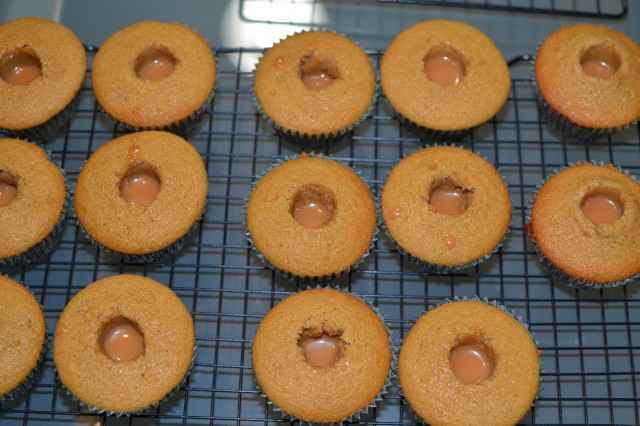 I filled them with the butterscotch ganache and let it soak in.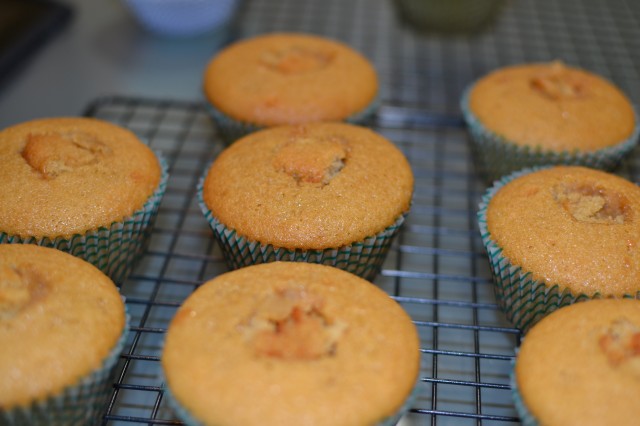 Then I put the cores back into the cupcakes.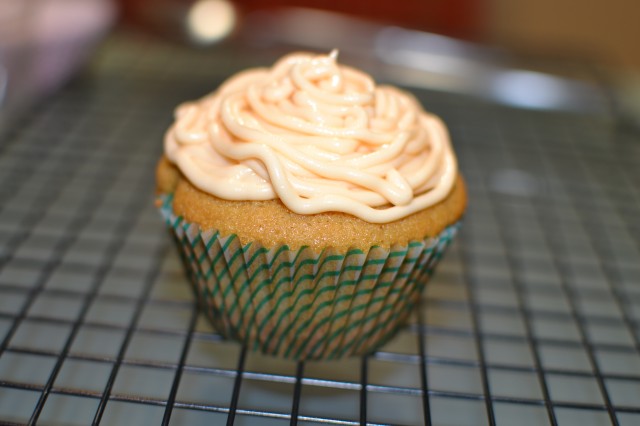 I then topped the cupcakes with the butter beer icing.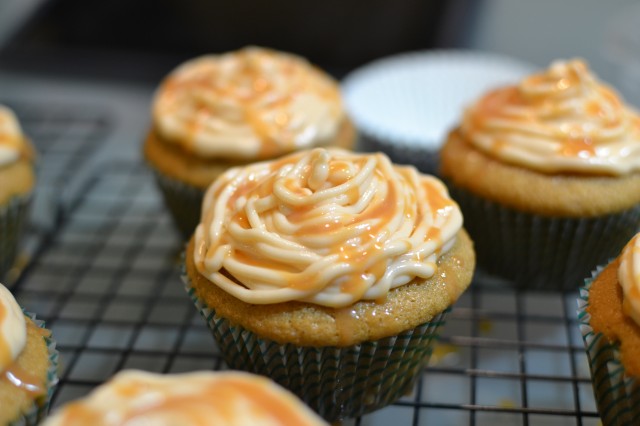 I then drizzled them with the rest of the butterscotch ganache.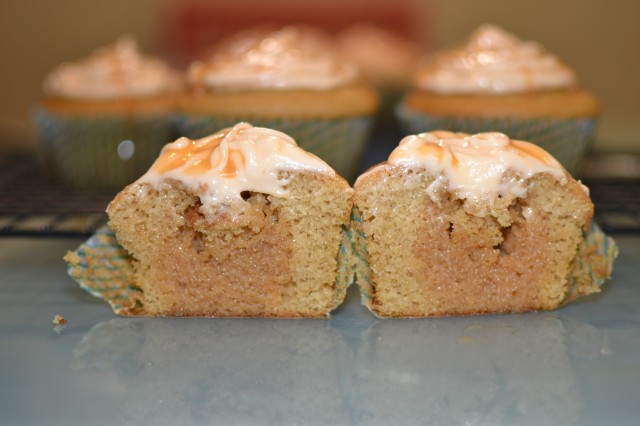 Here is a picture of the cupcakes cut in half; they were amazingly good. I asked Grant to try one and he said they were good,but he doesn't like butter scotch. SO, epic fail because these are impregnated with butterscotch,but at least it gave us a good laugh. I brought them to work and everyone loved them. If you want step by step instructions go HERE.
Butterbeer Cupcakes (Found HERE)
Makes 18
For the cupcakes:
2 cups flour
1 1/2 teaspoon baking powder
1/2 teaspoon baking soda
1/4 teaspoon salt
1/2 cup (1 stick) unsalted butter, softened
1/2 cup granulated sugar
1/2 cup dark brown sugar, packed
3 large eggs
1 1/2 teaspoon vanilla
1 teaspoon butter flavoring
1/2 cup buttermilk
1/2 cup cream soda
For the ganache:

1 11-oz. package butterscotch chips
1 cup heavy cream
For the buttercream frosting:

1/2 cup (1 stick) unsalted butter, softened
1/3 cup butterscotch ganache
1 teaspoon vanilla
1 teaspoon butter flavoring
1/8 teaspoon salt
1 16-oz. package powdered sugar
Splash of milk or cream (as needed)
For the cupcakes: Preheat the oven to 350 degrees and line cupcake pans with paper liners. Combine your flour, baking soda, baking powder, and salt in a bowl and set aside. In a large bowl, cream your butter until light and fluffy. Add your sugars and beat until well-combined. Beat in your eggs, one at a time, mixing well after each addition. Then beat in your vanilla and butter flavoring.
Alternate adding your buttermilk, cream soda, and dry ingredients in batches until all are well incorporated. Fill each cupcake liner 3/4 full, then bake for 15 to 17 minutes until a tester inserted into the center comes out clean and cake springs back to the touch. Cool completely on wire racks.
For butterscotch filling: In a double boiler (heat-proof bowl over a pot of simmering water on the stove), combine butterscotch chips and heavy cream and stir until completely combined and smooth. Cool to room temperature. Fill a squeeze bottle with ganache and insert into the center of each cupcake, squeezing until filling begins to overflow.
For buttercream frosting: Cream butter in a large bowl until fluffy. Add in ganache, vanilla, butter flavoring, and salt and mix until well combined. Beat in powdered sugar 1 cup at a time until reaching desired consistency. Add milk or cream by the Tablespoon as needed. Frost cupcakes and top with a drizzle of butterscotch ganache.
Have you made any version of Harry Potter/Butter Beer food/drinks?