I wanted to take the time to share how my I make my play dough kits, what I tend to fill them with, which containers I like to use, and how much they tend to cost me.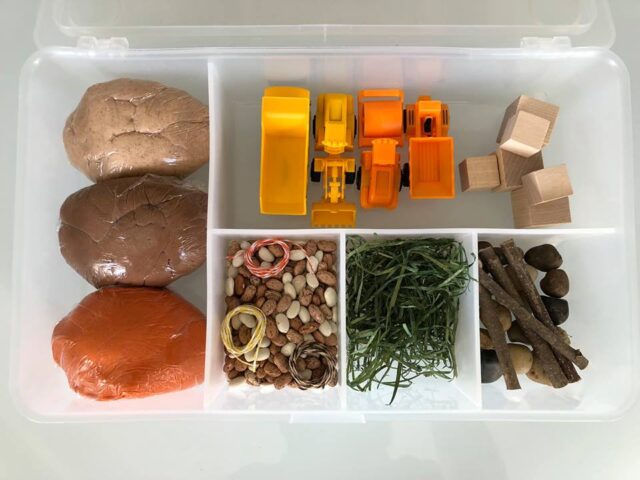 Here is my typical Boy kit, and most of these supplies are found from the dollar tree. I used cinnamon to color the light brown down, orange gel food coloring for the orange dough, and unsweetened cocoa powder for the brown.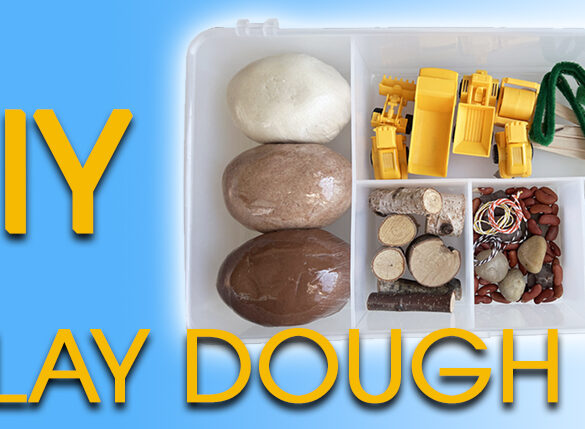 Ingredients
8 cups of flour
2 cups of salt
8 teaspoons of cream of tartar
4 cups of boiling water
¼ cup of vegetable oil
Instructions
Start with mixing the dry ingredients first, then add the wet ingredients. This is a large recipe, so feel free to make it in two batches if you are using a smaller mixer. This recipe makes 4 kits total with each kit containing 3 play dough colors around 8-9oz balls Add food coloring or cinnamon or cocoa for different types. White Color - No coloring added but an extra ¼ cup of boiling water for (a quarter of this recipe) Light Brown color - 3 Tablespoons of cinnamon and ¼ cup extra boiling water Dark Brown Cocoa - 6 Tablespoons of unsweetened cocoa powder and ¼ + ⅛ Cup of boiling water Make the dough in the kitchenaid mixer then separate into chunks. Add in the amount that you want to color back in the mixer with color of additive of choice if using. Then add a 1/4 cup more boiling water until they are nice and smooth and soft.  Some food coloring gels or the cinnamon and cocoa dry out the dough more so they might need more boiling water. Let it mix on high for a while for perfect consistency. Separate into 8/9oz balls, then wrap in saran wrap or containers to put into the kits.
Cost Break Down: Play Dough (3 balls in 1 kit) – $1.21
Glis Case – $4.99 (Possibly more with shipping)
Fillings – $3.75 (For boys construction kit) can range up to $10 if you get more expensive fillings
Total: $9.97 for one Boys Construction Kit (My kits tend to range from $10 -$15 depending on what theme and items I include)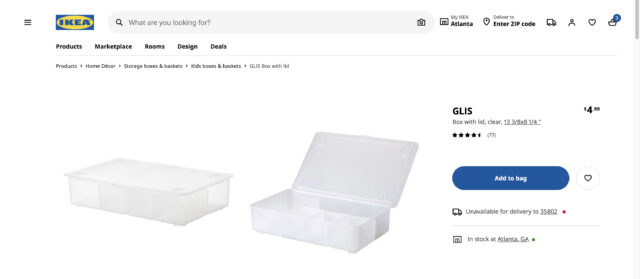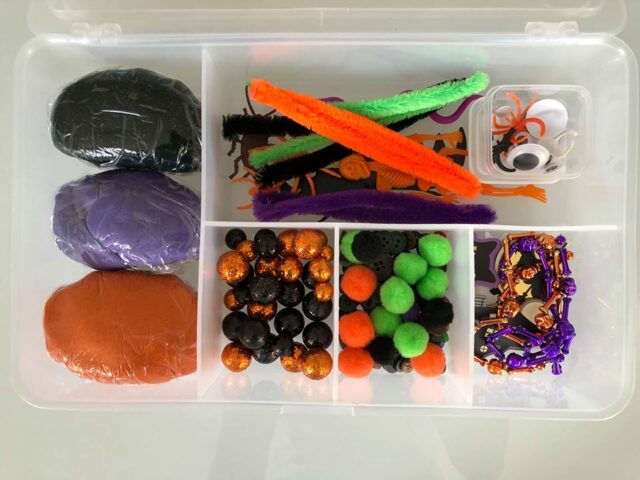 Here is one of my halloween kits, all of these fillings were found at the dollar tree.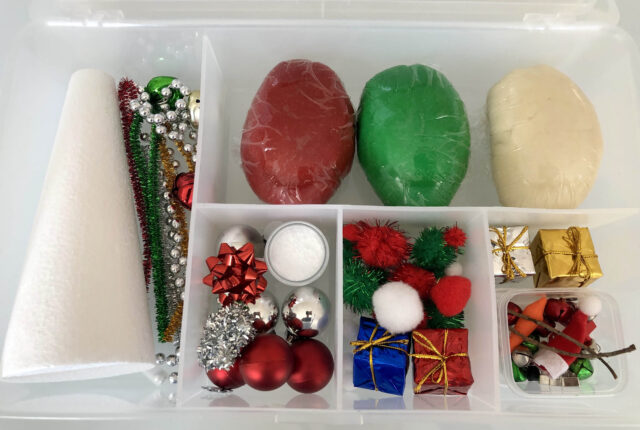 Here is my Christmas kit, the cone to cover with play dough was bought on amazon, but the other fillings were found at the dollar tree.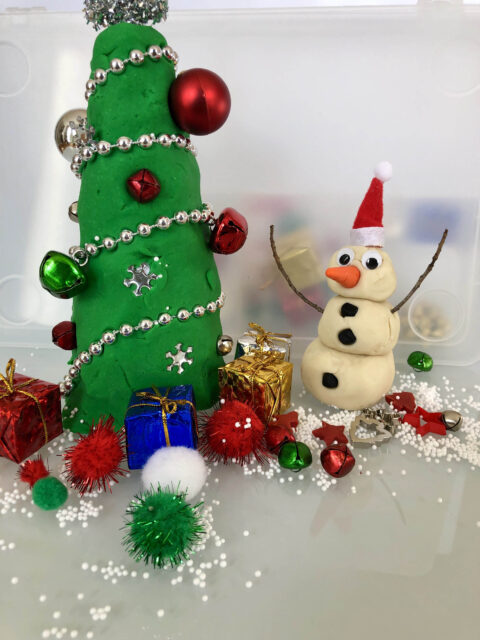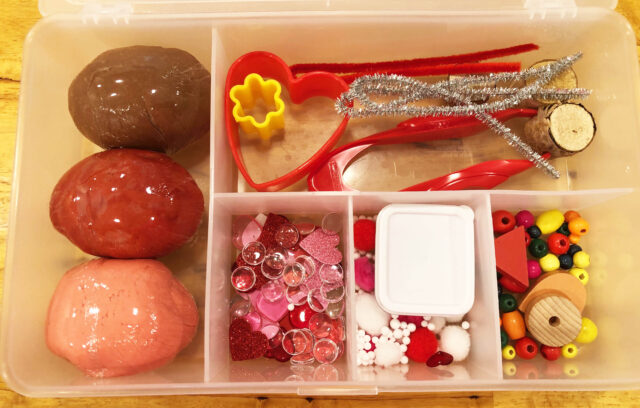 Here are the cookie cutters that I used in this kit, the tactile tweezers were purchased at the dollar tree.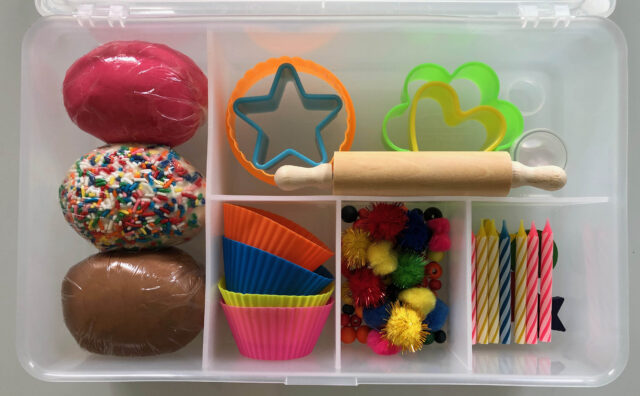 I colored rice with food coloring and vinegar to make the sprinkles, Cookie Cutters, rolling pin, silicon liners, and candles.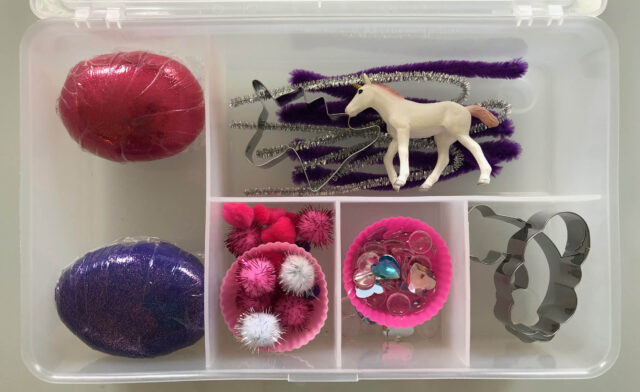 Cookie Cutters, Silicon Liners, Unicorn Figurine.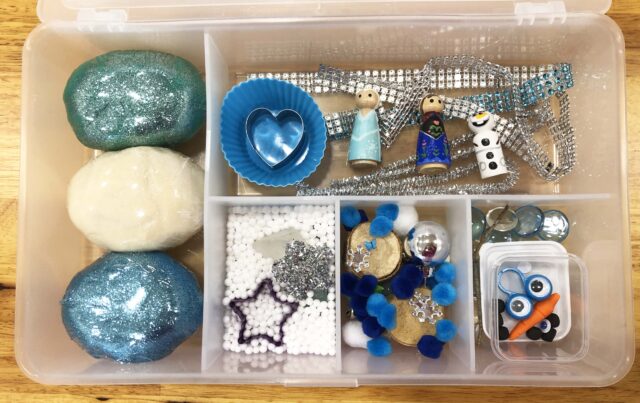 Here I used this Glitter to add to the play dough as well as the silicon liners, cookie cutters, FIMO for the snowman parts, also clear vanilla extract to add to the white play dough, and Peg dolls that I painted.
If you aren't a fan of making play dough, you can always buy the premade playdoh, and two-three will fit into these containers.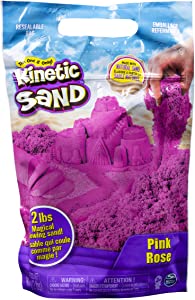 Also, you could always substitute kinetic sand in the kit instead.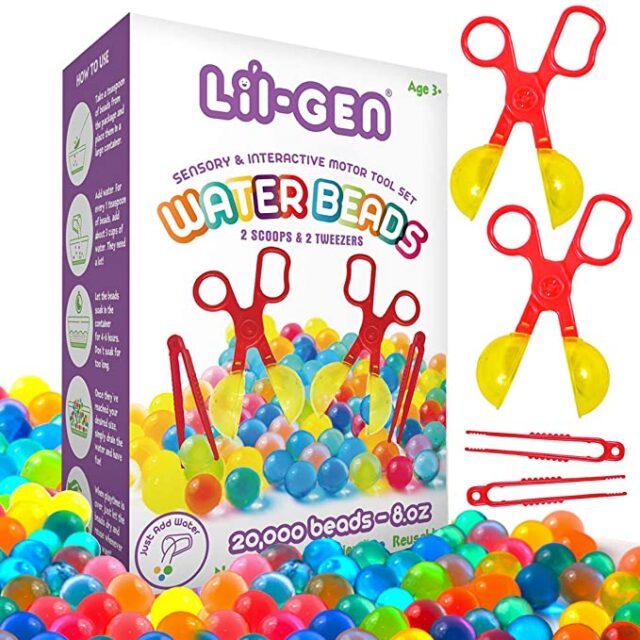 Or you could add water beads as well.
LINKS (affiliate)
Play Dough Kit Container – https://www.ikea.com/us/en/p/glis-box-with-lid-clear-00283103/
Play Dough Party Favor Container – https://www.ikea.com/us/en/p/glis-box-with-lid-clear-40466148/
Play Dough Container as saran wrap alternative – https://amzn.to/3KcKziy
Silicon Liners – https://amzn.to/3pJmesN
Cookie Cutters – https://amzn.to/3HKIW9Z
Food Grade Flavors – https://amzn.to/3sLOqgH
Glitter Dust – https://amzn.to/3sJO6yY
Peg Dolls – https://amzn.to/34nKFVm
Mini Rolling Pins – https://amzn.to/3MDeylQ
Clear Vanilla for Play Dough smell – https://amzn.to/3hEWNnU
Food Scale – https://amzn.to/3tSHY71
Cutting Board – https://amzn.to/3tztWqz
Kitchenaid Mixer – https://amzn.to/3pHYzJg
Pastry Cutter – https://amzn.to/3vKwDIy
Birthday Candles – https://amzn.to/3sLKZ9G
Play Doh – https://amzn.to/3Kl2401
Kinetic Sand – https://amzn.to/3wvg9V9
Water Beads – https://amzn.to/36hywSU
This post contains affiliate links, which means I make a small commission at no extra cost to you, but this helps me to create better content. All things in this post are my opinions, and I was not sponsored for this post.