I know the title says how to turn suede into smooth leather, but that is technically impossible because the leathers are manufactured differently. Suede is smooth leather that is ruffed up to give it the nap. Where smooth leather is just left as is, but my tutorial will show how to take a pair of suede shoes and make them look like smooth leather. I looked everywhere for a tutorial like this online, and only found people saying it wasn't possible, or just no results at all. My mom has also done this to a few of her older pairs of shoes as well, and they looked great!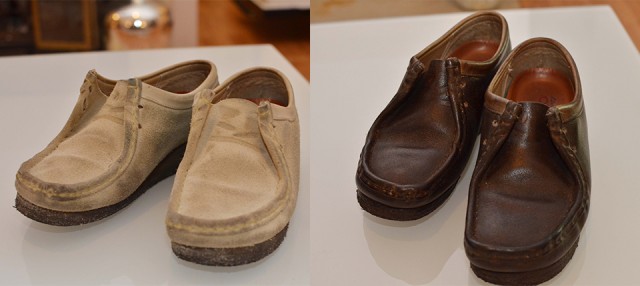 Here is the Before and After picture just for reference.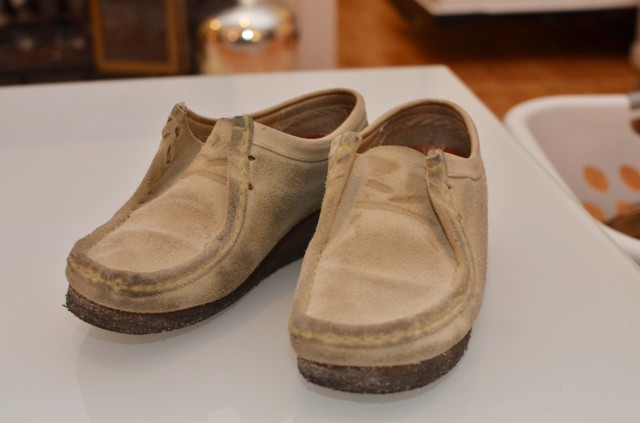 I started out with my pair of Clark Wallabee Shoes. I bought them in this sand color over 6 years ago, and had always wished that I had gotten their pair of dark brown, smooth leather ones instead. I love the lighter color,but they are so hard to keep clean that I didn't wear them much lately.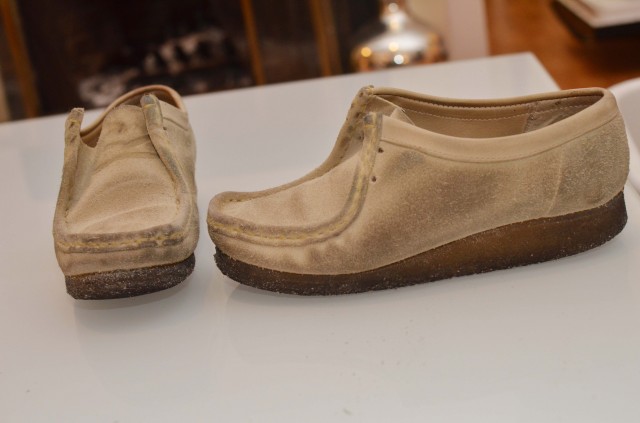 I wouldn't suggest buying a pair of suede shoes to change,but you could if you wanted. Mine were just mainly dirty,and they didn't have an bald or rubbed smooth areas. My mom however had shoes with a lot of bald/smooth areas, and this technique worked for them too.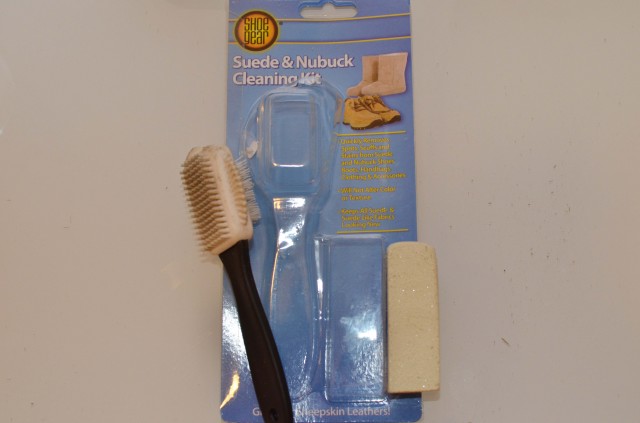 First clean your shoes as best as you can, I just used a typical Suede cleaning kit that I got at Walmart, but other stores sell their versions too. A magic eraser works great too.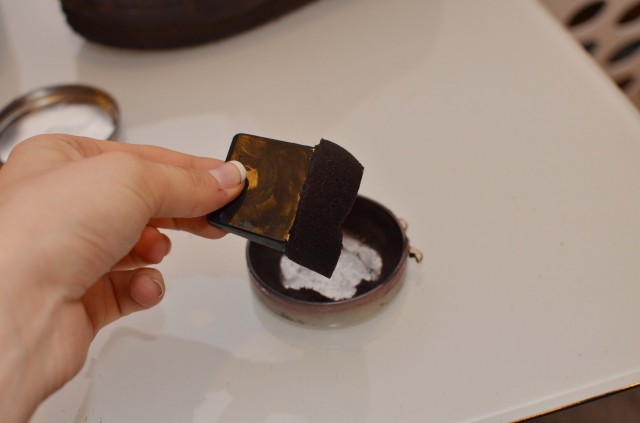 If my shoes hadn't been so stained, I would have used clear shoe polish(Yes, it exists!) to keep the lighter color, but that wasn't an option for me. I used a dark brown polish to match closer to the shoes that Clarks sells in the smooth leather. I just had a cheap shoe polish kit that I used for this tutorial.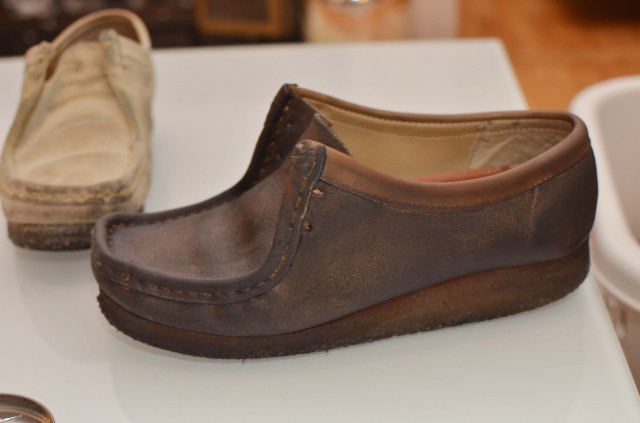 Use a rag or a sponge to rub the shoe polish all over the shoes after taking the laces out.
Use your brush to rub it in and buff the shoes.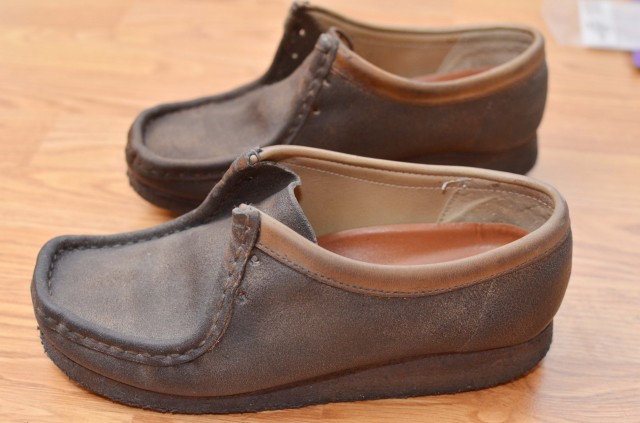 This is what they looked like after that, a lot of suede shoes don't have a very high nap, but these shoes did, so I decided to give them a light standing so you wouldn't see the lighter color underneath. My mother had a few pairs that she did this to, but she was able to polish them once with shoe polish, and they looked perfect. She never had to sand, but mine just needed a little bit of extra care.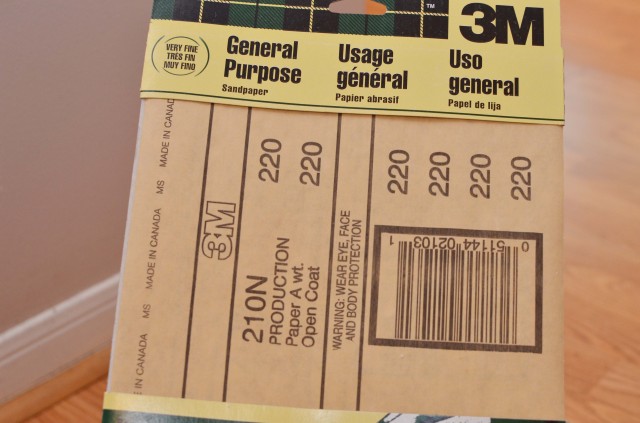 I used the general 220 sandpaper because that is what I had on hand.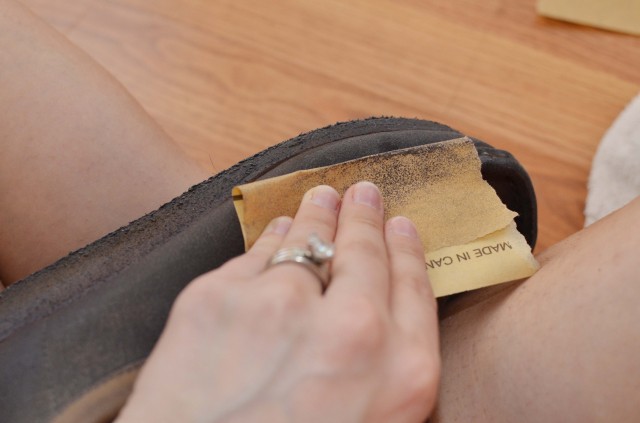 I sanded down all areas that I could.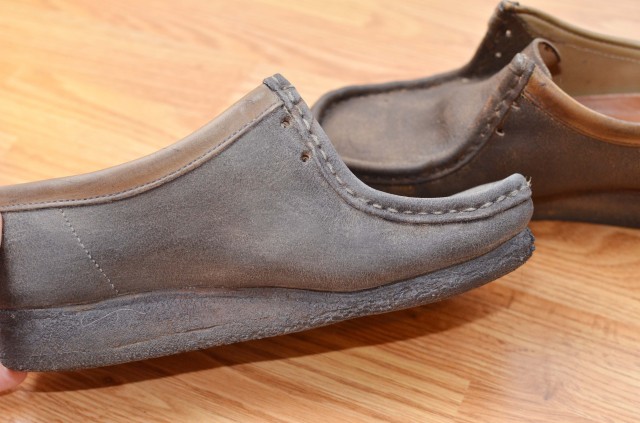 This is how it looked, kinda dusty.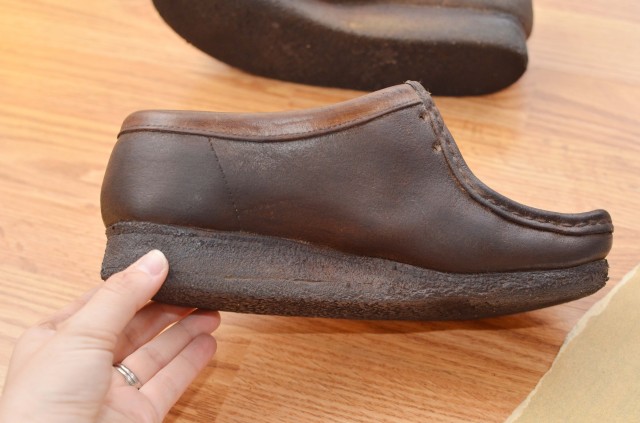 I added another coat of brown shoes polish with the foam sponge.
Then I buffed with the brush.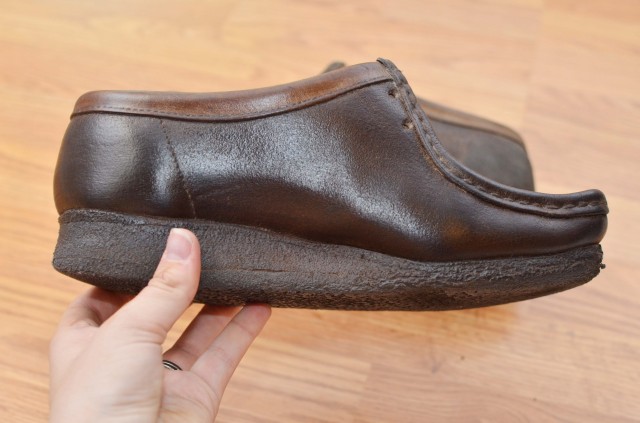 Then this shoe looked like this, you could do another coat of polish and buff again if you think it is necessary.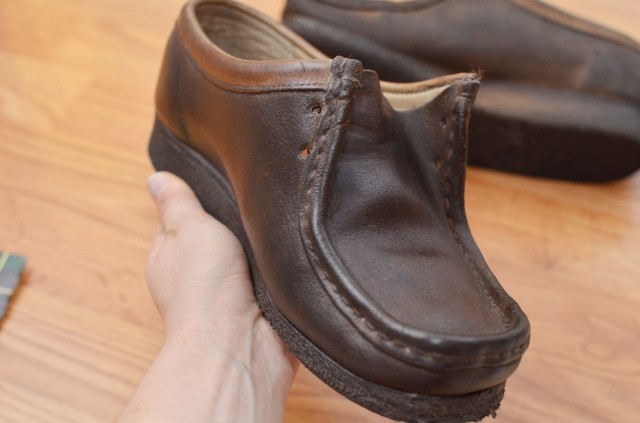 To get the shoe polish in the divets where the stitching is, you can use your finger(shoe polish stains so wear rubber gloves), or you can use a q-tip.
See the nap is nice and smooth now.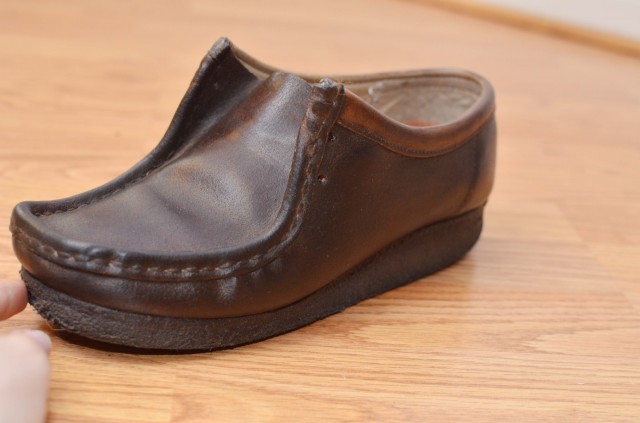 Do the same process to the other shoe, and then shine with a cotton cloth like a t shirt or the cloth that comes in the polishing kits.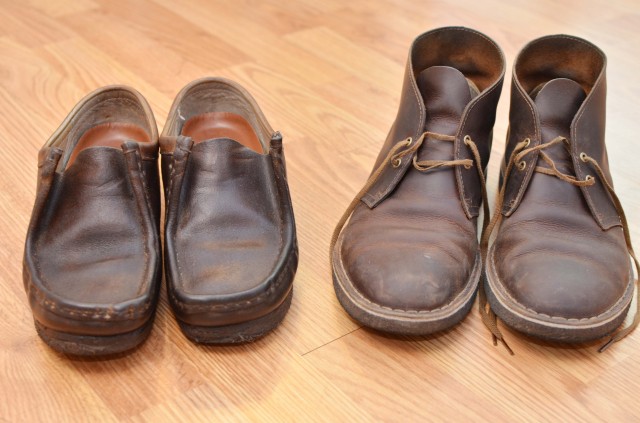 Here you can see my shoes next to my husband's smooth leather Clark's Desert Boots which look a little scuffed, but he prefers them to have more of a matte look so I will just rub Clark's weather guard (similar here) on them so they won't be as shiny but protected.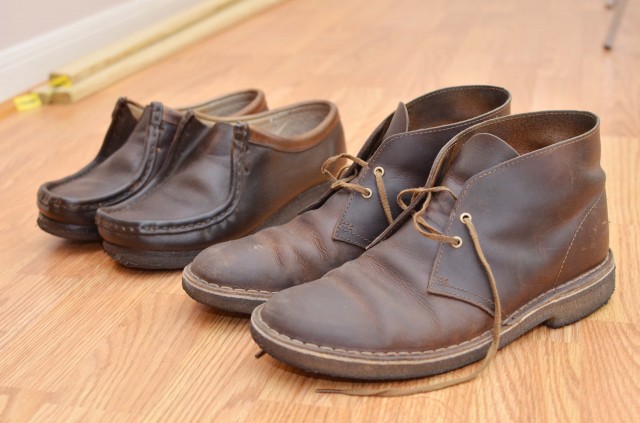 Clarks offers replacement laces HERE, but I liked my original ones which are the same color as my husband's above. However if you prefer to order a different color, you can find some here too.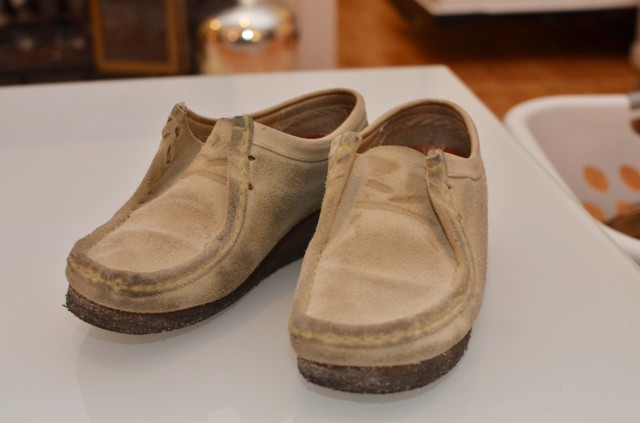 Just some before and after shots.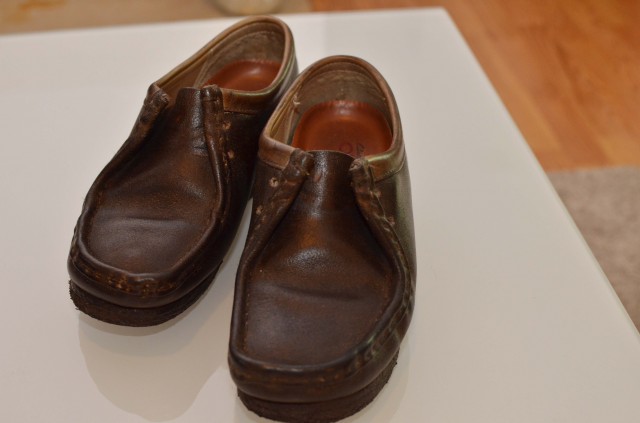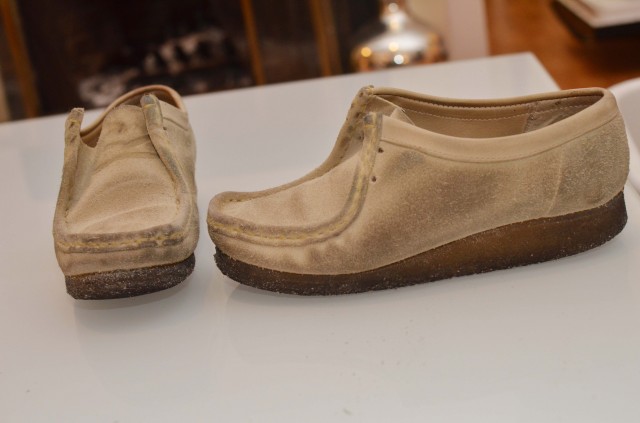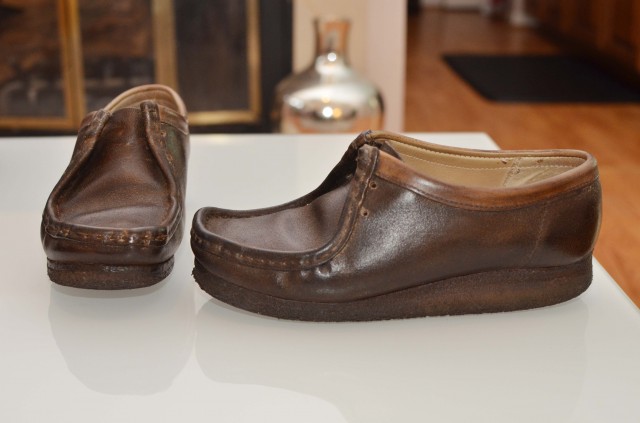 Please let me know if you have any questions, or if anything is unclear.