Lemon Cupcakes
Below is one of my favorite cupcake recipes. I have never been a huge cupcake or cake person preferring pies and chocolate bars more. I even had pies as birthday cakes as a child just to show you how much I prefer them, but this recipe has the perfect consistency as well as a nice fluffy inside  which is great. I also love that it is from scratch. I am not a fan of most box mixes other than for brownies, and I am not saying that to sound like someone snooty,I  can just tell the difference. I grew up with my mom making everything from scratch, and I try to do the same.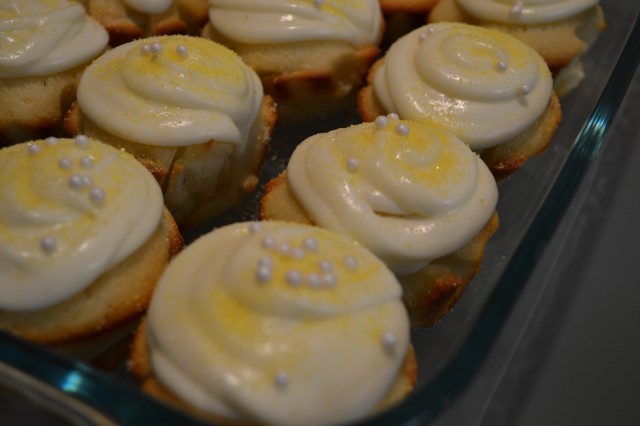 You can ice them however you like, I still need to buy myself a kit for decorating tips and a bag to dispense icing,but it just hasn't been that high on my priorities yet.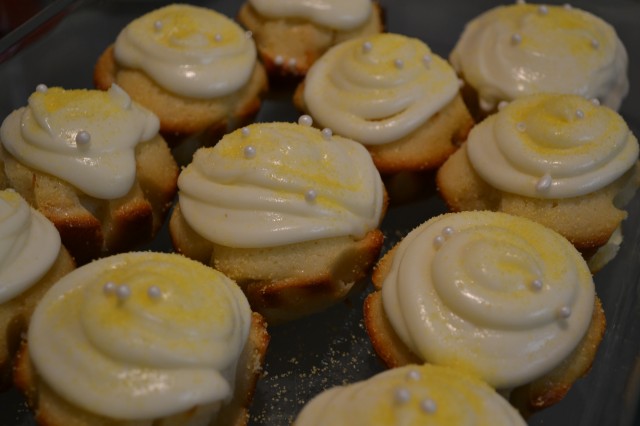 Lemon Cupcakes
Servings: 30
Ingredients
3 cups self rising flour (if you don't have that use regular all purpose flour, and add a teaspoon of baking powder for every cup of flour so in this case 3 teaspoons)
1/2 teaspoon salt
1 cup unsalted butter, at room temperature (always a better option when cooking)
2 cups white sugar
4 eggs, at room temperature
1 teaspoon vanilla extract
2 tablespoons lemon zest (if you can't afford dried lemon zest, I will grate a lemon that I have and put it in a container and freeze it, no need to thaw just pull out and use in recipes.)
1 cup whole milk(I use whatever I have)
2 1/2 tablespoons fresh lemon juice (I just keep a bottle in the fridge, but fresh will make it taste even better.)
Lemon Icing:
2 cups chilled heavy whipping cream (I didn't have this one time and used cream cheese instead; if you use cream cheese it is a thicker, gloopier consistency, if you use whipping cream it is light fluffy with more aire, just do whatever you prefer.)
3/4 cup confectioner' sugar
1 1/2 tablespoons fresh lemon juice
Directions:
Preheat oven to 375 degrees F (190 degrees C). Line 30 cupcake pan cups with paper liners.
Sift the self-rising flour and salt together in a bowl. In another bowl, beat the unsalted butter and sugar with an electric mixer until light and fluffy. Beat in the eggs one at a time, beating each egg until incorporated before adding the next. Mix in the vanilla extract and lemon zest.
Gently beat the flour mixture into the butter mixture, one third at a time, alternating with half the milk and half the lemon juice after each of the first 2 additions of flour. Beat until just combined; do not over mix.
Fill the prepared cupcake liners with batter 3/4 full, and bake in the preheated oven until a toothpick inserted in the center comes out clean, about 17 minutes. Let the cupcakes cool in the pans for about 10 minutes before removing them to finish cooling on a rack.
To make the icing, beat the cream in a chilled bowl with an electric mixer set on Low until the cream begins to thicken. Add the confectioners' sugar and lemon juice, a little at a time, beating after each addition, until fully incorporated. Increase the mixer speed to High, and beat until the icing forms soft peaks, about 5 minutes. Spread on the cooled cupcakes. Refrigerate leftovers.
Amount per serving: Calories:232; Total Fat: 13.1g: Cholesterol: 67mg
I found this recipe here: http://allrecipes.com/recipe/lemon-cupcakes-2/detail.aspx