This post has been a long time in coming, I don't own a lot of purses because I want the ones I do have to be good quality and to last a while. I used to buy really inexpensive purses,but after having to replace them multiple times a year I decided that I would invest in a real leather purse so that it would hold up better. So, to the clearance section of the Coach outlet store I went. I found this green purse, and I used it exclusively for over 2 years. The only thing that started to wear out was the edging on the strap which I would say shows the good quality. Then came the biggest problem of all, what ist that edging stuff made out of? What is it called? How come NO ONE has a tutorial on how to fix it?! I literally searched the most random websites trying to figure this out. I eventually found places that would replace the straps but couldn't guarantee the color matching, and they charged over $100 which is how much I paid in the first place. So, I just kept wearing the purse like that and searching.

Eventually, I found a leather company that had a few products that looked promising and so I decided to give it a try since it couldn't make my purse any worse than it already was.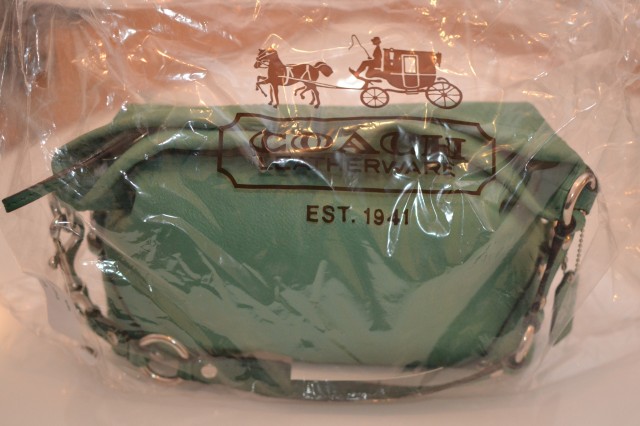 So first I took my purse out of storage since Grant got me a new one for Christmas.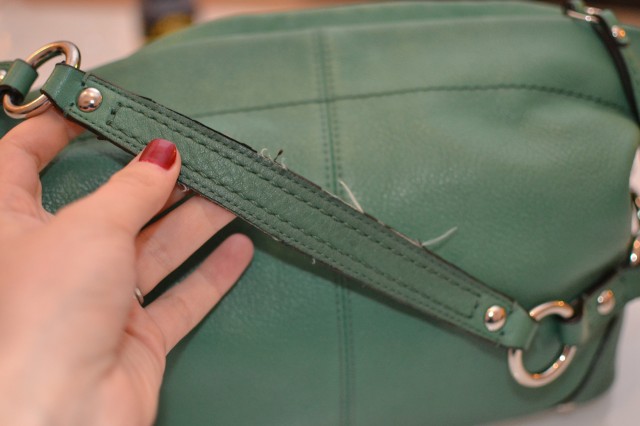 Next you can see how it was starting to get frayed; I would say this wasn't bad enough to not still use the purse,but it really was starting to get on my nerves.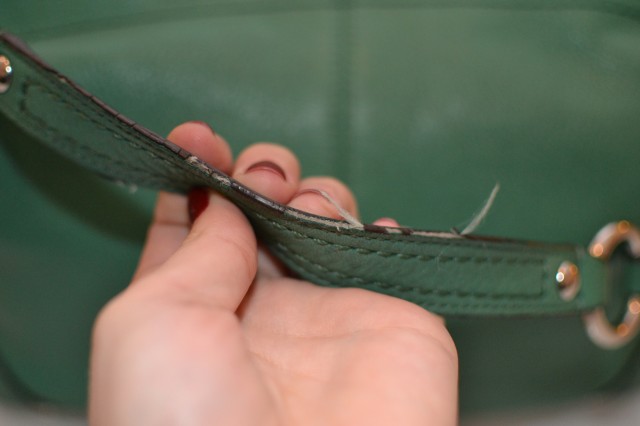 Here you can see how cracked and chipped the edging looks. The edging on leather or Faux leather purses can be all sorts of colors,but the two I found available for purchase were the black and brown. Mine is brown as you can see, and my new purse also has the brown edging which is nice if the edging on that one even starts to come off eventually.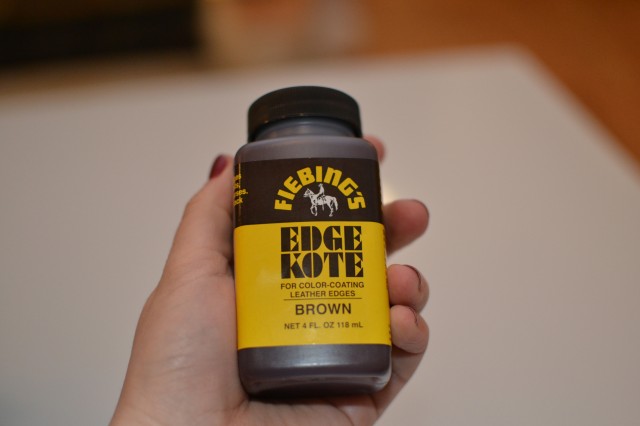 So, the edging product I found is called Edge Kote, and I bought mine from Amazon which cost me including shipping and tax $9.92,but there are also leather suppliers who carry it.
Tandy Leather Fiebings Brown Edge Kote 2226-01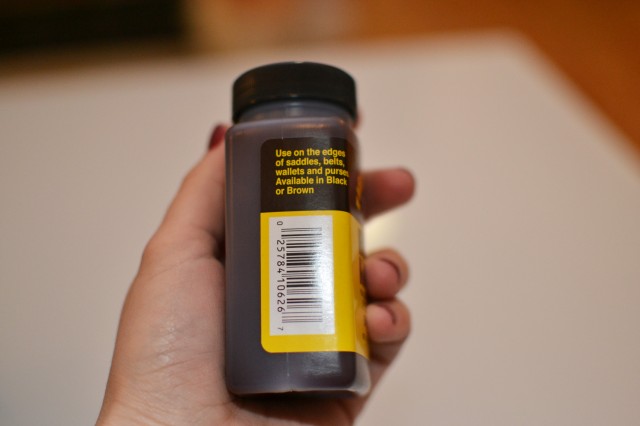 I was hoping this wasn't money wasted,but I figured $10 was a small price to pay for an almost new looking purse if it worked. Here you can see what other items this can be used on.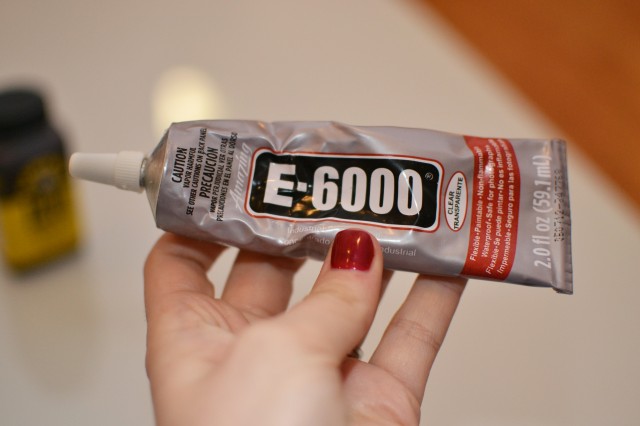 Also, my strap was fraying but not pulling apart, if a strap of yours is, this glue works for almost anything. I would use this with a Q-Tip to glue the pieces together before working on the edging.
E-6000 Med Visc 3.7-Ounce Auto/Industrial Carded Adhesive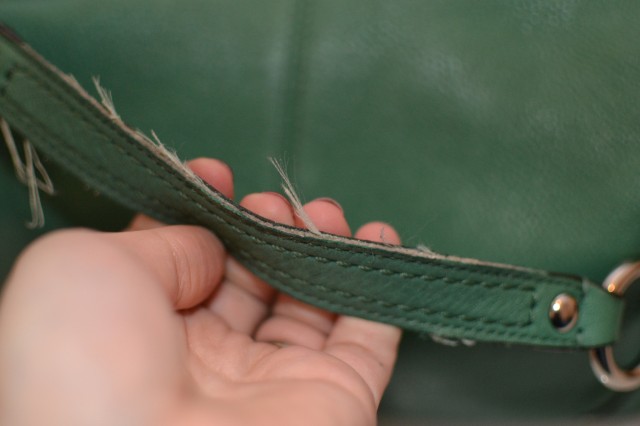 Next thing I did was to remove all of the pieces of left over and cracked edging. I pulled most of it off with my fingers,but I also sanded off a few parts here and there.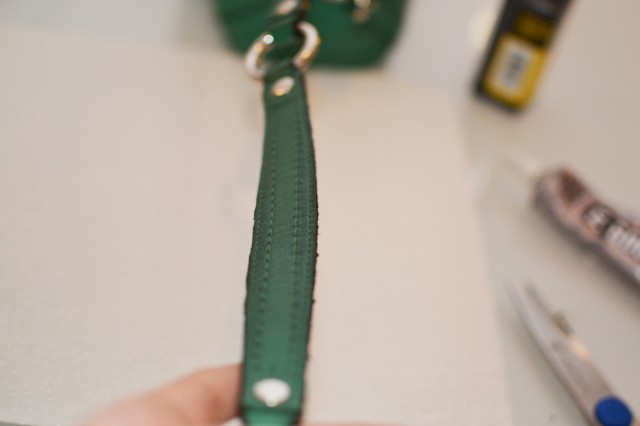 Then trim all of the frayed fly away pieces, don't worry about it being perfectly smooth because I will show you how to fix that later.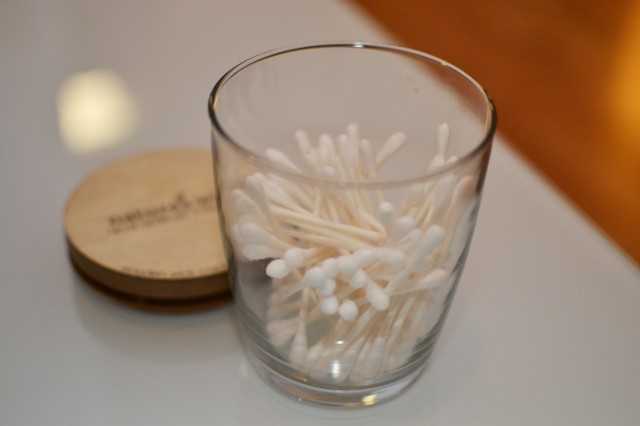 I used Q-tips for this,but the directions say you can use a clean paint brush or wooden dowel with a rounded wooden tip. I didn't want to ruin a brush or buy this special leather dowel so I made due with Q-Tips.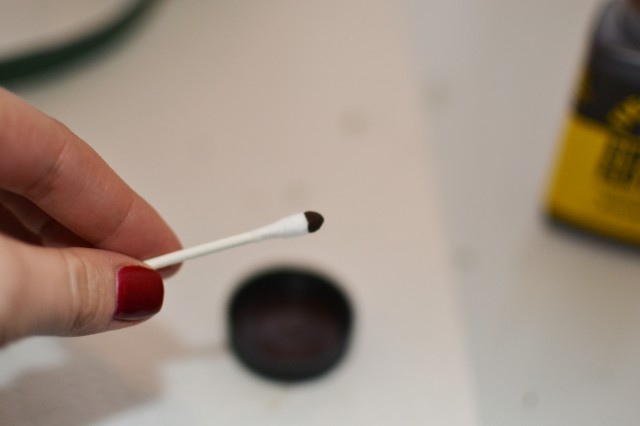 I first used what was in the cap, and then dipped straight from a bottle. At first, I would lay the Q-Tip on a paper towel,but it bleeds through really fast so a thick magazine was a better choice.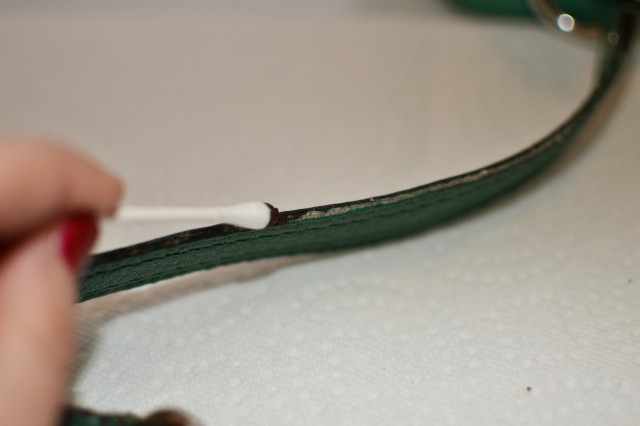 Once the Q-Tip is slightly saturated, gently wipe on one layer of the Kote. Once everything is covered let it dry for at least 10 mins until it is dry to the touch.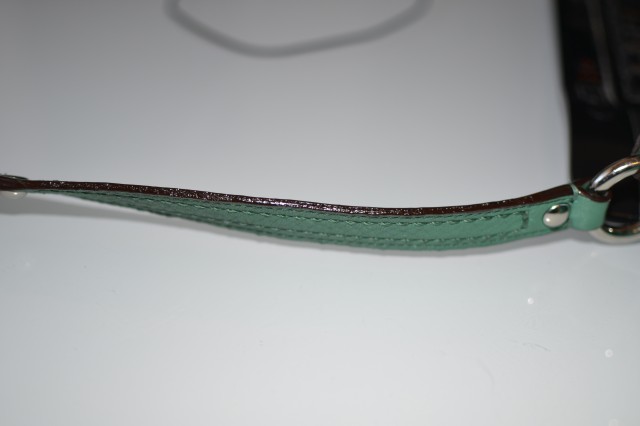 The first few coats might leave it still looking like the leather underneath, but just keep doing coats and letting it dry.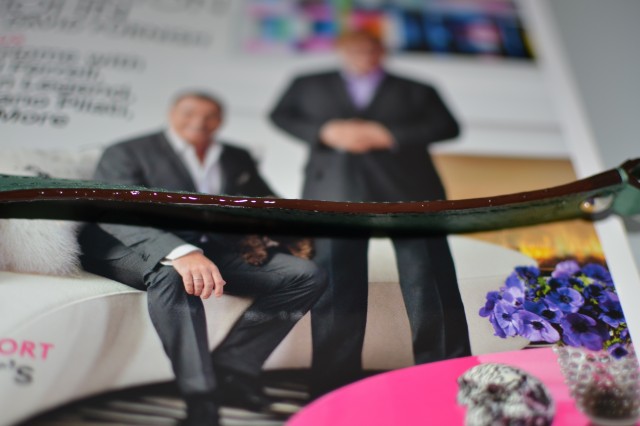 To get to this point, I was at about 5 coats.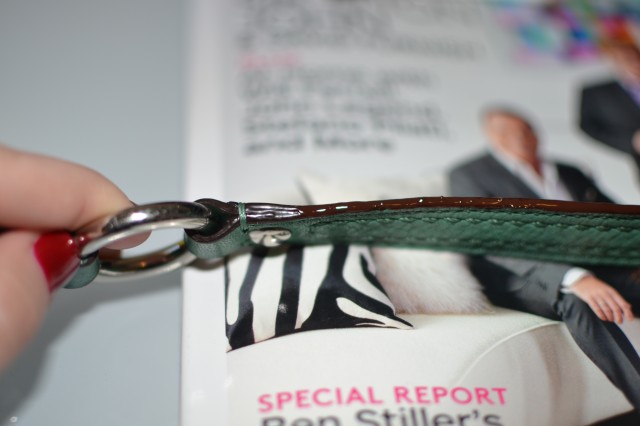 It was finally getting to the thickness that I wanted so it matched the rest of the edging,but here you can see the uneven bumps from below are still showing up, and it wasn't smooth to the touch.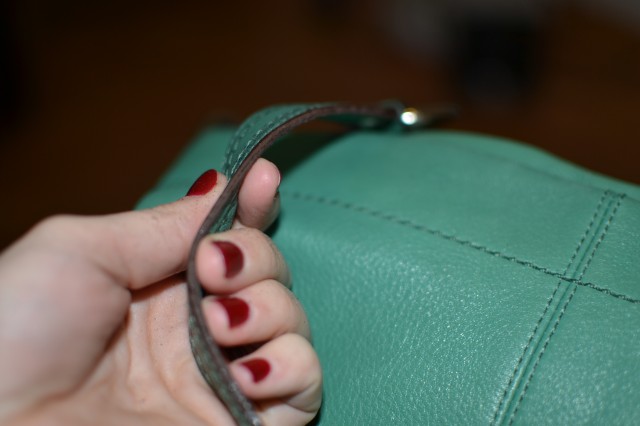 So, I took a fine grit sandpaper and smoothed off all of the bumps until it was level and smooth.
Then I did one last coat, so 6 worked perfectly for my purse and let it dry.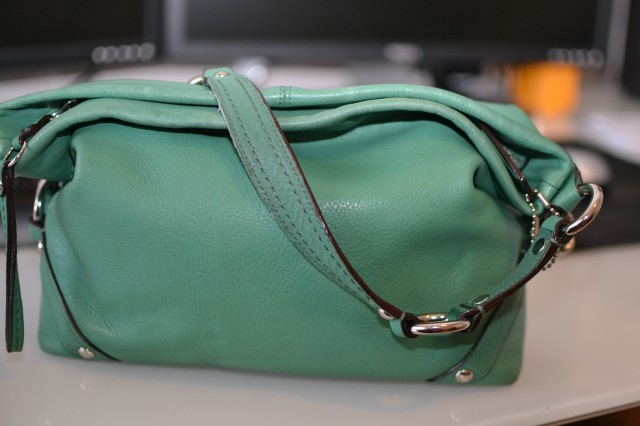 So, here you can see one side of the strap is done!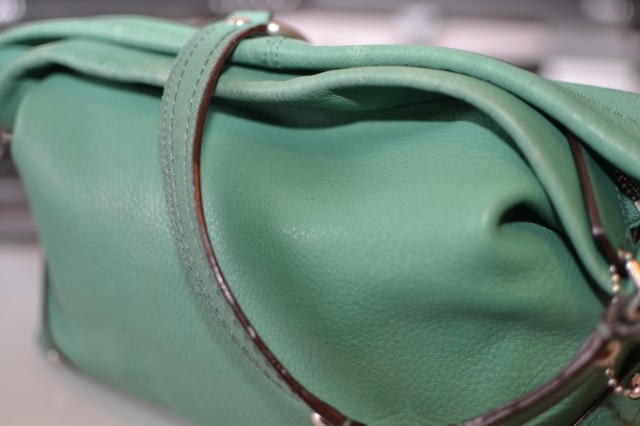 I didn't want to worry about either side getting smudged so I did one edge at a time,but I am sure you could rig a setup where the strap is held so both sides can be done at the same time.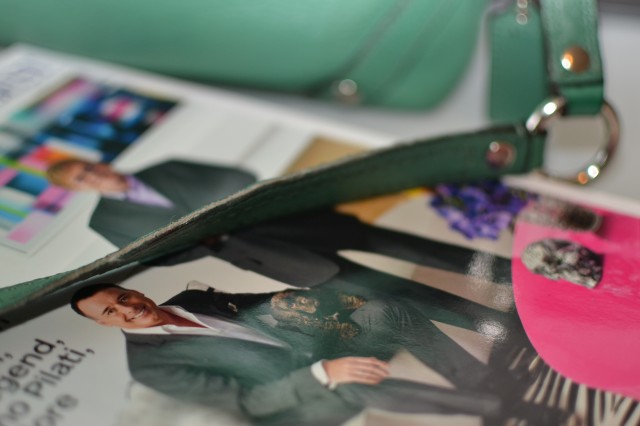 Now, it was time to start the second side.
So, it starts again with a rough look and after enough coats, a little bit of sanding, and a final coat, and it will really look great!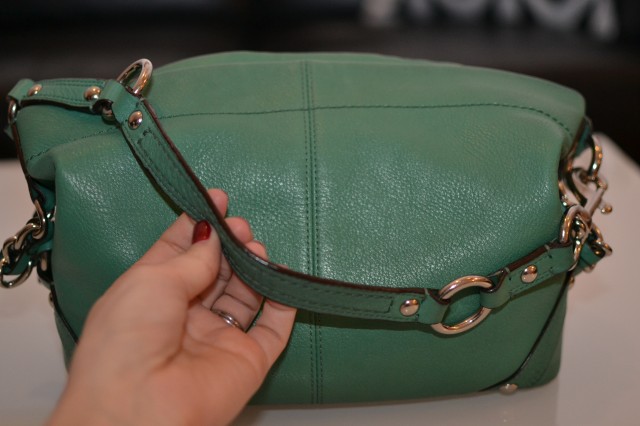 Here you can see both sides of the strap done.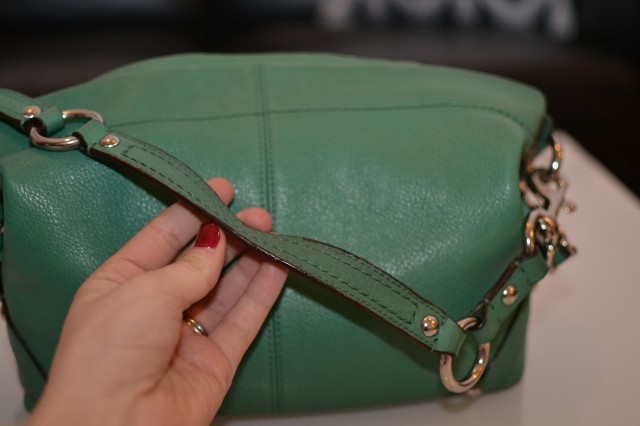 The directions said if you want the edging really shiny, just rub with your finger to give it extra shine.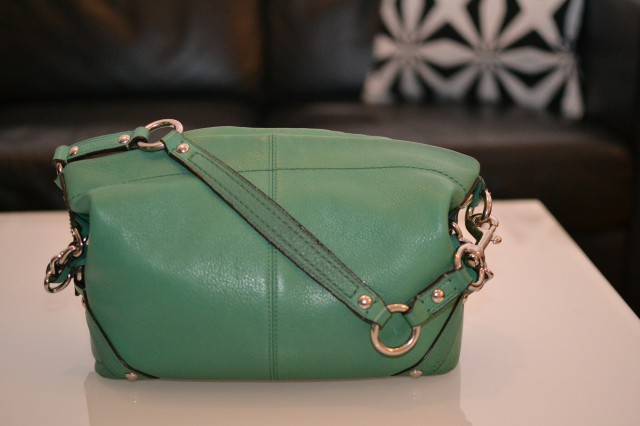 The final product!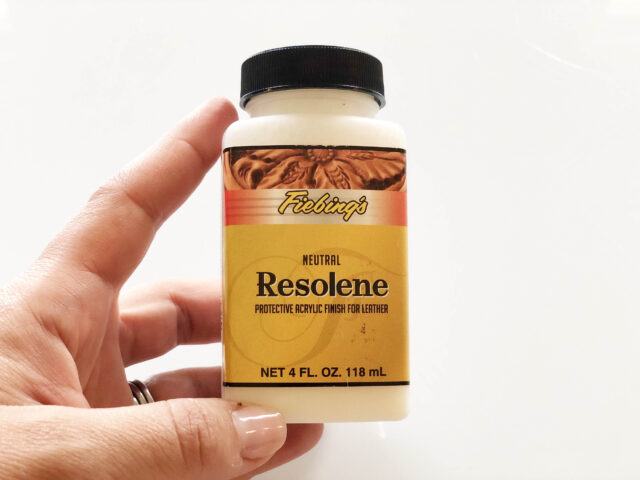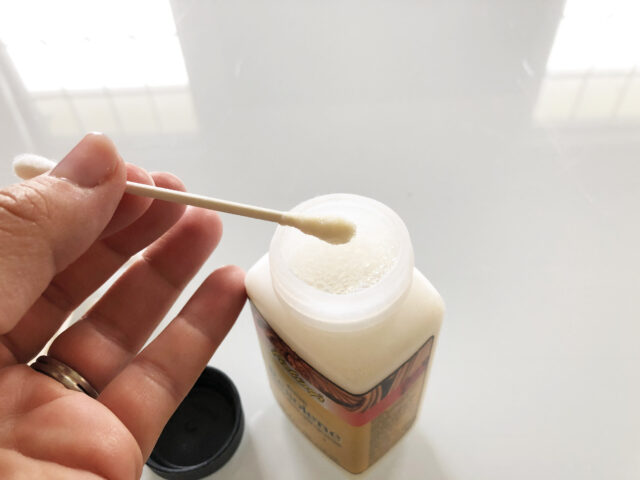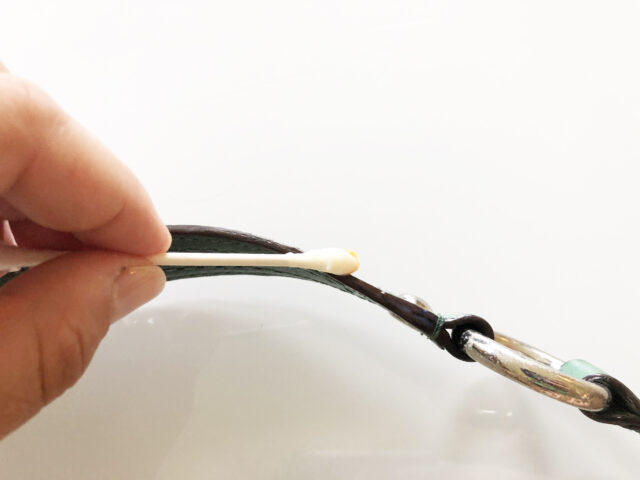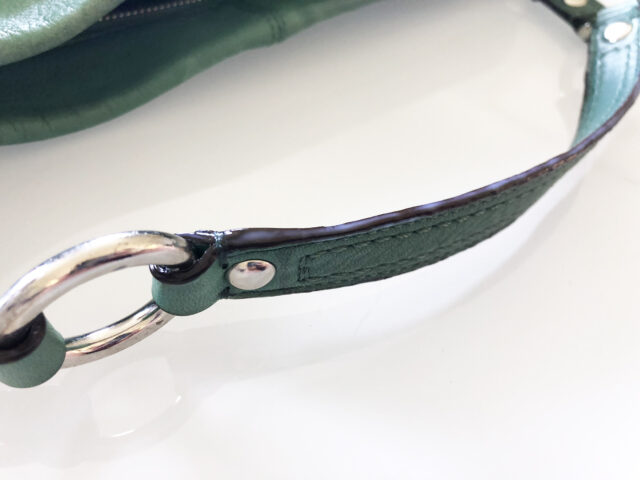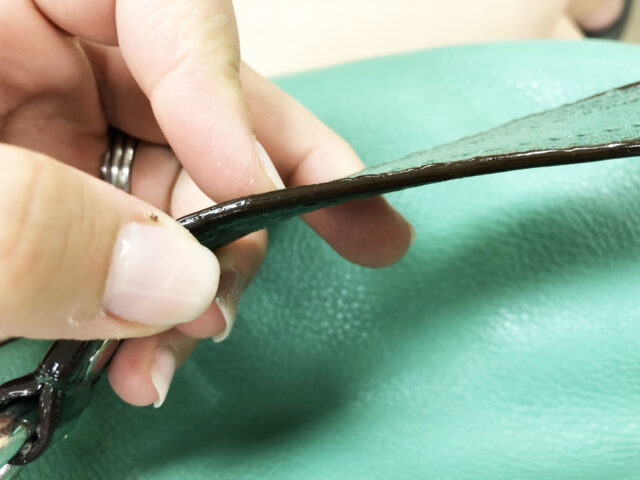 Also, a lot of Faux leather purses also have coating like this on the edges. I had a Guess purse that I threw away because the straps were looking so bad; Sad that I could have easily fixed it. I have a feeling this bottle will last forever! After doing this whole project, I think side the bottle the liquid line when down one centimeter maybe two. Edit: It has been 9 years since putting up this blog post, and I'm still using the same bottle of Edge Kote and Resolene!
I thought this difference was phenomenal for $10, and am SOO glad that I attempted it! My purse looks as good as new. Have you done anything like this before? I hope this helps anyone who has been having the same issues as me!