So while living in Austin, TX I learned to love and crave some fish or shrimp Tacos. I really liked Torchy's Baja Shrimp taco, but had some Tilapia Fillets to use up so I found a copy cat recipe online and decided to make it more Keto. This is a higher carb meal if you eat it with low carb tortillas, but could make your own, but we had a lot of carbs left over for dinner. Below is how I made them, they are a little more work,but boy are they amazing!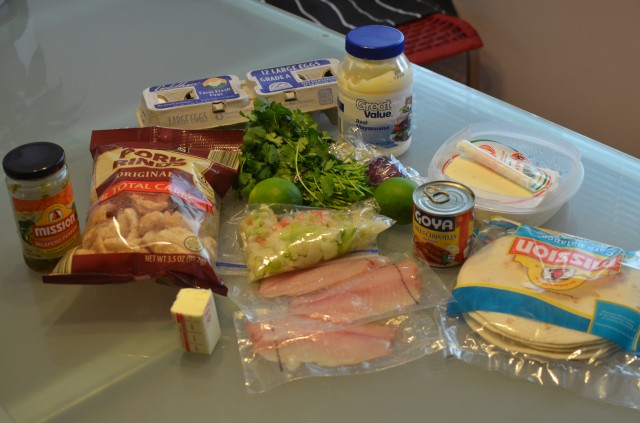 First start off with your ingredients: mayo, eggs(for egg wash), pork rinds(ground up for breading), Jalapeños (if you want them spicer), butter, thawed tilapia or shrimp, low carb tortillas(or eat just the mixture on a plate or lettuce wrapper), fresh cilantro, limes for squeezing, red onion, queso fresco (cheese), Adobo peppers in chipotle, cabbage chopped, small carrot chopped, oil for frying, salt, and pepper.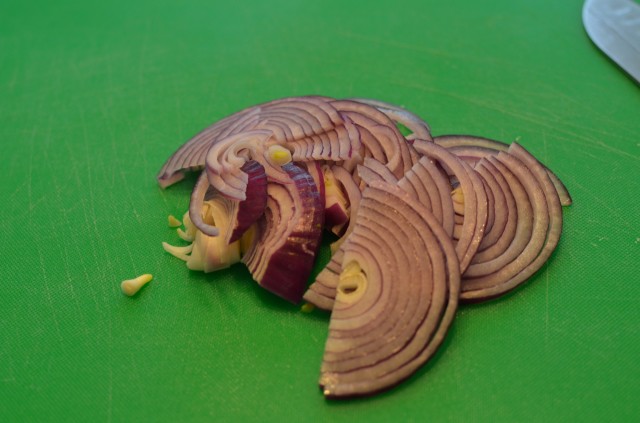 I sliced the red onions and put them in a dish so people could put however many they wanted on each taco.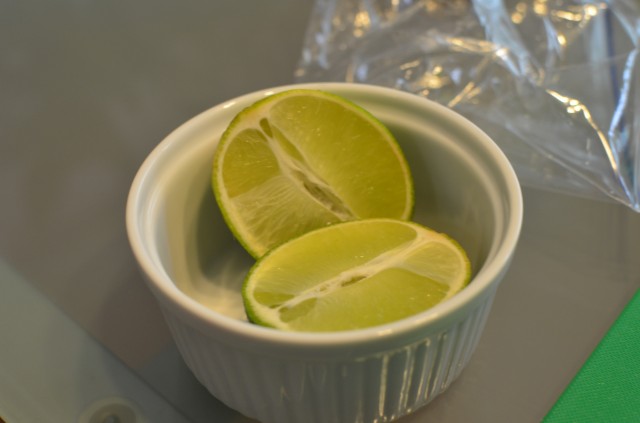 Slice the limes for squeezing… I think I cut them the wrong way, oh well.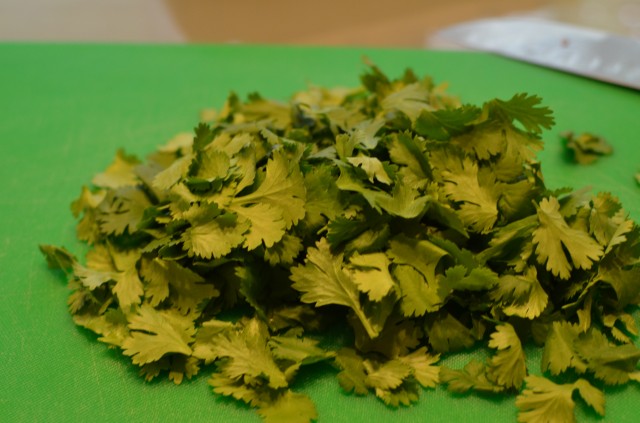 I took all the stems off of the cilantro.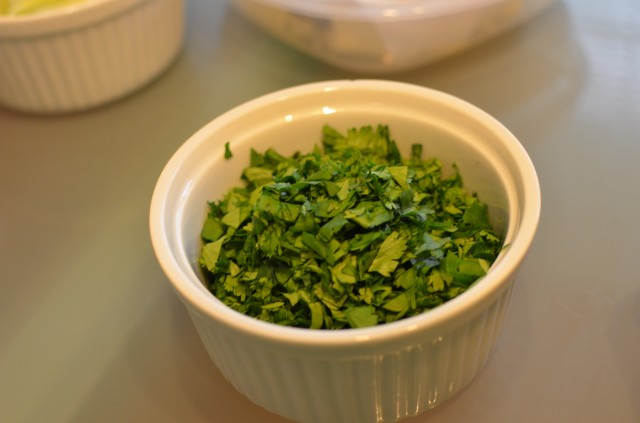 Chop and put in a dish.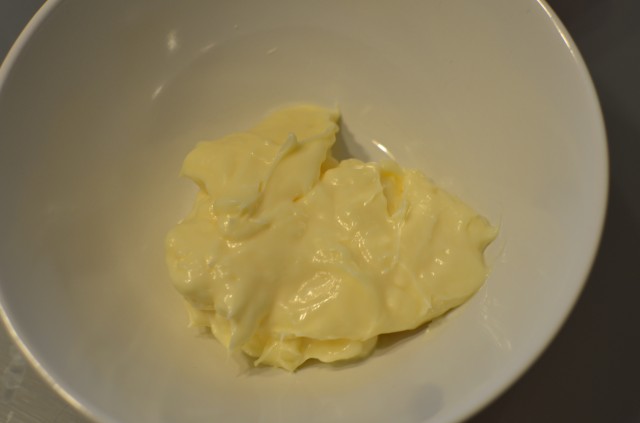 Add mayo to a bowl.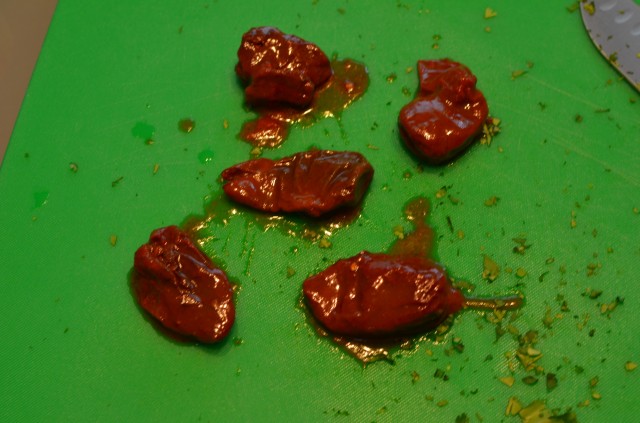 I bought one can of these peppers and took all the peppers out, the recipe only calls for one, so I individually froze the others for later use.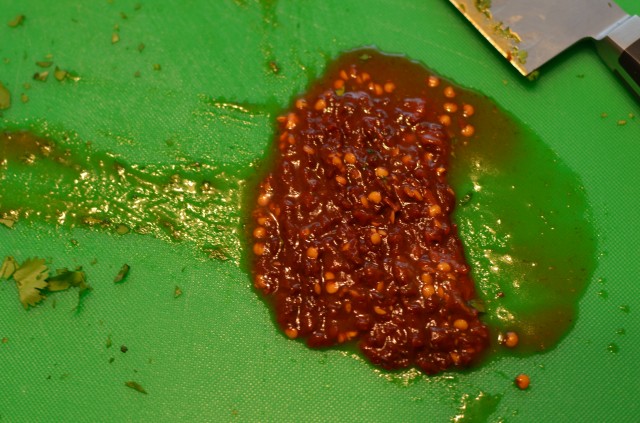 If you have a small food processor you can put the pepper in there, but my Vitamix is too big and it just got under the blade the first time so I just pulverized with the knife.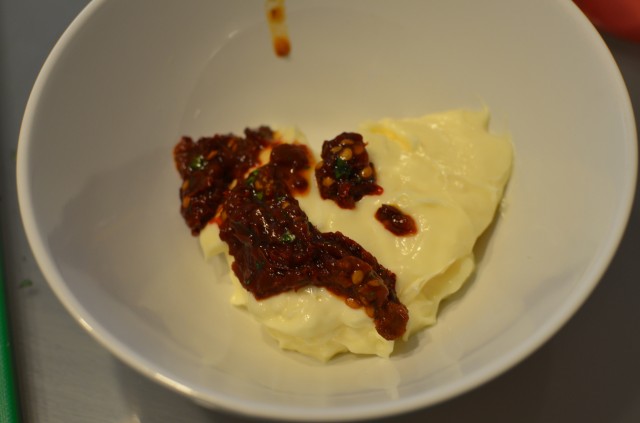 Add to the Mayo.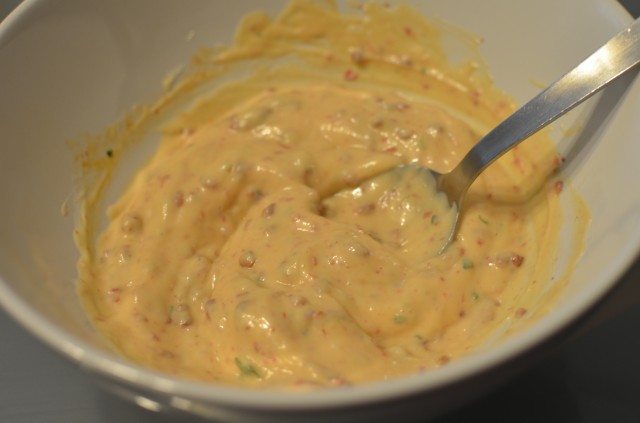 Mix up since this will be the chipotle topping.
I made this recipe before and chopped a whole head of cabbage and shredded 1 large carrot. Then split into 4 batches and froze 3 and used one. This time I just took the frozen cabbage/carrot mixture and cooked that.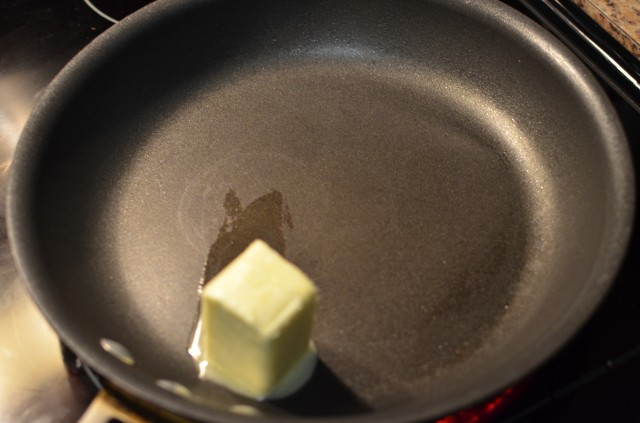 Start with butter or whatever fat you prefer.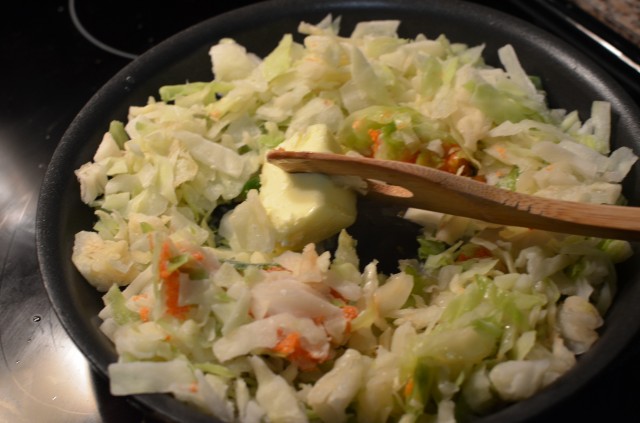 Add the carrot and cabbage mixture.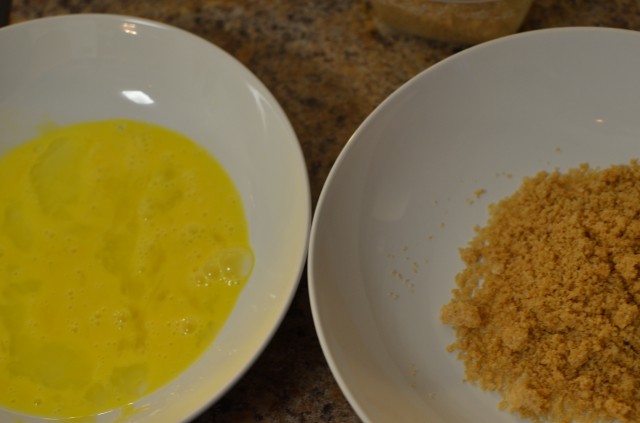 While that is happening set up your station for breading your Tilapia of egg and ground up pork rinds.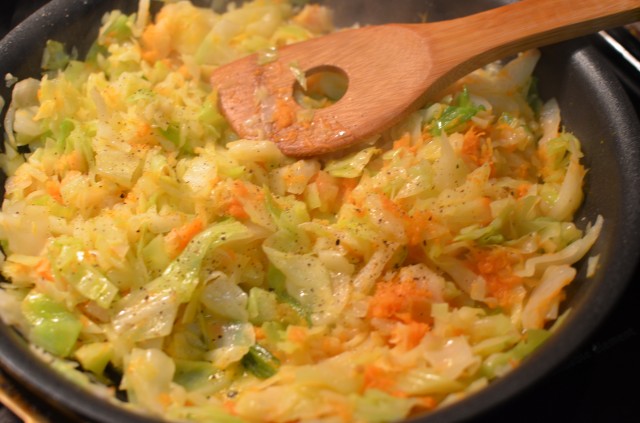 Add salt and pepper to the cabbage mixture.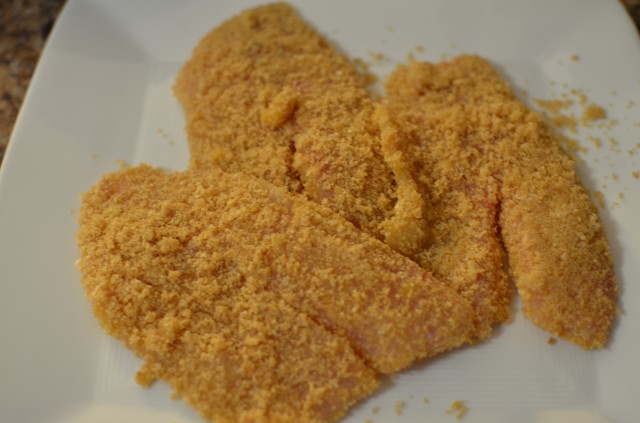 Rinse the tilapia, put in the egg wash, then into the pork rinds and get ready to fry them.
Once done, I stick this into another dish ready for the assembly line.
Heat oil for frying the fish.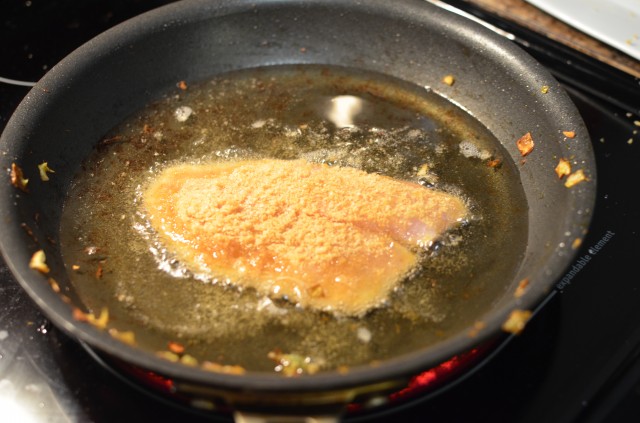 Fry away.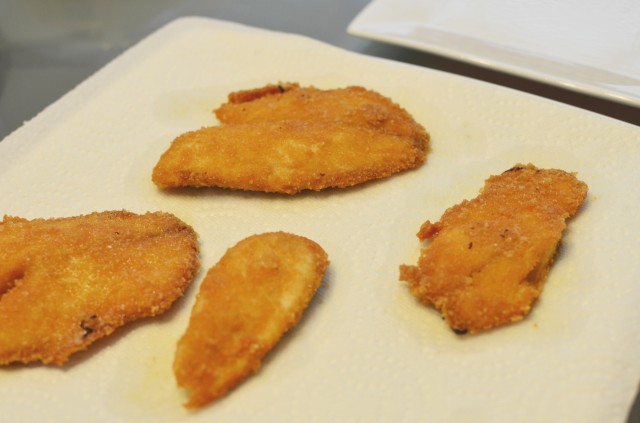 Once fried, place on a paper towel until ready to assemble.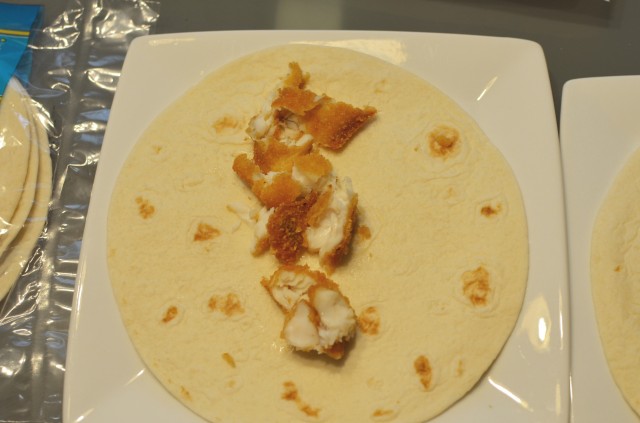 Crumble as much fish or shrimp as you want on the tortilla.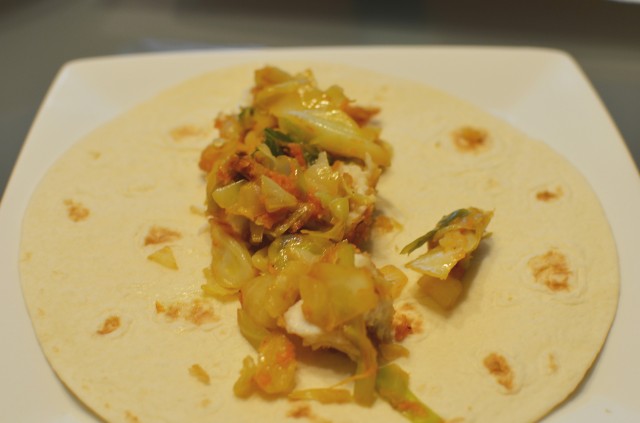 Add some of the cabbage mixture.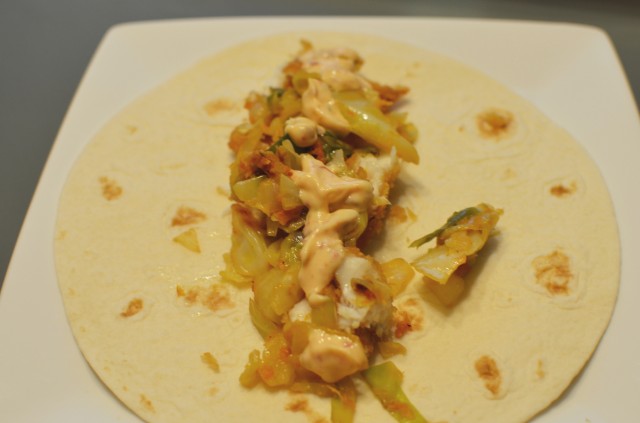 Then some chipotle sauce.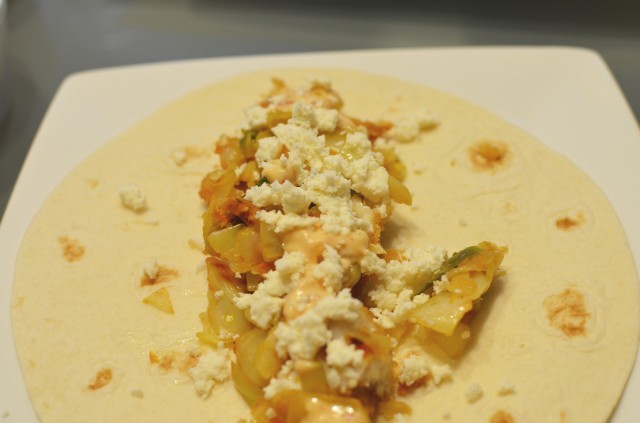 Some Fresco cheese.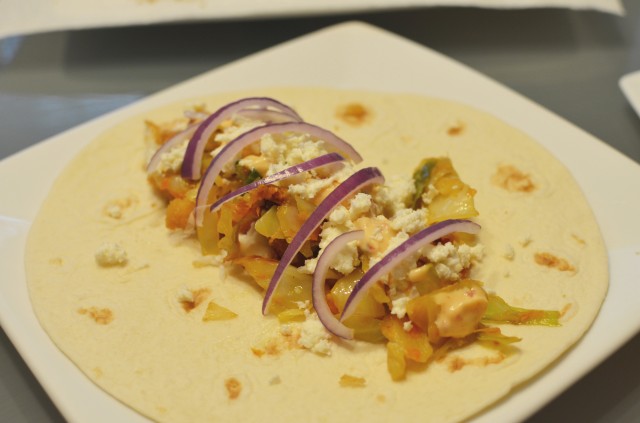 However many onions you want.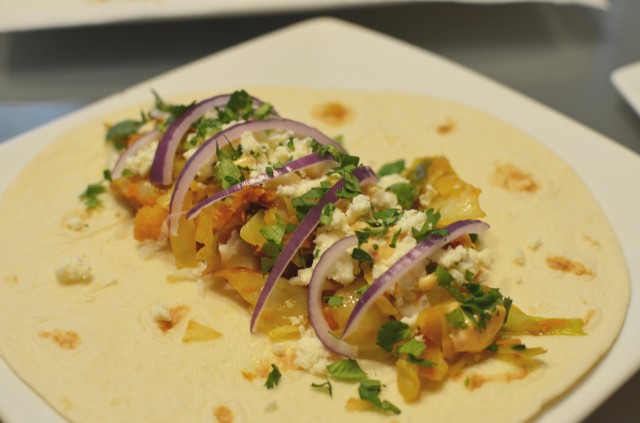 Cilantro.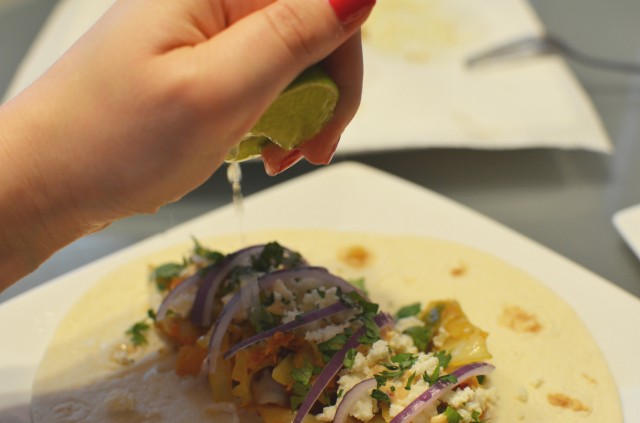 Then lime juice, and if you want it extra spicy you can add some diced jalapeños.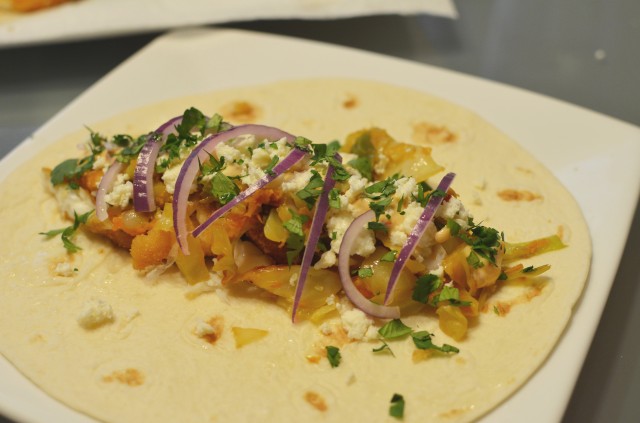 Then enjoy; there are a lot of flavors,but together this is a party in your mouth!!!!
Keto Fish Tacos (Recipe adapted from here)

Serves: 4 (2 tacos each)
1/2 cup mayonnaise
1 chipotle in adobo, stemmed
Kosher salt and freshly ground pepper
1 – 2 tablespoons unsalted butter
1 small green cabbage, shredded (about 3 cups- only use 1/4 of this amount for this recipe unless making for 12 people)
1 carrots, shredded
Vegetable oil, for frying
3-4 tilapia fillets or 24 large shrimp (about 1 1/4 pounds), shelled and deveined
1 bag of ground pork rinds
8 low carb tortillas (we like the mission brand)
1 pickled jalapeños , thinly sliced (optional)
1/4 small red onion, thinly sliced
1/4 cup coarsely chopped cilantro leaves
2 1/2 ounces queso fresco or mild feta, crumbled ( 1/2 cup) (we have started leaving this out as it doesn't add much flavor, has diary in it, and brings up the cost of the dish.)
Lime wedges, for serving
In a mini food processor, blend the mayonnaise with the chipotle, and refrigerate. Or Chop by hand and mix together. My metrics for carb count is assuming you will only use a tablespoon or two per taco not this whole recipe.
Heat a large skillet until very hot. Add the butter, cabbage and carrots and cook over high heat until the cabbage is browned in spots, about 2 minutes. Season with salt and pepper and transfer to a bowl. I only used 1/4 of the cabbage & carrot mixture and froze the rest into smaller batches. The metrics include around the amount actually eaten on 8 tacos assuming each person eats 2 for a meal.
In a large saucepan, heat 2 1/2 inches of vegetable oil to 350°F. Put the ground pork rinds in a bowl and some beaten eggs in another. Coat the tilapia in the egg and then with the pork rinds and fry in batches until golden, about 2 minutes per batch. Drain on paper towels.
Spoon some of the cabbage into the center of each tortilla and top with some tilapia that I like to shred by hand. Drizzle with the chipotle mayonnaise and sprinkle with some of the pickled jalapeños, red onion, cilantro, and queso fresco, and some fresh lime juice. Enjoy.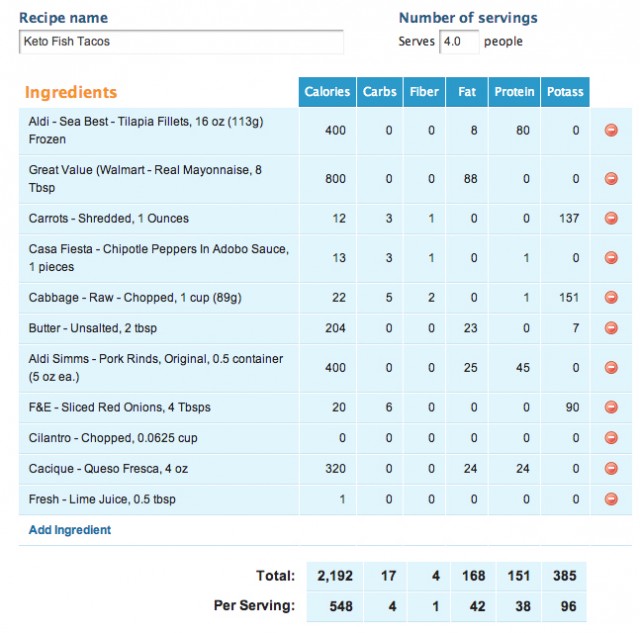 These are the metrics I could come up with for the filling to the best that I can,but it all depends on how much of each item you actually put on. So the Net Carbs for the filling is 3g.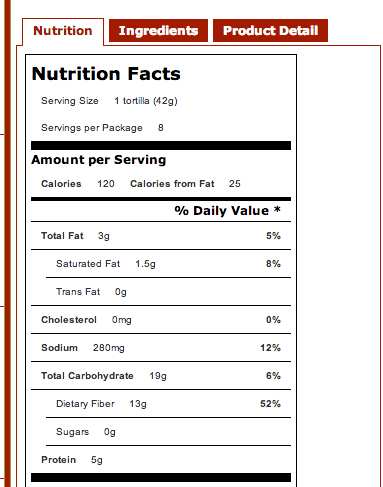 Here is the info for the Low Carb Mission medium sized tortillas, so the net carbs per tortilla are 6g.
So we each ate around 18grams of carbs  since we each ate 2 tacos worth which is a lot,but we were really low carbs for that day so it was a fun almost cheat meal. You can lower the carbs by making your own tortillas, eating this without one just the tilapia with all the toppings is still great, or using a bigger low carb tortilla since it holds more filling. Then you would only need 1 burrito each, but I couldn't find the bigger ones at the store this time. Either way the filling which is amazing isn't too carby so I hope you enjoy!