So here we are at week 4. After this week, I think phase 2 starts which means my meals might be more tailored for a different eating plan, but since we haven't gotten there, I'm not sure how it will all look at that point.  Below is our eating plan for the week. Also, I mainly plan so I know what groceries to buy. Then as we get toward the end of the week, I start using up other random odds and ends we have in the freezer or pantry, or change up the plan a tad if we have a craving for something different. For instance, Friday of last week, we all wanted pizza. So we tried a cauliflower crust pizza recipe with sweet potato fries and fried eggs. The pizza tasted pretty good, but not even close in consistency to pizza, and pretty much just counted as a veggie. It was also a lot of work, so I don't plan on making it again. I also tend to not count in an orange container in a lot of my plans since I don't eat a ton of seeds, and I use some coconut oil with cooking so I count it as that.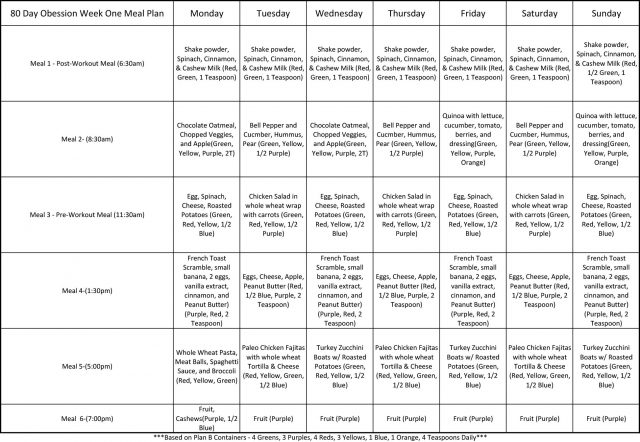 80 Day Meal Plan Early Morning Workout Week 4 Sheet1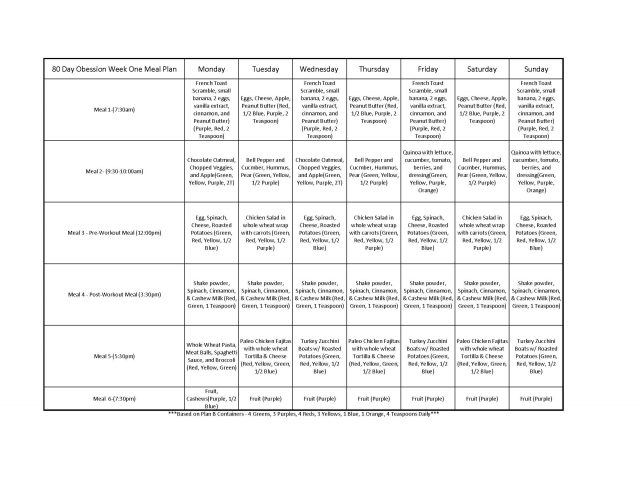 80 Day Meal Plan Week 4 Sheet1
Here are the recipes:
I decided to try these Triple Chocolate Oats for one of my meals. I think they taste good, but are better fresh than premade that is for sure. I think next week I will try a chocolate overnight oats version. I am not huge on oatmeal, but I like changing out my food for pure variety.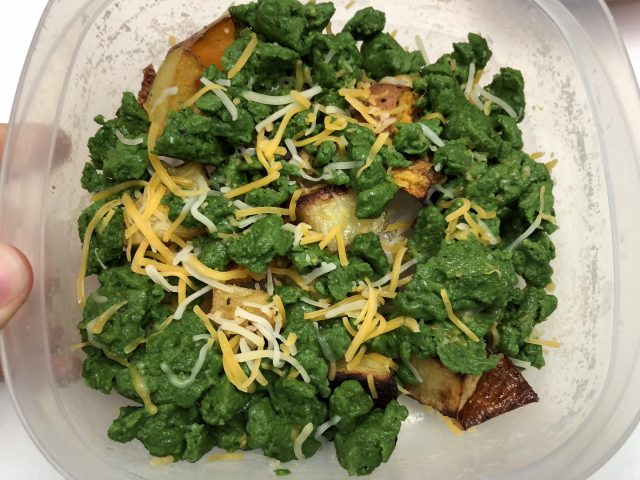 So for one of our lunches during the week, we have done roasted potatoes following this recipe, topped with eggs and spinach which are cooked together topped with cheese. It is really good, but the spinach pieces were sometimes chewy. So I tried pureeing the spinach with the eggs and then cooking them. As you can see they are REALLY green. However, they taste just like normal eggs, so I think we will continue to have them this way even if they do look super crazy. 🙂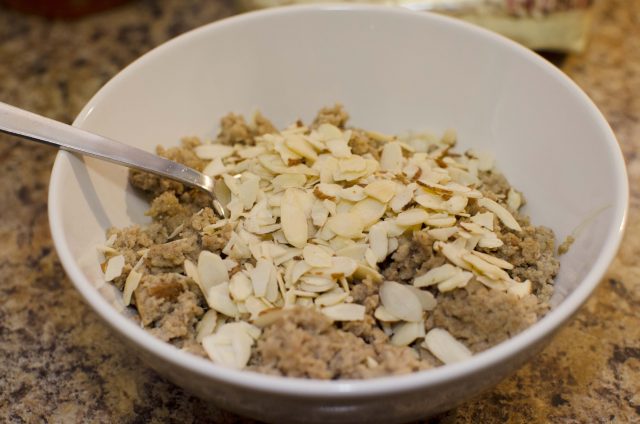 Find the French Toast Scramble recipe here.
If you are wanting another option than this, you can make these 2 Ingredient Pancakes. I normally add blueberries to mine while in the pan so they get nice and warm too, but this blogger sometimes just add some peanut butter to it. So the containers are almost the same as my scramble above. Also, on either of these recipes, the more ripe your bananas, the sweeter they will taste.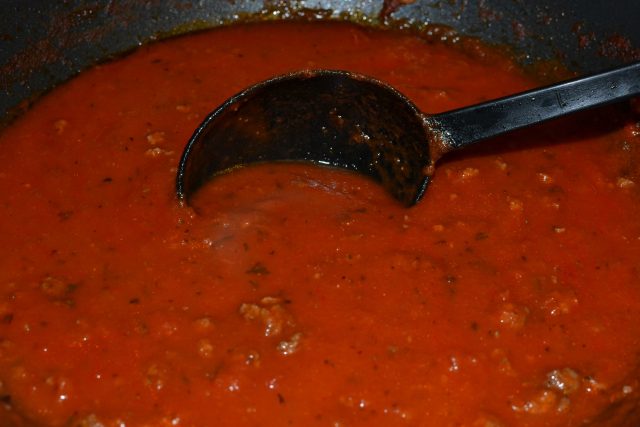 I wanted something super quick and easy for our dinner on Monday. A lot of times I'm dragging on Mondays. So I made Spaghetti Sauce on Sunday, and this time I did meatballs rather than just browned beef to make it easier to measure out the protein portion. We put that on top of whole wheat noodles, and then had some roasted broccoli for our veggie. I try not to do noodles too often, but the ease of it every once in a while is nice.
Homemade Spaghetti Sauce – Can be frozen or served fresh
1 lb. Beef
1 Onion Chopped
1-2 Cloves of Minced Garlic
1- Small can of Tomato Paste
1 Cup of water
2 Small cans of tomato sauce
1-2 Cans of petite diced Tomatoes
Italian seasoning
Salt
Pepper
1 Bay leaf
Garlic salt
Brown meat and drain. Then sauté with onions till they are clear add garlic, tomato paste, water, tomato sauce, diced tomatoes, and spices. Simmer for a while. Make noodles and serve together. We filled half a green container with sauce and the rest was the roasted broccoli.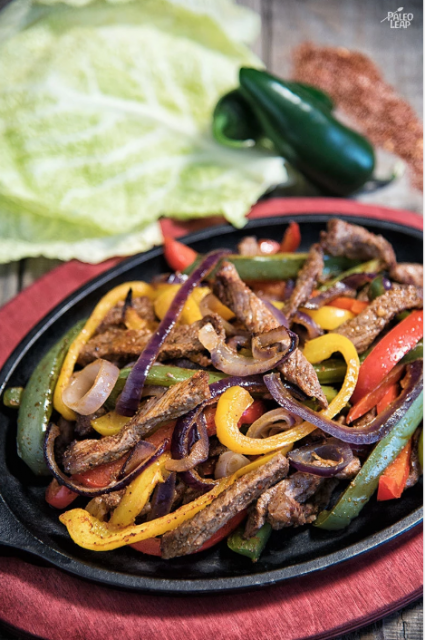 We also are having These Paleo Fajitas again for dinner on two corn tortillas.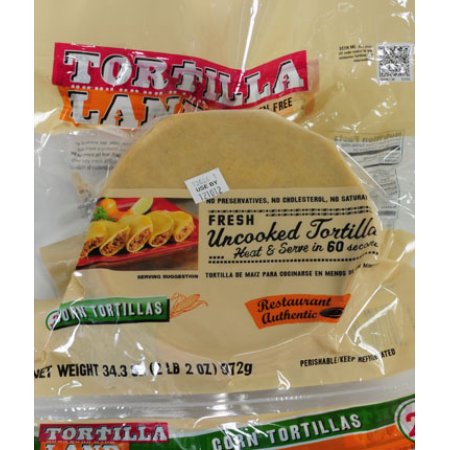 If you have never tried the uncooked tortillas they are amazing. They taste just like fresh made ones. They also make them in flour, but with 80 day obsession we aren't eating those. I'm normally not a big fan of corn tortillas, but these are great. All you do is heat a skillet and cook them without oil in a nonstick skillet for about 30 seconds per side. I bought these and the flour ones at Walmart, but I know Costco sells some too. Other stores sell them as well, but they might be by a different brand. I find them in the cooler section of most stores near the cheese on the top flat areas.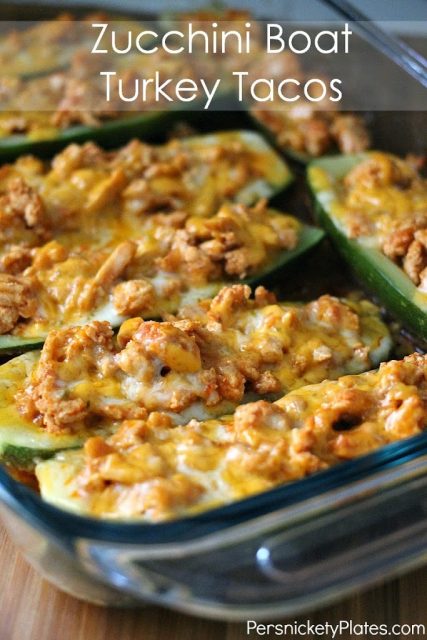 This recipe is another favorite that we make even when we aren't watching what we eat. I do however wait to add the cheese to our individual portions so we can keep track better while using the portion containers. You can make this into a casserole which is a lot quicker and easier than making the boats of zucchini. However, for measuring out the meat and veggies, I will make them the way the directions say.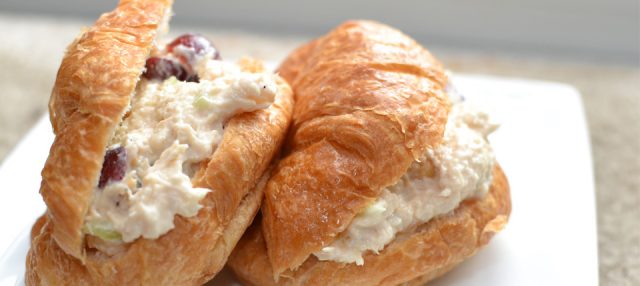 I made chicken salad from a rotisserie chicken. They are very affordable at Sam's Club or Costco, and I just would shred all of the chicken, and make my salad. HERE is my original recipe, but I did alter it a tad for this to make sure it wasn't too fatty or sugary.
Jessica's Quick Chicken Salad
1 Rotisserie Chicken shredded (or 3 cups diced cooked chicken)
1/4 cup Helmann's mayonnaise
1 cup red grapes, halved
1 stalk celery, diced (if you don't like the texture, add celery seeds to give the same flavor, I do this in pot pie sometimes. Or just mince really really small.)
1/2 cup crushed Pineapple
salt and pepper to taste
pecans or cashews, optional
In a bowl, combine the chicken, mayo, grapes, celery, pineapple, salt, cashews, and pepper. Combine until well mixed.
Serve on a wrap, shredded lettuce, or on a lettuce leaf.You can always adjust it. I filled a red container a little bit heaping and counted it as 1 red and 1/2 a purple since I prefer my chicken salad sweeter and used the fruit to do that for me. Also, I have a friend who adds shredded carrots to her which makes it orange, but tastes amazing. So next time I will add some shredded carrots.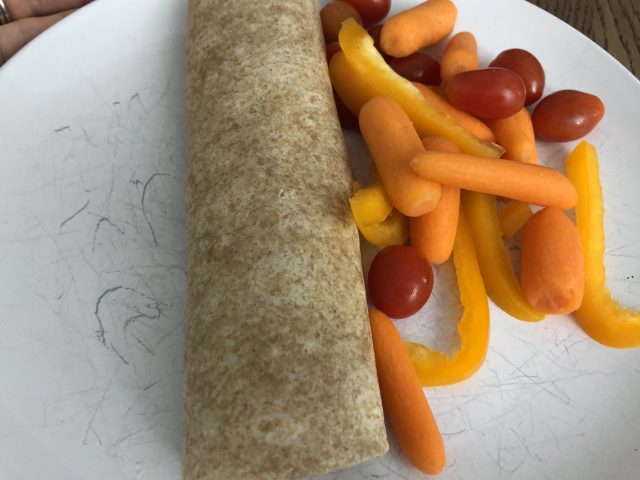 Here is what my plate looked like with a side of veggies since I didn't have enough in the salad to count it.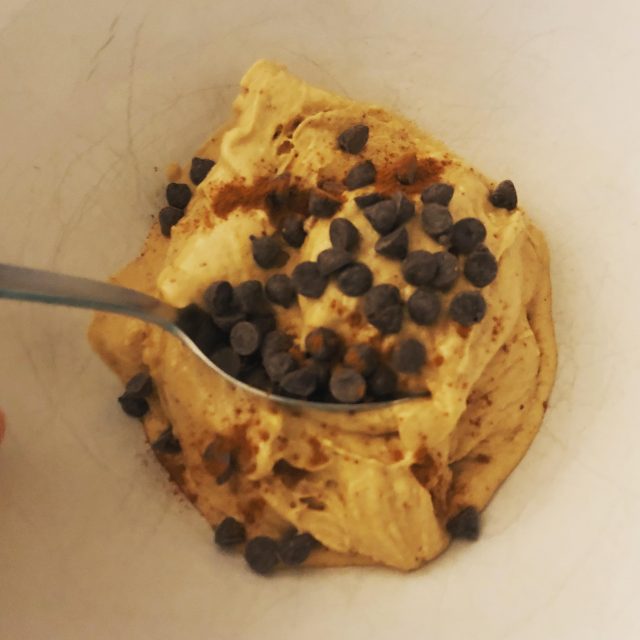 Sometimes I make Chunky Monkey. It is one frozen banana that is ground until smooth in a strong blender. It will take a bit of time and you will need to scrape down the sides, but once it looks like soft serve ice cream add peanut butter, and top with a dash of cinnamon and a few mini chocolate chips. It is really really good. I have seen others make this ice cream as a base and add in just fruits to make it taste more like a sorbet. I hope you enjoy.
I have a sweet tooth at night, so I always save a fruit for the evening, and I try to have some Teaspoons left over so I can have Peanut butter too. I tried a cheesecake recipe that counts as 1/2 a red container, and I wasn't too impressed, but if your interested in the recipe let me know.
I hope you have a great week!