Here is one of my favorite recipes. There are THOUSANDS of different version of Chicken Salad! There was one that I grew up with that the amazing ladies at my church in Ohio always made, and it had grapes and cashews in it. I have to say that I am partial to a sweeter version of chicken salad. Of the varieties found in restaurants, Panera Bread has the best one hands down in my opinion. Well you can disagree with me and that is fine because little things make a huge difference. My older sister Kira has a great version too. I begged my mother in law, Gail, to ask the amazing ladies at church to give me their recipe. I have to say she did AMAZING!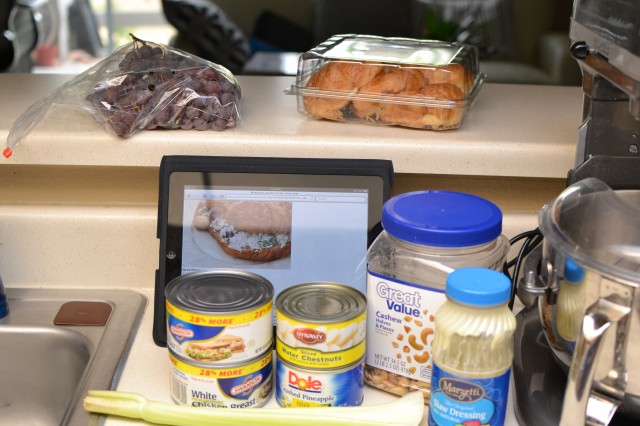 I morphed my sister's recipe and the one from the ladies at home into the one that I use. The key ingredient is the Marzetti's Slaw Dressing. I know they sell them in the north at normal stores, and my cousin's wife said that she found it in a Walmart in Searcy. I couldn't find any in Austin, so I ordered a big box from amazon since they carry it too. I know that the ladies at home would actually roast/bake their own chicken, I use the canned stuff because it is faster. Sometimes I buy a roasted chicken from the store, and if there is any left over, then I use that to make chicken salad or shredded chicken that I have left over from other dishes.
Jessica's Quick Chicken Salad
2 ( 12.5 oz) cans of chicken (or 3 cups diced cooked chicken)
1/4 cup Helmann's mayonnaise
½ Cup of Marzetti's Slaw Dressing
1 cup red grapes, halved
1 stalk celery, diced (if you don't like the texture, add celery seeds to give the same flavor, I do this in pot pie sometimes. Or just mince really really small.)
1/2 cup crushed Pineapple
salt and pepper to taste
Water Chestnuts if you want an added crunch
pecans or cashews, optional
In a bowl, combine the chicken, mayo, grapes, Marzetti's, celery, pineapple, salt, cashews, water chestnuts, and pepper. Combine until well blended.
Serve on rolls, bread, or croissants sprinkle with some cashews or pecans. This can also be served on a lettuce leaf.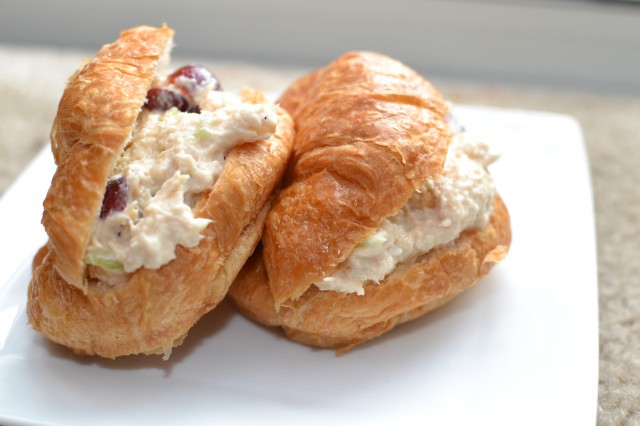 When we are being fancy and not caring about money, we make them on croissants, but when we are more health conscious we go with wheat bread or lettuce. I can eat this stuff plain so I love it as a snack. Do you put other stuff in the your chicken salad?