The fourth weekend in June, we decided to go boating on Percy Priest Lake with Kira and Andrew since it hadn't worked out weather wise on the first of June. We arrived in Nashville on Friday evening after work and got to spend some time then hanging out and talking. Then Saturday morning, we had packed everything and including the  food that had been made in advanced that would be good on a boat to eat. We had made the following food items for our first boating trip that never happened: (Kira) fruit/veggie shish kabobs, meat and cheese shish kabobs, breakfast sandwiches,Guacamole, (Jessica) pasta salad, cranberry fluff, chips, salsa. For the second trip, we had the following menu: (Kira) Tex Mex dip, chips, (Jessica) BBQ pork sliders, jalapeño poppers, raspberry lemonade, and Salsa. Needless the food was great, and it is crazy how hungry and tired you get on a boat doing absolutely nothing! We stayed in Nashville through lunch on Sunday, and then returned home.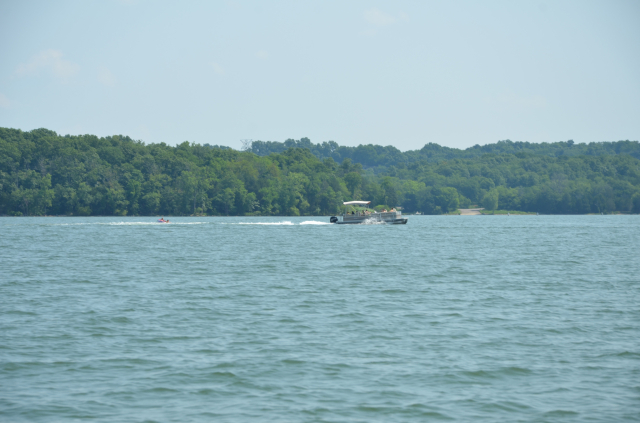 It was beautiful out and even though there were other people on the lake, I didn't think it was over crowded.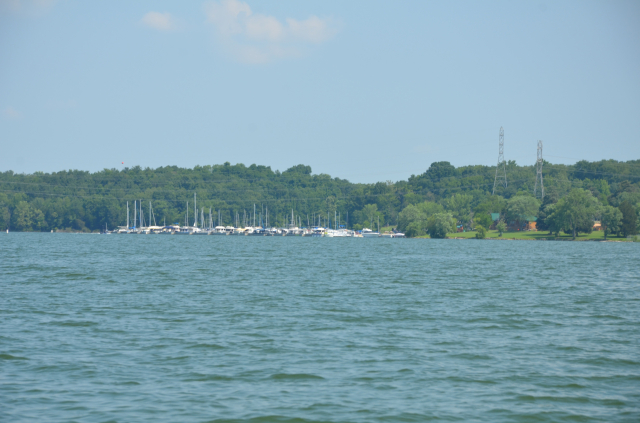 The marina with some boats.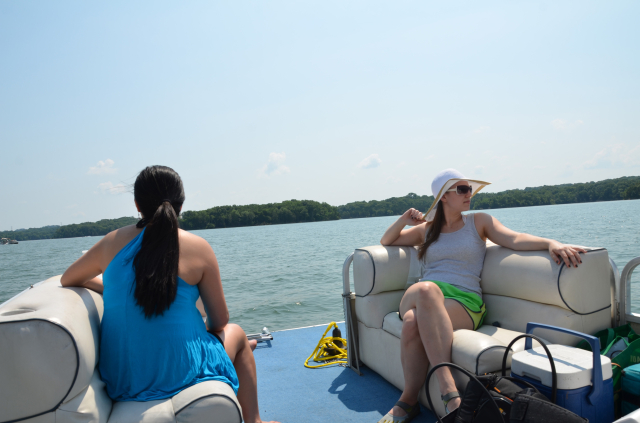 Just boating around the lake waiting to find our spot.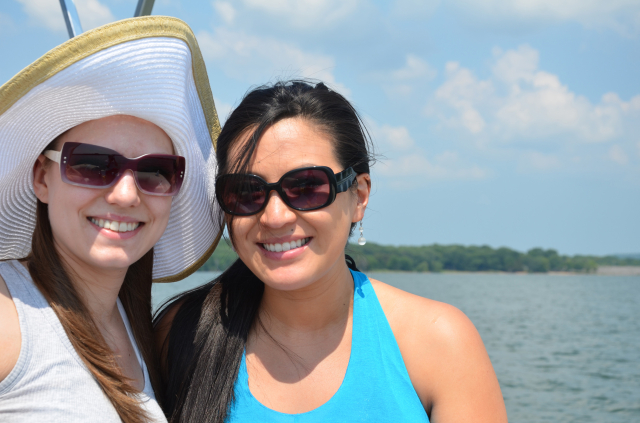 Kira and I .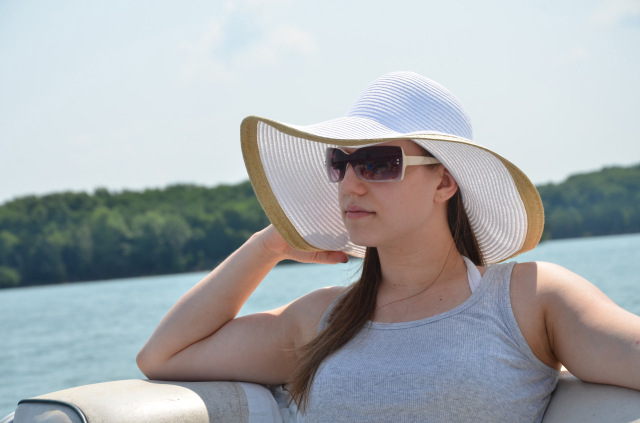 It was super nice, and this hat was nice other than the fact that it gave me weird tan lines.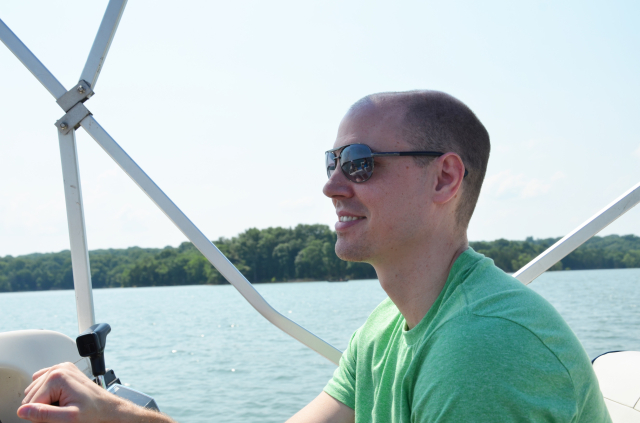 So, this boating trip was super fun,but we all think we kind of got shafted on our boat. There were a lot of things broken or not working. When the guy was telling andrew how to drive the boat and what to know he point to all of the gauges around the driving console and said, "Oh, see all those gauges  I shut them off so no matter what they say just ignore them. We filled you up, and you have plenty of gas for the whole day. Also, if you hear an alarm go off while driving, just ignore that." We also heard the other employees mumbling/whispering about they didn't know where the oil was going, and how they had filled it up. The motor just didn't sound right when driving the boat, and we really couldn't go fast. We also found out that the boating company was only insured for about an 1/8th of the lake which really made Kira mad. She really wanted to drive around and explore the lake hence getting a boat in the first place.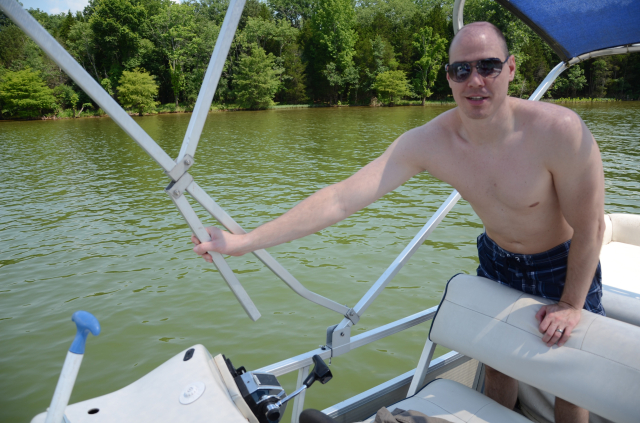 Also, whenever Andrew went too fast or made a right turn, the alarm started going off and wouldn't stop which was super annoying. Here you can see Andrew showing a part of the canopy that should be attached.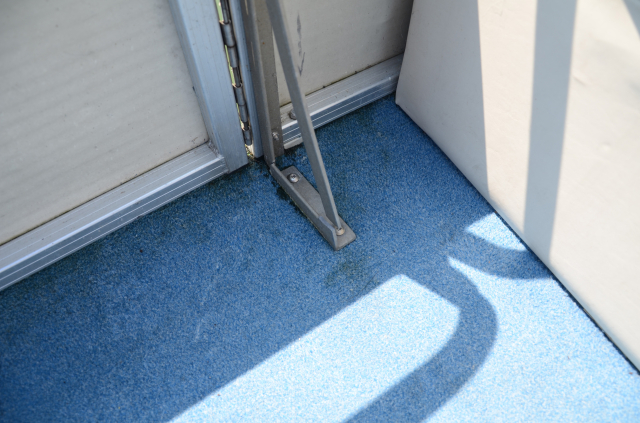 Here you can see a random stabilizing bar that also was broken.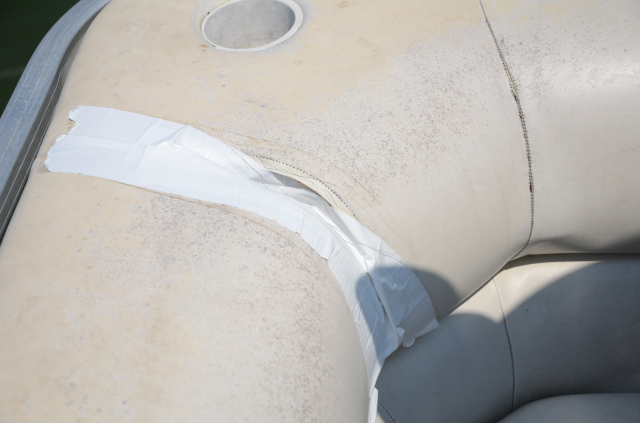 The seats weren't that clean and had a nice amount of white duct tape too.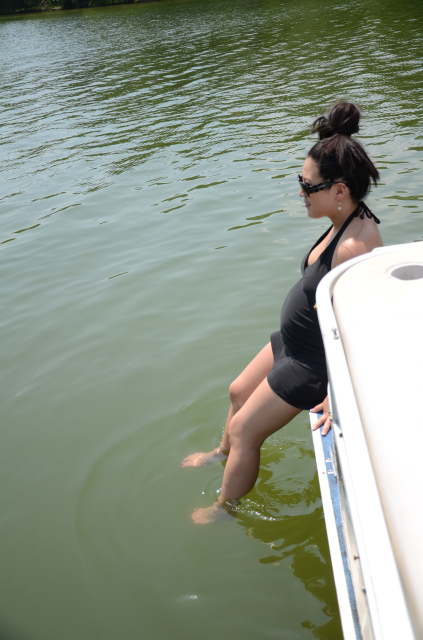 Since we couldn't explore the whole lake, we got a nice alcove that we claimed where we dropped the anchor and swam and hung out.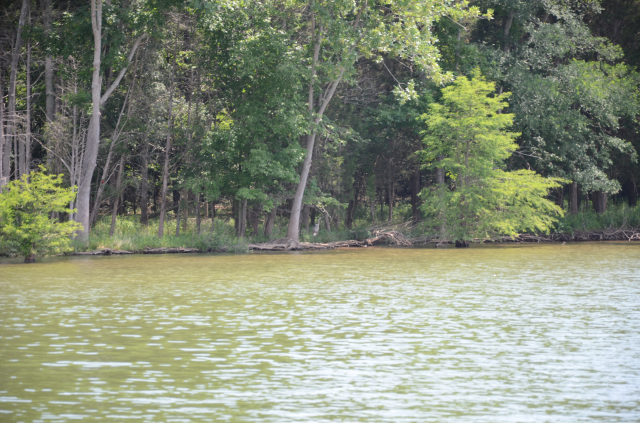 A herrin on the far shore.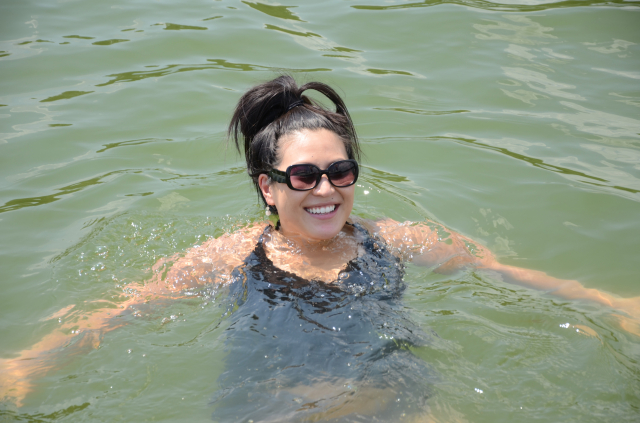 Kira swimming, she freaked everyone out with how she got in the water.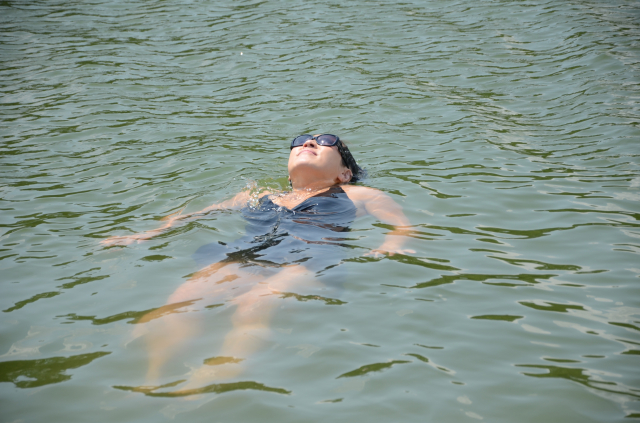 We asked her if swimming/floating was any different while pregnant,but I don't think she said it was.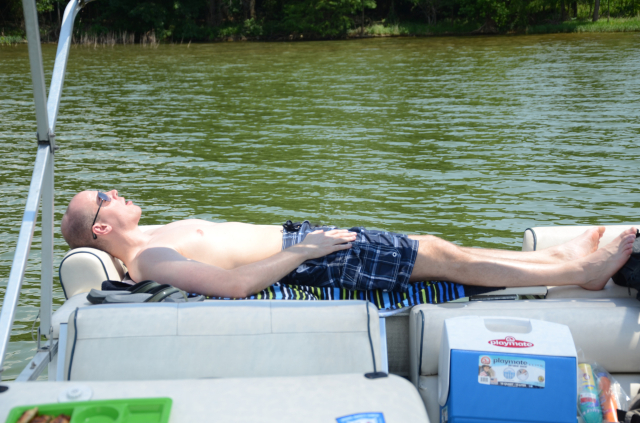 Andrew laying out, also the portion of that area between his torso and feet was also barley on the boat since one of the long screws was broken off.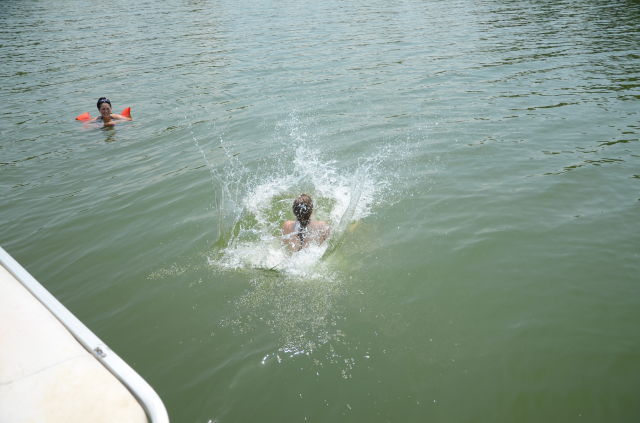 I joined Kira to Swim.
 Kira giving Andrew her typical annoyed or not believing what he is saying face.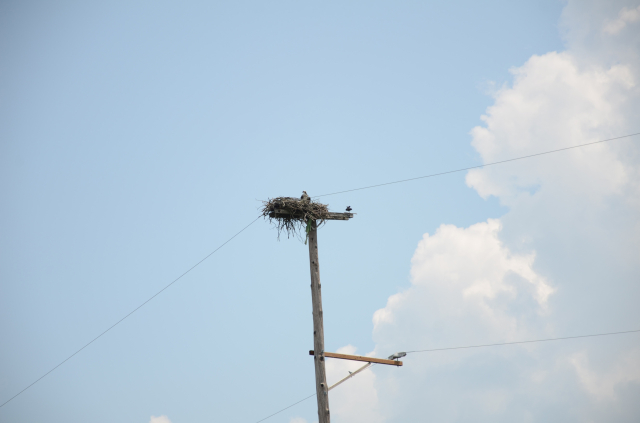 A cool hawk's nest with babies hawks in it.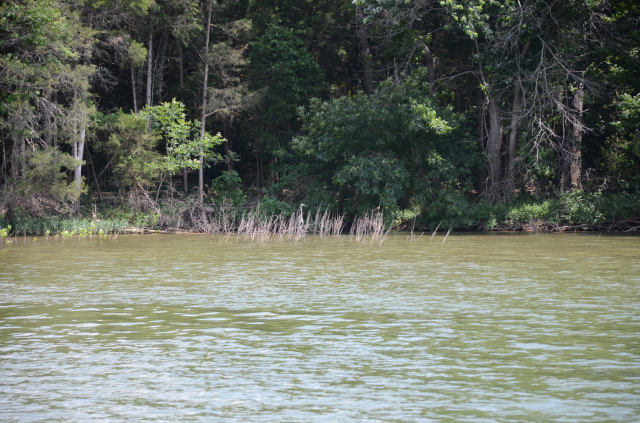 Another Herrin on the water's edge.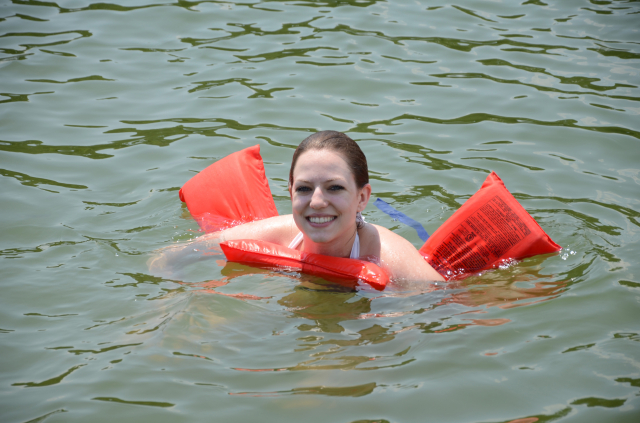 Swimming, it was super nice in the water.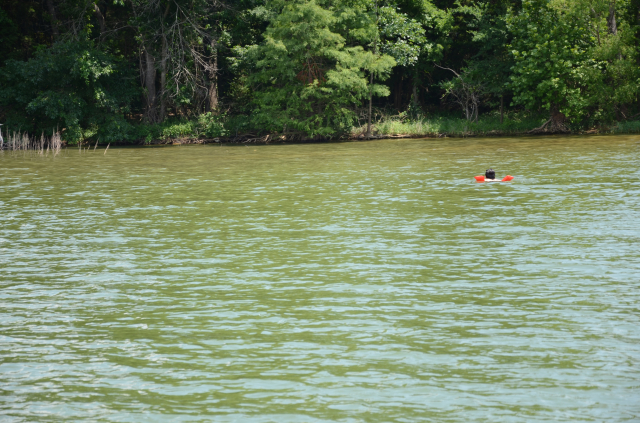 Kira liked to go exploring, and then Andrew would get annoyed saying stuff like be careful, you are carrying our daughter!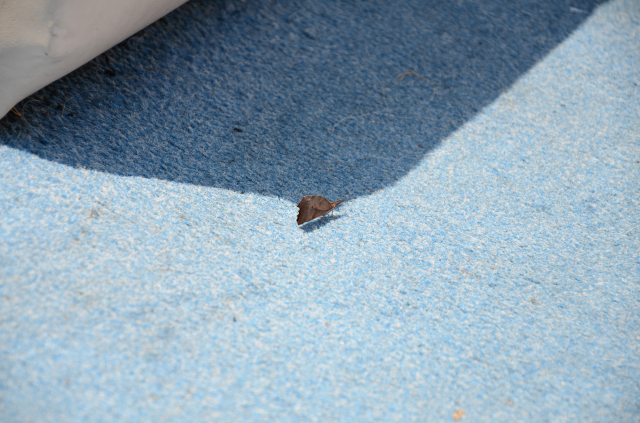 A butterfly, I couldn't get it with it's wings open.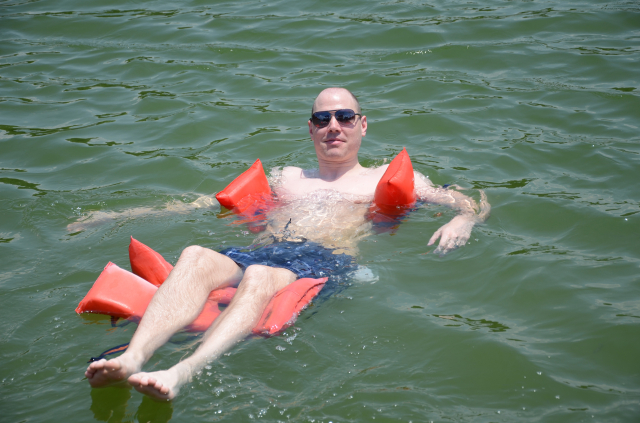 Andrew swimming/floating in the water.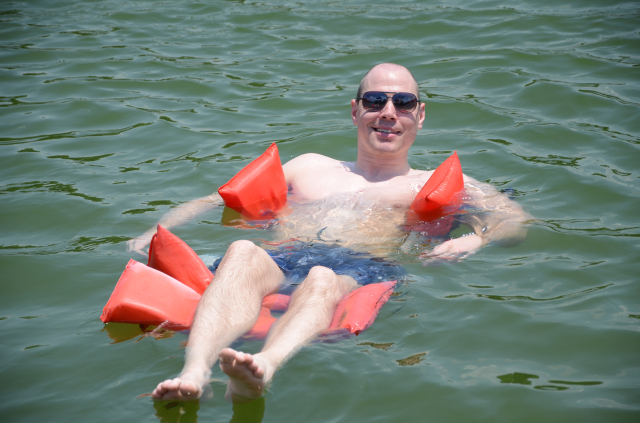 Giving us his awkward smile. Grant got in too,but I never got a picture.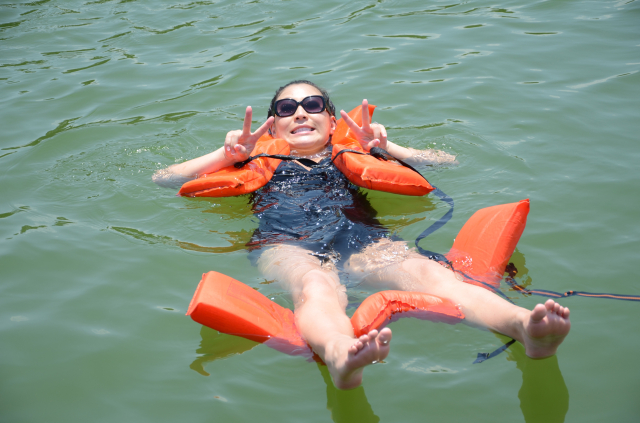 Kira, LOL!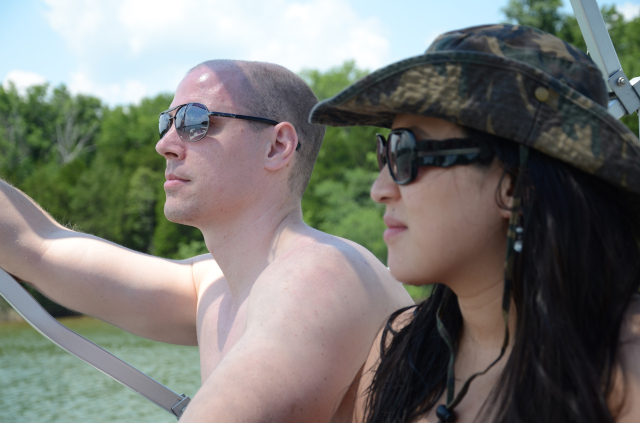 After a few hours in the cove we decided to drive around some more and explore an 1/8th of the lake.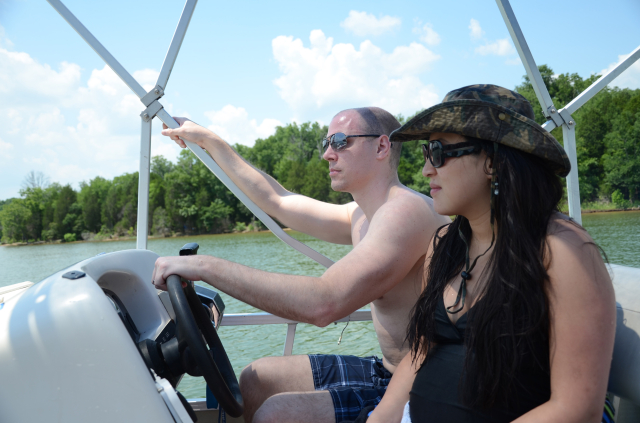 Kira kept trying to get us to ignore what the guys said and see more, such a rebel.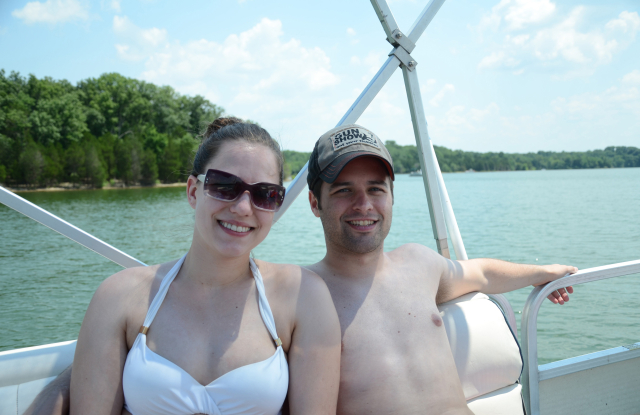 Grant and I.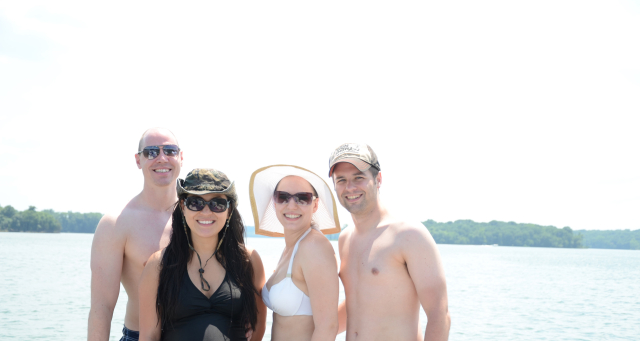 Group Shot #1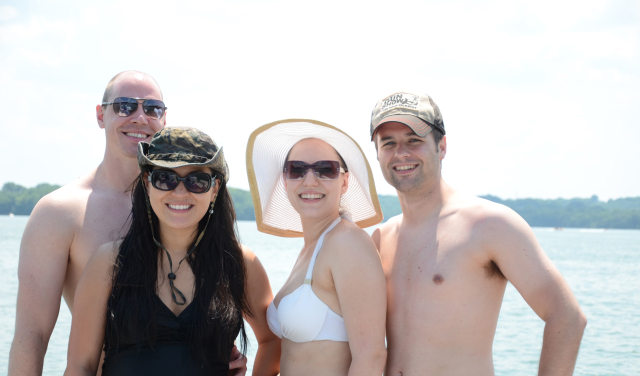 Group Shot #2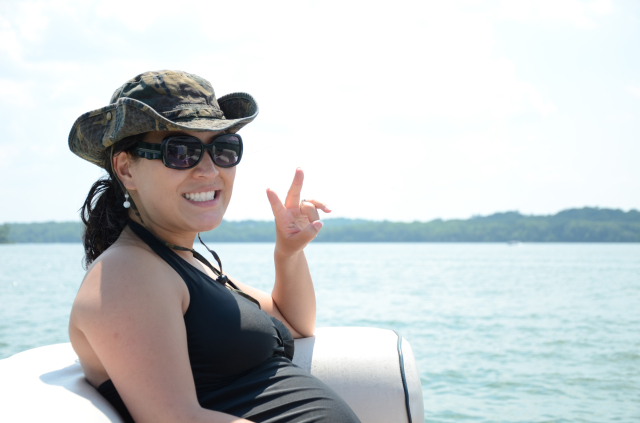 Poor Kira, Grant kept taking pictures of everyone.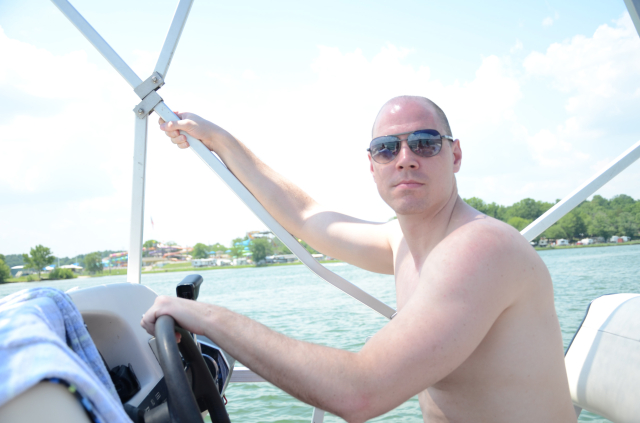 Andrew when Grant was taking a fast picture.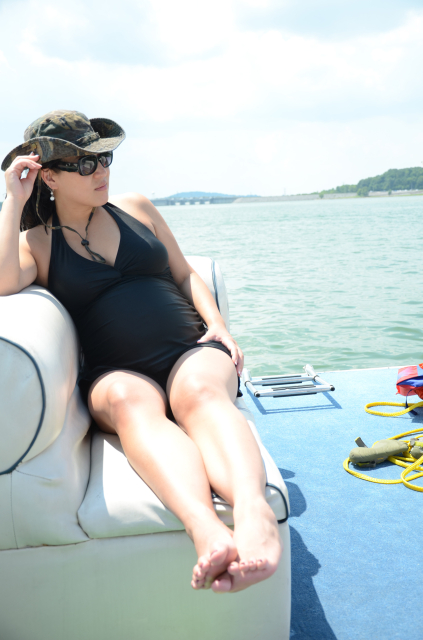 While we were driving around.
Here you can see our messed up ladder, when in the water it wouldn't stay straight so it was impossible to get back into the boat let alone if you are pregnant. Andrew had to help everyone else back into the boat. We got an awesome video of Andrew helping Kira back in which was interesting cause we had to be careful of Alana,but she would kill me if I posted it.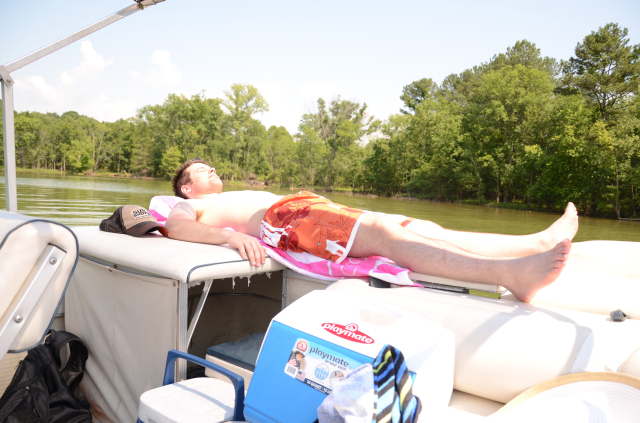 Grant laying out.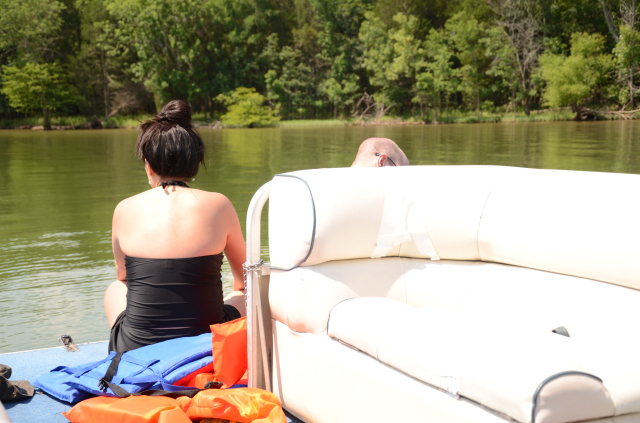 Just chilling.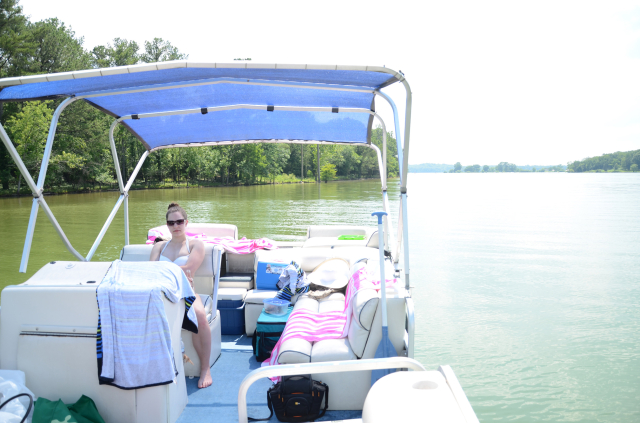 Ignore me, but here you can see the general size of the boat.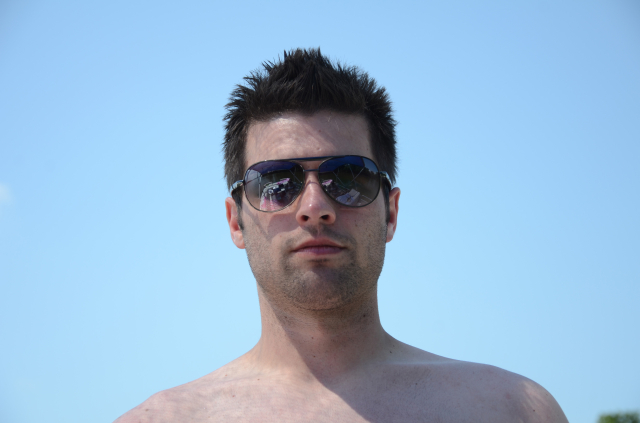 Grant.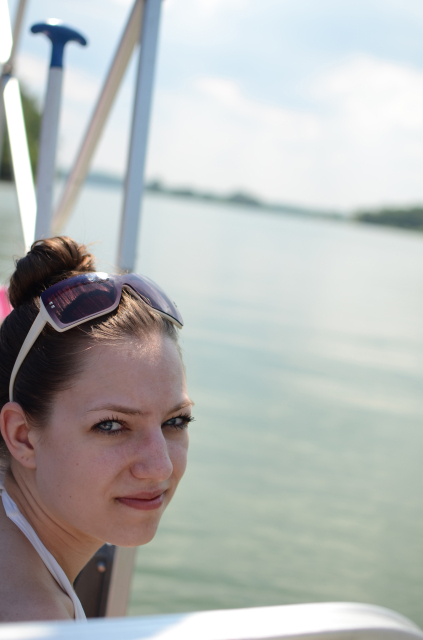 Me.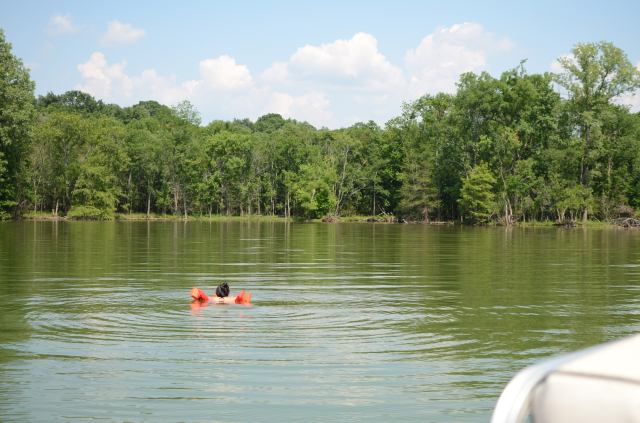 Kira swimming some more.
Even though our boat was ghetto, we had a great time, and might even make this trip an annual thing. This was Grant's and my first time "boating." We had been tubing or just riding around in a boat but never hanging out like this on a boat for hours, it was awesome.
I think the people who rented us the boat knew that they had given us a crappy boat because every other boat we saw pull in with that company was super nice except ours, and they never asked us how it was. Anyway, I think Kira is insistent on never renting from them again. Â It was awesome that this trip worked out this time though!