I helped organize a luncheon that had a fiesta theme; at this luncheon we used jalapeños and hatch peppers as decoration on the tables. Once this was over we had over 25 pounds of peppers left. So I gave as many away,but Grant and I still ended up with a pound or two, so this is what I made with them. Grant loved it. It isn't a hard recipe,but it lots of prep work so set aside at least 30 minutes for it. It is so worth the effort though!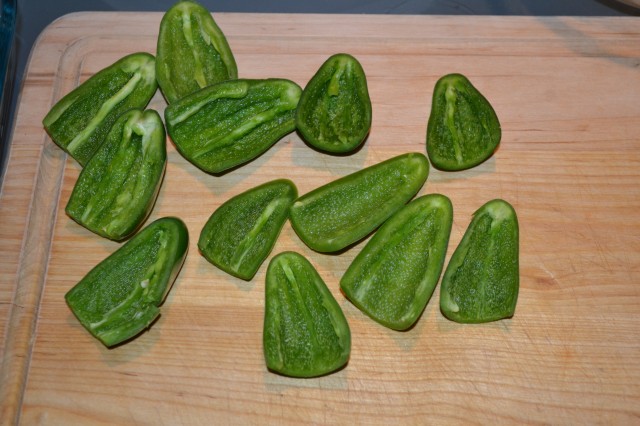 Wash, slice, deseed, and WEAR GLOVES!!!!! You might not feel it at first,but you can get burning hands for hours if you don't wear gloves.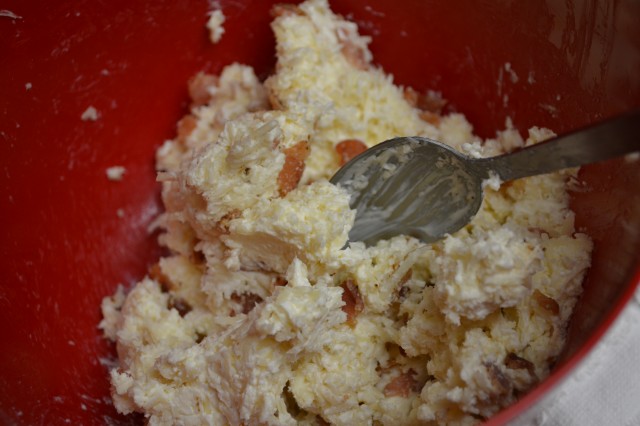 I cooked bacon, on the george foreman cause I was lazy, then rip it into small pieces. Add the bacon to the softened cream cheese, and parmesan cheese. Try not to snack on this, it is really tasty 🙂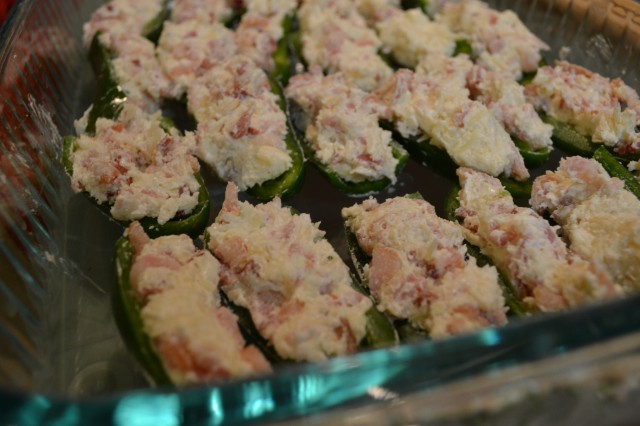 Fill the Jalapenos with the filling, and then bake in the oven. I found that the jalapenos at our local Fiesta Mart were much spicer than the ones we bought at Walmart. This could be because Fiesta sells to mainly hispanics and they have higher standards for their pepper,but I don't know.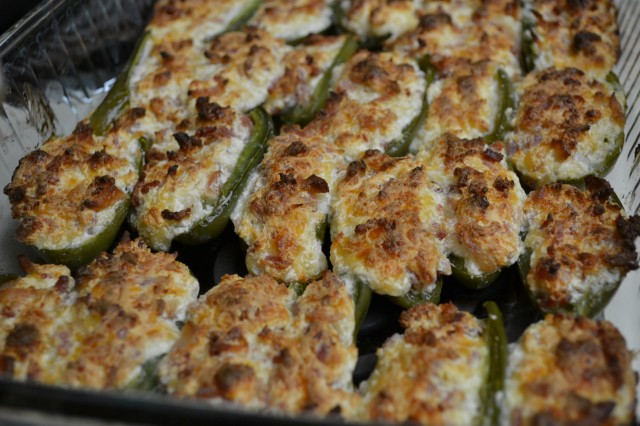 Here you can see them finished, they didn't last long, they even tasted great cold the next day.
Jalapeño Poppers
Ingredients
1 pound of bacon
1 (8 ounce) package cream cheese, softened
1 cup shredded Parmesan cheese
1 pound large fresh jalapeno peppers, halved lengthwise and seeded
1 (8 ounce) bottle Ranch dressing (optional)
Directions
Preheat oven to 425 degrees F (220 degrees C).
Place bacon in a skillet over medium heat, and cook until evenly brown. Drain grease.
In a bowl, mix the cut or ripped bacon, cream cheese, and Parmesan cheese. Spoon about 1 tablespoon sausage mixture into each jalapeño half. Arrange stuffed halves in baking dishes.
Bake 20 minutes in the preheated oven, until bubbly and lightly browned. Serve with Ranch dressing.
These were so delish that I had to make them a second time to get pictures. Some Jalapeños are hotter than others or if you bake longer they will taste more mild.