So Grant and I have been wanting some lasagna, so after his request, I decided to try Zucchini Lasagna. I have never made it before, so I read up on how to make it. I have a great lasagna recipe that I wanted to follow,but wanted to make sure I correctly do the zucchini portion.
First, I made the Spaghetti Sauce so it would be ready to use. If you don't want to make one, then you can use any jar pasta that you like. Grant really likes the flavor of Ragu with the black  label that is parmesan romano.
Grasham's Homemade Spaghetti Sauce
1 lb. of Ground Beef
1 Onion, Chopped
1-2 Cloves of Garlic
1 Can of Tomato Paste (6 oz.)
2 Cans of Tomato Sauce (8 oz. each)
Italian seasoning
Salt
Pepper
1 Bay Leaf(don't eat,but put in for flavor, I removed this once I started assembling the lasagna)
Garlic Salt
First, brown meat and drain.  Then saute with onions till they are clear add garlic,  tomato paste, water, and the tomato sauce and spices.  Simmer for a while. Make noodles and serve together.
Once the sauce was ready, I used a mandolin to slice the Zucchini and laid it on paper towels and salted the top and let them sit for a minute or two. Wipe all the water off the top, and I then used our george foreman to cook all the slices for 2 minutes to get even more of the water out. I then laid them on paper towels again once cooked, and I wiped off more water before layering them into the lasagna.
For picture instructions on what to do with the Zucchini slices, click here!
Then I followed my Simple Lasagna recipe, except I didn't add the cup of water that the original recipe calls for because the zucchini lets out more water while cooking.
Simple Lasagna
1 egg, beaten
2 1/2 cups mozzarella cheese
1 container(15oz.) ricotta cheese
1/2 cup Parmesan cheese
1/4 cup parsley
1 jar(26oz.)spaghetti sauce or homemade sauce
12 lasagna noodles, uncooked or Zucchini Slices
Preheat oven to 350°f. Brown meat.
Mix egg, mozzarella cheese, ricotta cheese, Parmesan cheese, and parsley; set aside.
Spread 1 cup of sauce on the bottom of pan, layer 3 lasagna or enough zucchini noodles to cover pan, and then 1/3 of the ricotta spread, and then 1 cup of sauce. Repeat layers, and then top off with cheeses.
Cover with foil, and bake 45 mins, and remove foil and bake for 15 mins. Then let it cool for 15 mins. before serving.
For regular recipe and picture instructions, Click HERE!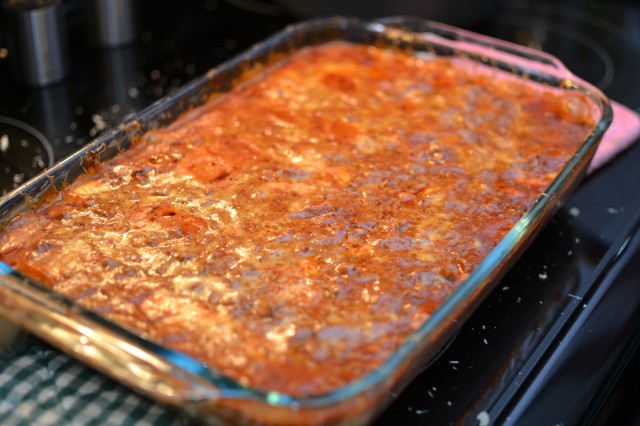 Here is the final lasagna, and it was delicious.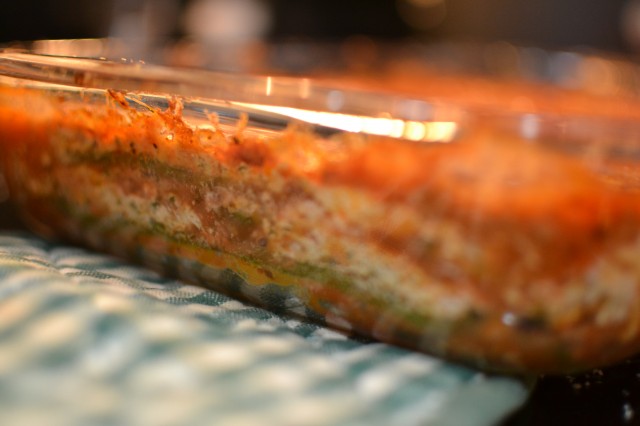 We loved it as left overs and will probably make again soon since we always need good lunches we can grab and go.