As I know I have mentioned before, I got a new job at the end of April, I still cannot believe I have been working her for over four months already! I love my new job! Don't get me wrong, I really miss all of my friends from my previous job; At Alpha we almost lived on top of each other because there was only so much space, and you really got to know people well. At Westover, everyone has their own offices, I am not complaining as it gives me more freedom to do what I like in there, but it does get lonely sometimes. Anyway, I knew I wanted my office to be fun, trendy, and a space I could work in. I was trying to explain to my coworker that once Grant and I get a house it will not look like this. Grant and I both prefer a more minimalistic style with less pops of color and more monochromatic white, grays, and blacks. Anyway, here is the progression of my office so far; it is nowhere near done,but it is a start.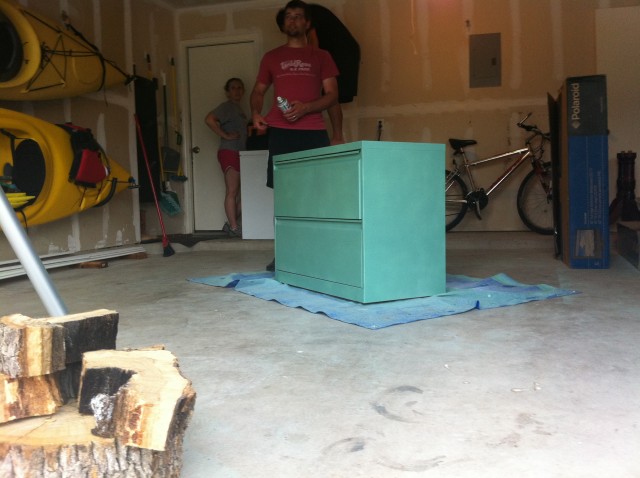 Here is the filing cabinet that we bought off line for $11.00 which was putty colored. The Johnstons were kind enough to let us use their garage and sander. Â I then spray painted it; I wanted turquoise,but jade the color above was the closest thing I could find.
That was the tour of my office on my first day at work. When I first saw my office it was hunter green and mustard walls with a maroon ceiling. The previous occupant had been color blind, and his mother in law had picked the colors. It pretty much looked like a tiny tuscany gone too bold. Anyway, I was asked what color I wanted, and I picked cityscape (the gray), and asked for the bookshelves to be painted a white (can't remember the name) which were the same color as the door, not my favorite wood color.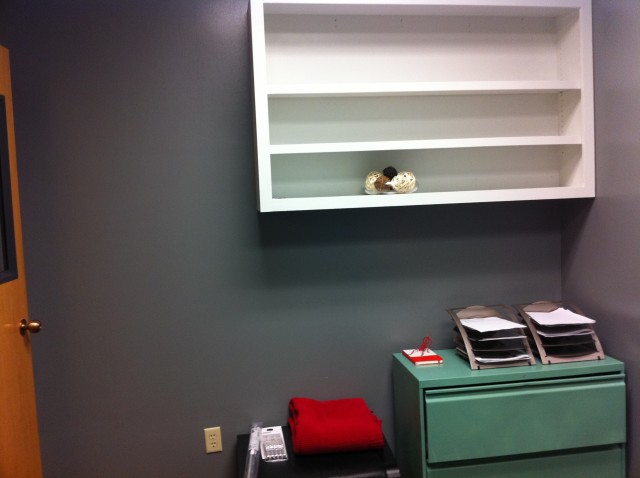 Here you can see my filing cabinet in place with the awesome champagne colored intrays my mom once bought. I have no clue where, and I have never seen any as nice as these, believe me I looked.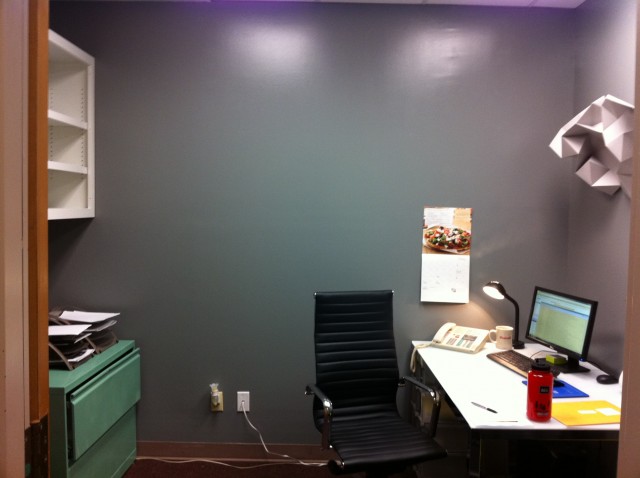 The next in progress picture. Here you can kind of see my desk which is a dining table from Ikea. It is called Torsby, I think it was $199, and the chair is from staples; I have the low back version at home that we found on craigslist,but this was the cheapest that was similar.
Here you can see my cute lamps I got on clearance from Target for $6.00 a piece, I moved one off my desk,but at least you can see them here. I made the wall scultpure above my desk using a tutorial from here. http://www.apartmenttherapy.com/ny/how-to/how-to-video-jeremys-origami-tesselations-139947 I know my mouse pad is crazy huge,but it was $8.00 dollars at office depot, and I hate being confined while using my mouse. That makes me sound like a nut case, lol!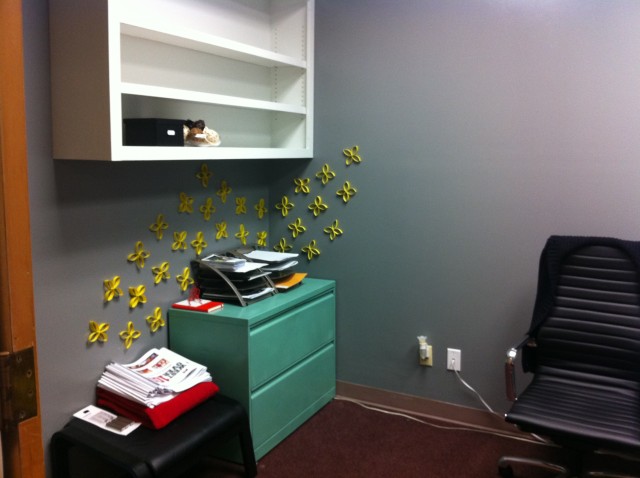 My next project was thanks to Grant's patience. I made these wall flowers out of toilet paper rolls that I primed with white spray paint(other wise the brown always shows through the paint, and then I spray painted then yellow. They are held together with a bead of hot glue, and then are attached to the walls with small nails,but you could use other stuff I am sure.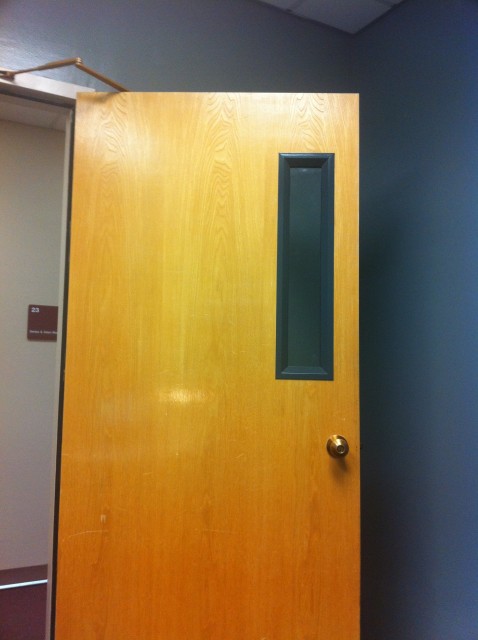 A couple of weeks into being there I got a window! After this office was horribly painted, it was then used as a storage closet. Then it was given to me. So it is very small which makes picture taking hard, and the door is placed horribly for an office but great for a closet. I have to keep my desk on that wall otherwise it won't fit because of the door.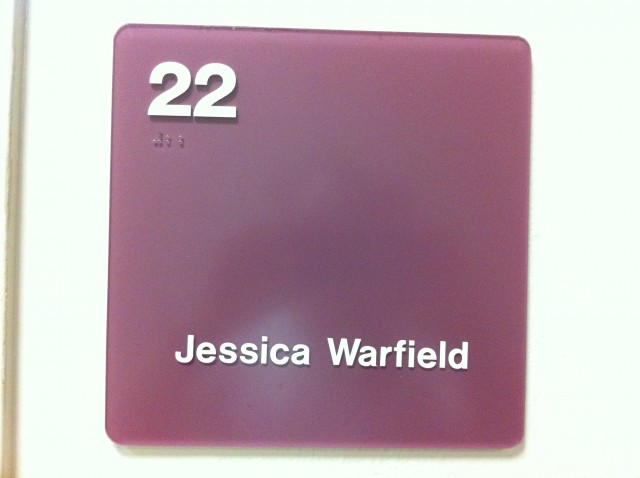 A couple of weeks in I got a name tag, WOOT!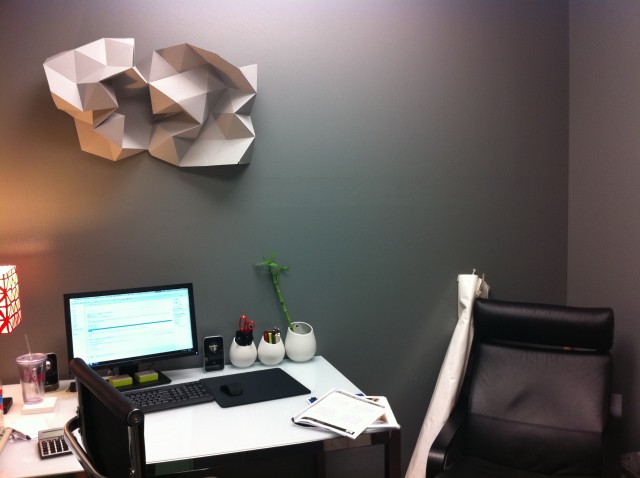 Then I added my Poang Chair from Ikea so people had a place to sit. The little pencil holders are also from ikea, I can't remember their names. I got a speaker system, nothing fancy but gets the job done, they are inexpensive logitech ones. I had three stalks of bamboo,but two died, I will be adding more after my next trip to Ikea.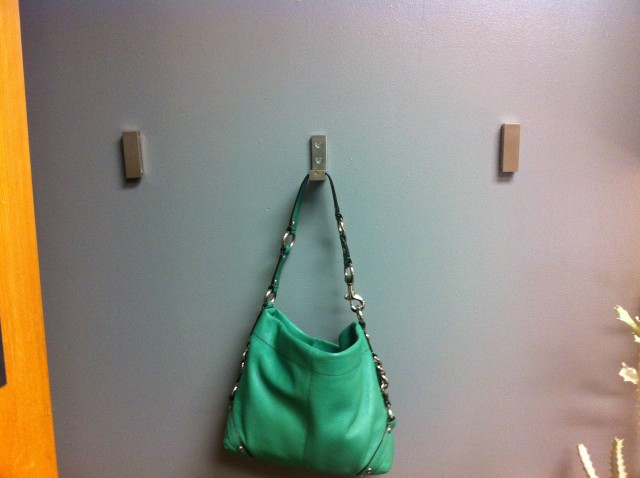 My cute hooks from Ikea were hung.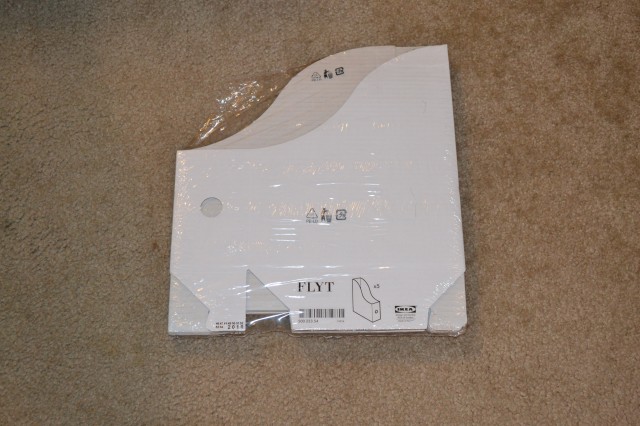 I needed a lot of magazine and brochure storage because I create and stock them, so I bought the FLYT from Ikea, I think it is a pack of 5 for $2.00 or something awesome like that. I then bought fabric, used spray glue to attach, and then anchored the fabric on the ends and bottom with hot glue.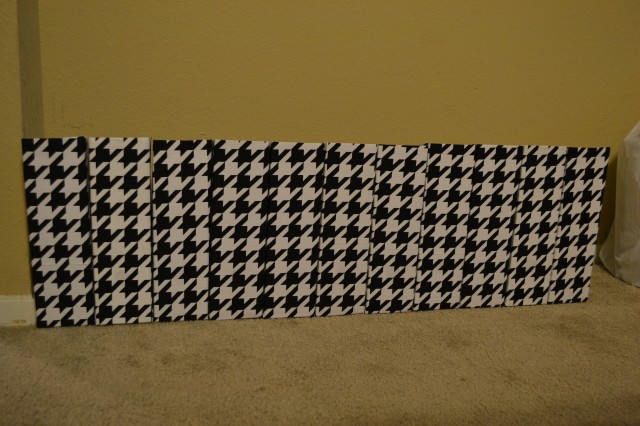 Here is the final, kinda busy,but I wanted something bold.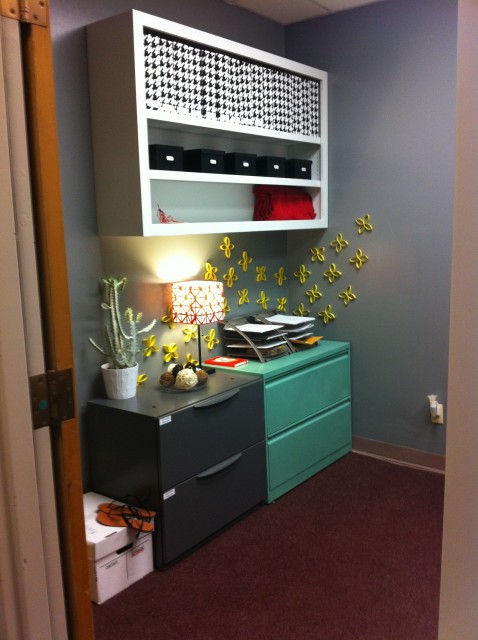 Here you can see the magazine storage in place, the one lamp moved, other boxes I found on clearance at Office Depot, a new filing cabinet which works pretty well color wise. It was my only choice, and I didn't want to take the time to paint that one too. Then my mom gave me a cactus that Grant wasn't too fond of, so I brought it here.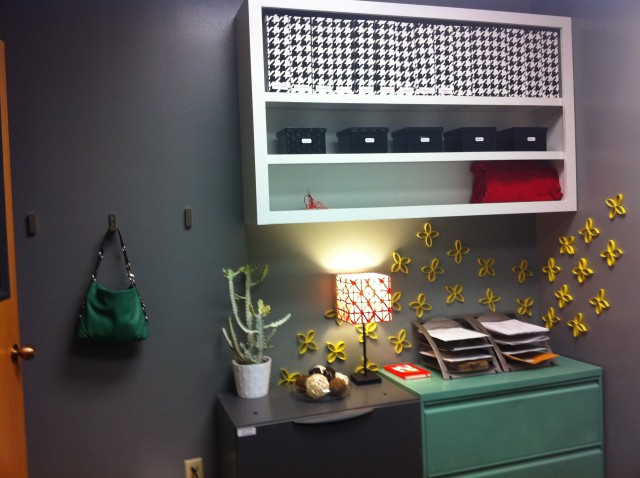 Here is the final view sorry that it is so blurry. The other two hooks are for my lunch bag once I am done eating and a sweater. It is ALWAYS freezing in my office so I always have a sweater in here, and the red thing in the shelf is my throw blanket, yes they make jokes about my blanky. I also have a pair of moccasins here because of how cold I get. It is 109 outside and I have to use all of that stuff, insane. Oh well, as more thing progress I will update you again. I am working on a large chalkboard thing and a cheap alternative to canvas that will hopefully incorporate some chevron. 🙂