This is another great favorite recipe of ours, this one takes a little bit more prep work from me than some other recipes. I still think it is very worth it though.  The recipe yields either one normal pie which Grant and I can't eat fast enough, or 4-8 Ramekin pot pies pictured below.  One ramekin feeds one person perfectly; I usually make 6-8 of them with one recipe depending on how full I fill them. Then I freeze all of the extras before baking in either separate Ziploc bags or one large one.  When ready to eat the frozen ones, just preheat the oven and stick the frozen ramekin into it and bake for 35-40 mins or until golden brown and enjoy.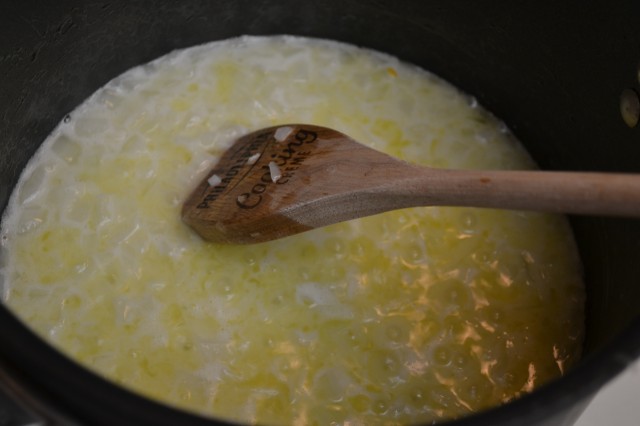 Starting the roux, it is important to wait until the onions are clear otherwise you have crunchy onions.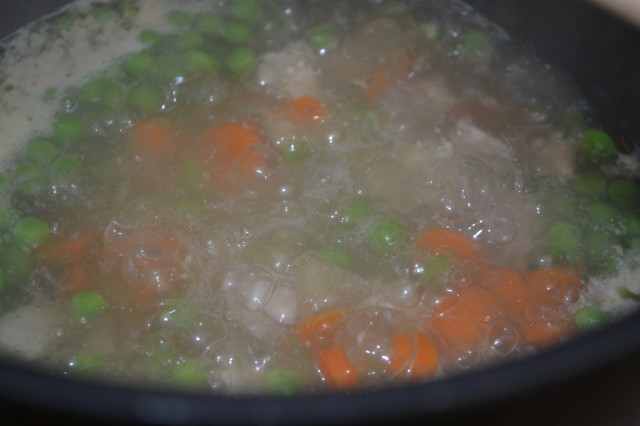 Throw all of the veggies and chicken into a pot and boil for 15 mins. I only use carrots, chicken, and carrots. I don't like chunks of celery, so I add celery seed to the roux above to give it a more complex flavor without the texture that celery adds.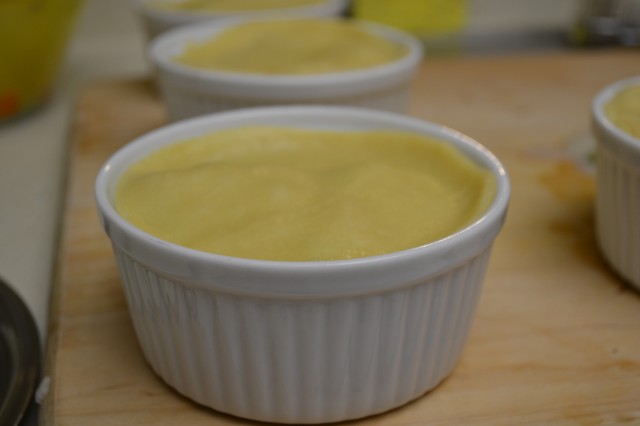 I prefer to split up the veggie/meat mixture into ramekin dishes. I then top them off with the cream sauce stir and top with a small circle of crust. Grant prefers only a topping of crust in the ramekins so that it is a better ratio of filling and crust. If you want a pretty shiny crust, simply brush with beaten egg before baking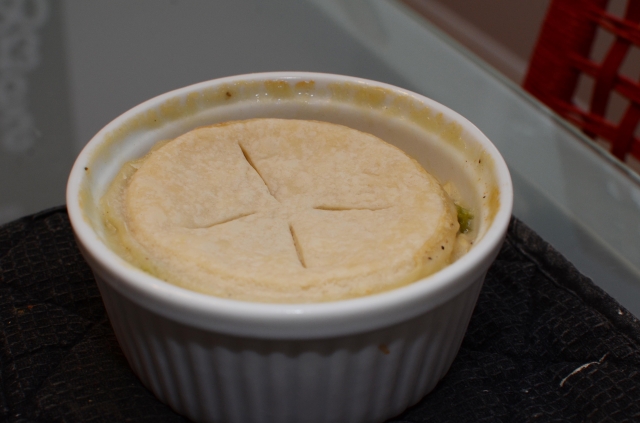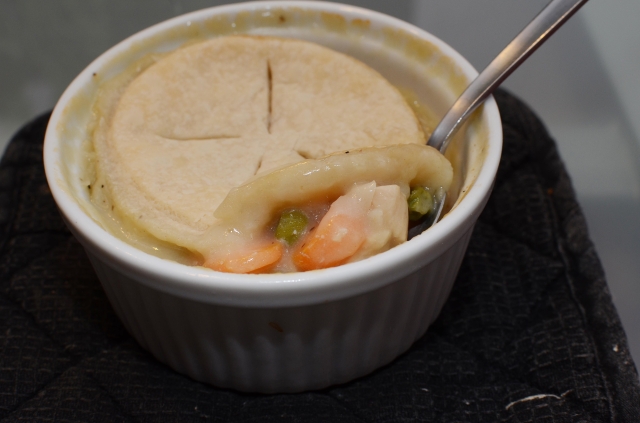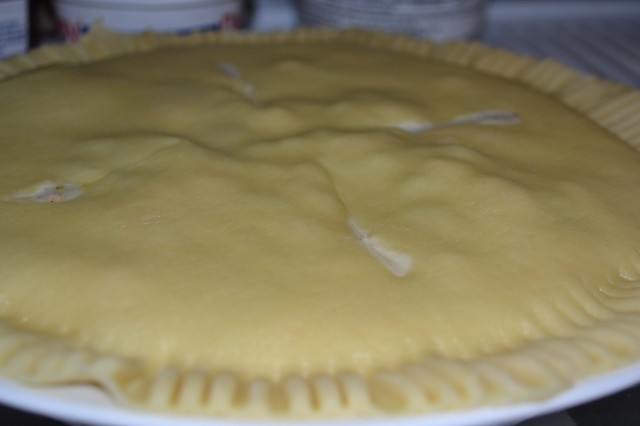 Here is the larger version. I used to make this as dinner when I lived with my parents some times. It would normally feed Mama, Papa, Nikolas, Jason, Raya, and I for one meal. It is a pretty filling recipe; you can either use a store bought pie crust, or make a homemade one for yourself.
Here is the recipe step by step.
Chicken Pot Pie IX
PREP TIME
20 Min
COOK TIME
50 Min
READY IN
1 Hr 10 Min
Original recipe yield 1 – 9 inch pie or 6 smaller ramkins
INGREDIENTS
1 pound skinless, boneless chicken breast halves – cubed
1 cup sliced carrots
1 cup frozen green peas
1/2 cup sliced celery
1/3 cup butter
1/3 cup chopped onion
1/3 cup all-purpose flour
1/2 teaspoon salt
1/4 teaspoon black pepper
1/4 teaspoon celery seed
1 3/4 cups chicken broth
2/3 cup milk
1 (9 inch) unbaked pie crusts
DIRECTIONS
Preheat oven to 425 degrees F (220 degrees C.)
In a saucepan, combine chicken, carrots, peas, and celery. Add water to cover and boil for 15 minutes. Remove from heat, drain and set aside.
In the saucepan over medium heat, cook onions in butter until soft and translucent. Stir in flour, salt, pepper, and celery seed. Slowly stir in chicken broth and milk. Simmer over medium-low heat until thick. Remove from heat and set aside.
Place the chicken mixture in bottom pie crust. Pour hot liquid mixture over. Cover with top crust, seal edges, and cut away excess dough. Make several small slits in the top to allow steam to escape.
Bake in the preheated oven for 30 to 35 minutes, or until pastry is golden brown and filling is bubbly. Cool for 10 minutes before serving.
Original recipe here if you want to read the comments http://allrecipes.com/recipe/chicken-pot-pie-ix/detail.aspx