Here is a new recipe that I came up with while doing the 80 Day Obsession Workouts and eating plan. I wanted something that was quick, easy, and full of veggies, eggs, and a few carbs.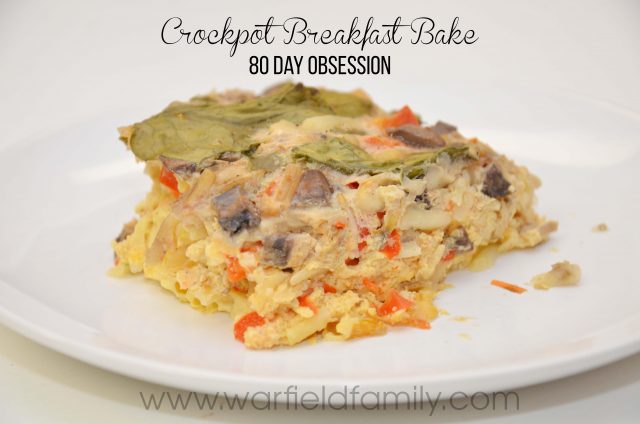 Crockpot Breakfast Bake
Servings: 4
Ingredients:
2 cups of shredded potatoes or shredded sweet potatoes (4 yellow containers)
1 Cup of fresh or frozen spinach leaves (1 green container)
1 Cup of chopped mushrooms (1 green container)
1 Cup of chopped bell peppers (1 green container)
1/2 Cup of chopped onions (1/2 green container)
1/2 Cup of homemade Salsa (1/2 green container)
1/4 Cup of Unsweetened Almond Milk or Milk of your choice (1/2 teaspoon measurement)
1/4 Teaspoon of mustard (free)
1 Teaspoon of salt (free)
1/2 Teaspoon of pepper (free)
8 Eggs (4 red containers)
Directions: Combine all of the ingredients above in your crock pot and stir. Once it is well stirred, put on the lid and let cook 5-7 hours on low. Split into 4 servings and enjoy. I didn't add cheese, but you can always add cheese to your individual serving. You can always substitute any of these veggies for a different kind that you prefer more. I do suggest leaving in the 1/2 cup of salsa because it does give it a lot of good flavor.
1 Red Container, 1 Green Container, 1 Yellow Container, and 1/8 of a Teaspoon for 80 Day Obsession Count
Enjoy, and please let me know if you have any questions about this.