We finally were ready to try another camping trip with our kids. We had tried to go camping with Reese when she was younger,but the colder weather and her not being able to move in her sleep properly made the trip a failure. Read more about it HERE. We were then invited to go with friends who have kids as well as 2 other couples with kids to Joe Wheeler State Park which looks really nice. However, Sebastian had a fever the night before, and we found out the temperature was supposed to plummet again. So, we had to cancel going that weekend. The weekend after that, the weather was supposed to be a lot nicer so we decided to try the same camp grounds we had tried with Reese at Monte Sano State Park. They are very close to home, so if we did have to go home for some reason we could have without too much trouble. Grant was able to take Friday off, and we were allowed to check into our campsite around 11am. At noon is when we ended up leaving the house,but we had a pit stop to make at Walmart before hand.
Here are the kids and me packed in our pilot. As you can see in the middle, we cloth diapered while camping. Since we were only staying a weekend, it wasn't hard at all. Just had to make sure all the diapers were clean before we left, and then laundry right when we got home.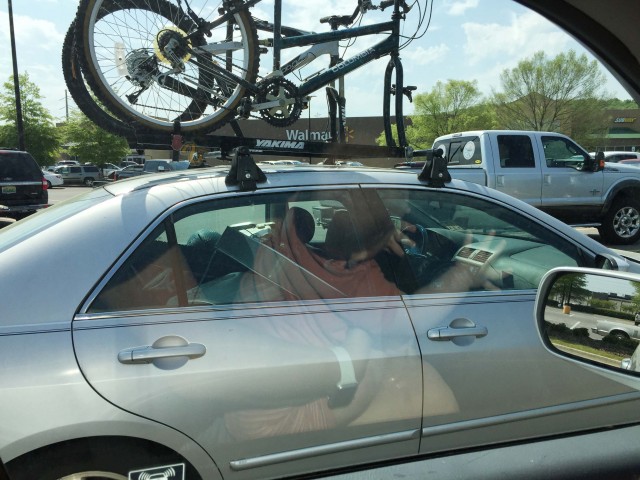 Since we wanted to take our bikes, we took both cars. We also packed wayyyy too much stuff since it was our first trip with both kiddos. I hope the next time, we can do a better job of not over packing.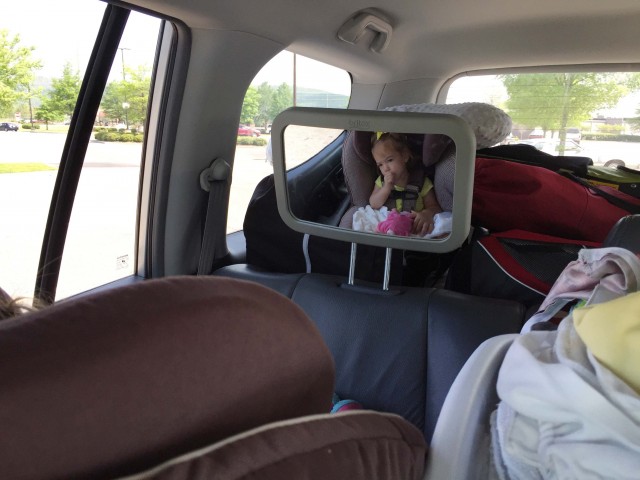 Reese waiting patiently in her car seat while Grant was inside picking up a few last minute things before heading to the campgrounds.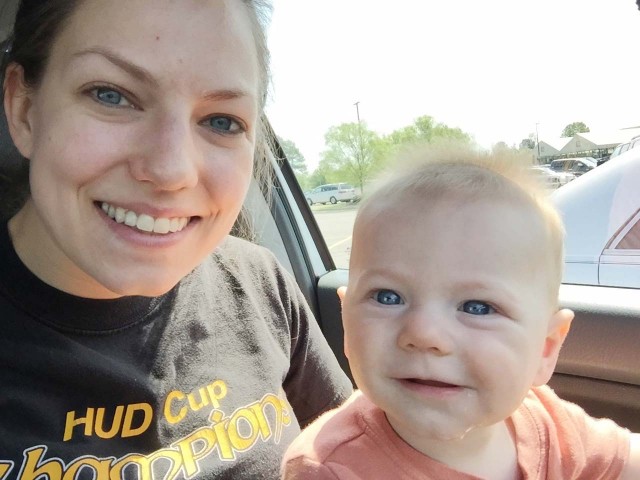 Sebastian was about to go down for his nap, so he got to nurse, and then hang out in the front seat with me before we headed off again. He fell asleep right away on the drive, and dozed the whole time while we set up camp which was a huge help.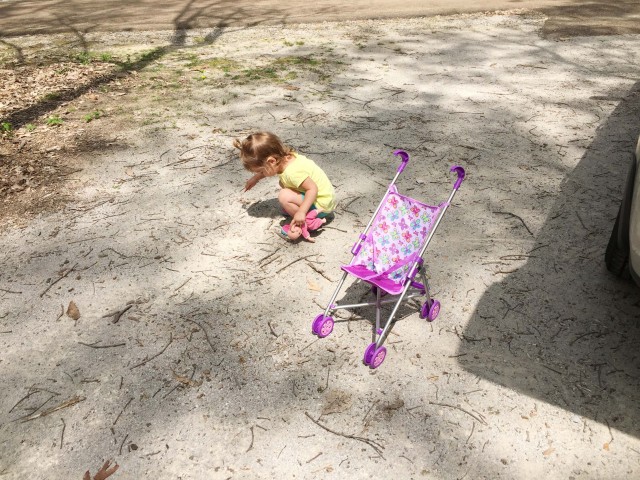 Here is what Reese did the second I let her out of the car. I was trying to explain that this would be home, and we would be staying here for a while. She had started drawing in the dirt with a stick happy as a clam. Also this baby doll stroller was her number one toy to play with the whole weekend. She has been playing with this so much, that Grant said he would replace it in a heartbeat if it broke.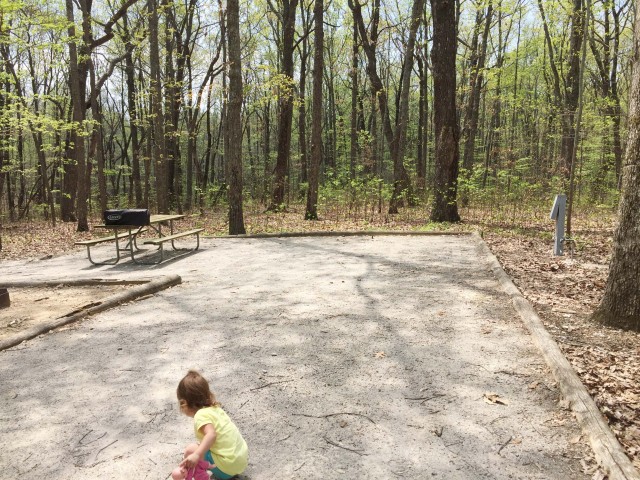 Here is our campsite before, there was a slight slope at the back,but even with tent camping it wasn't a problem.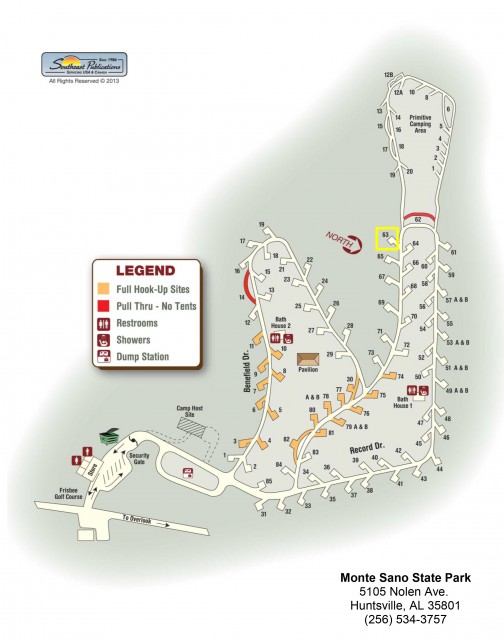 We had site 63  highlighted in yellow for anyone curious. We also stayed at site 58 last time we camped there with Reese.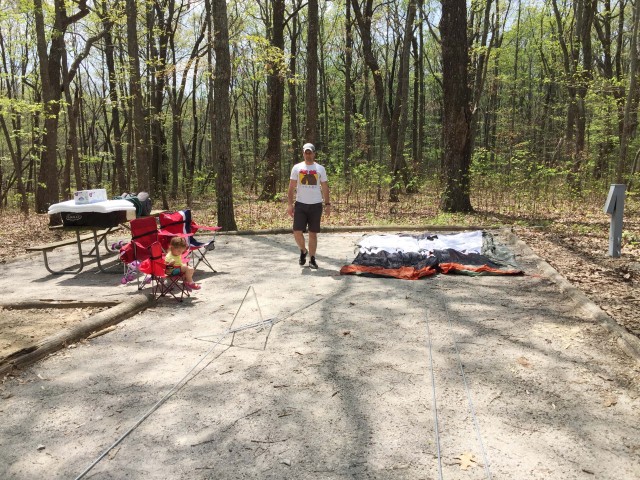 Foot print and tent down. Reese kept calling it our house. We got Reese a small camping chair here.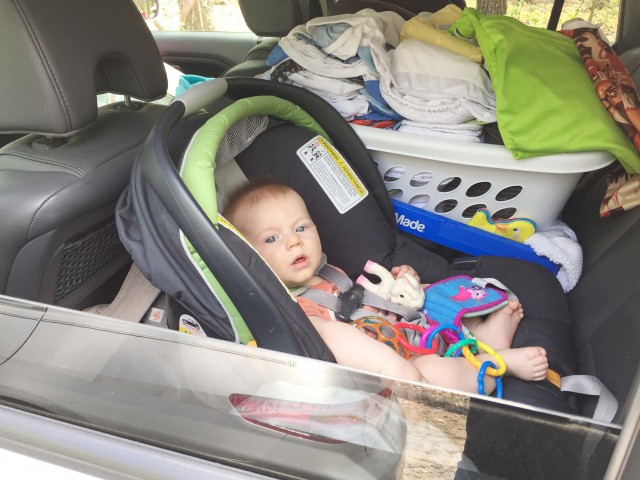 After we had the tent set up, Sebastian woke up.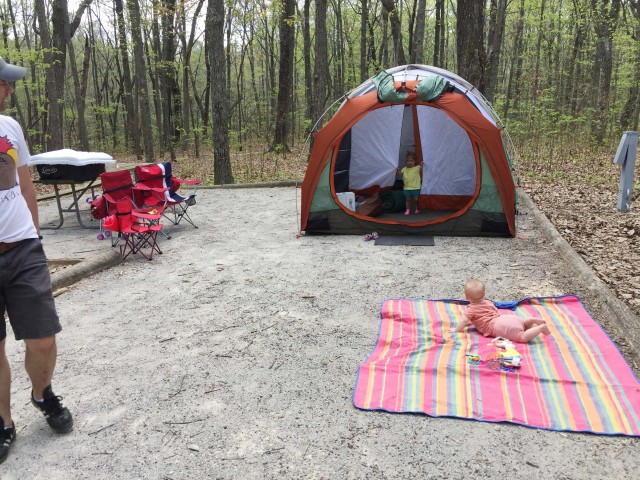 Reese exploring our new home.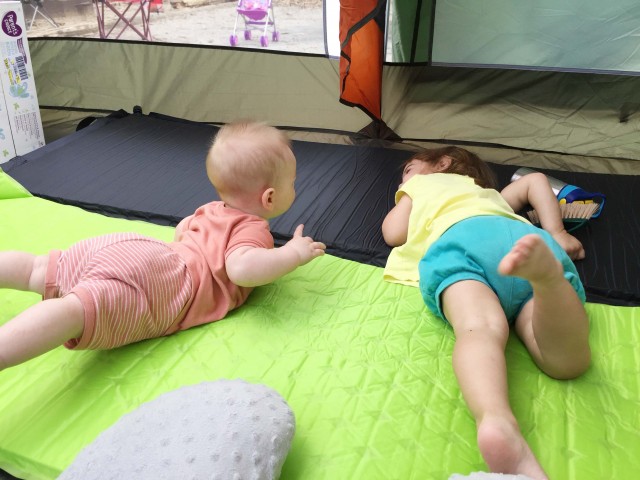 Playing inside the tent.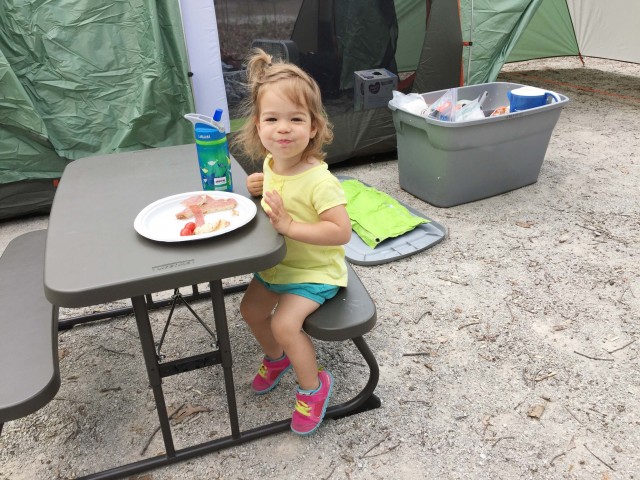 We brought our kid's picnic table which we bought at Sam's Club. It folds up flat, which is very nice.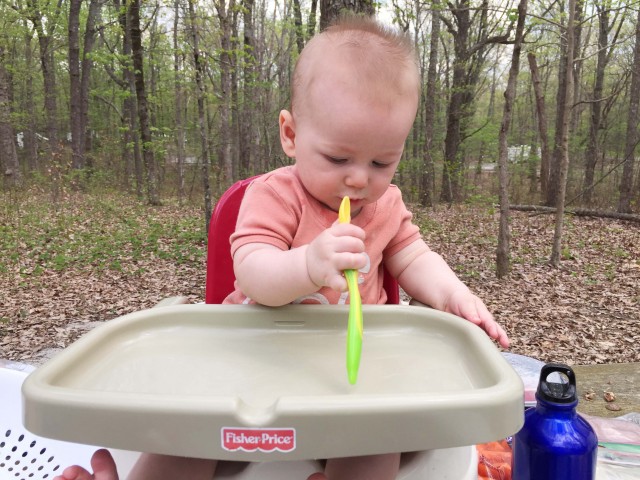 It will be even nicer when both kids can use the camping table rather than also needing to pack a booster seat,but for now that is the stage we are in.
The tent with the garage set attached.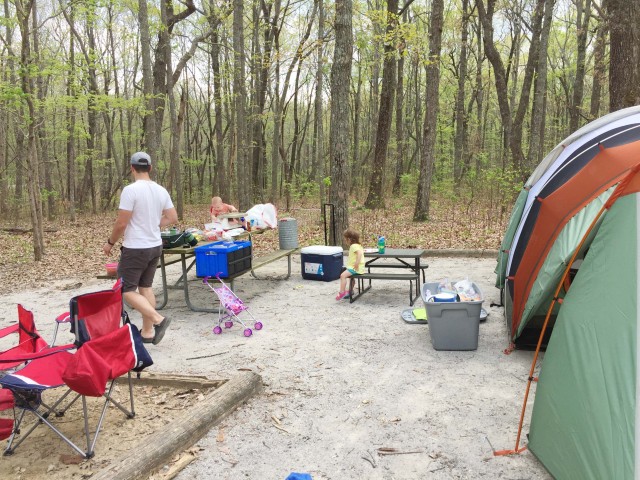 We arrived, set up, and made lunch right away after that before unpacking more.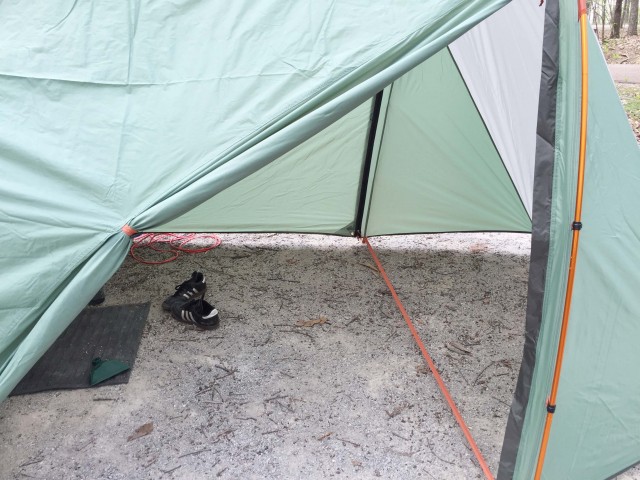 The garage.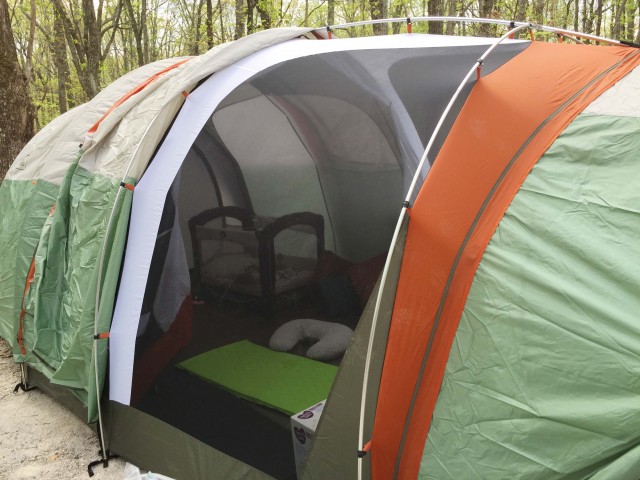 With the rain fly back.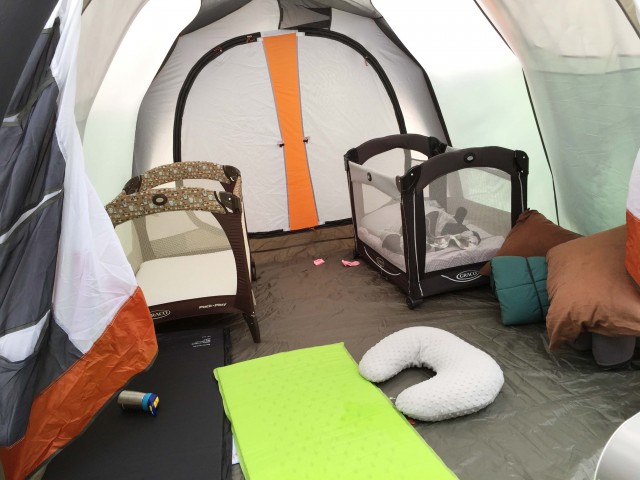 The kids had their two pack n plays, and we had to air filled pads below, and then sleeping bags on top of those.
Here is a tour of our campsite at Monte Sano as well as our Kingdom 8 tent and garage from REI. They now have a newer version than what we have, which is super nice,but ours is pretty awesome as it is.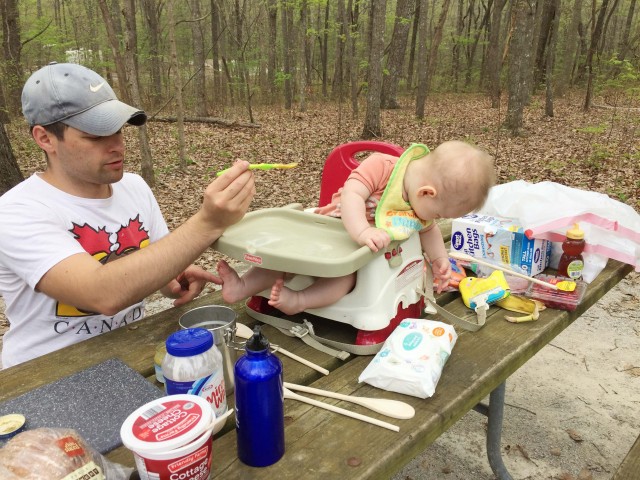 Sebastian ate pretty well, but was also distracted about how many new things he could see and play with.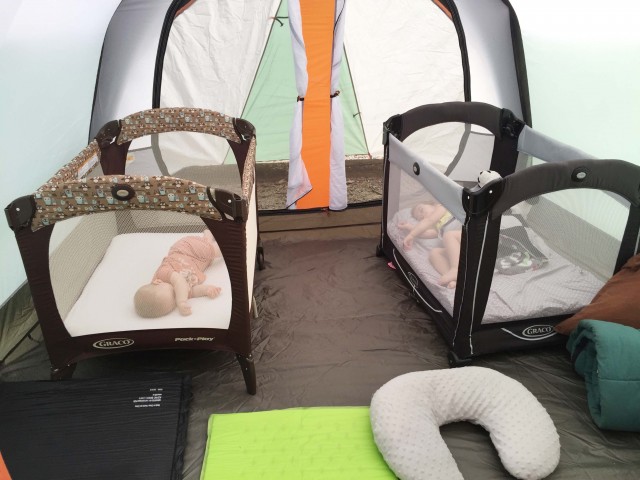 The goal was to get there before nap time so that they could sleep in the tent at least one time before bedtime to get them used to it. This worked well, even though they didn't nap anywhere close to as long as they normally do at home,but that is to be expected in a new place.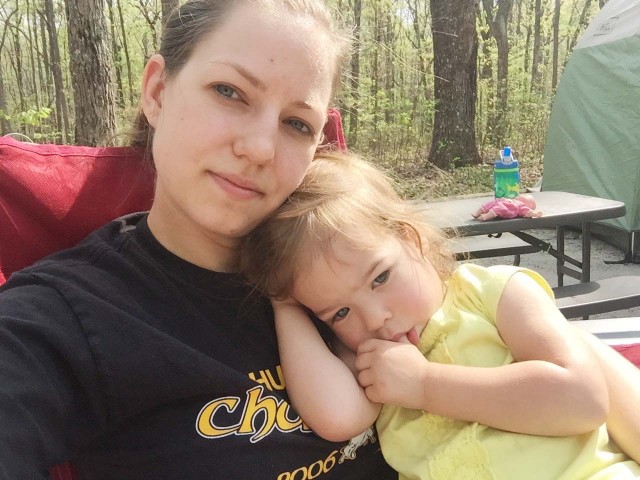 Waking up from naps can be hard.
On the first evening there, Grant was able to take Reese to the playground there with her friend Ava. Ava and Reese are BFFs according to her school teachers. They are both more quiet, and prefer "playing" together which means being by each other while they play separately. So here is Ava and Reese swinging. We didn't actually plan meeting Ava's family camping,but found out a few days before we would both be there for one night together so it was fun that they got to play a little bit.
More swinging.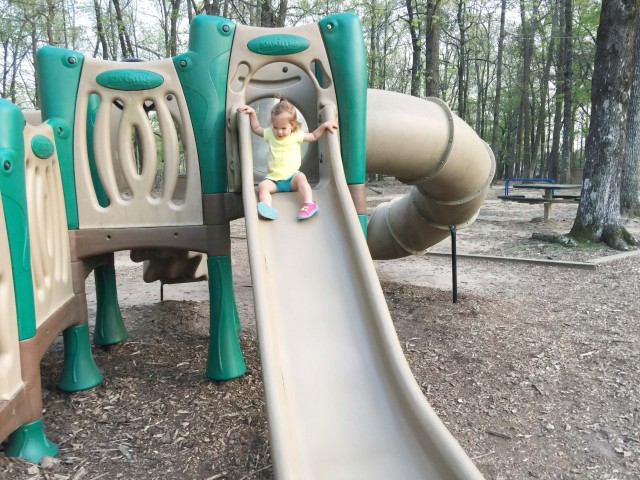 Reese playing on the playscape with Grant.
Here she is sliding. She also got to play with Ava's older sister as well that evening.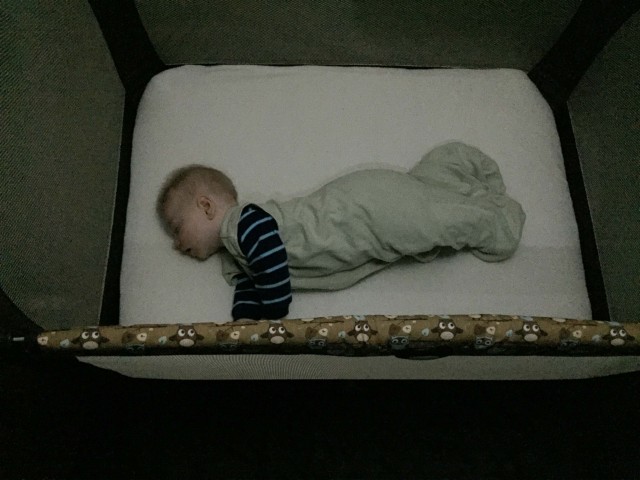 The first night it took a little longer than expected for Sebastian to go down to sleep. He normally takes 2-3 good length naps, and on this day he had only taken 2 short ones. So he was over tired,but after about an hour of not wanting to nurse and fussing he was asleep by 7pm which is about an hour later than normal. Once he was asleep, he was golden though. We let Reese stay up a little later than normal so she could see the fire at night and try her first s'mores. She preferred the marshmallows raw,but liked trying them for sure. We did her normal routine of teeth brushing, and book reading. We put her in her pack n play, and she was out within half an hour because she was so exhausted.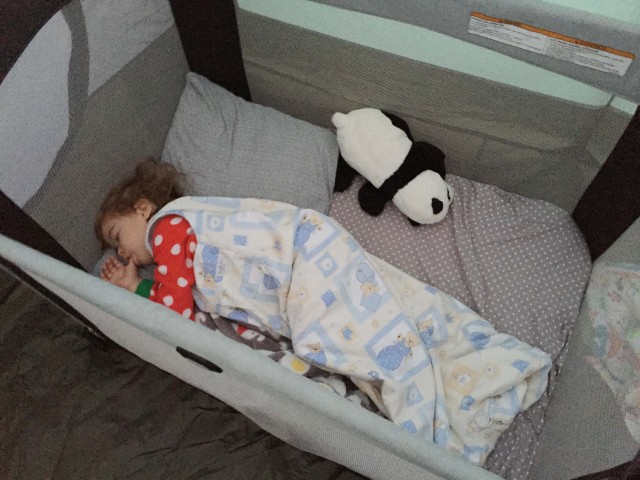 Reese "slept in" a little bit. So the second Sebastian stirred, I pulled him in my sleeping bag to nurse him so Reese could sleep a little longer. It got down to about 60 F so we just dressed our kids in socks, fleece footed onesies, and a sleep sack each. Just to be safe, we also had this space heater which felt like cheating while camping. It has an adjustable thermostat of sorts so it only runs if it gets lower than what you deem is comfortable.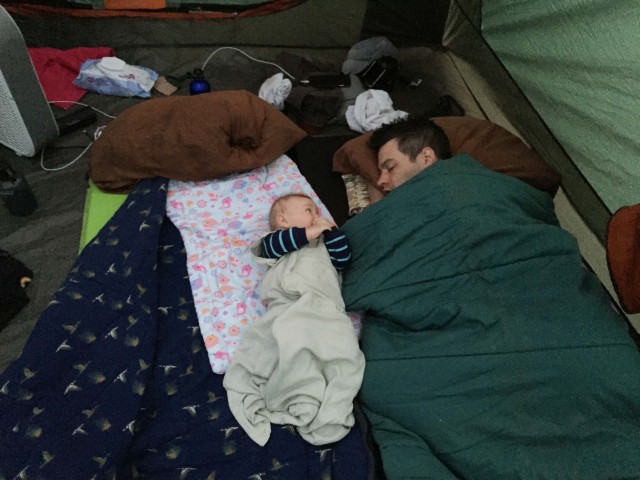 Once he was done nursing, he and I went outside to give Reese and Grant a chance to sleep in. We took a walk to the bath house, and then came back to start setting up camp for breakfast.
Here is a side view of our tent. I know it is huge, but it is nice not to have to worry about if the kids beds fit or not. Eventually we hope to transition them to these cot beds,but for now the two pack n plays work great.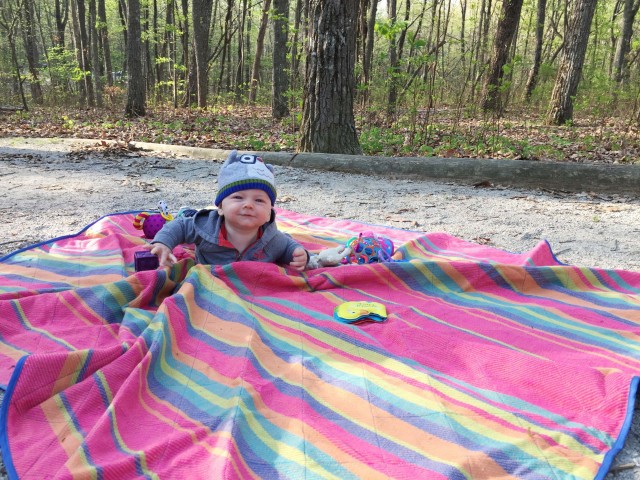 Sebastian spent his time on this camping blanket, being held, in the ergo, or in the thule.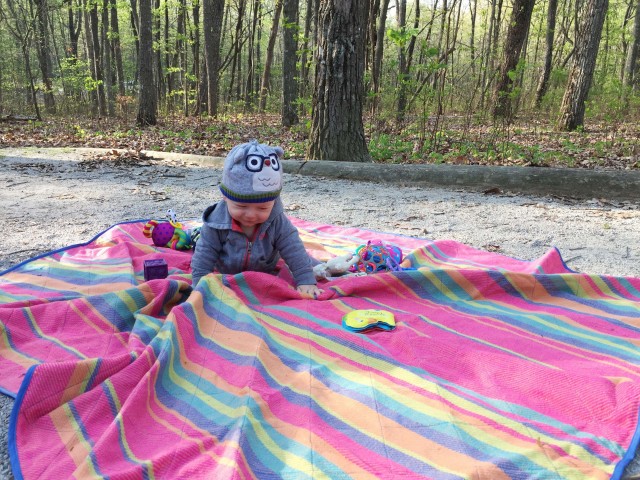 He didn't seem to mind too much,but once he is walking that will be a lot nicer in terms of him not getting as bored.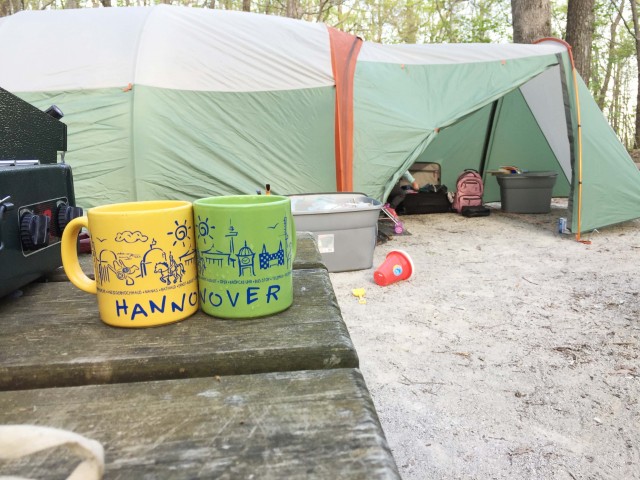 Using our mugs from Hannover, Germany that my cousin Hannes gave Grant and I when we were in Germany for Christmas during college.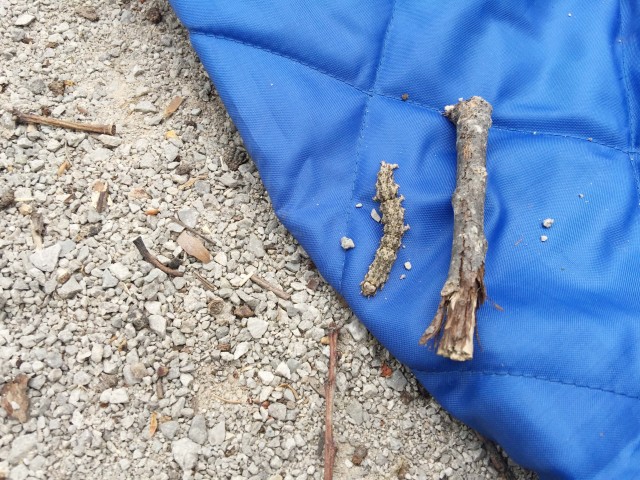 A crazy cool caterpillar we found on our blanket. Reese also got to see a bumblebee which she kept asking to see over and over again.
Reese picks up certain phrases from school. For example, do not push, do not bite, no no no, and not nice. She always says these in a stern voice, and it is hilarious. Here she is telling Grant "Not NICE" because he was hitting the wood with his hatchet.
Here is Reese doing the same thing again later.
We were able to go again in the afternoon to play at the playground, and here are some of the pictures and videos from then.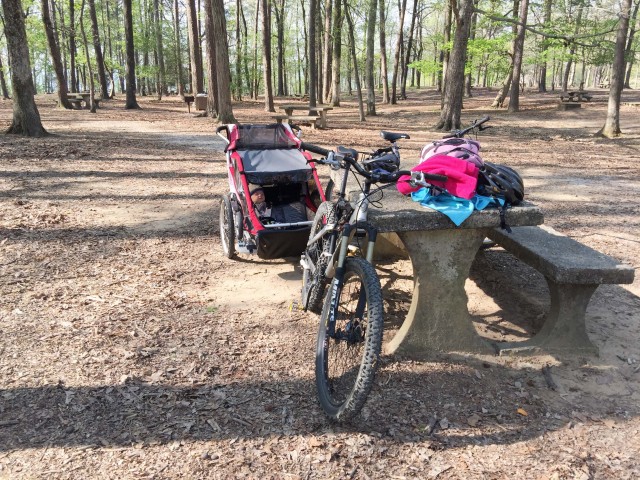 We rode our bikes to the playground this time and the other time as well.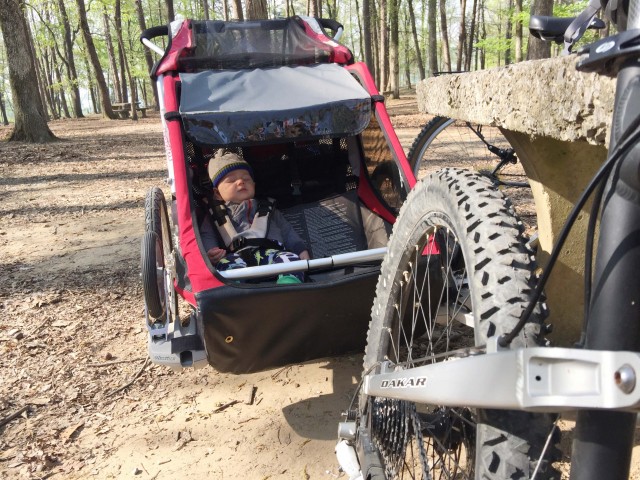 Sebastian took one of his naps in the Thule while Reese played.
Here is Reese with Grant sliding. This might not seem like a big deal,but Reese is very reserved, and often doesn't show her true emotions. This is the first time we have ever heard her say "weeeeee" while doing anything that was fun. She normally has a straight, bored face even if she loves something like swinging for instance.
Here is Reese walking the balance beam. We have done Saturday morning playtime at a gymnastics gym, and Reese was enthralled with watching the older gymnasts practice.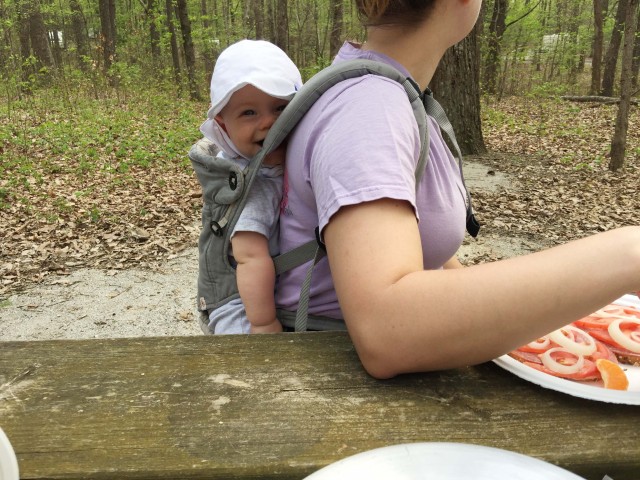 Sebastian hanging out in the Ergo while I ate lunch.
Reese loved playing in the gravel and dirt. Here she is "cleaning" her table she eats at. We also brought a bucket and shovel, but since she couldn't dig deep with it she got frustrated with it. Next time, I hope we can camp somewhere that is on dirt rather than gravel on top of a cement pad.
Here is Reese helping Grant gather wood and putting it on the fire in preparation for dinner that night.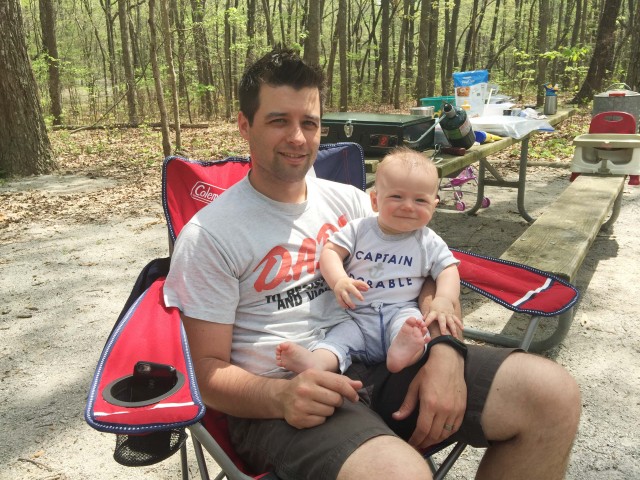 It was hot in the middle of the day and sunny, as it was the upper 80s. Sebastian has very fair skin so he had a sun hat on 99% of the time, or was in the shade of the tent, or had sunscreen on him to make sure he wouldn't burn.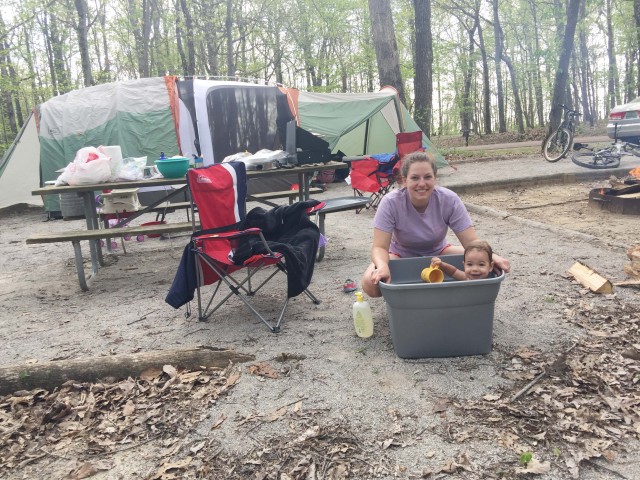 Both kids got a bath in a bin that evening. Sebastian mainly had sunscreen and some grime, but Reese was covered head to toe in dirt. I knew she would just get dirty again,but I figured starting off clean before dinner wouldn't hurt anyone.
While I was making dinner, I had Sebastian on my back, and we had to watch him because he fell asleep before dinner. This was not okay, so we ended up feeding him right then and there, and just putting him to bed earlier since Camping took it out of both kids by the time bedtime was near.
One family was camping with their twin kids, and brought glow sticks as a treat to every other family camping that had children. So this was Reese's first time seeing and playing with a glow stick.
Since it was our last night, and close to Easter, we did some easter egg hunts at our campsite. The eggs weren't filled with anything,but Reese had a blast. We hid the eggs, and she would find them. After about 3-4 games she was done and ready for bed. Our friends Kara and Nate who were at our neighboring campsite were kind enough to help hide eggs. She was also aloud to eat a few Reese's Pieces since she did't get anything else for Easter.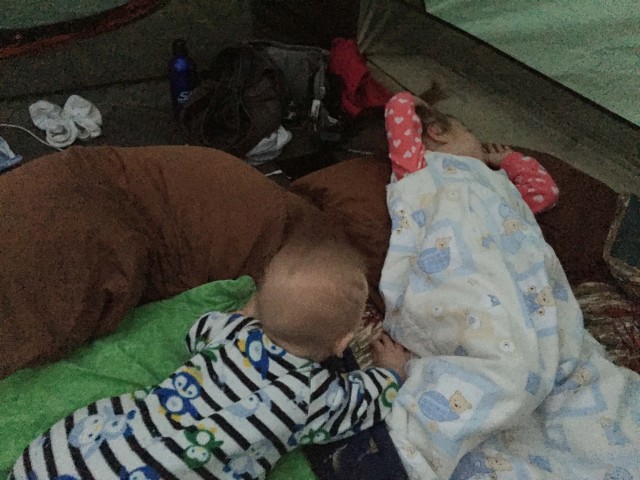 The second night went great and was also uneventful. Both kids woke up at the same time, and so they played a little in the tent while we started breakfast.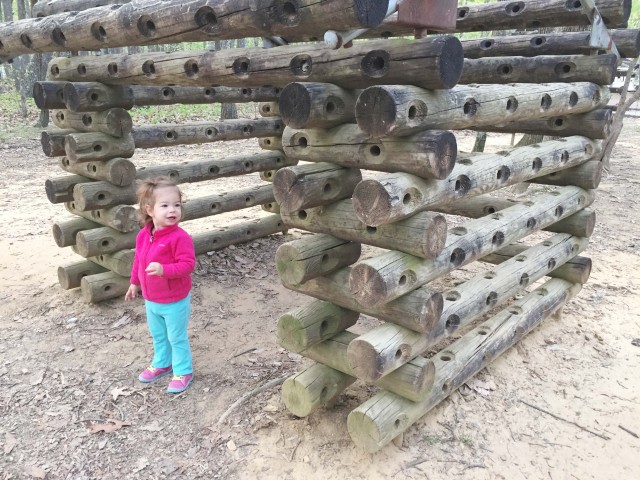 There was a playground of sorts right outside of the bath house.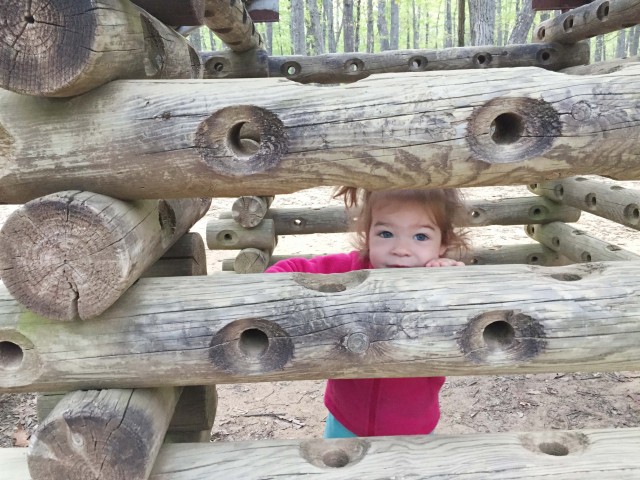 Reese enjoyed playing in the fort.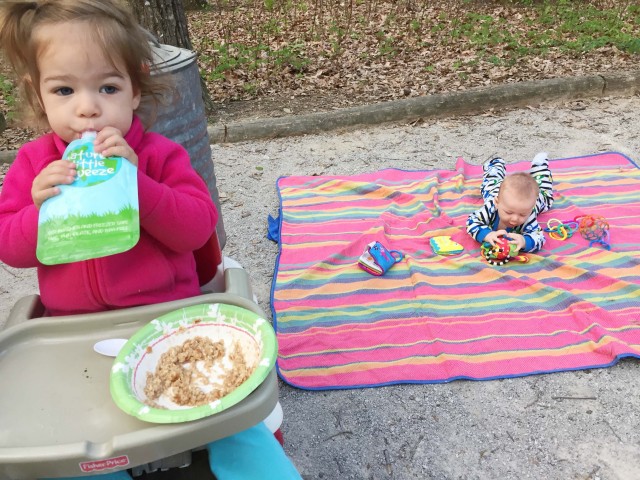 We did a quick breakfast on Sunday morning because we had to check out by 11am.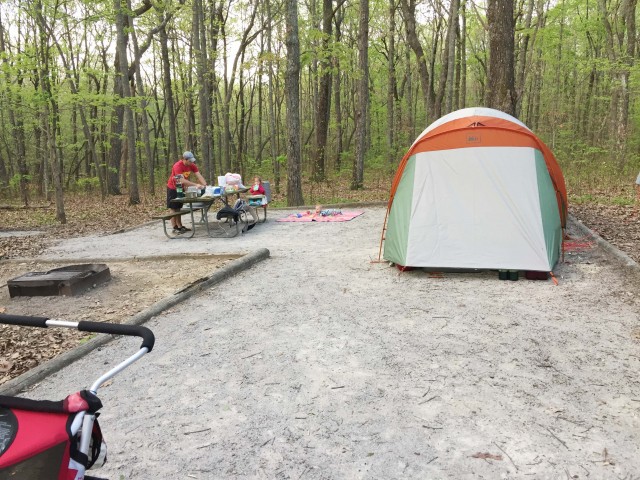 Breakfast where we took turns feeding the kids and eating.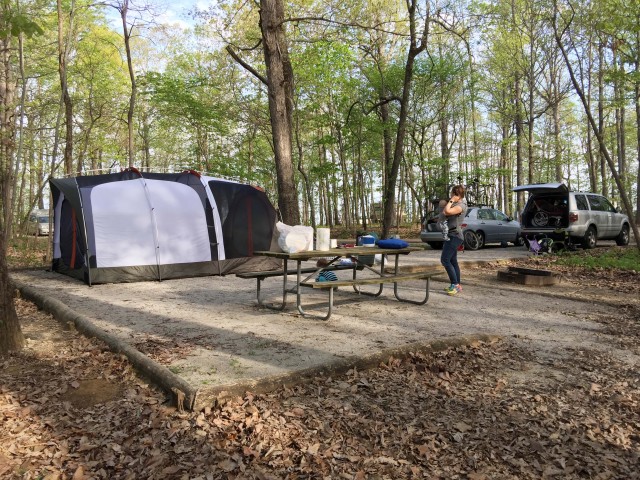 Right after breakfast, tearing down camp commenced.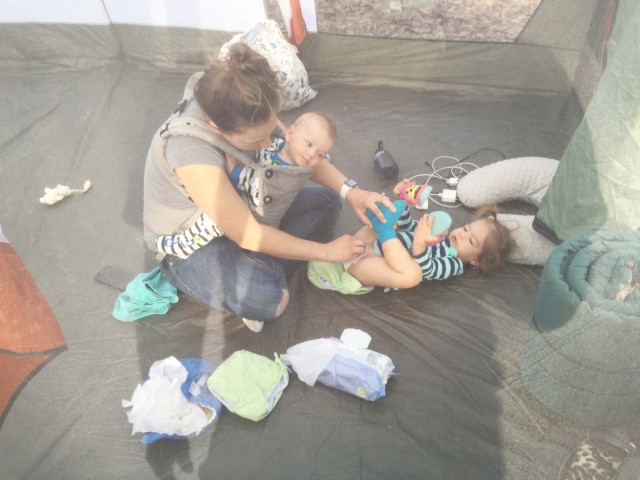 There was a bit where Sebastian and Reese were annoyed and crying, so Grant got this picture of me changing her diaper while wearing him in the ergo. You gotta do what you gotta do sometimes. 🙂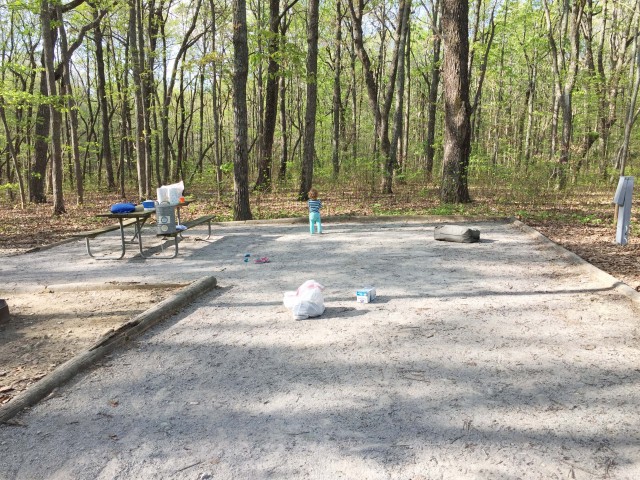 Here is our campsite right before we packed the final things. We had woken up at 6am, and were out of the tent starting breakfast around 6:40am. By 8:44 am we were all packed up and leaving the camp grounds. We had no clue it would go so quickly, but we are glad that it was a smooth time.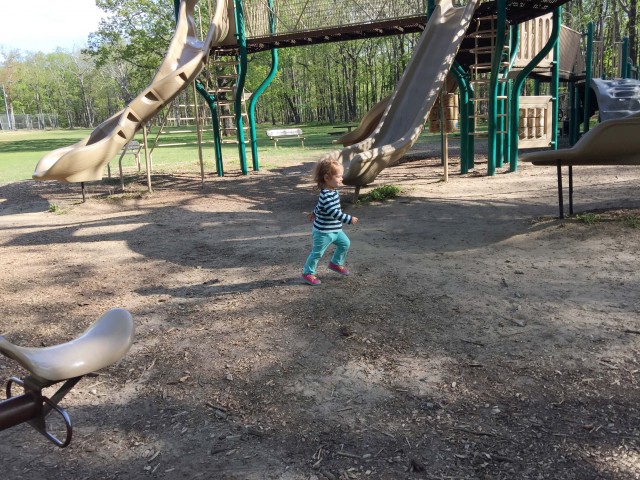 After packing up camp, we decided to take Reese to play again at the playground before leaving the State Park. It was Sebastian's nap time, so he napped in the carseat with all of the windows down, and Grant and I took turns playing with Reese on the playground while the other hung out in the car with our snoozing man.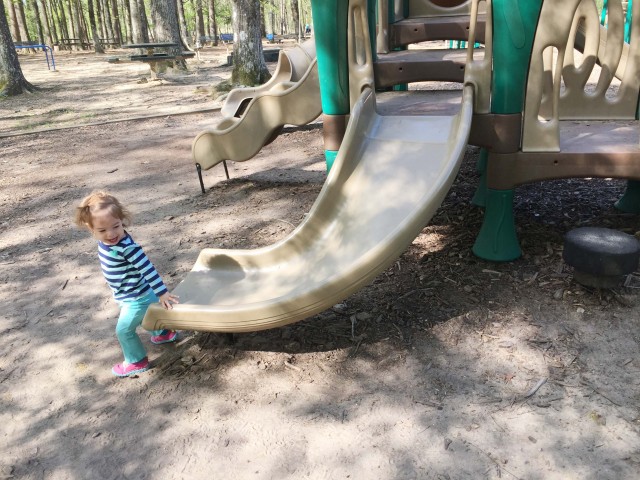 Lots of sliding happened.
Sliding down the older playscape area. It was made to look like a UFO, living in the rocket city has some perks for sure.
Once Sebastian was up from his nap, he joined in on the fun too.
Reese was very sad when we had to go home after a fun weekend and over an hour and a half of playground time. Grant and I were very happy with this camping experience in comparison to our last attempt with just Reese. We are hoping to fit in at least another one or if the weather allows two trips this year. Below is the "menu" that we ate while camping which we thought worked out really well. I prepared as many things in advance so the cooking went as fast as possible. If our kids were older it wouldn't be such a big deal, but for now this worked for us.
Friday
Lunch – Sandwiches(Brought bread, mayo, lettuce, pre sliced tomatoes, pre sliced onions, pickles, lunch meat, and cheese,) I washed and cut cucumbers, cherry tomatoes, baby carrots, and bell peppers to snack on as well, and some pretzel chips
Dinner – Brought Noodles that we cooked there, Homemade Spaghetti sauce premade and reheated on site, and a bagged salad.
Saturday
Breakfast – Scrambled Eggs, Bacon, precut up fruit to eat, and some yogurt in a pouch for Reese, Yeast Raisin Bread
Lunch – Sandwiches(Brought bread, mayo, lettuce, pre sliced tomatoes, pre sliced onions, pickles, lunch meat, and cheese,) I washed and cut cucumbers, cherry tomatoes, baby carrots, and bell peppers to snack on as well, and some pretzel chips
Dinner – Hot Dogs, Corn on the cob(frozen that we just boiled there,but fresh would have been great too), Sandi's Pasta Salad premade
Sunday
Breakfast – Instant Oatmeal(next time I plan to make some fresh), Yogurt pouch for Reese, Yeast Raisin Bread
Sebastian ate premade green bean puree, sweet potatoes puree, steamed apple sauce, steamed pears, and smashed bananas.
Snacks
We packed raisins, dried apricots, Mango Chips, Bananas, Apples, Yeast Raisin Bread, Banana Nut Bread, and Applesauce packets.
Thanks for reading this update, please let me know if you have any questions.