We make homemade pizza on a pretty regular basis because Grant loves pizza, and it is a fast simple dinner. I figured I would do an updated post of how I make my pizza since my last post is pretty old, and I wanted to show a very yummy diary free/Vegan version as well. I made this for my dad who is eating vegan right now, and he really liked it too.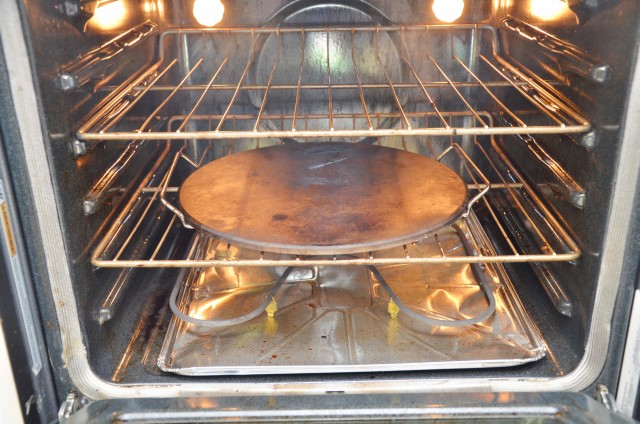 Preheat your pizza stone at the hottest setting that you oven will go. Mine only goes up to 500 degrees fahrenheit.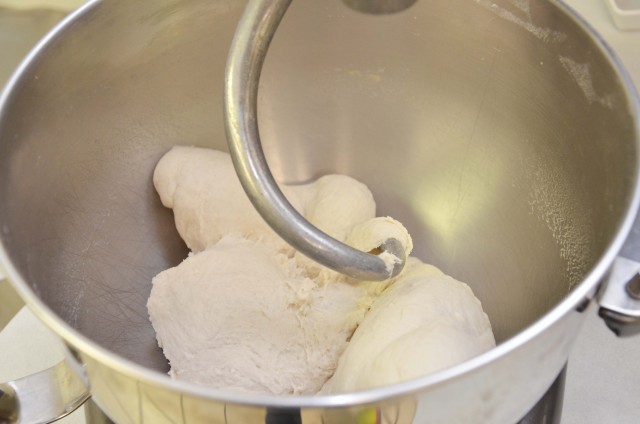 Make your pizza dough. I always double the recipe and make it with the kitchenaid mixer, I love the dough hook.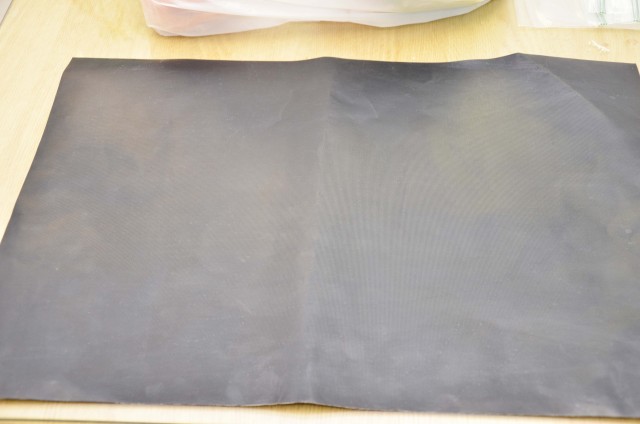 I use a teflon sheet to transfer the pizza to and from the oven.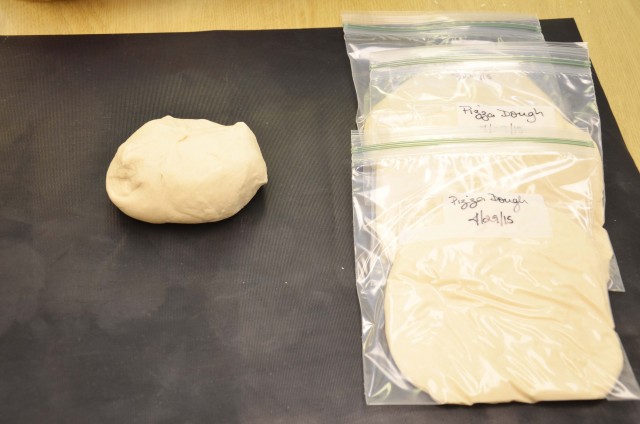 I split the dough into 4 portions since we prefer a thin crust pizza. If you prefer a thicker fluffier pizza crust, then you would only split it into 2 portions.  I always freeze three for later, and make one for dinner that night.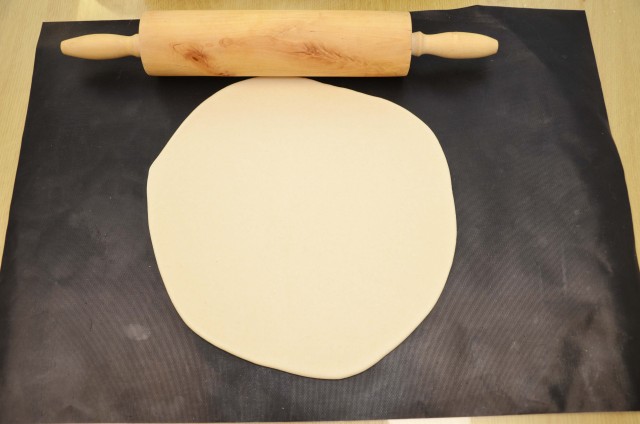 I use a rolling pin to spread out the dough.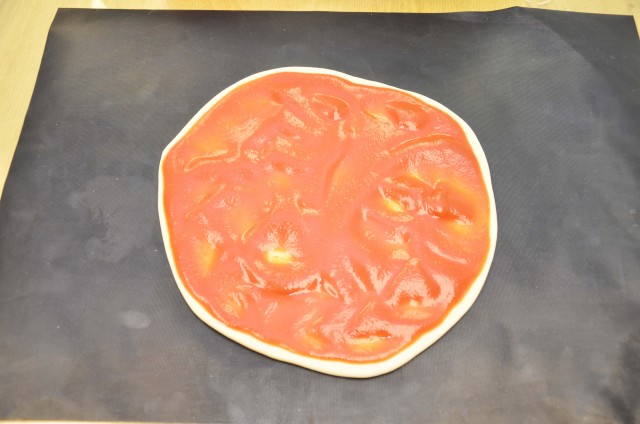 I add the whole can of tomato sauce onto the pizza. Grant prefers as little crust on the edges as possible so I try to spread it as close as possible to the edges. I also add pepper, but tend to not add salt because it normally doesn't need it because of the pizza sauce that we use,but that is personal preference.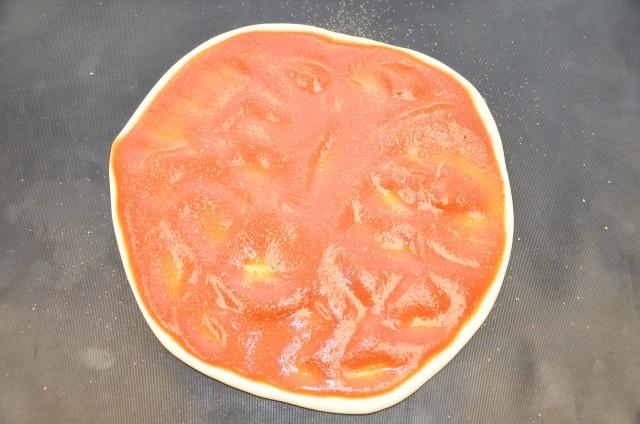 Then add garlic powder, this is crucial as it really makes all of the difference in the taste.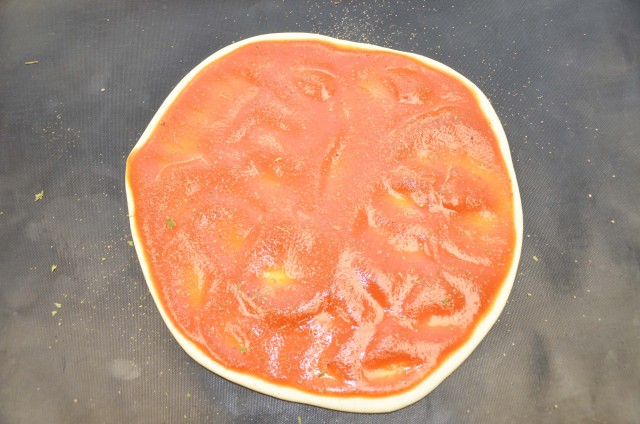 Add a small amount of basil.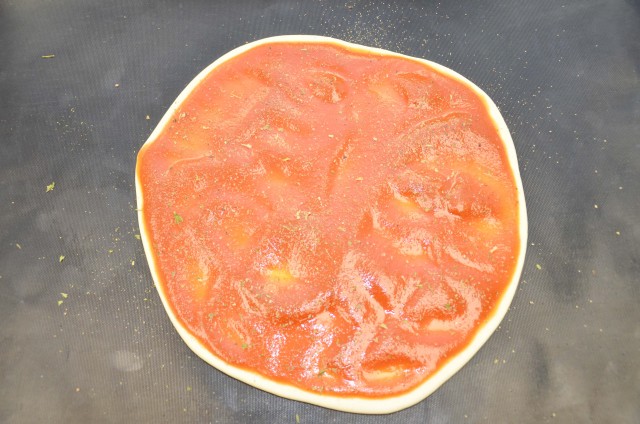 Add a small amount of parsley.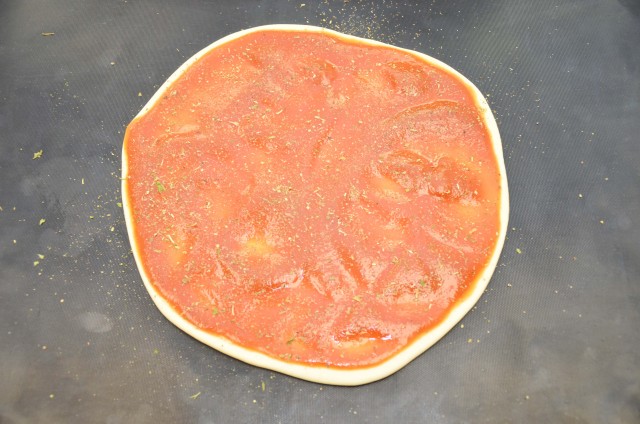 Then add Italian Seasoning to the pizza, and this one I'm more generous with. If I use the German Italian Seasoning, I leave out the extra basil and parsley,but that is just what we prefer.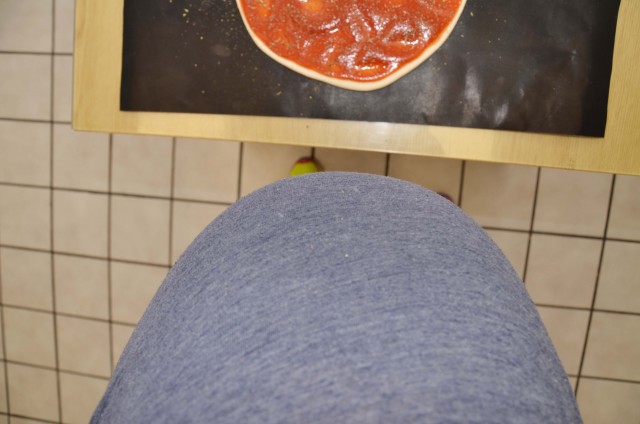 You know you have enough seasonings when your tummy is holding some too ;p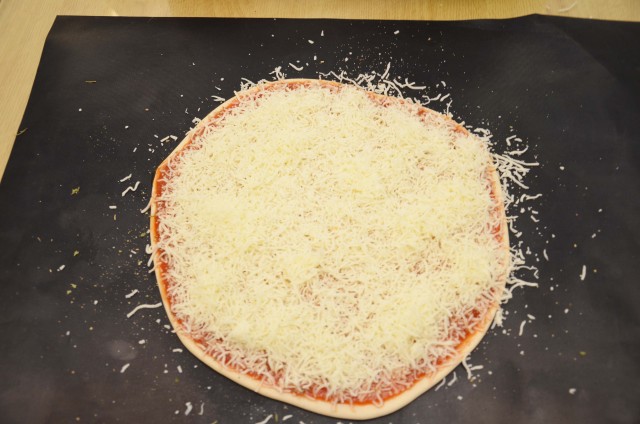 Next add Mozzarella Cheese.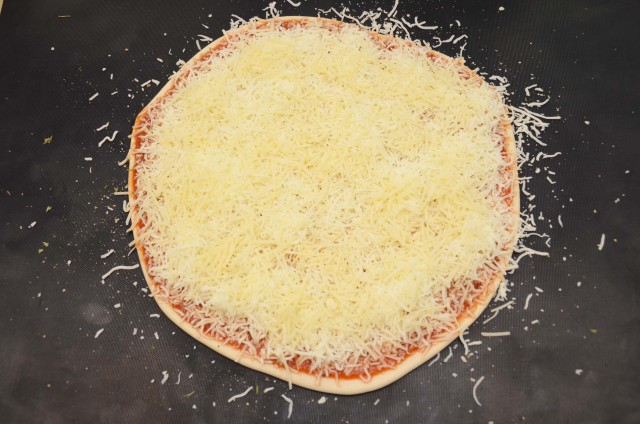 I love to add parmesan cheese, asiago, or romano depending on what I have on hand.
You can add any other toppings that you want like pepperoni, sausage, roma tomatoes, basil, pineapple, ham,etc.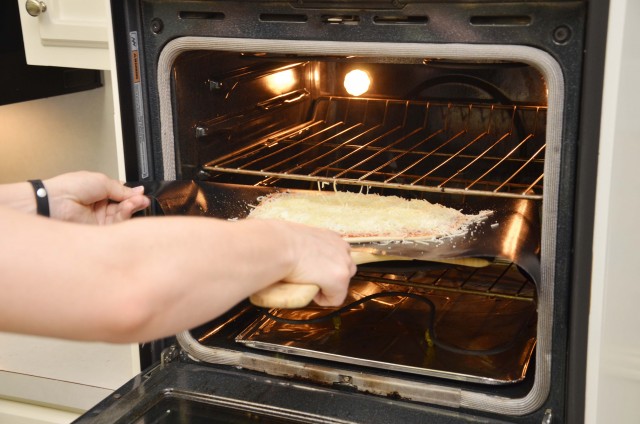 I use a pizza peel to slide the teflon sheet onto the pizza stone.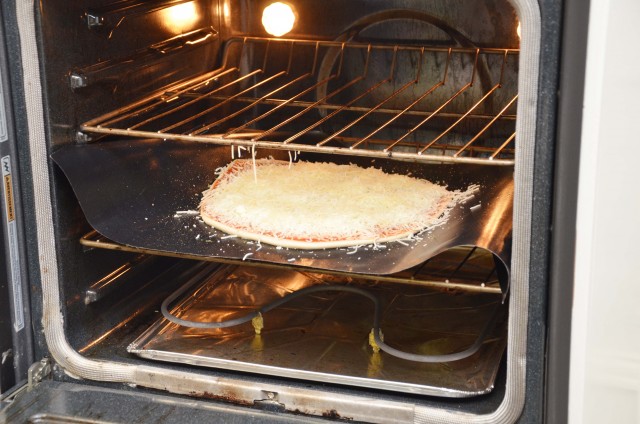 I used to use a smaller sheet,but that one got damaged, and this one still works even though our wall oven is more narrow than a typical range/stove oven.
Then bake at 500F for 10 minutes, after 10 minutes, check on it. We normally tend to bake for another 2-3 minutes,but it depends on how dark you prefer it and how hot your oven is.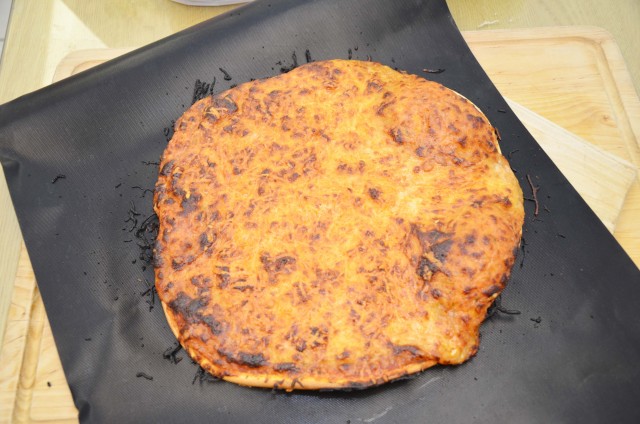 Use the pizza peel to remove the teflon sheet/pizza from the stone.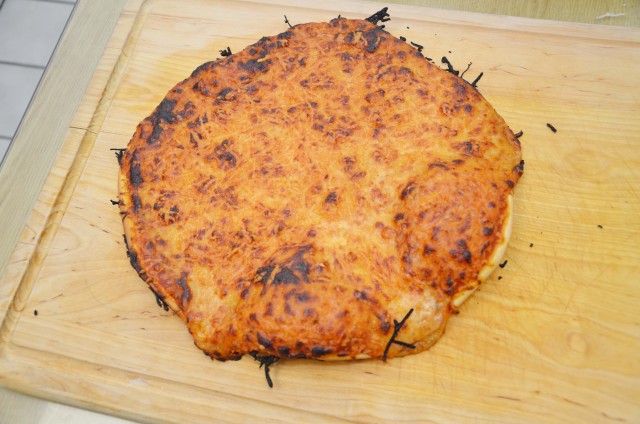 Slide the pizza off of the teflon sheet which normally happens pretty easily onto a cutting board.
Slice and enjoy.
Now, if you are wanting an amazing Diary Free/vegan Pizza, here is a recipe that Grant and I both love. He will eat the dairy free one no problem since it has so much flavor. It takes a little bit more time for prep,but boy is it worth it.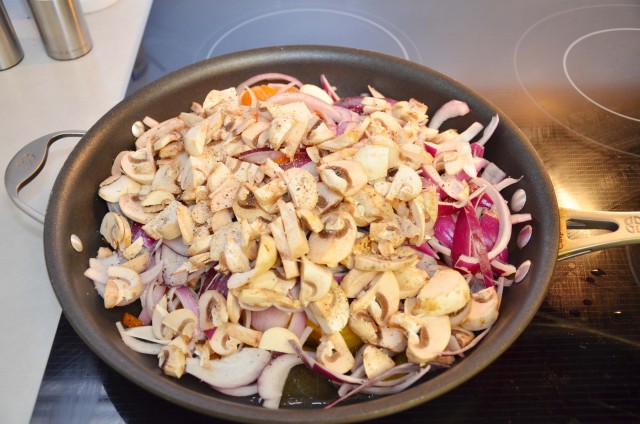 I tend to chop red onions(can use any other kind), mushrooms, and bell peppers, but you can do any combo of veggies you like.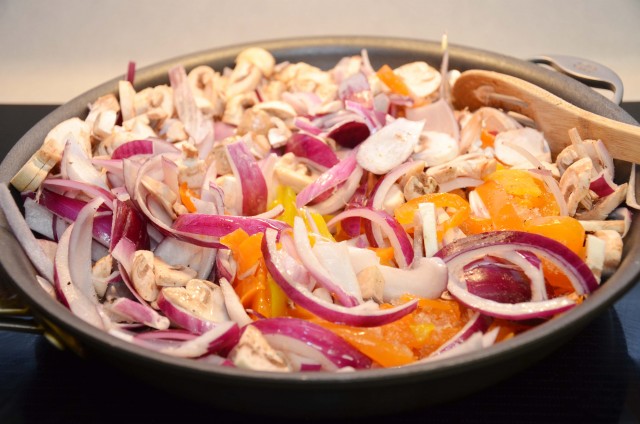 Place in the skillet with oil/fat of choice, salt, and pepper.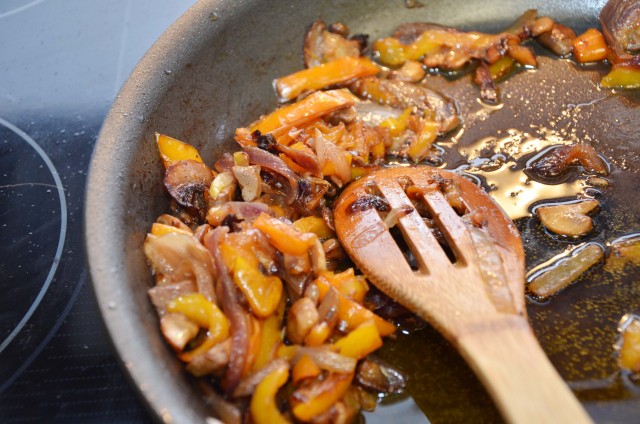 Saute until everything is nice and soft and almost blackened on some of the edges.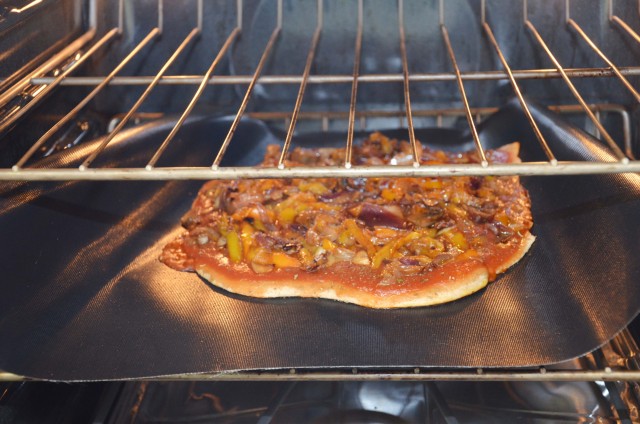 Make the pizza dough and seasoning the same as above, and then add the toppings onto the pizza, and bake like normal.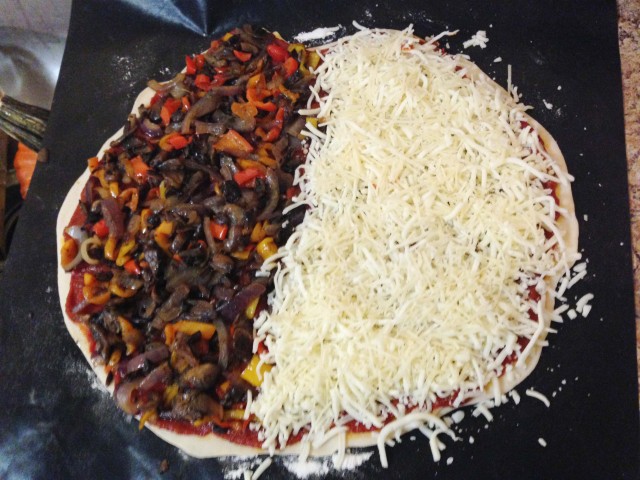 Here is one where I did half of it with cheese and the other half diary free.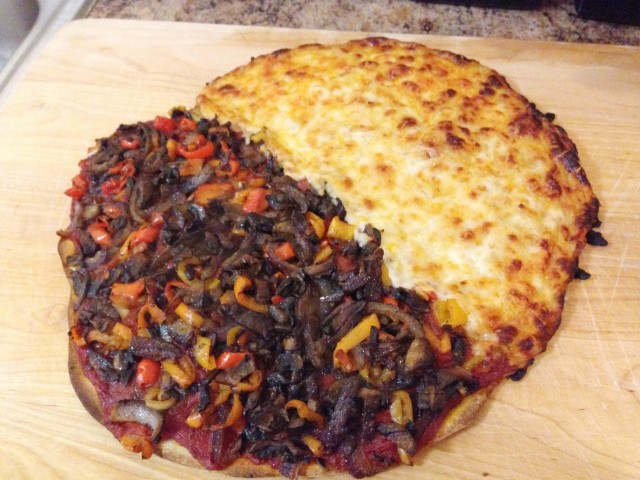 Once it is baked, slice and serve like the others.
Pizza Dough:
1 pkg. yeast (2 1/4 teaspoons if you use the jars of yeast)
1 cup warm water
1 tsp. sugar
1 tsp. salt
1 Tbl. oil
2 1/2 cups flour
Dissolve yeast in warm water then add sugar and stir; it is ready once it is foamy. In the other bowl, mix dry ingredients  and oil; then combine all together. Kneed dough for a few minutes( I just put everything in my Kitchenaid mixer and let the kneading hook kneed while I collect the other ingredients) then let rise for 5-10 mins(I don't let is rise because we prefer the thin crust and it goes faster). Oil pizza stone(especially if it is not seasoned.), and when done rising roll out on the pizza stone.( I use a rolling pin since that is easiest for me.) I divide this recipe in half since we like thin crust pizza. The extra dough you can put into a ziploc bag and freeze for next time. Just thaw for a few hours on the counter before making it. If it is sticky, you can add a little bit of flour to the top while rolling it out.
Sauce:
Tomato Sauce
Pepper
Salt (optional)
Garlic Powder
Italian Seasoning
Basil
Parsley
Toppings:
Cheese
Pepperoni
Onions,etc.
Dairy Free/Vegan Toppings:
Bell Pepper
Onions
Mushrooms(Optional)
Butter or Fat/Oil of choice
Salt & Pepper
Preheat Pizza stone, and put oven to as high of a temperate as your oven will go. Mine only goes up to 500F.
I use a teflon oven liner mat to spread the pizza dough on. Then spread tomato sauce on the pizza dough, add all of the  seasonings. Then put cheese or pepperoni or diary free toppings on it.
Then slide the teflon sheet with pizza on top onto the heated pizza stone with help of pizza peel. Bake for 10 to 15 mins until nice and crisp.