WOW! Sorry about the huge delay in posting! I have been lazy for part of it, and once I was ready to start posting, I have been having weird issues with photos not uploading correctly so hopefully I can get this figured out. So As I said before, the Month of June was insane! First weekend we tried to go boating in Nashville with Kira and Andrew,but got rained out. Second Weekend we went to North Carolina for Grant's Family Reunion See Post #1 and Post #2. On the Sunday of that weekend/trip, we went straight to Nashville for Kira's Baby Shower as well. She had 3 different showers,but because of timing, we could only make this last one at their church.
 I have to say that most of these pictures were graciously given to me by Sarah. See this whole taking pictures thing when down the drain at this shower. As you can see in our Family Reunion Posts Grant and I have been trying to be more deliberate about taking pictures, and in anticipation of Kira's baby shower, I charged the battery, removed all the pictures, and managed to leave the camera at their house. GAAAAHHHH! Then Kira brought a point and shoot camera only to realize her batteries were dead. Sarah also brought her camera which had batteries she had just charged but wasn't acting like it. SO, after that major fail on 3 people trying to have cameras… we used our phones.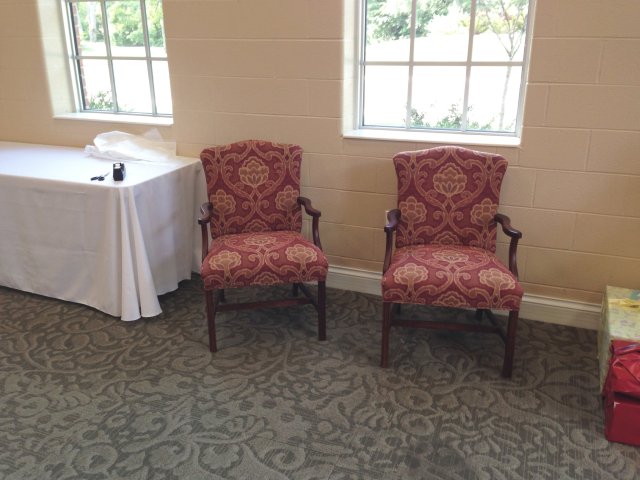 At their church, they were having 3 showers at the same time each in a different area of their fellowship area. So, each mother-to-be had her room so all the guest could spend a little time in each room. By the way, Kira was the only one having a girl. Here is part of Kira's room the chair she would sit in and the person writing up who gave what gift(At the time, I didn't know that would be me ;p)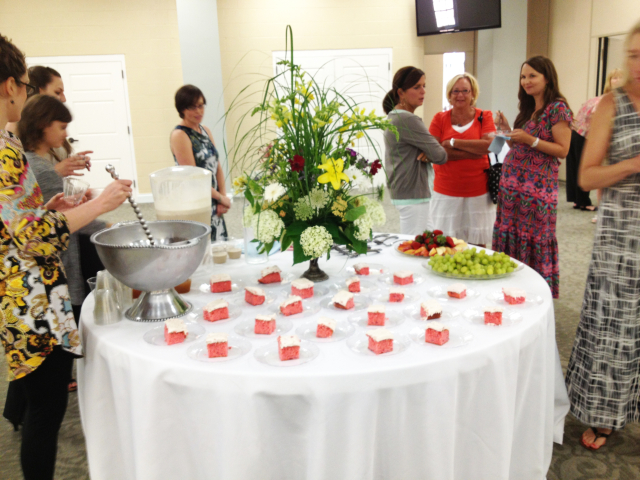 In the central area, they had the refreshments so everyone could mingle before splitting off into separate rooms.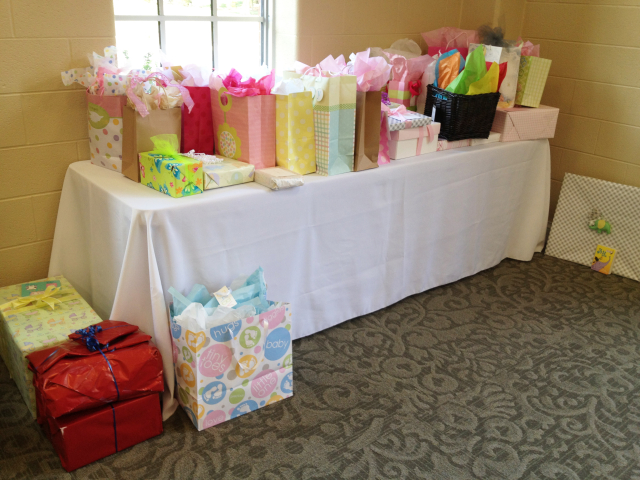 So here was the starting pile of gifts, as Kira started opening people just kept bringing more. So, when we were through half of the time allotted to us, she still had this many on the table.
I know that Kira and Andrew are so grateful for all of the gifts they were given and hugely blessed by them.
Kira Opening gifts and thanking someone for their gift.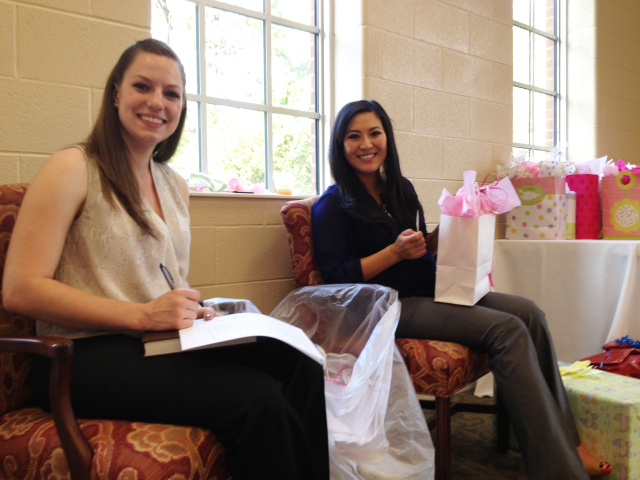 A cute picture Sarah took of us, cause she is awesome like that.
Working hard ;p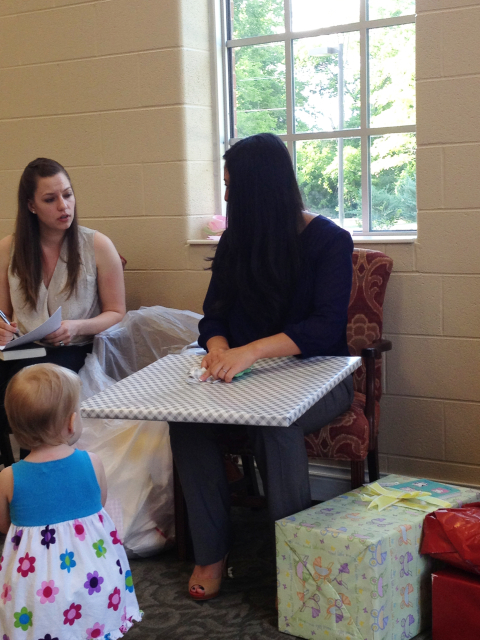 Gemma decided to come help Kira open gifts, and I look like I'm on drugs, but it happens.
The beautiful picture that my mom made custom for Kira's Nursery. She used THIS pattern,but got a custom version with a few fonts changed from this awesome Etsy Seller.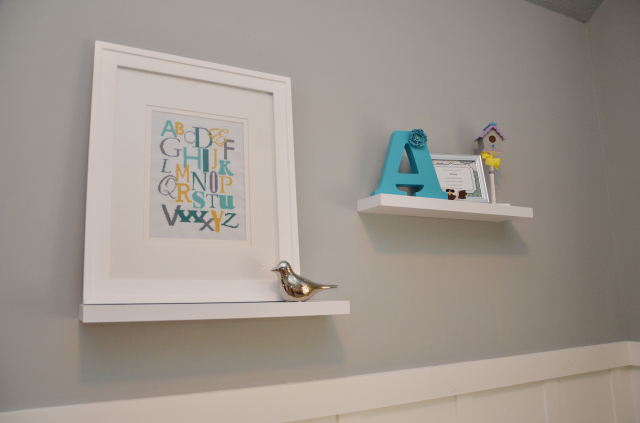 Here is the beautiful art in the nursery!
 Amy, Julia, my Mom, Sarah, Kira, and I after Kira had opened most of her gifts.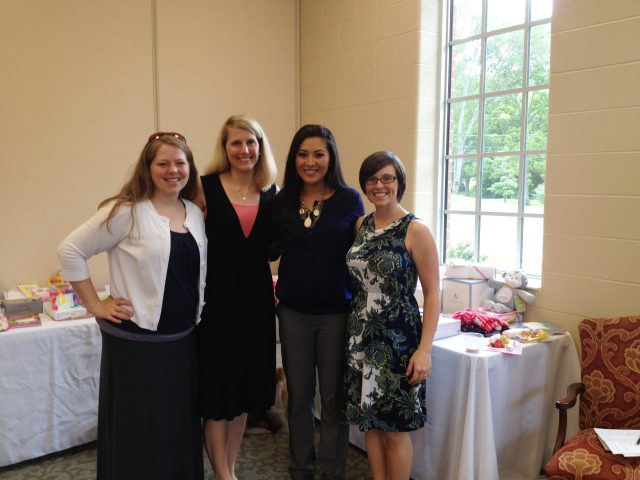 Kira with her hostesses, and I am sorry but I don't know all of their names.  I am not sure if they would want me listing them even if I did.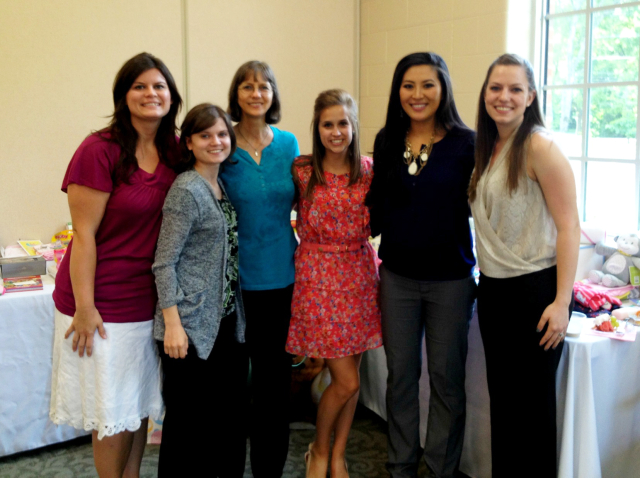 Another picture a little bit more close up.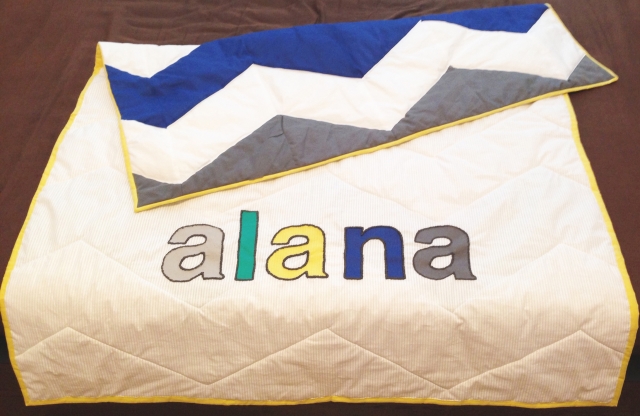 My biggest gift to her was this quilt I made, you can see the tutorial here.
 Here are some of her unwrapped gifts,but there were three tables this long that were covered in their gifts.
I wish we would have better pictures, but I am just glad that Sarah was cool enough to get some and share. Obviously we are all SUPER excited about Alana coming so WOOT! I hope you had  a great 4th of July!