I grew up learning to sew because of my mom, grandma, and various family friends. I remember sewing doll quilts, an ugly stuffed animal "wolf", and fabric dolls among other things. While in college I did more construction and sewing like fully lined curtains and padded head boards, and since I have been out of school most of my projects were baby shower gifts from burp cloths to floor poufs. I have always done some minor fixes to clothing like shortening a dress, making a pillow case smaller, or sewing on buttons but nothing crazy intensive. I also learned lots of other things like crocheting and knitting, but lately I have been on a sewing kick. I have been wanting to expand my skills since I feel in the area of clothing construction I am still in the beginning stages. My mom taught me to be resourceful, take things one step at a time and believe that I can accomplish things when I set my mind to them.  Below are pictures and information about the jacket that I sewed.
I decided to make the Minoru Jacket Pattern from http://www.sewaholicpatterns.com/. I read her blog and LOVE every stinkin pattern she comes out with. I think we have similar body types, and so what she designs tend to appeal to me even if I would choose different patterns or colors. She also had a Sew-a-long on her blog which is the only reason that I branched out and decided to tackle something this large and complex. You can find her sew-a-long here http://sewaholic.net/sew-alongs/. She does step by step pictures of how to make the jacket which made it very doable, and this also makes it easy to pace yourself by sewing only for 30 minutes a day for instance. If I just had the pattern, I don't think I would have been able to finish this coat, but that is because of my lack of knowledge not how the pattern was written.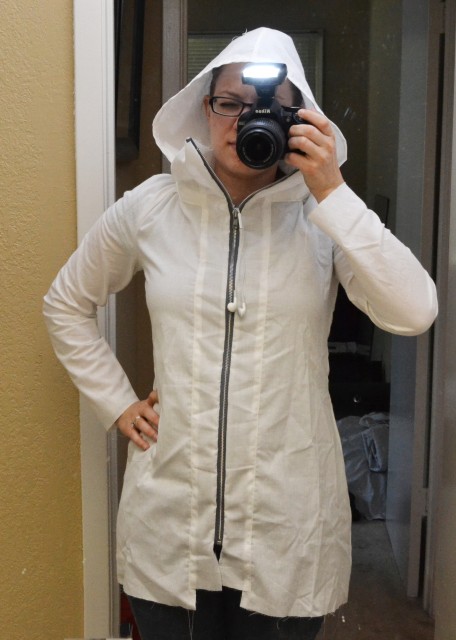 After reading all of the reviews of her pattern testers and others who had finished their jackets, the bigger complaints were the fit wasn't want they wanted and the sleeves were too long. So, I decided to make a muslin so that I could see if the jacket would fit since I wanted this to be pretty fitted. I seriously think I have orangoutang arms because most people shortened their sleeves by 2-3 inches since the coat is designed to be a bicycling coat so the sleeves need to be longer. I didn't have to shorten them and they fit perfectly! I also wanted a chance to almost complete the jacket to work out most of the kinks and mess up on the muslin not on my nicer fabric.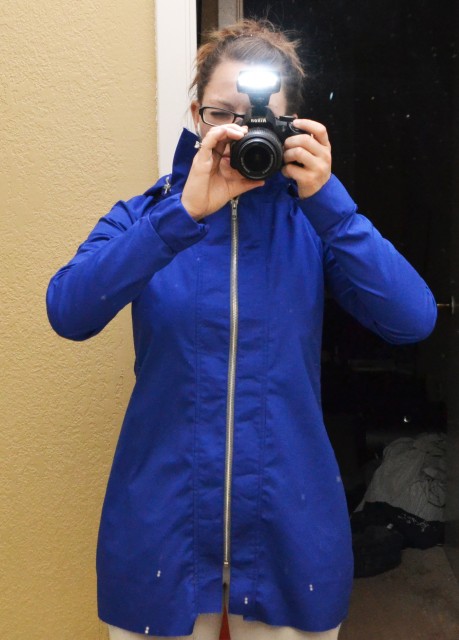 Here is final Jacket without the waist cinched and not hemmed yet.
I got my fabric from JoAnn's after determining that I wanted a thicker cotton fabric so it would hold its shape, be easier to sew, and wouldn't wrinkle very easily. I lined the coat in zebra lining. I was wanting a patterned lining so it was either solid colors or zebra, so I grabbed it up. The collar either lays down or can be worn popped if you are so inclined.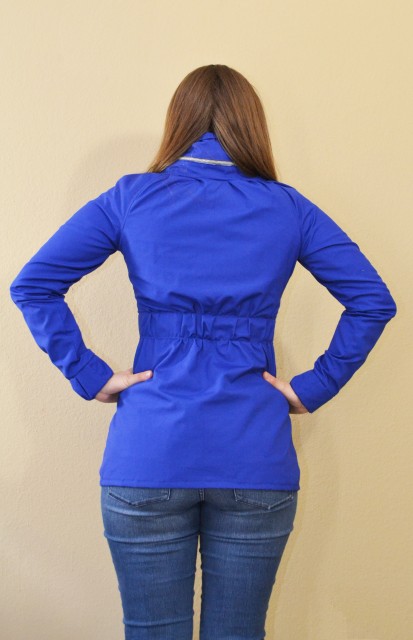 Here is the back with the collar popped and the hood still in the collar hidden by the zipper; you can also see the cinched waist line.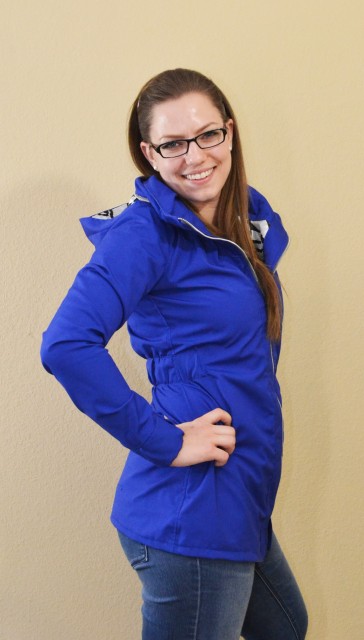 Side view with the hood out.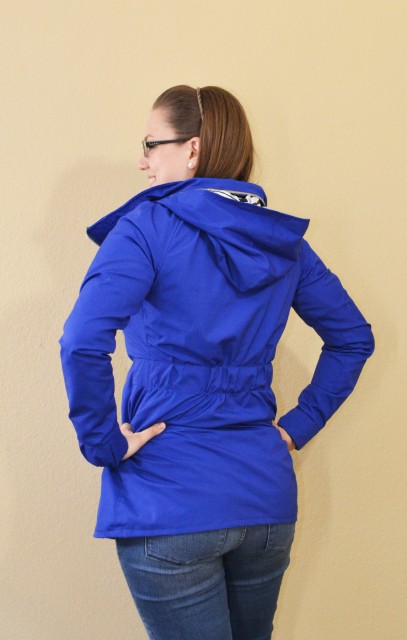 The only place where I deviated from the pattern was that I lined the hood in the zebra lining. If I sew another one, I might make it one size larger, add in seam pockets on the front and line it with thinsulate or something so it can be a winter coat, the only reason I would go a size larger would be so that I could wear thick sweaters and it wouldn't be tight while wearing those.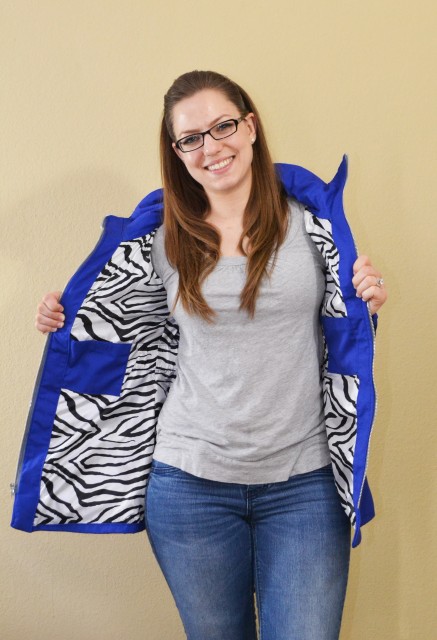 Here is the lining and the inside pockets which are closed with velcro.
Thanks to my willing photographer, Grant, and my mom who gave me my beautiful Bernina sewing machine, her time, and her patience in teaching me! I have already purchased another pattern from http://sewaholic.net/ and will be making the front cowl shirt next http://www.sewaholicpatterns.com/product/1201-renfrew-top. That top looks way simpler and isn't lined, but it also doesn't have a sew-a-long so maybe in a few months, I will have one of those to show off. I am still drooling over her http://www.sewaholicpatterns.com/product/1203-thurlow-trousers pattern, but never having done anything similar to shorts or pants, I might need more work before I try some of those CUTE shorts! I have almost the exact pair from Old Navy that they don't sell anymore, and I would love to have pairs in a few fun designs!