I feel that lately it has been baby shower season, but I have also been told these things tend to happen in waves. I was lucky enough to help host this shower for Heather who is having  a baby boy. She is due in September, and we didn't know what name the little munchkin will have so that is why it is lacking the decor. There were so many great baby showers with the Nautical theme that it made it soo much fun! On my way to this shower, I found out I was going to be an Aunt to my sweet nephew Jonas which put me in a great mood. His shower I am also helping to host and will post after it happens next week.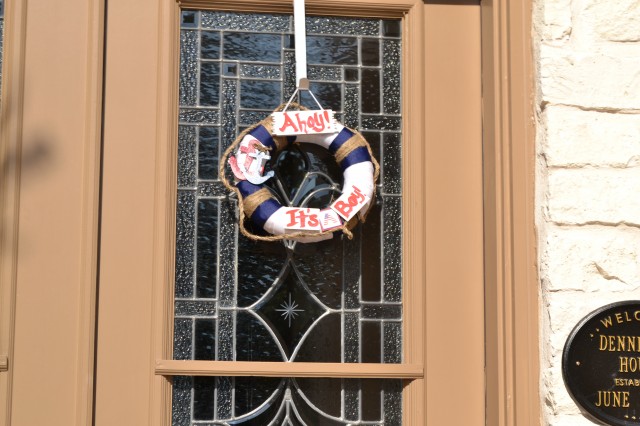 Here is the beautiful wreath that Pamela made for the door, we tried to use "Ahoy! It's a Boy!" in a few different applications incase someone missed the theme!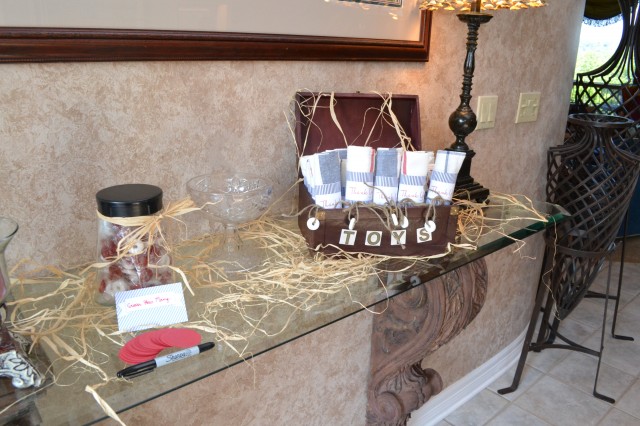 Here you can see one of the entry tables with a game and the favors.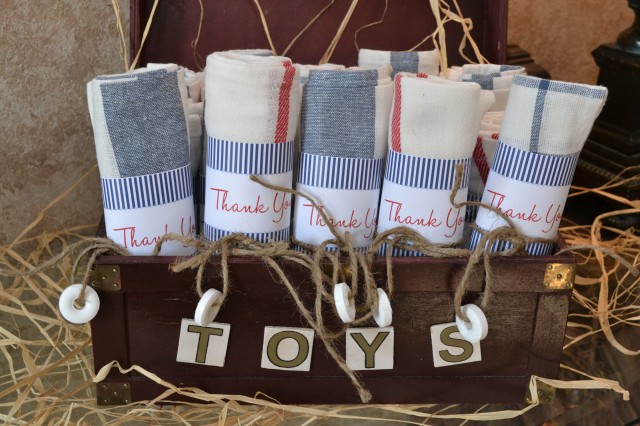 Here are the favors thatI put together, they are dish towels in the correct colors that I got from Ikea with some life savers attached. Heather is a wonderful baker and cook, and we felt this was a good representation of her and a very useful favor!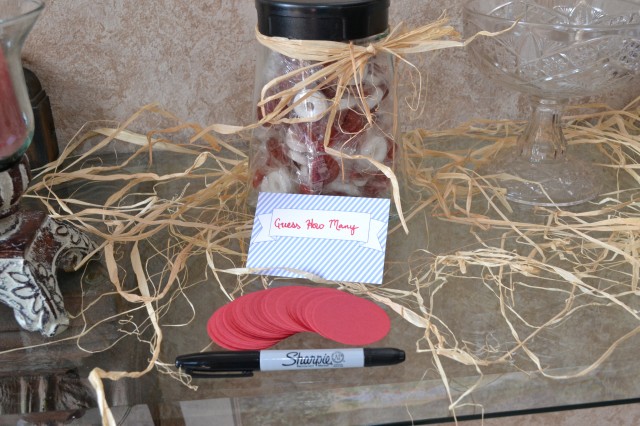 Here was one of our shower games, where someone had to guess how many life savers were in the jar. Then the winner received a super cute OPI nail polish as a prize.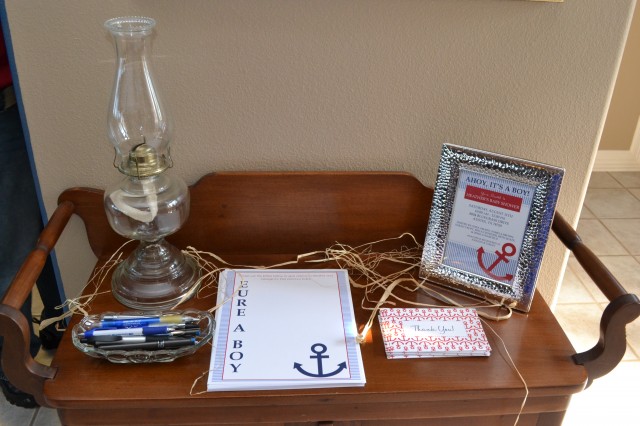 Here is the sign in table, the "Eure A Boy" was an activity to use the letter's of their last name and stating they are having a boy since we didn't know the name to give advice to the parents,but they had to correspond with the acrostic.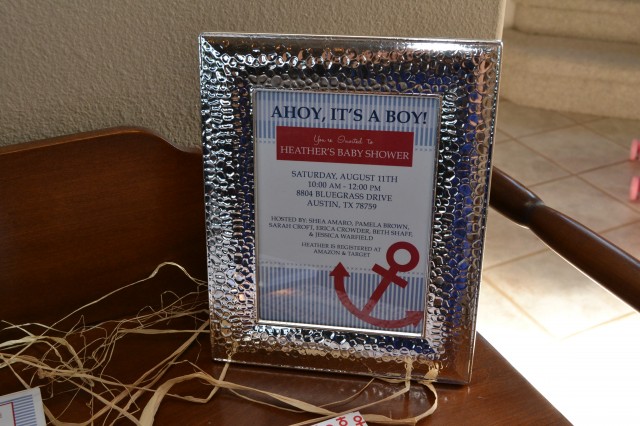 Here are the invitations that I made for the shower.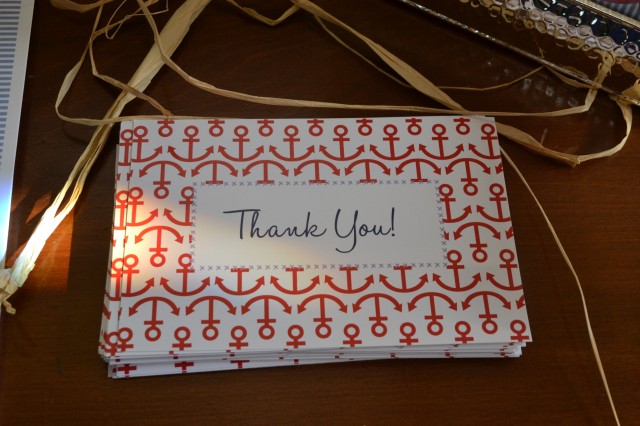 Here are the thank you postcards that I made for the shower as well. I made postcards because the postage is cheaper, and this way Heather doesn't have to buy thank you cards or envelopes. Also, we have everyone fill out their address as they enter so that she doesn't have to look up addresses either since we know she has other things on her mind.  We also drew randomly from this stack to see what other two ladies got OPI nail polishes.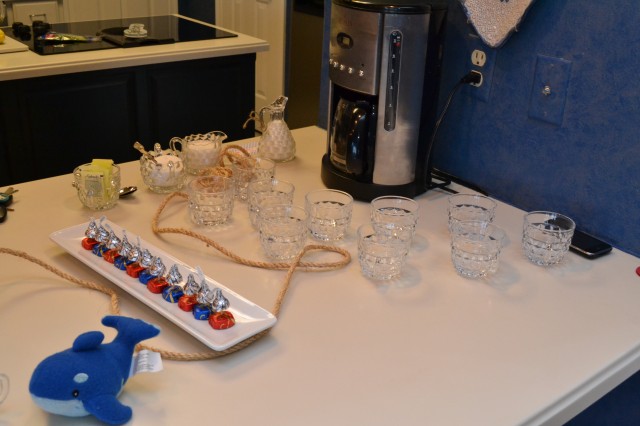 Here is our Coffee station with all of the fixings, and I love the cute stuffed whales that Erica found at Target!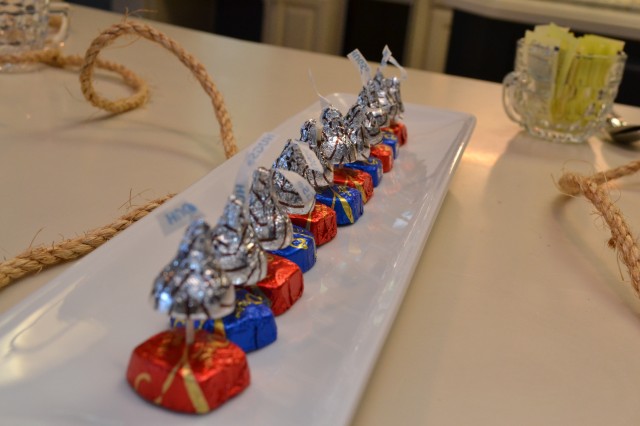 The cute sailboat that Shea made that we saw on pinterest to go with the theme and provide some great chocolate for those who wanted it with their coffee.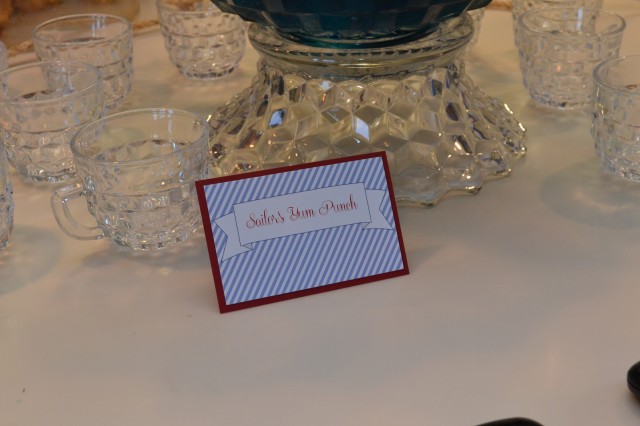 Our Punch that Pamela made.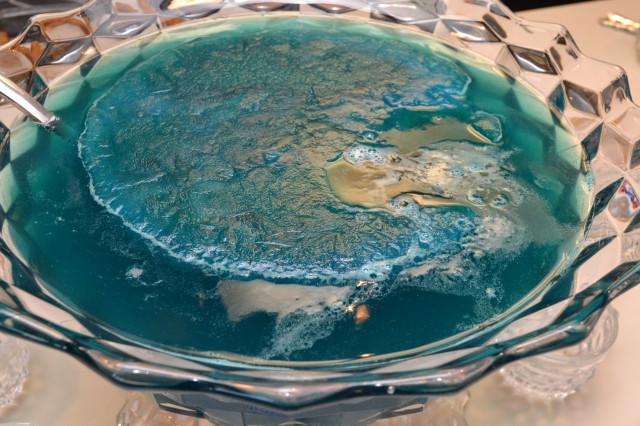 It HAD to be blue to fit the theme.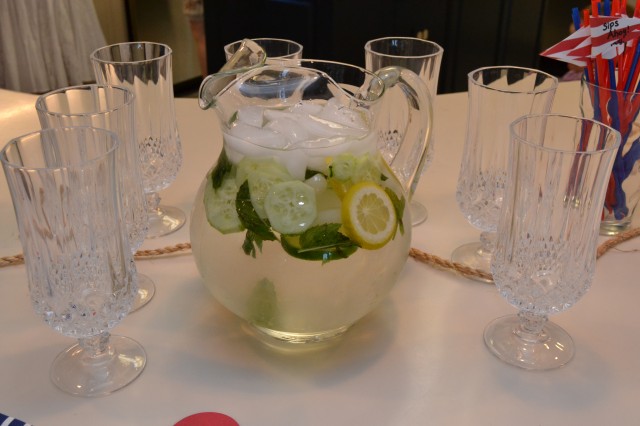 The most amazing recipe for water, one lemon, one lime, some cucumber slices, and a few mint leaves added to water made such a refreshing and healthy drink not to mention how beautiful it looks.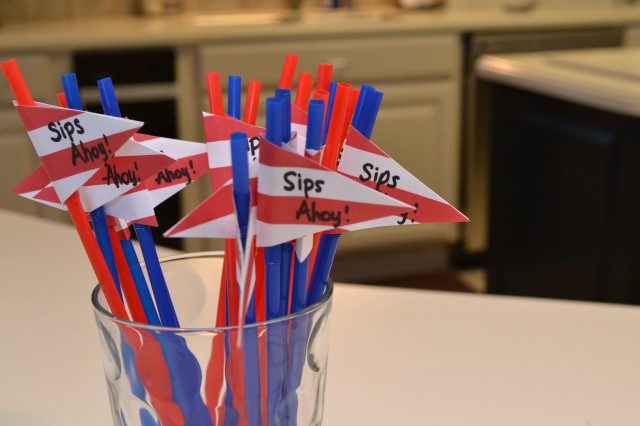 The straws that Pamela made which is crazy considering her baby was only weeks old at the time.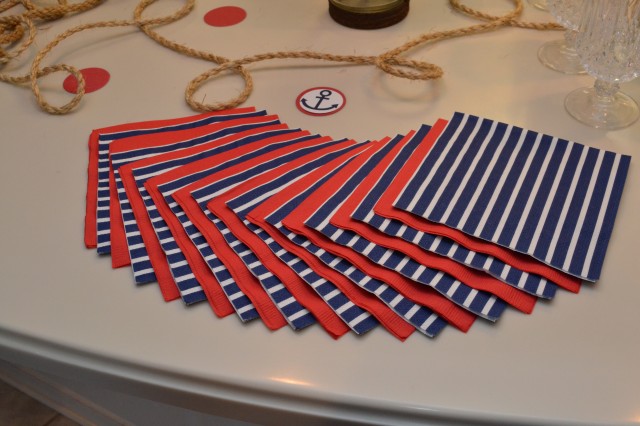 The beautiful napkins that Beth brought.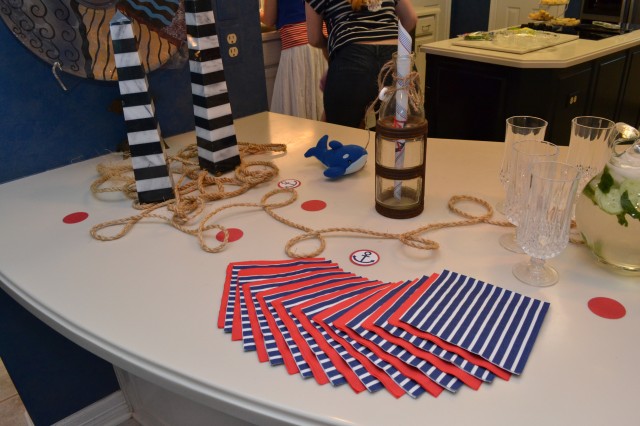 Sarah brought the rope,but what was funny is that Vicki, whose house we were fortunate enough to use, had the light house and bottles already as her decor!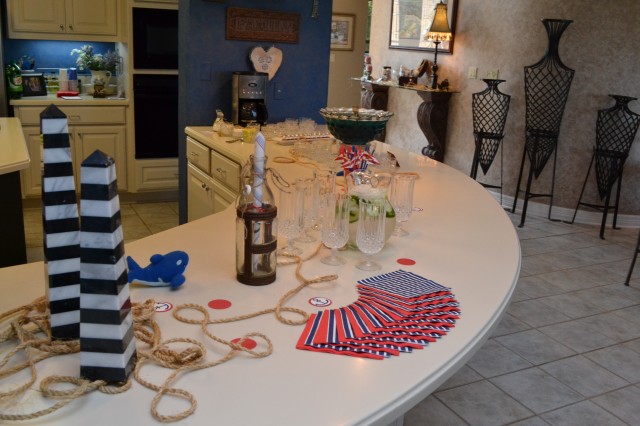 The refreshments bar.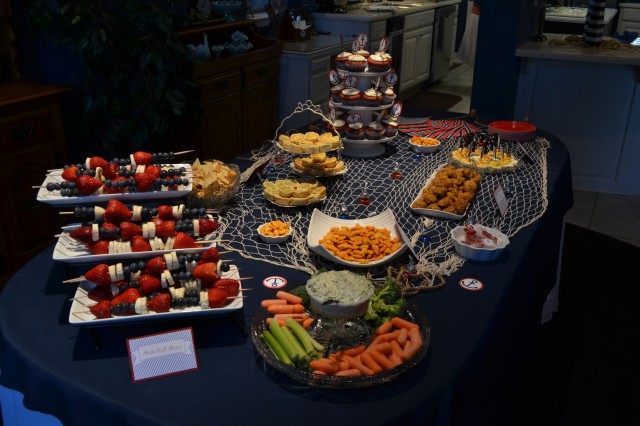 The food table with the amazing netting that Sarah found.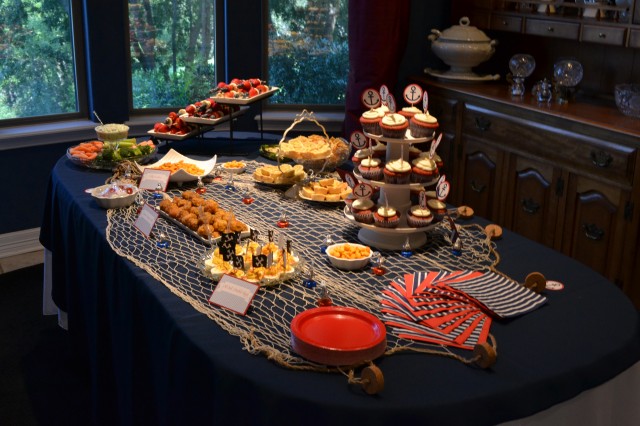 This table was so irresistible that Lilly even helped herself before everyone had arrived. 🙂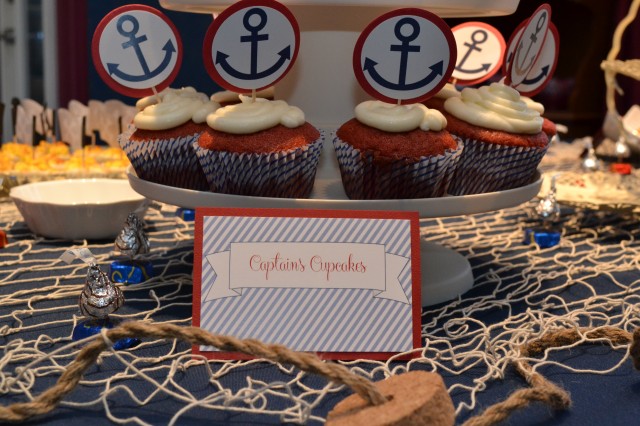 The red velvet Cupcakes that I made.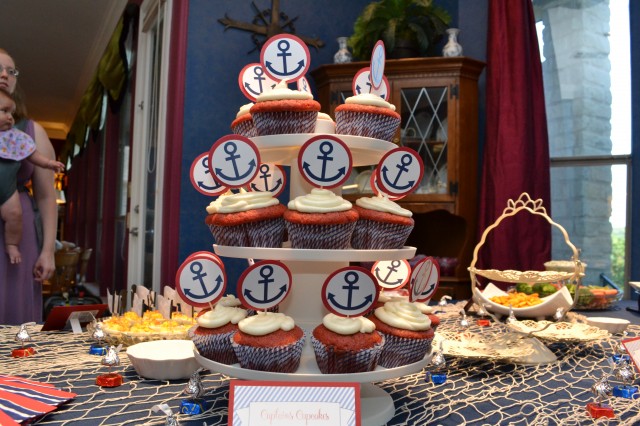 I got the recipe here: Bakerella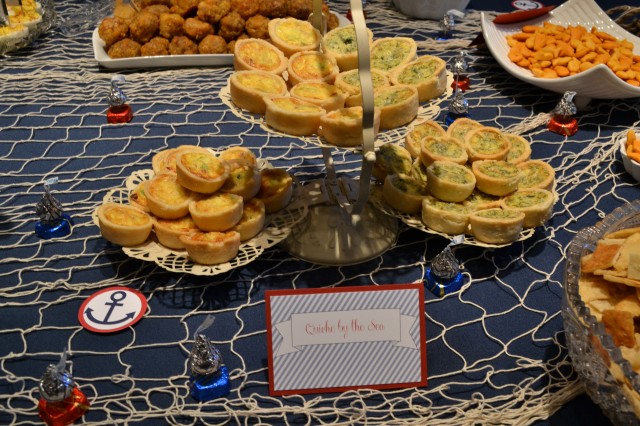 The yummy Quiches that Sarah provided.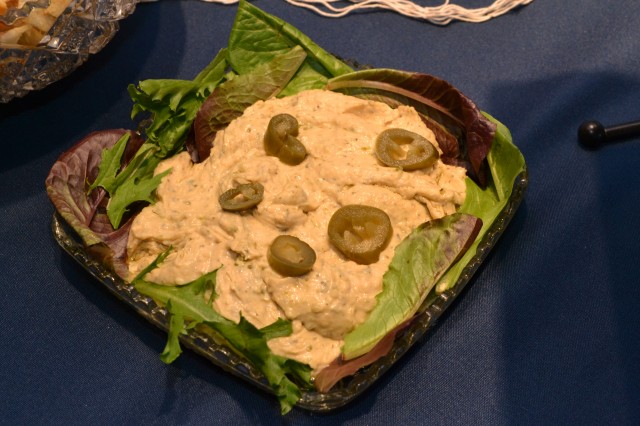 The hummus that Vicki provided.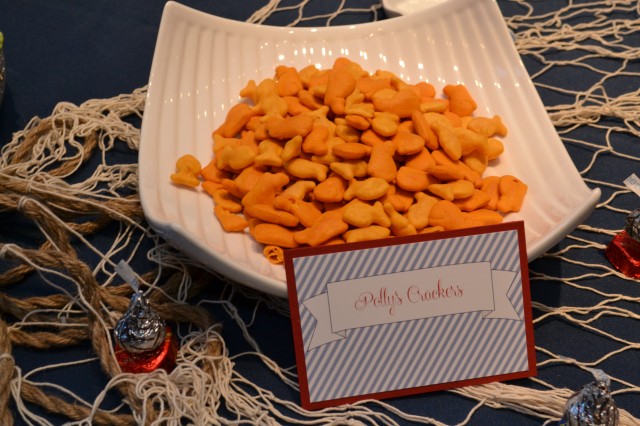 The gold fish and whale crackers that Shea provided.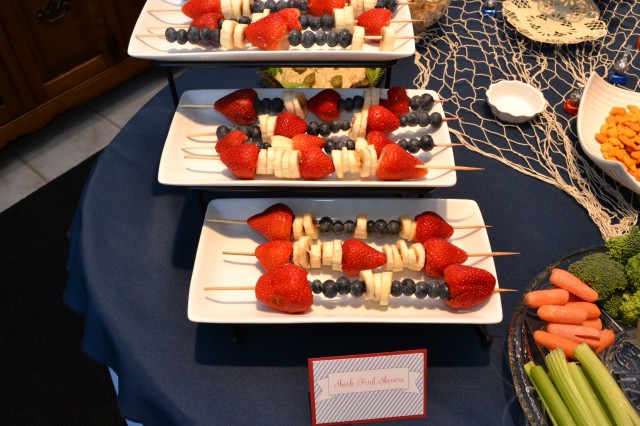 The Fruit Skewers that Pamela made.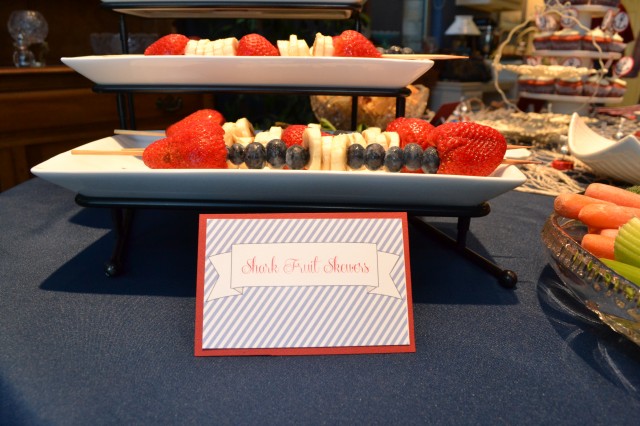 Everything tasted soo good.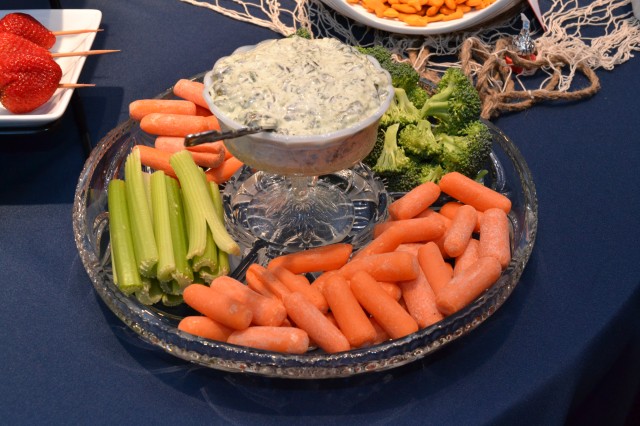 A veggie tray that Shea brought.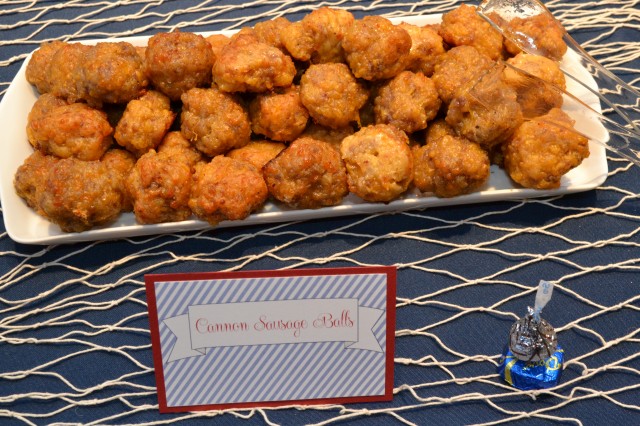 My favorite sausage balls that Beth brought.
The super cute deviled eggs that Erica made.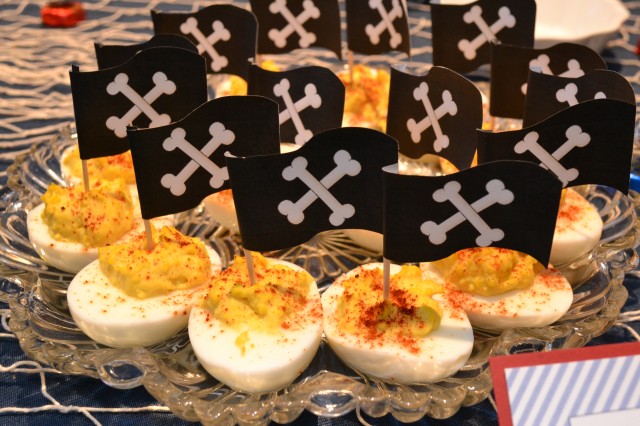 They were gone super fast!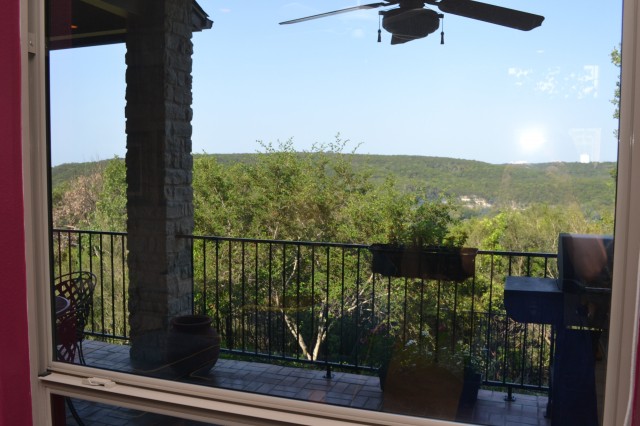 Vicki's house is in the hill country of Austin, and it has some spectacular views!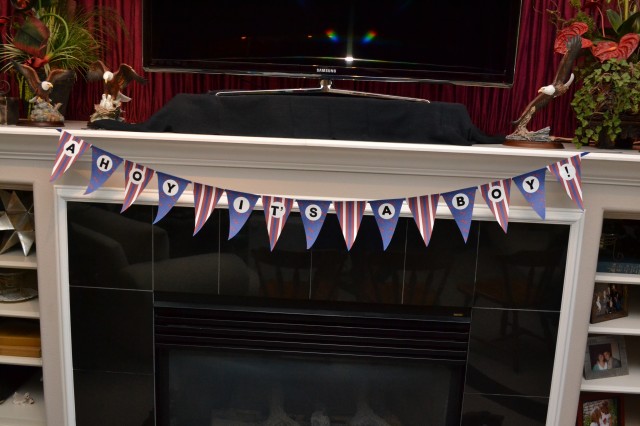 The Adorable banner that Erica made!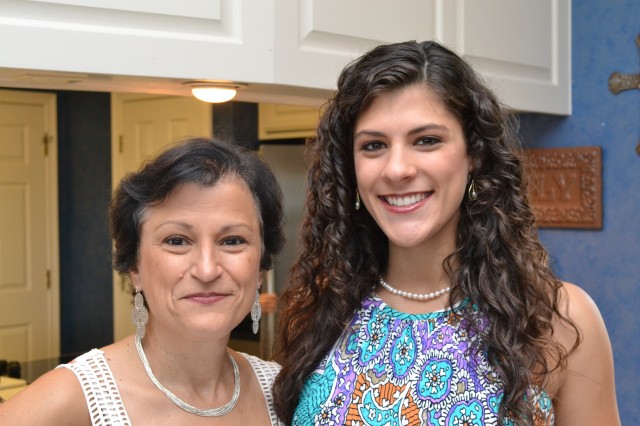 Heather and her mother both looking beautiful!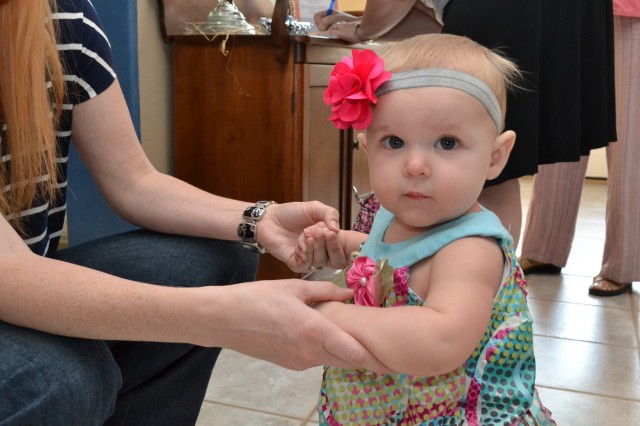 Some of our guests were definitely arriving in style!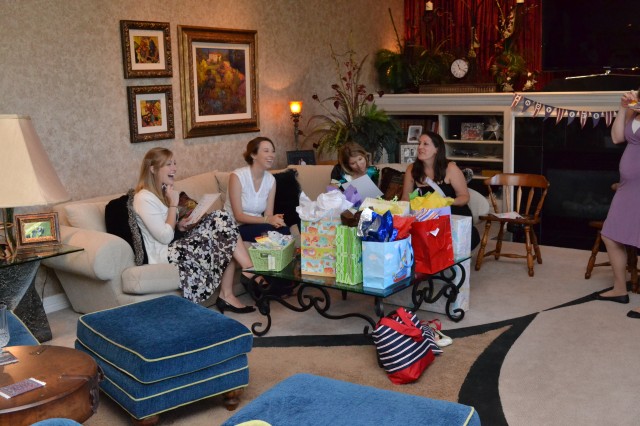 Some of the ladies hanging out, eating, and chatting… what we do best.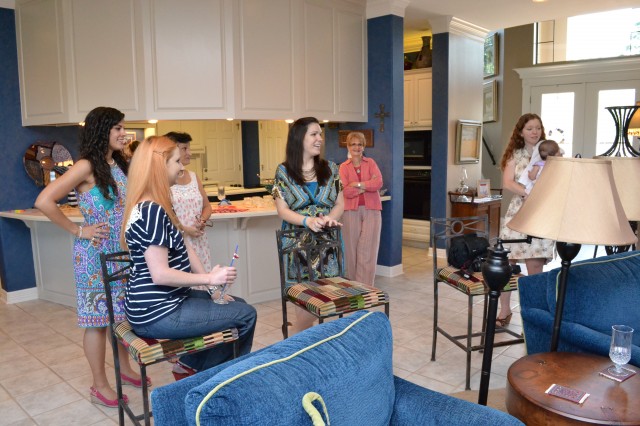 Most of the other ladies, it is hard to get everyone included.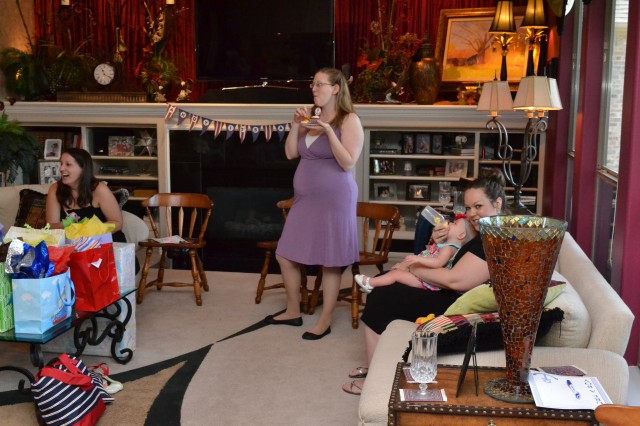 More pictures!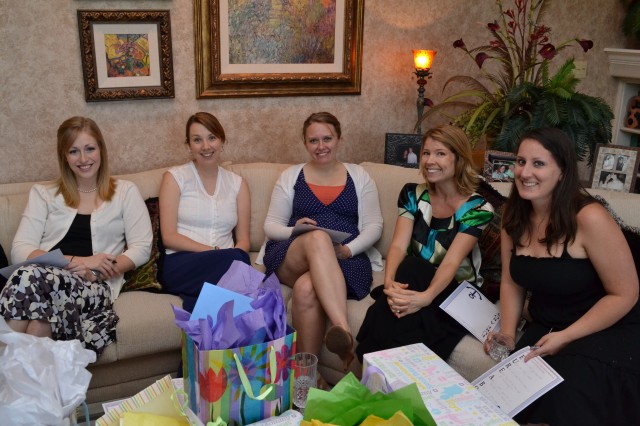 A non-candid photo since most people don't appreciate those.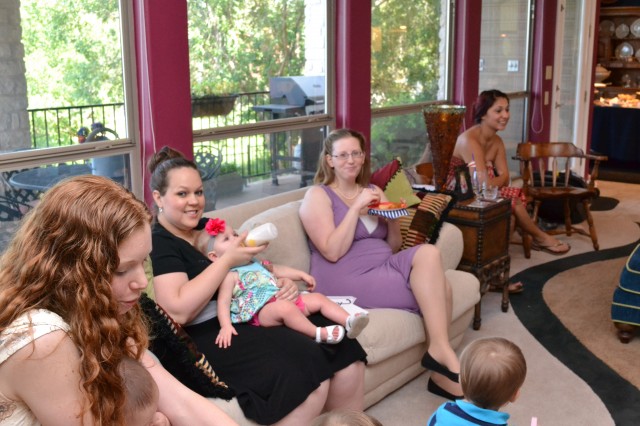 Relaxing while playing some of the games.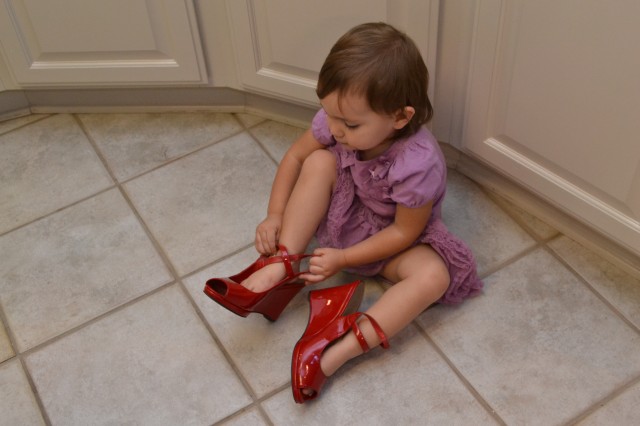 Lily found herself some shoes.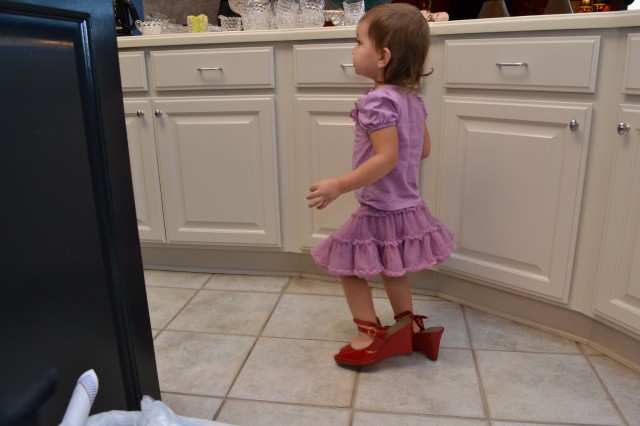 She knew how to work it.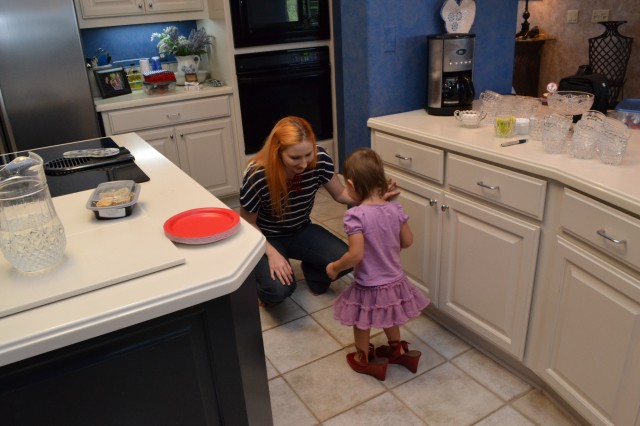 I think she was happy Beth was not upset about sharing her shoes.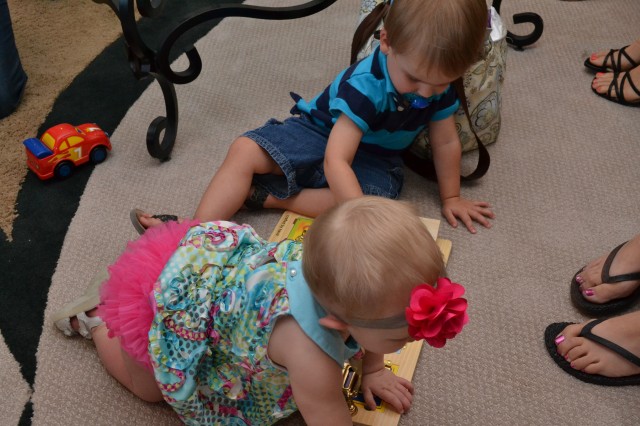 Some games and toys provided by Vicki made all the littles happy.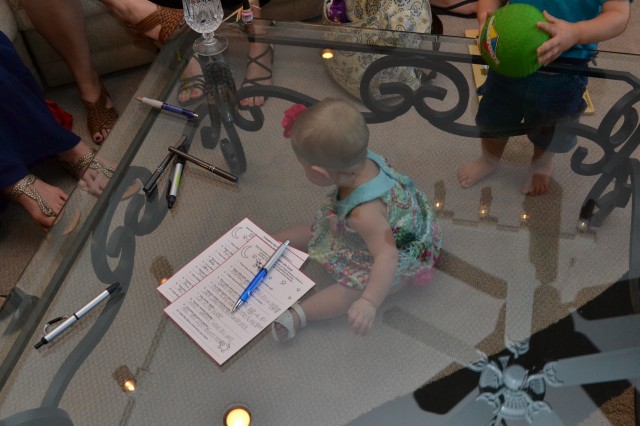 Abigail got stuck under the table and didn't seem that phased; she did notice the glass top was solid.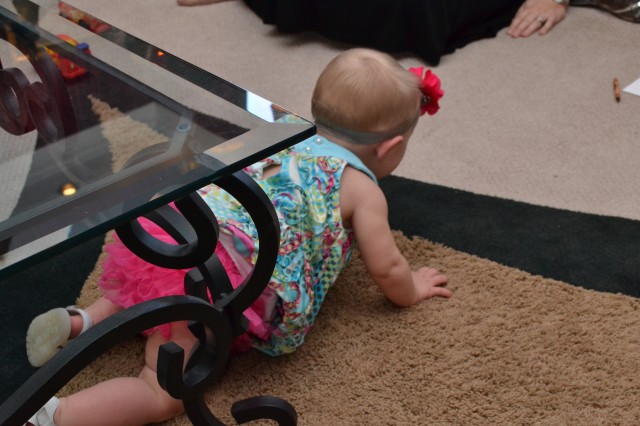 She was smart enough to make her way out without hitting her head or needing help.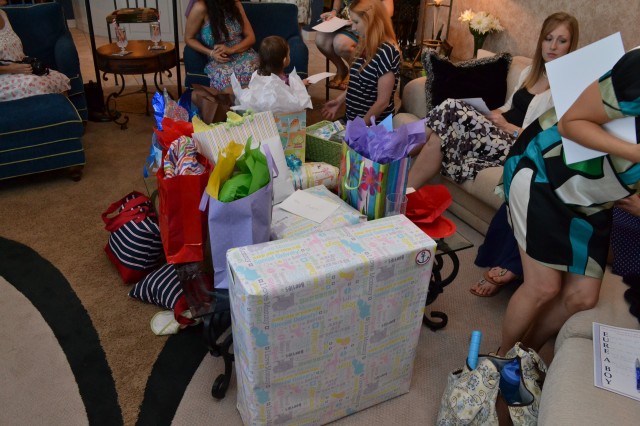 All of the gifts ready to be opened.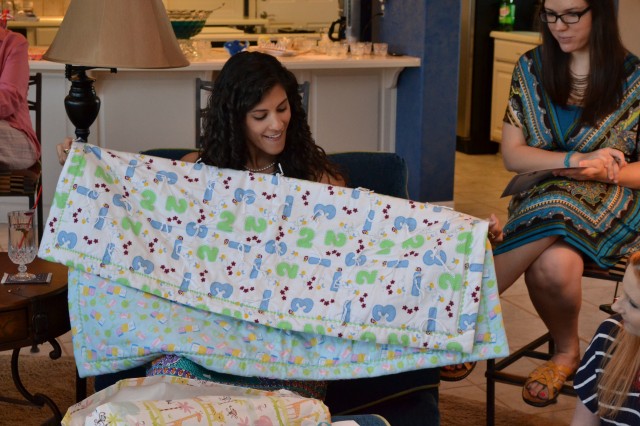 A super sweet baby blanket that Margie made for them.
A super cute pirate for the nautical themed baby room that Lindsey got them.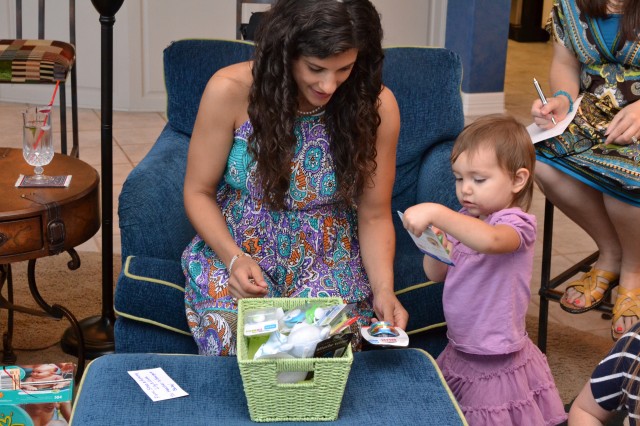 Lily helping Heather open gifts.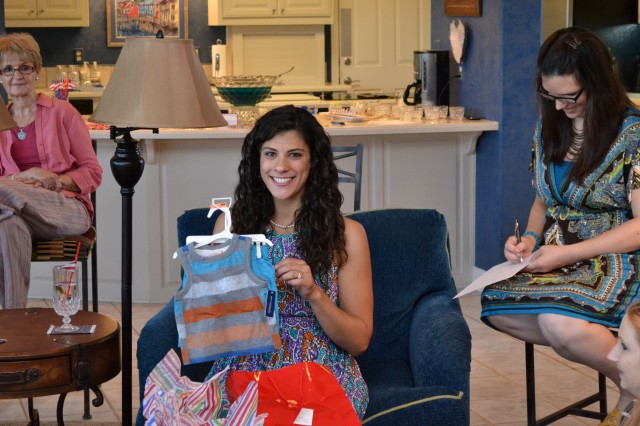 Such super cute clothes for little boys.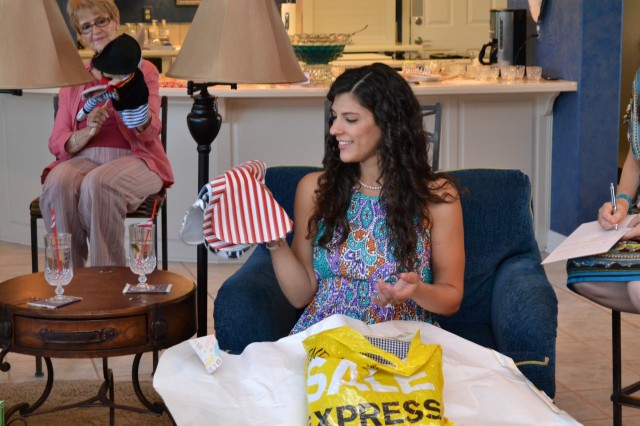 The burp cloths and curtains for the nursery that I made for heather.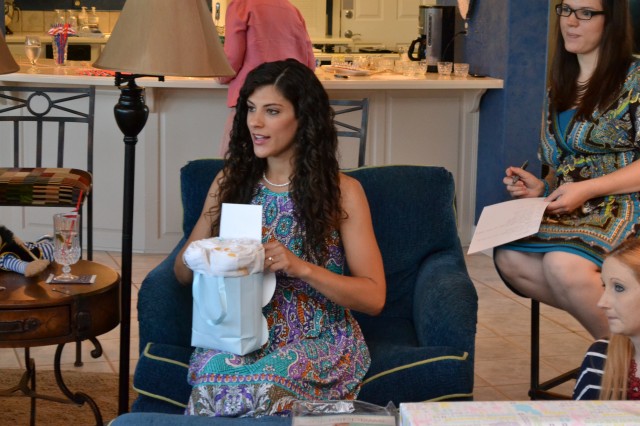 More gifts to open.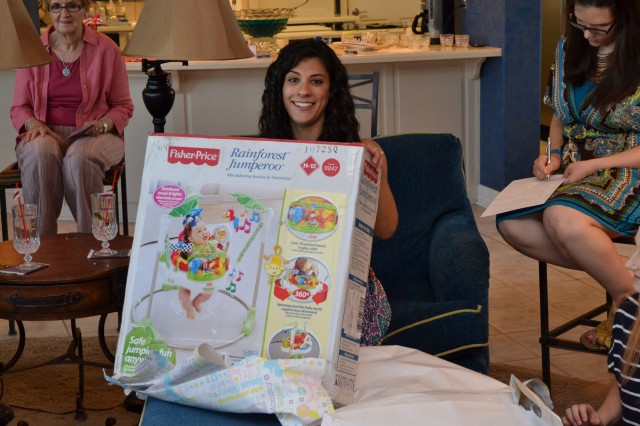 The hostess gift!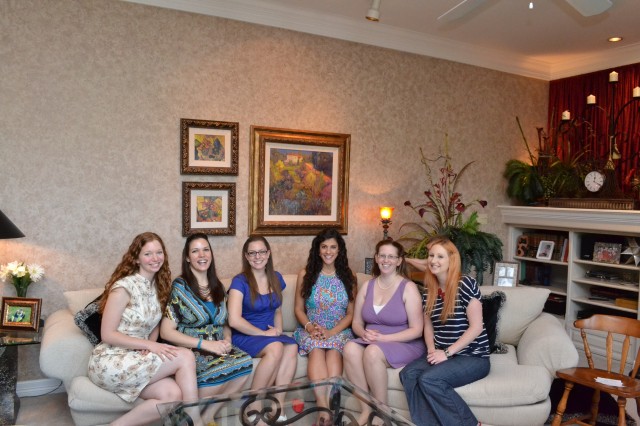 Sarah, Pamela, Me, Heather, Shea, and Beth… Erica couldn't make it but did drop off deviled eggs and her decor for the shower.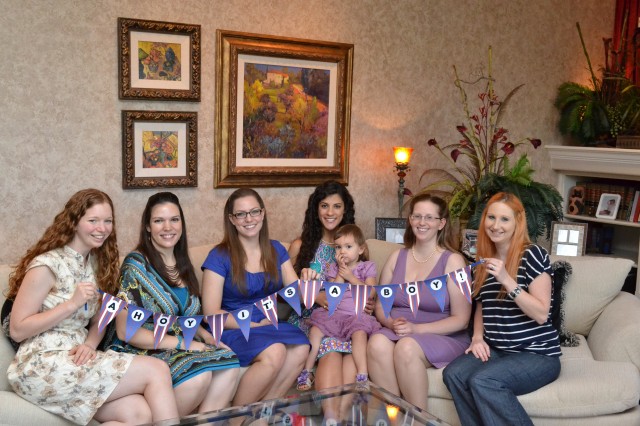 Lily helping us along with Erica's beautiful bunting; we missed not having her there.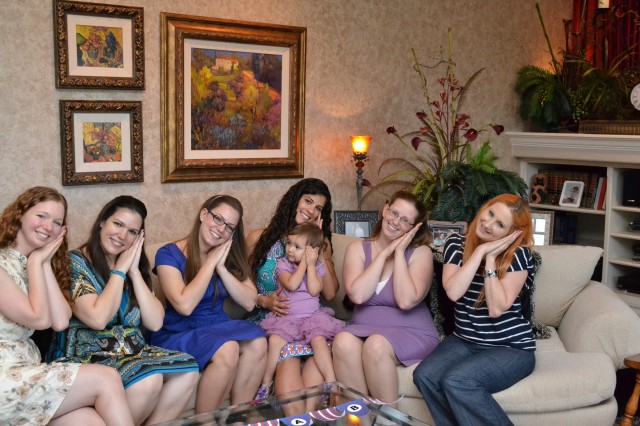 Lily decided everyone should pose like her so we did.
I loved how this shower turned out and am getting ready for Jonas Rook Robertson's shower next which will be super cute and my second boy shower ever! Life has been so eventful lately, so I am trying to take some time to blog to finally catch up!
Free Printable Thank You Card Click HERE.