My last baby shower gift was a floor pouf which I gave to Pamela. I followed a pattern HERE from Better Homes and Gardens. As you can see, they have step by step directions that are much better than mine. They also have the printable patterns for free that I printed off. I did a few things differently that I will point out from their directions. If you want to see the Baby Shower where I gave the pouf go HERE. The hardest part about this item is the hand stitching which isn't particularly hard just time consuming.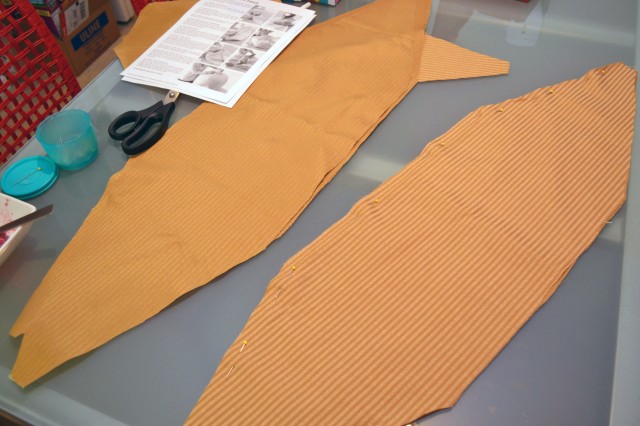 Cut all of our pieces. In their directions, they have you line the outside pieces with cut up bed sheets. I didn't have any sheets that I wanted to cut up so I didn't it without them. I had a thick decor fabric so I wasn't too worried, and am still ok with the fact that I didn't. The main thing it would have changed, is it would have made the pouf not look as bulgy, and if I ever make another one of these, then I will line it so it is stiffer. Anyway, here you can see all of my pattern pieces, I started laying them in sets and pinning them together on just one side.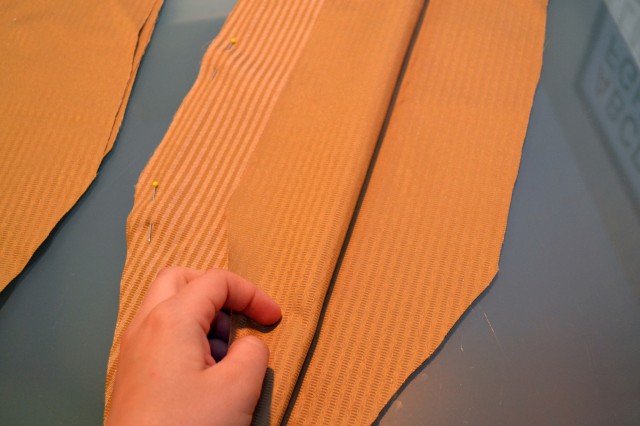 Make sure that the right sides are facing each other.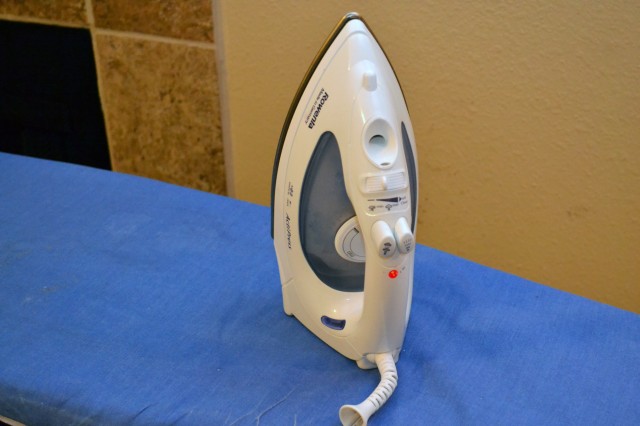 Have an iron hot and ready with the correct setting for your fabric.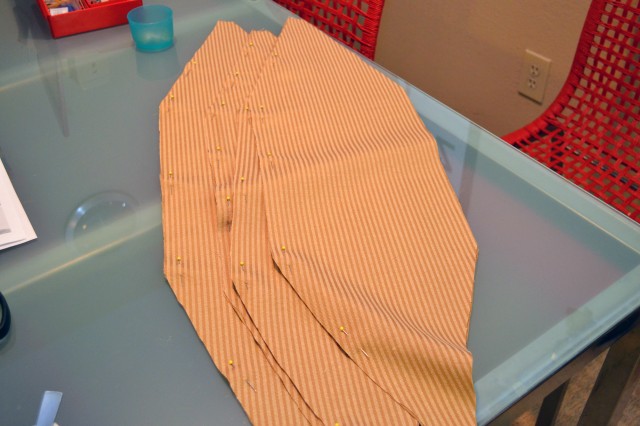 Once you have all of the 8 pieces with their set pinned on one side, sew them together.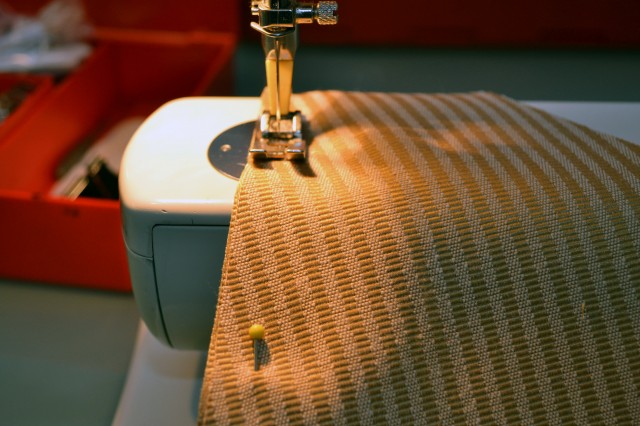 Here I am sewing them and removing pins.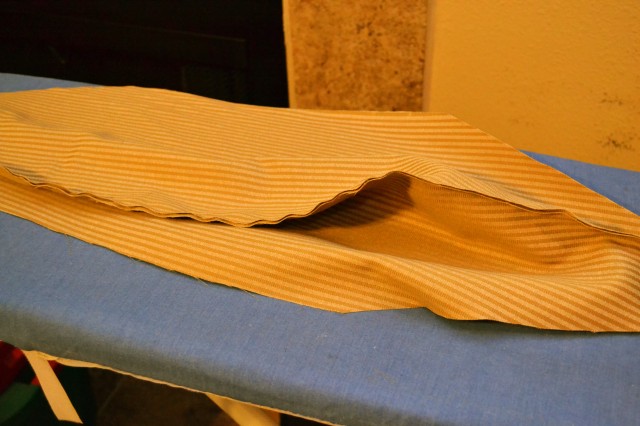 Since it has a geometric shape, ironing the seams flat was a little interesting.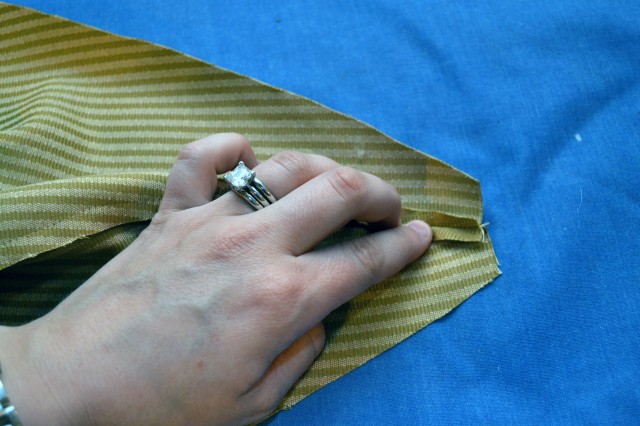 Start at one end and press and keep pulling it off the ironing board until it is at an angle that irons wells.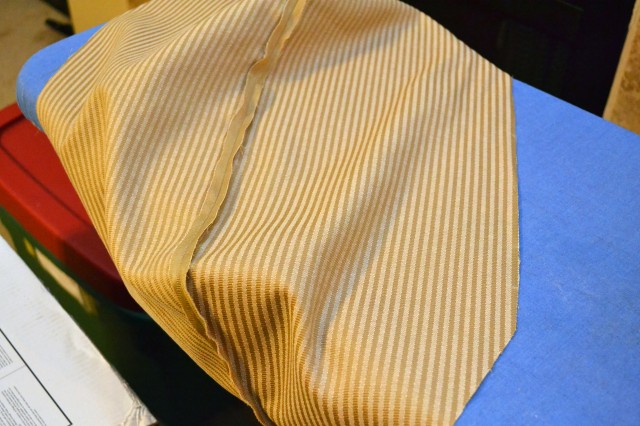 My fabric was pretty sturdy so the seam was ironed but didn't sit completely flat. I wasn't too worried about this,but if you are, you can always use some iron on tape and do that to each seam if you prefer.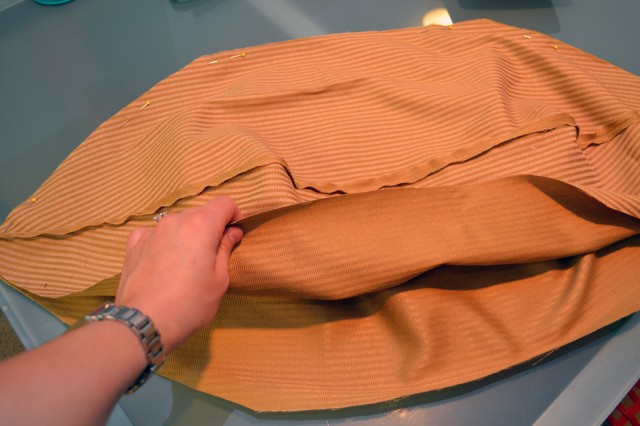 Once you have sewn one side of each of the 4 sets, take 2 of the sets and place them together. One will have to go inside the other. Make sure that the right sides are still facing each other and pin and sew on one side only.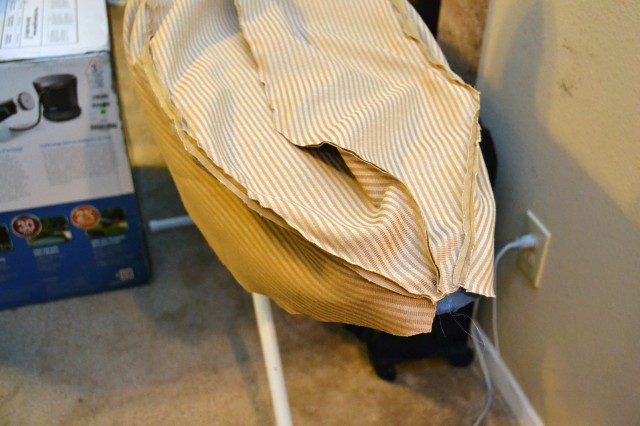 After you have sewn that one side together, iron the middle seam since it hasn't been ironed yet.
Now half of your pouf is done! Here you can see it right side out. Now do the same as you just did for the remaining two pieces so you have two halves of the pouf.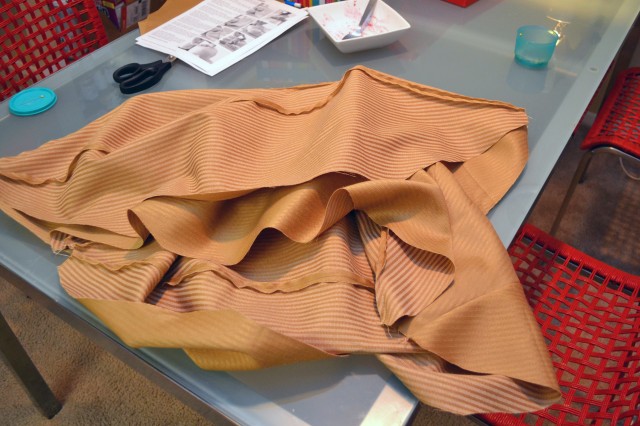 Just like you did with the individual pieces, make sure right sides are facing each other and put one half inside of the other one and this time pin both sides.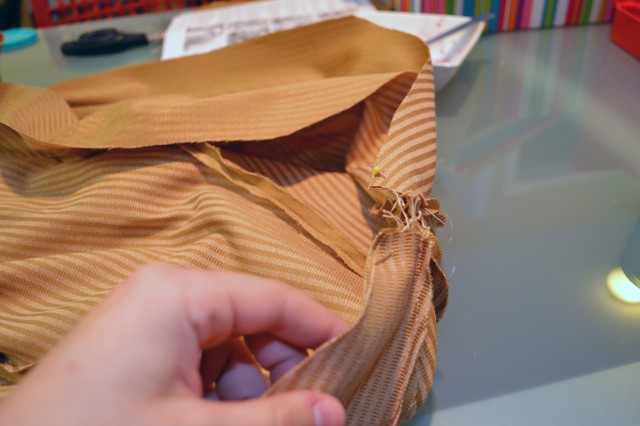 Pick one side as your top and you will completely close off this side with the sewing machine.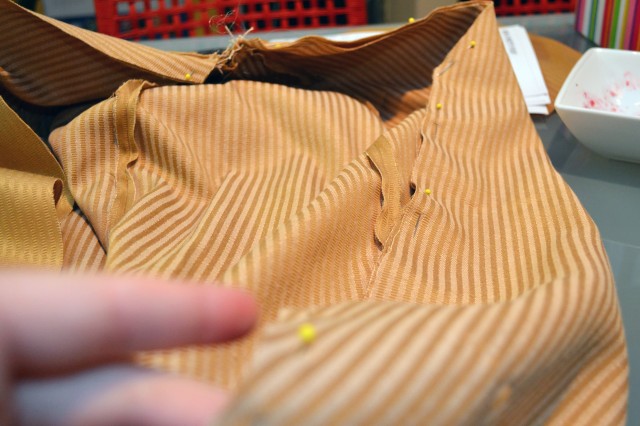 Then pin both sides all the way down until your stopping point.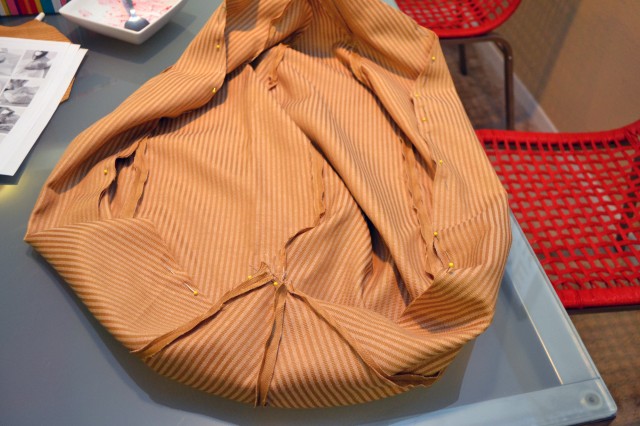 The pattern says to measure up 5 inches on each side and that is where you stop sewing so that you have an opening to turn it right side out and stuff it.
Once you have done that you can see the completely sew pouf, except the one hole to stuff.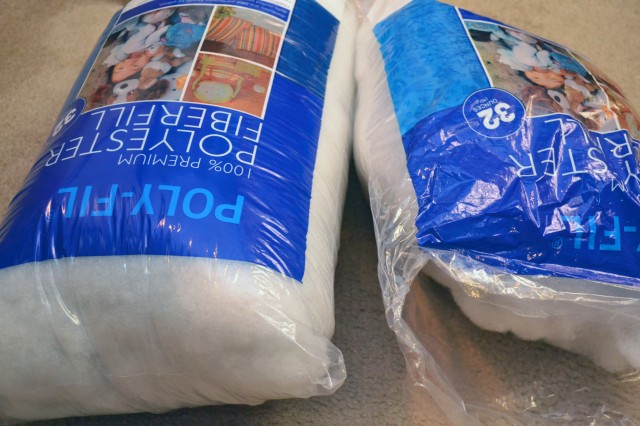 On the instructions, they say to add sheets and old clothes to the very bottom to give weight to the pouf, I wanted this pouf to be liftable by a toddler and ok for one to play with, so I just used fiber fill.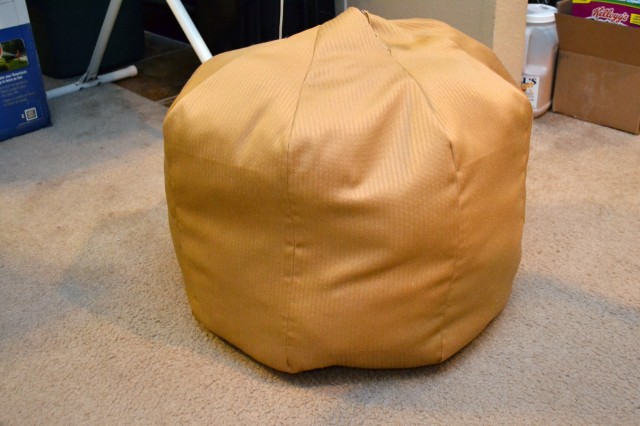 Here is the pouf about 3/4s of the way stuffed. Once, it got to this point, I was able to hand sew the bottom piece over the seam that I did with the sewing machine.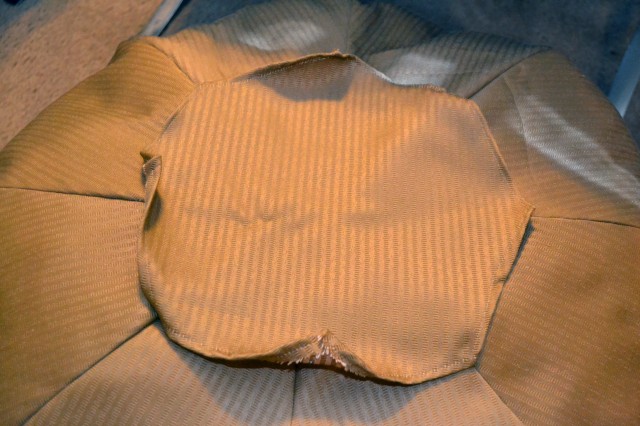 I laid it on top, and then pinned it around and had to refold edges to that the points lined up with the main seams on the pouf.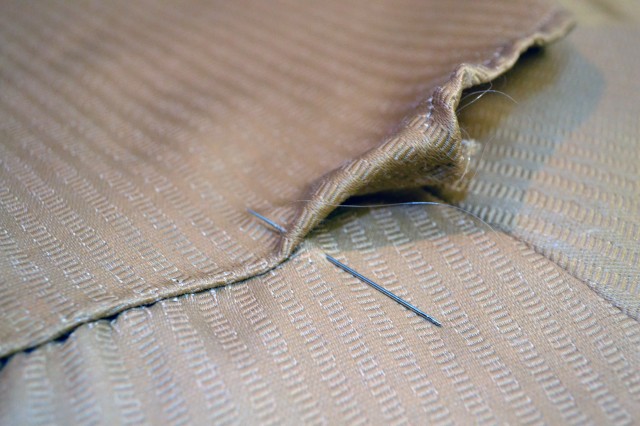 Trying to show how they lines up.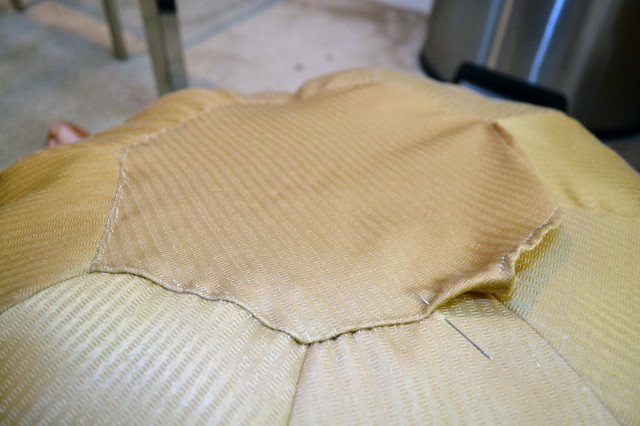 This part took a while, and for the bottom I wanted it to be really strong too!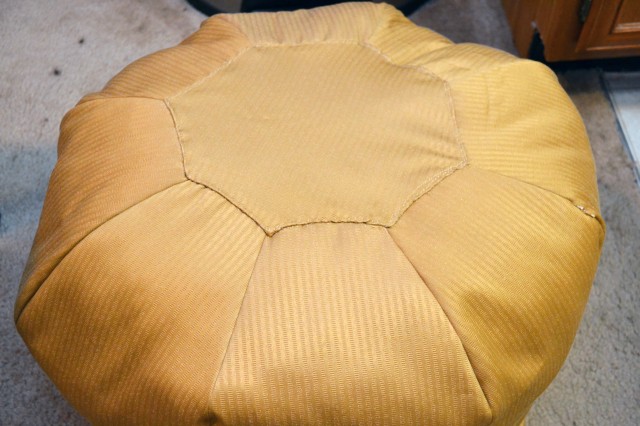 Once I was done hand stitching, I took out the stuffing and resewed the bottom of the pouf with the sewing machine to really reinforce it.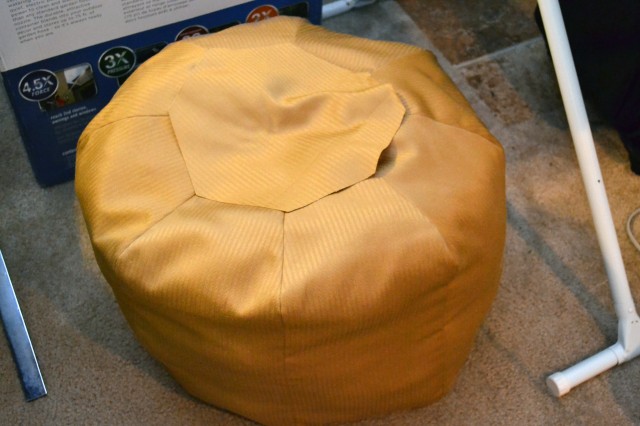 Now here is the top of the pouf, I only laid the top piece there to show.
I finished stuffing it and then pinned all of the way around and kept adjusting the pins as I went to prevent puckering. For the top I wanted the stitching to be very strong and neat looking so this took forever! I think it took me over an hour just to stitch this which is probably that I am slow and was watching a movie so I am sure that I paused for prolonged periods of time.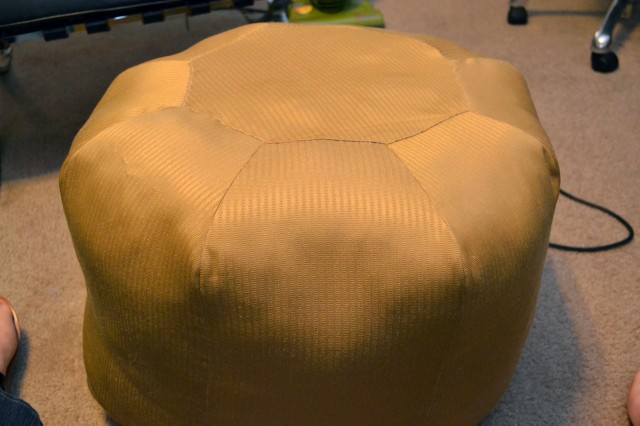 Here is the completed pouf! I think if I had lined it, it wouldn't have looked lumpy, and I also didn't do decorative hand stitching around it either which I don't regret. I don't want an aneurism, and have never done the type of stitch that they show so I decided that Pamela can add her own if she really wants it.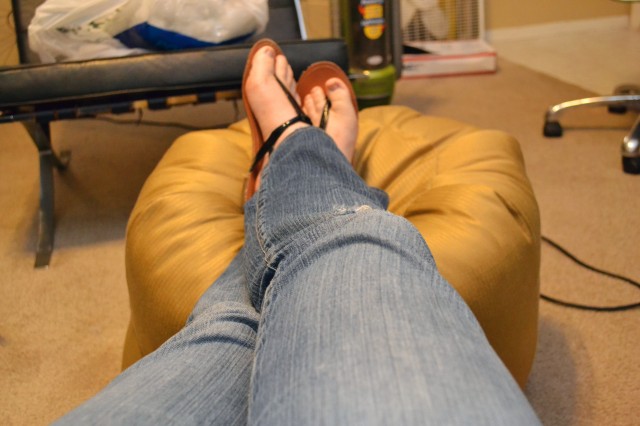 Woohoo, I am happy with how it turned out, not perfect, but a good first attempt. It actually fit in with Pamela's Nursery which is AMAZING Looking! Below are some pictures of her nursery that I took off of facebook, I would link to a blog, but she doesn't write on hers.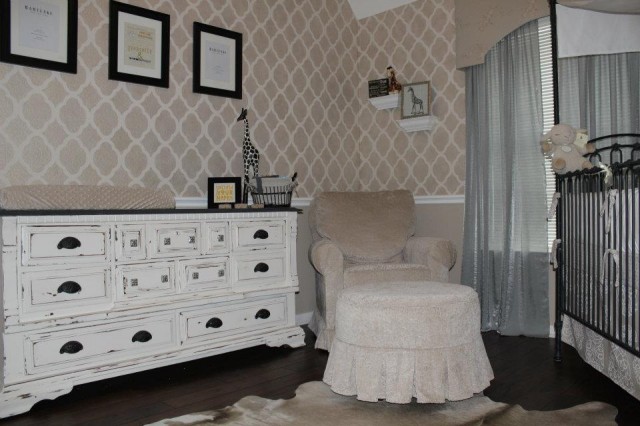 This is her gender neutral nursery since they didn't find out the sex of their baby until birth.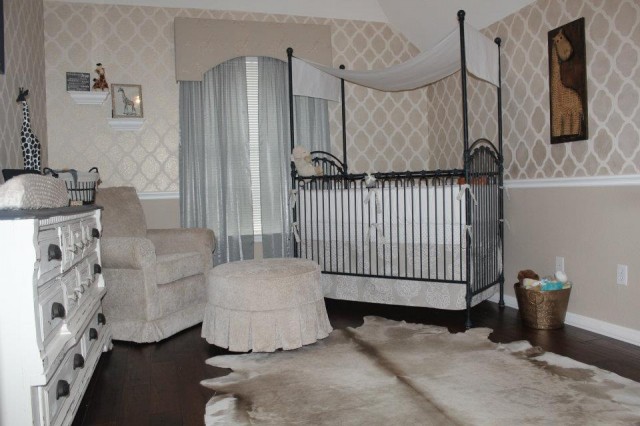 Asher ended up being a boy and will love his nursery!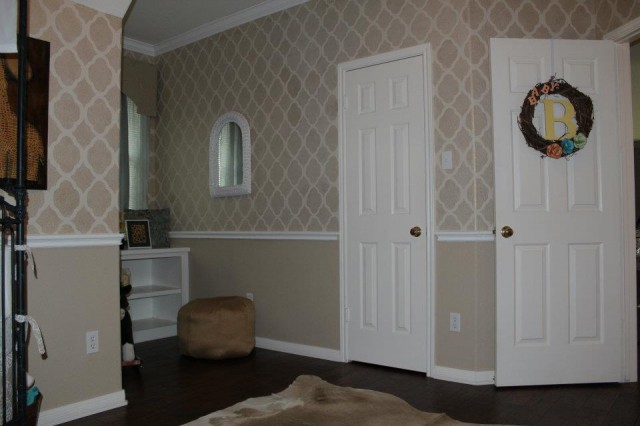 Here you can see the pouf and the wreath from the baby shower.
The last view of her nursery!