I was lucky enough to be able to take a vacation to South Padre Island at the beginning of June this year! This was my first vacation since our Honeymoon which is almost 4 years! I wish Grant could have come,but it ended up being just a girl's trip. Grant had TONS of work to do and the whole time I was gone he had to work really long hours. Other than the lack of food, he probably didn't even have a chance to miss me  since he was so busy. ;p My friend Erin, who is also in our young Married's Group at Church, was given a three day, two night condo stay from some of her relatives that they had won. Her husband isn't a huge beach person just like Grant isn't, so she decided who needs guys?! So, Erin, Beth, who is also in our Young Married's Group and works with me at the Church, and I were all able to go. We went from Austin to almost Corpus Christi, which is where Erin's In-Laws have a beautiful Ranch and is the half way point between Austin and South Padre Island, to South Padre Island. This is a huge post with lots of pictures so enjoy!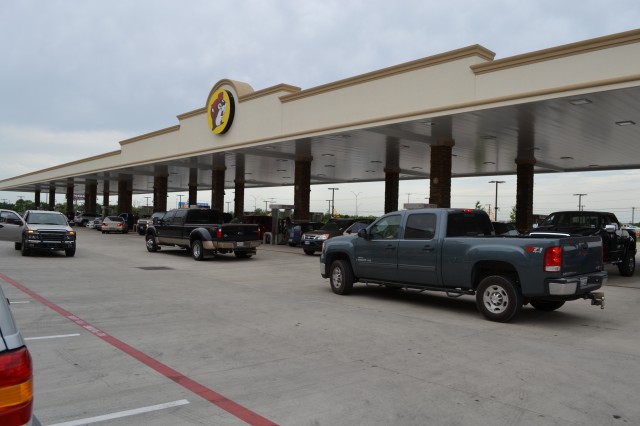 We left Austin on Sunday afternoon from South Austin and made our first pitt stop at Bucees in New Braunfels. This is the first Bucees that they built close to Austin, and it has phenominal gas prices. I think we got gas for $3.06 a gallon, and this is one of the largest Bucees that they have built. I think it had over 60 pumps and the inside felt like a Walmart. They sold LOTS of things and it was fun to stop. All of us girls commented about how we would NEVER be able to convince our husbands to stop at this place if we were on a road trip.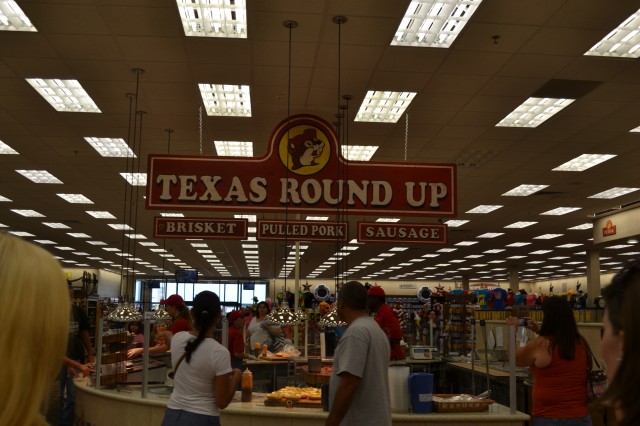 This is one side of the inside of the Bucees. Here is where they had make in front of you sandwiches.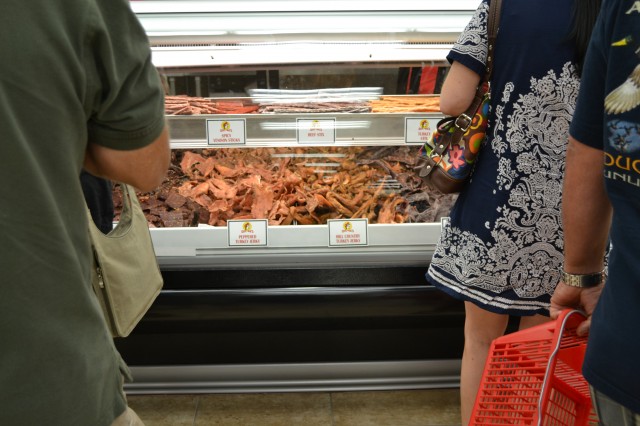 Some of their made Beef Jerky.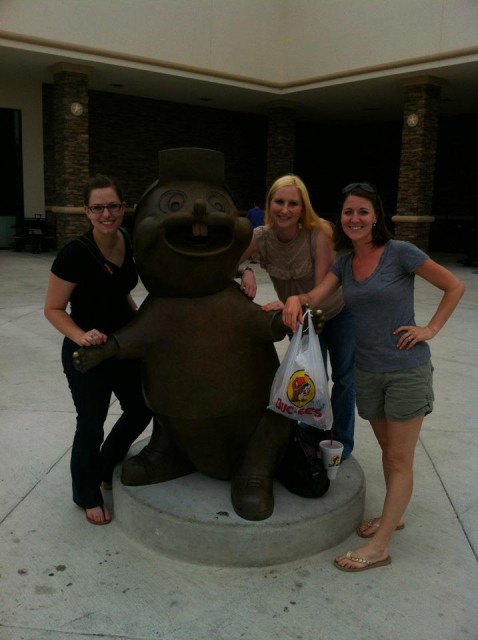 I totally stole this photo from Beth, but oh well it was us being "touristy."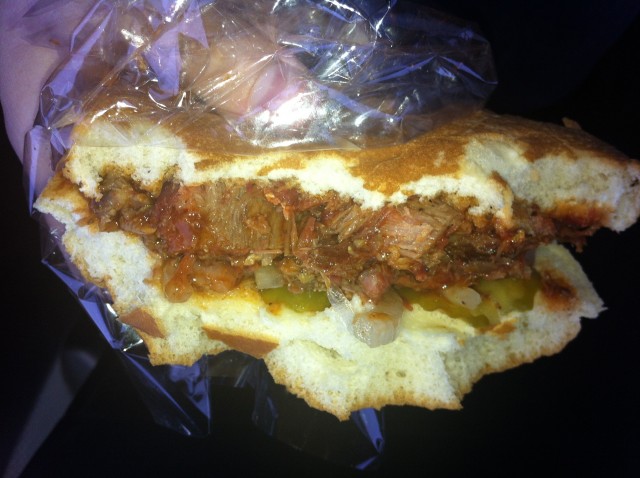 Their AMAZING chopped Beef sandwich that I ate for dinner on the way to the Ranch.
About to enter their ranch.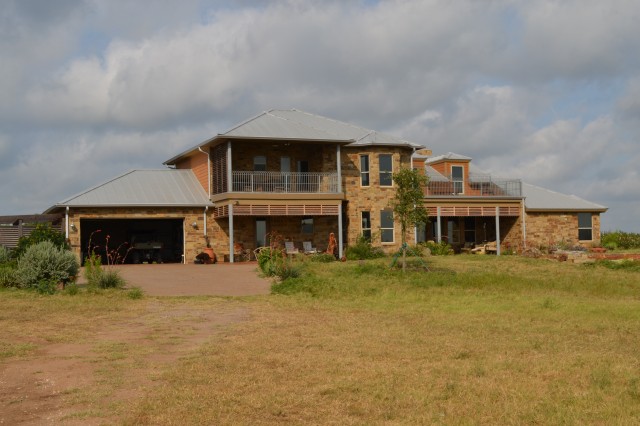 The Front of their beautiful home on the ranch.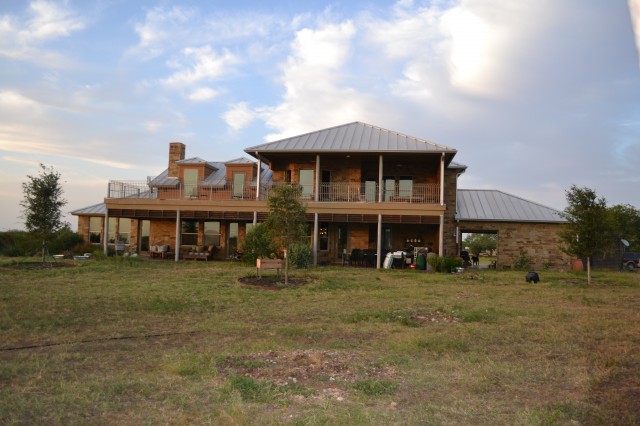 The back side of the house.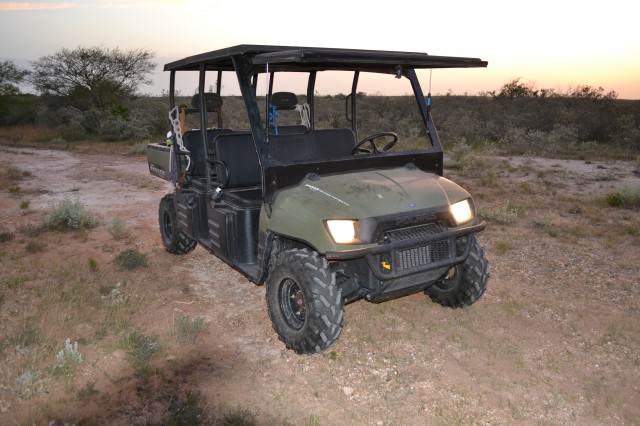 Here is the ATV Â where Erin gave us a tour of the HUGE property.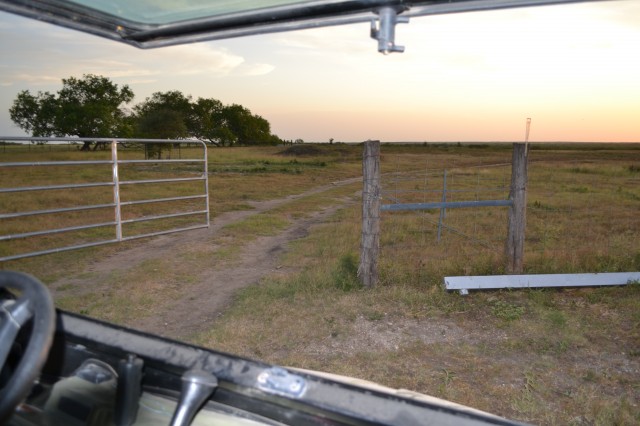 Leaving their "yard" area.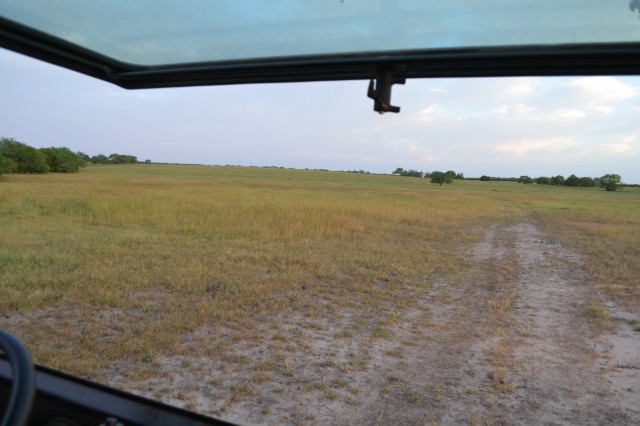 Endless expanse.
Beautiful Sunset while we were driving.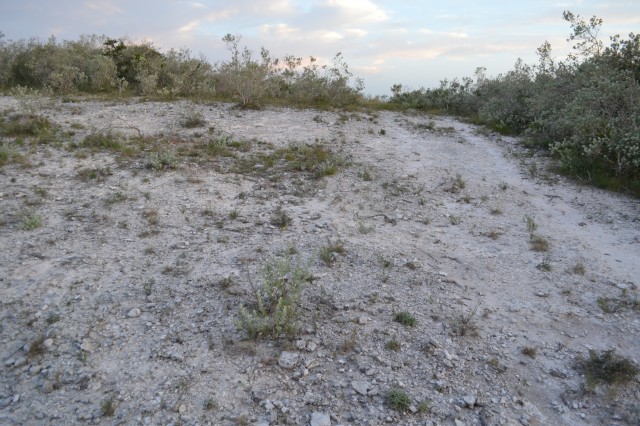 The ranch had so many different areas.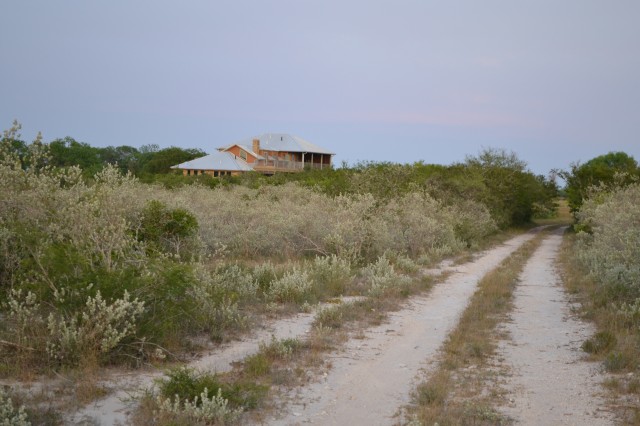 A view of the house that was beautiful.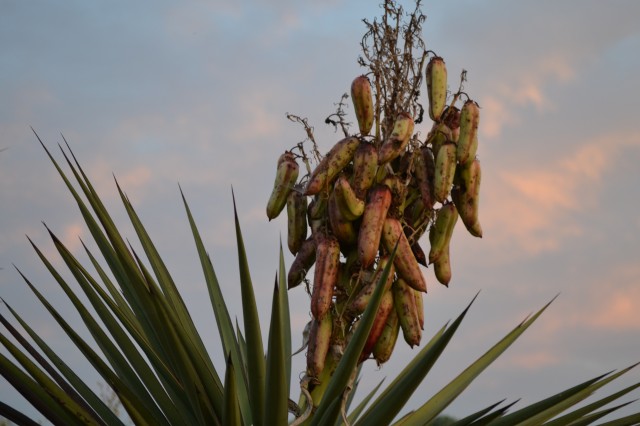 Not sure what these were,but they were pretty.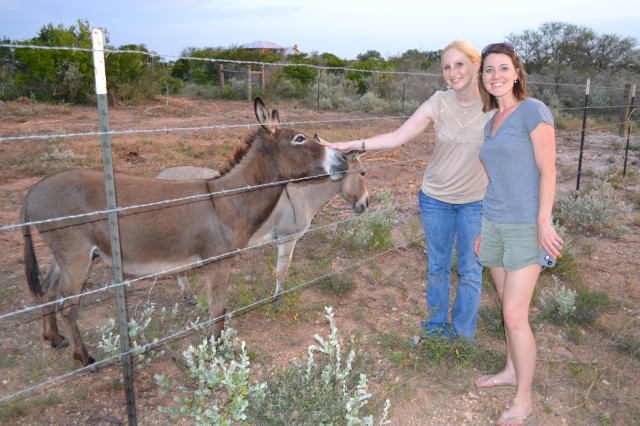 They had three donkeys that we stopped to pet here is Beth on the left and Erin on the right.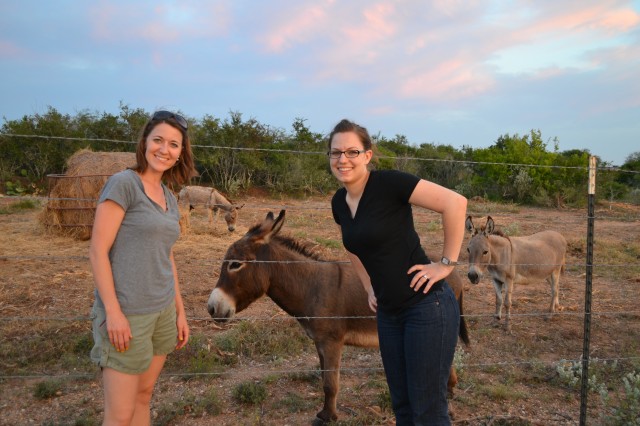 Erin and I with them too! 🙂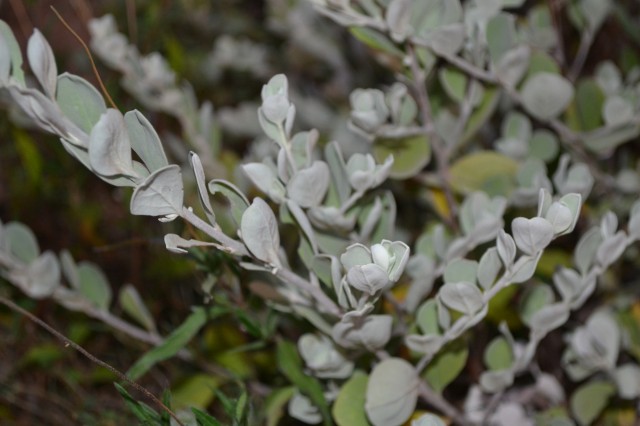 Some plants… don't ask why…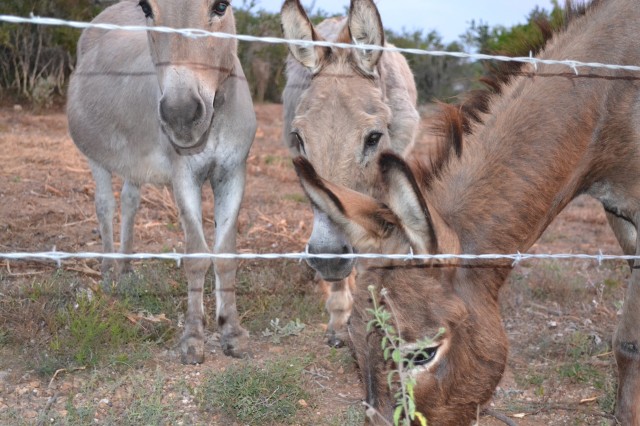 All Three of them.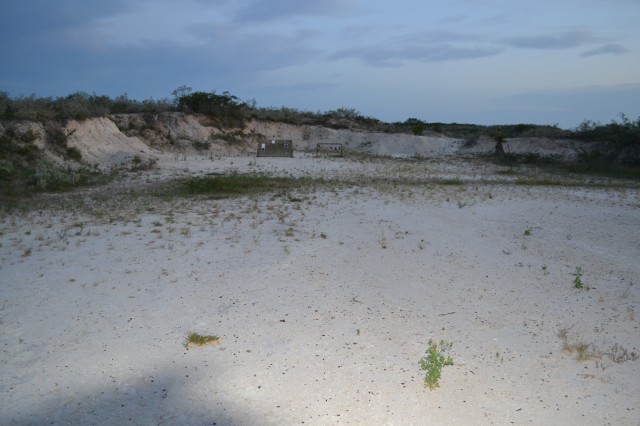 Their shooting range.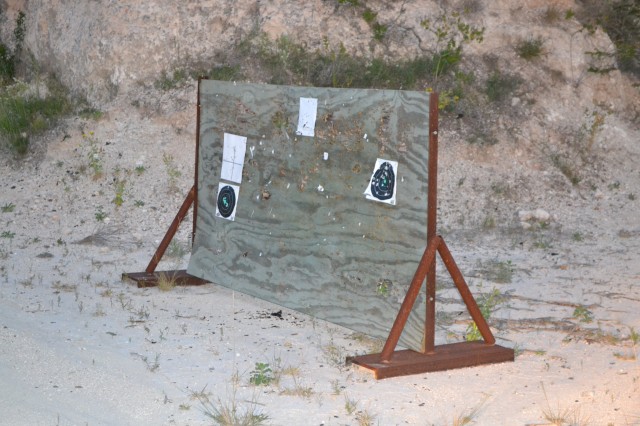 Actual target.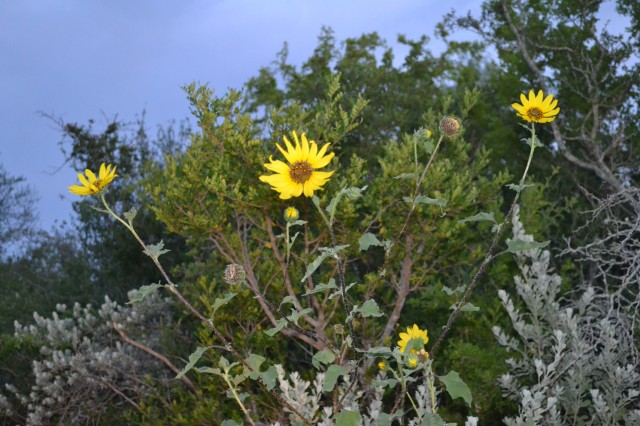 Pretty flowers.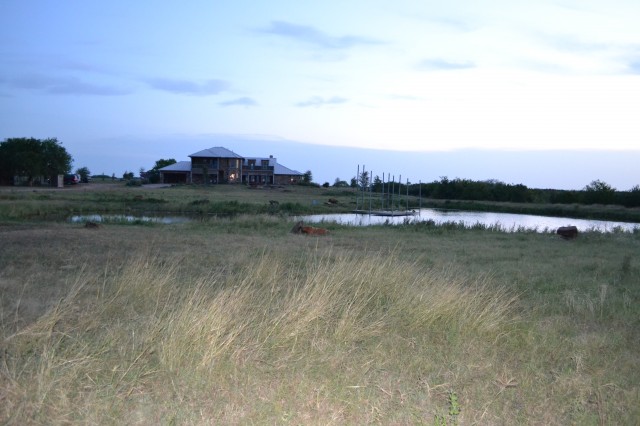 I just loved this picture with the lake included.
They also had horses on their property too.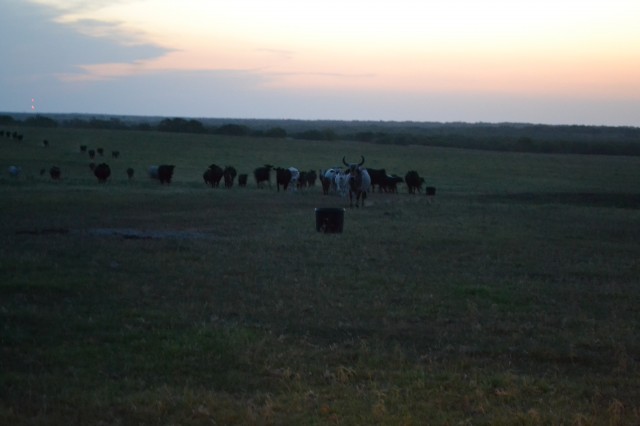 Right before we headed into their home, we drove the ATVs into part of their pasture area and called the cattle. They just came stampeding toward us which was exhilarating to witness.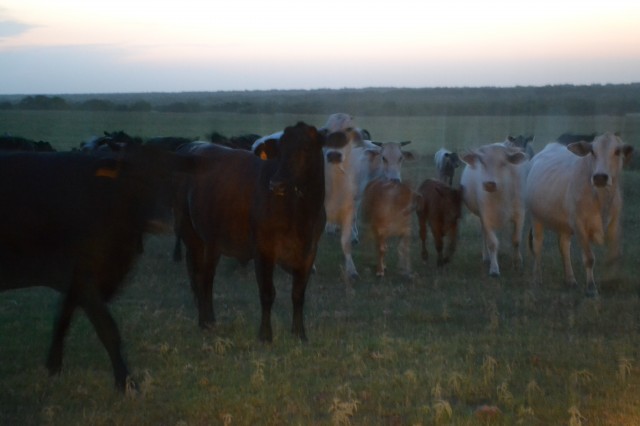 They thought we had food for them, but we just drove into the next area so they were in the right part to then have some "work" done by the vets the next day. Erin got up early enough to watch,but Beth and I decided beauty sleep we needed more.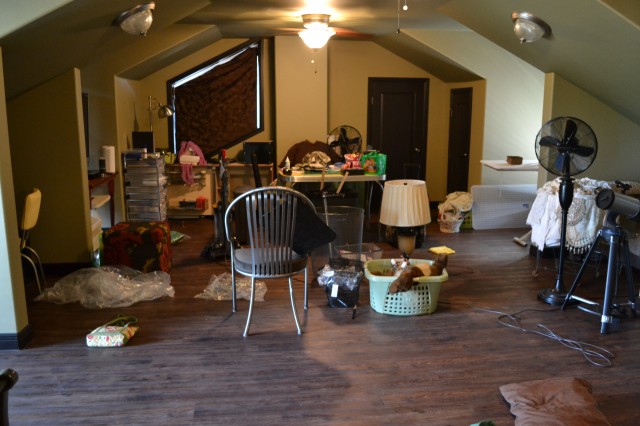 On this Trip, Erin, Beth, and I all realized that we all had Mother-in-Laws with the same name, Gail, all spelled the same way… It was meant to be. This is Erin's Mother-in-Law's Craft area. It was still getting set up,but she had so many cool crafting things!!! On the other side is where Beth and I slept.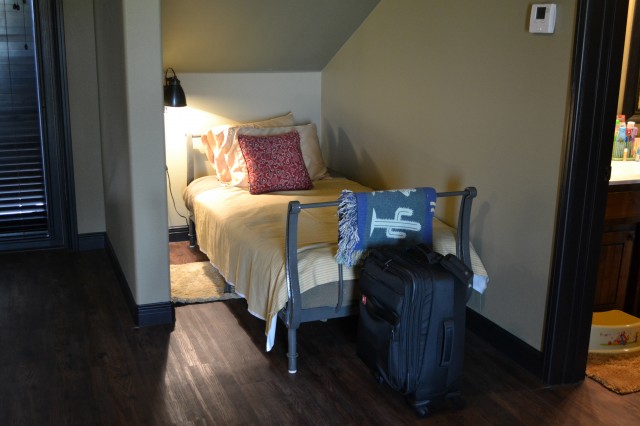 This is where I slept.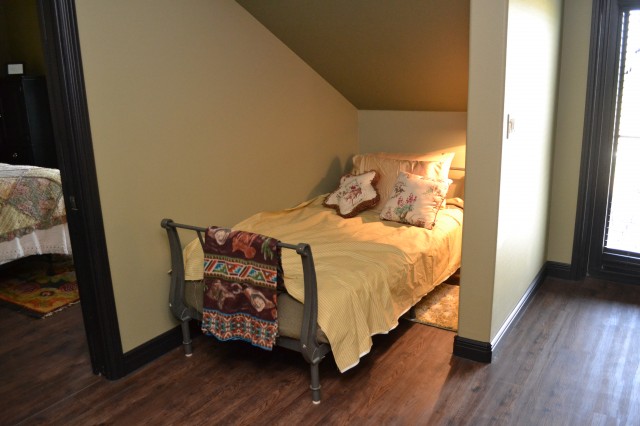 This is where Beth slept.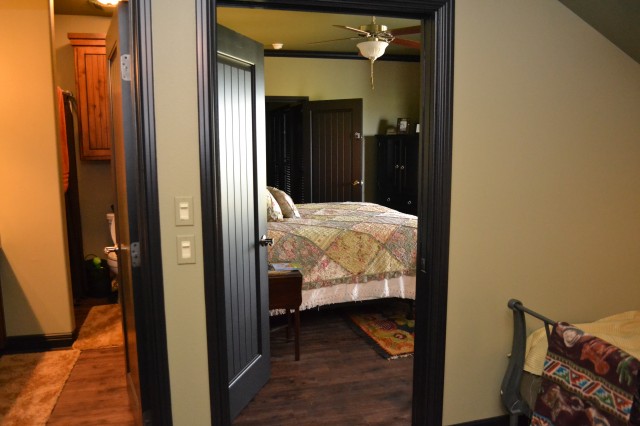 The bathroom we all shared, and the room that we made Erin sleep in.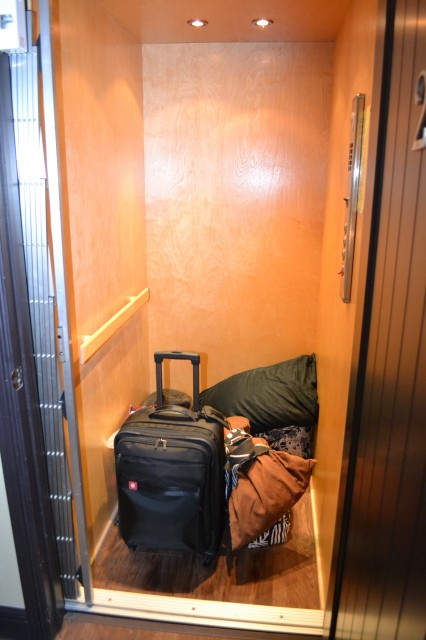 Their elevator that made us Super lazy.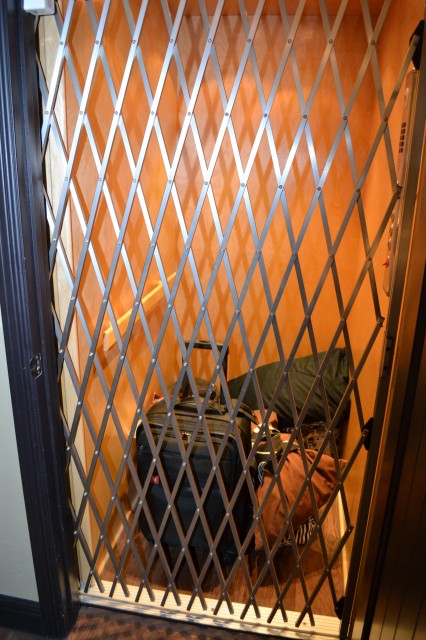 Still so cool.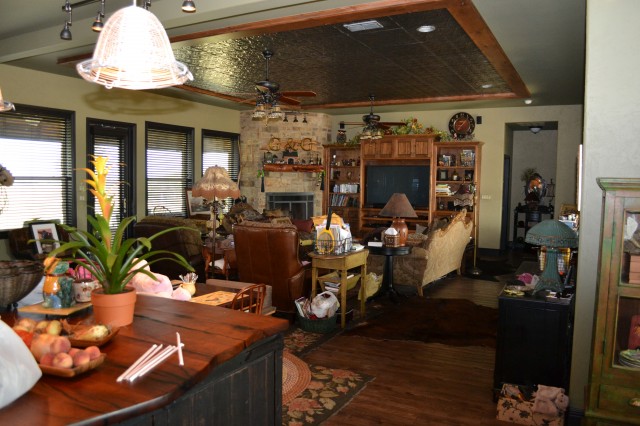 Their living room.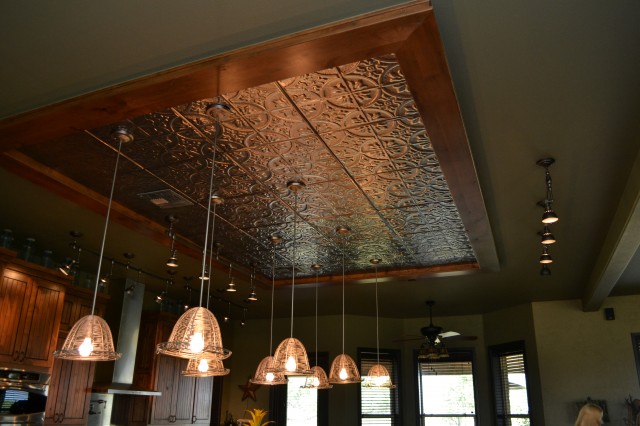 Beautiful ceiling and self made pendant lights.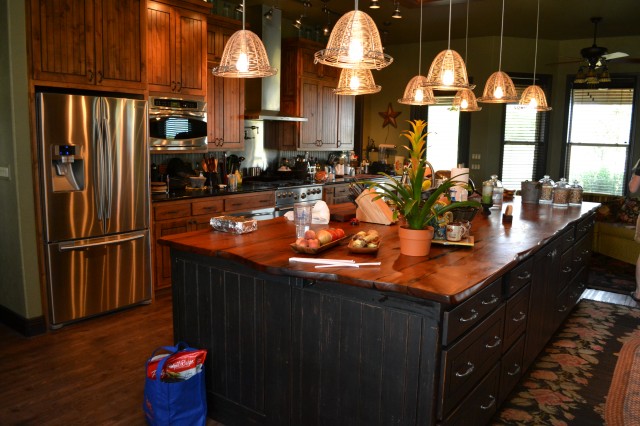 Their beautiful Kitchen.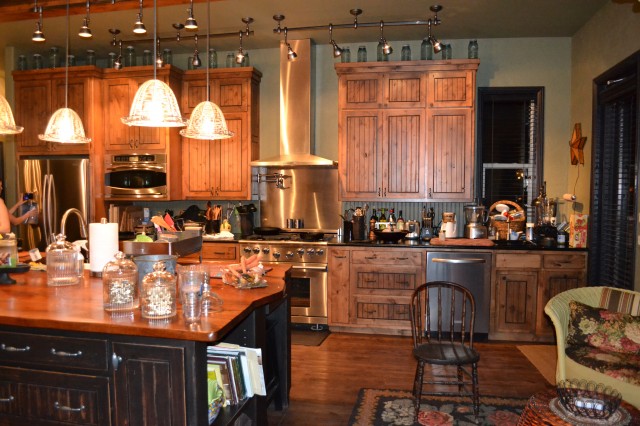 The other side of the Kitchen.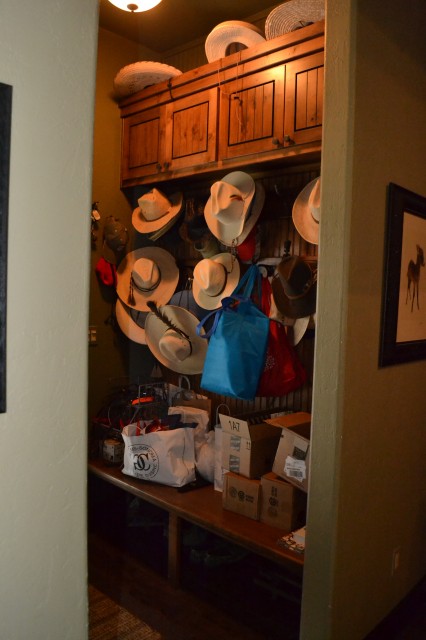 Part of the Mudroom.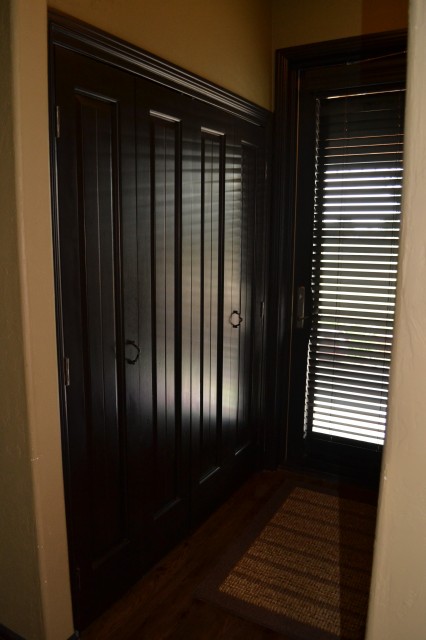 The other side.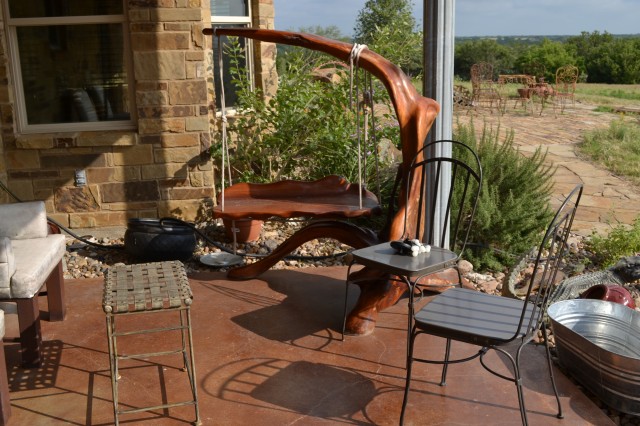 Beautiful Swing.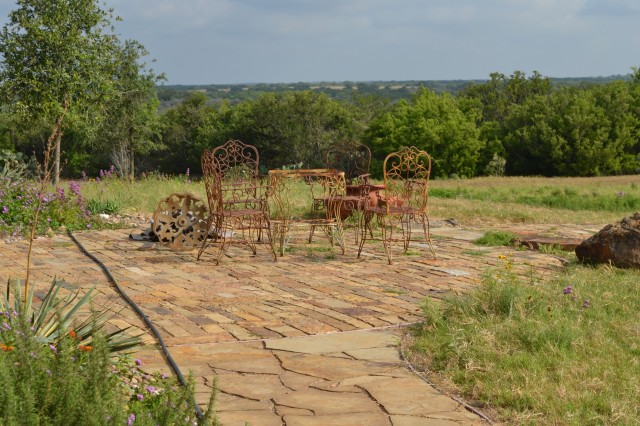 Furniture that Gail collected from different flea markets.
We were so sad to see the ranch go especially since Gail and Gus were such hospitable hosts!
We knew we were getting closer to our destination as we saw the palm trees.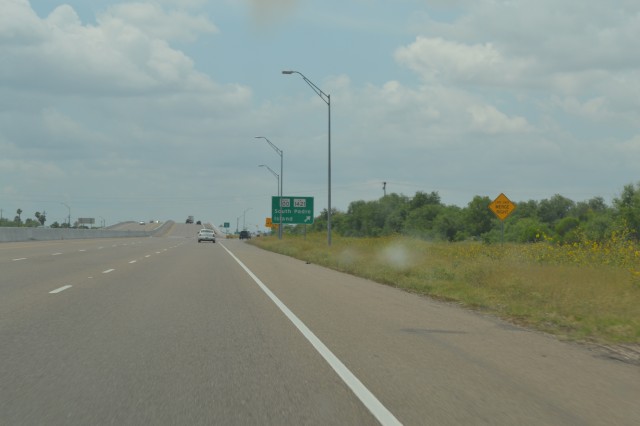 Our first sign that directed us toward South Padre Island.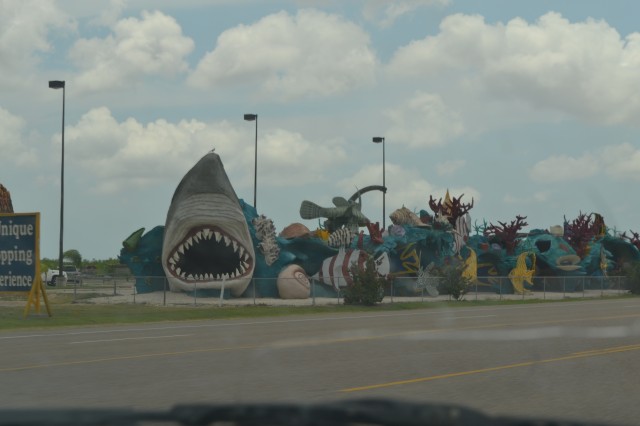 The souvenir shops as we got closer.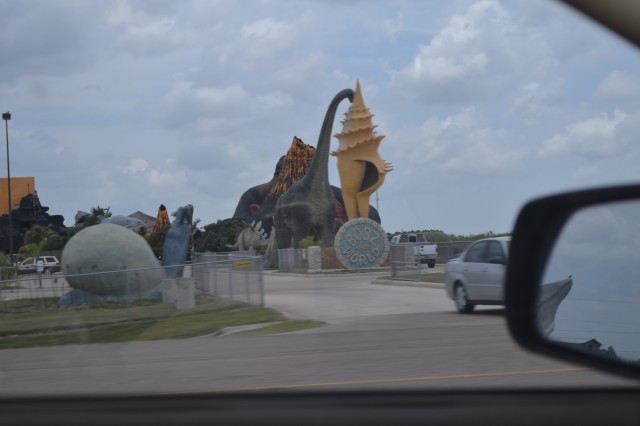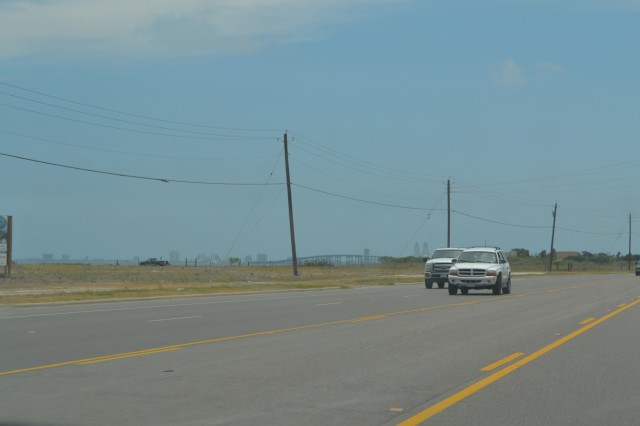 We were almost to the island here, and you can see the bridge in the distance that we were about to cross.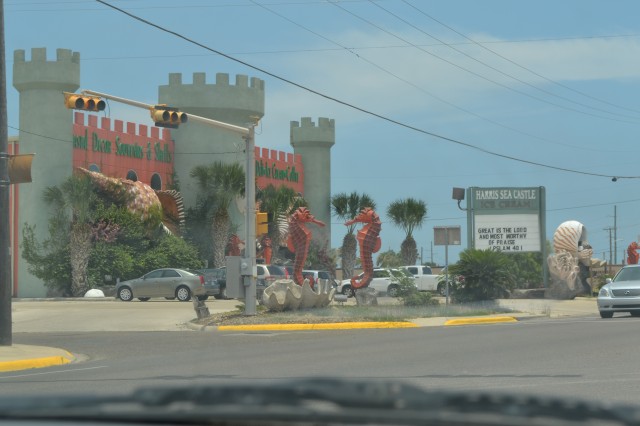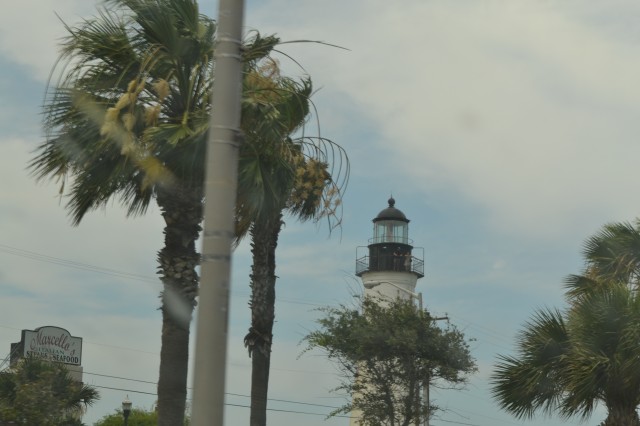 One of the light houses on the land portion at the port.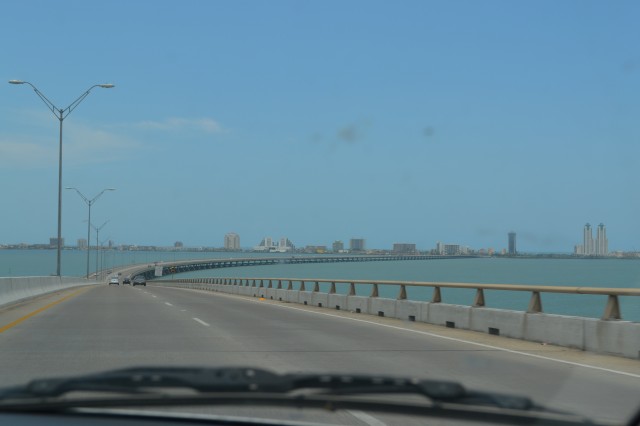 On the bridge crossing to the island.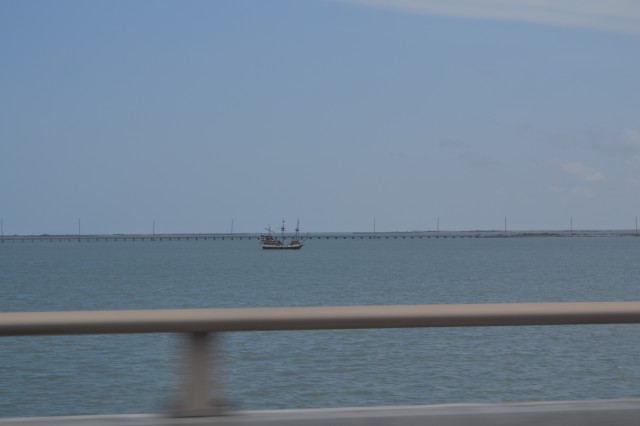 This ship was one your could ride to I think do deep sea fishing,but I cannot remember.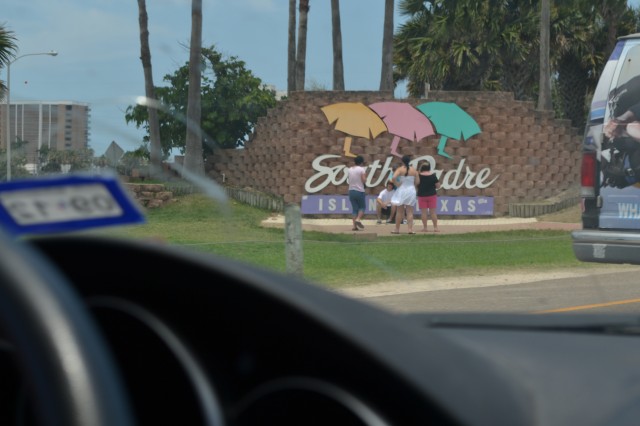 We were going to take a picture with the official sign,but there were ALWAYS people there.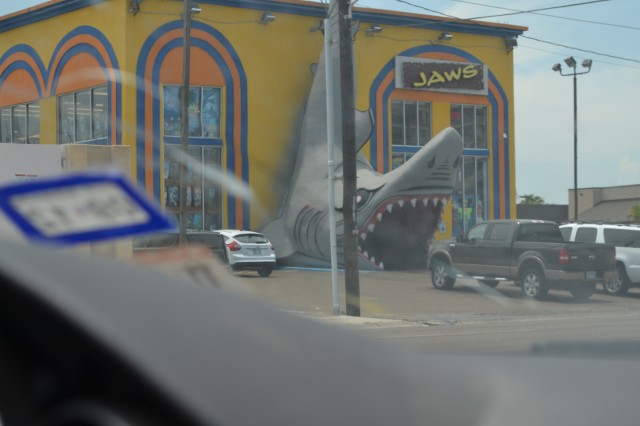 More shops on the Island.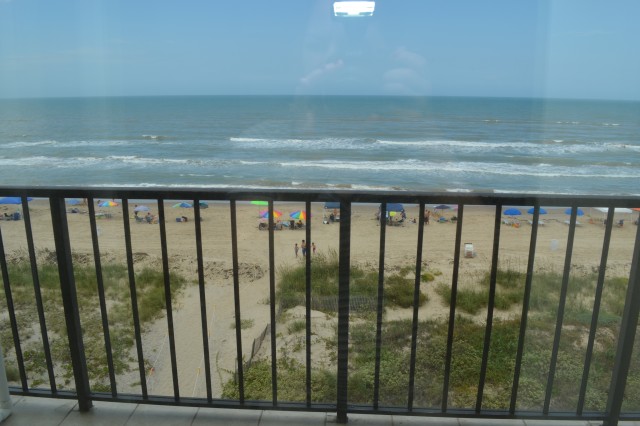 We made it in right before Dinner time so we looked at the beach from our balcony and headed to get dinner.
Here is the tour of our Condo.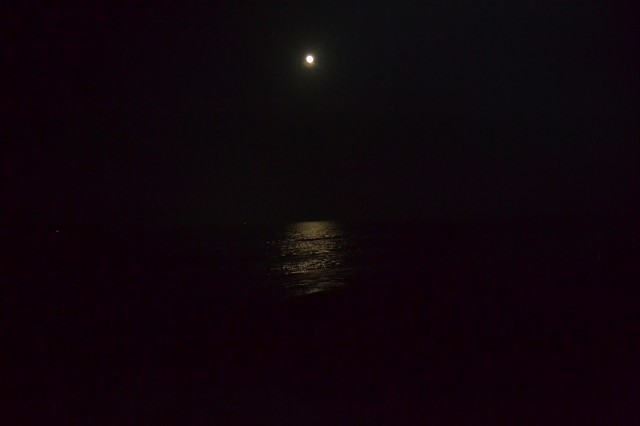 Pretty moon.
On our second day, we spent almost the whole day at the beach.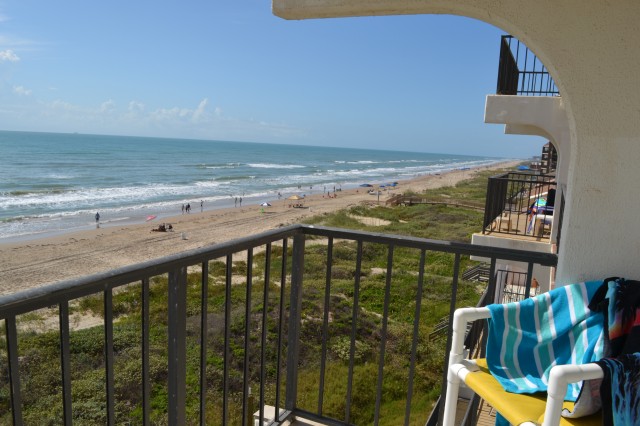 I think the Island is about 153 miles long,but only 5 miles of it are inhabited currently.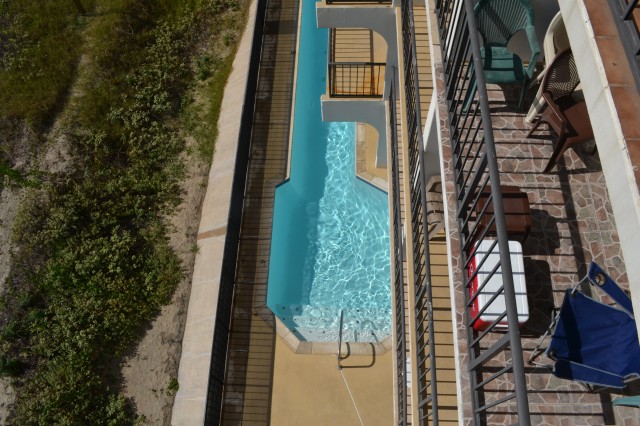 Our private pool for our condo.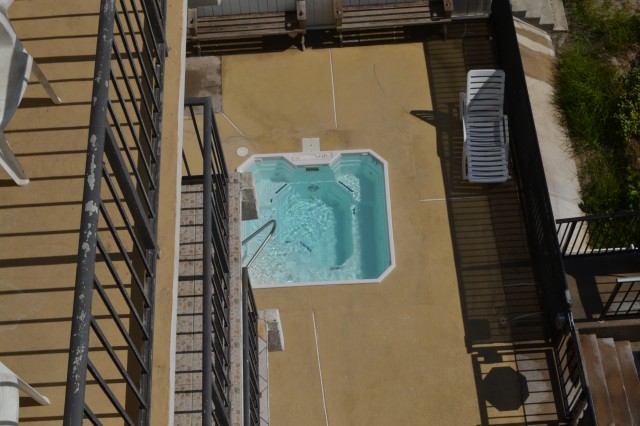 Hot tub, which we never went in.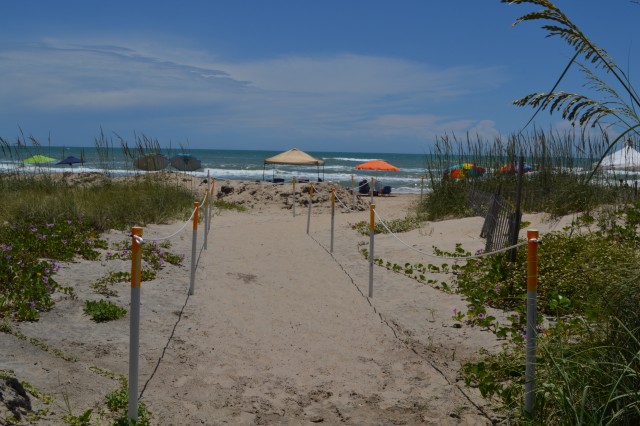 Our private walk way to the beach.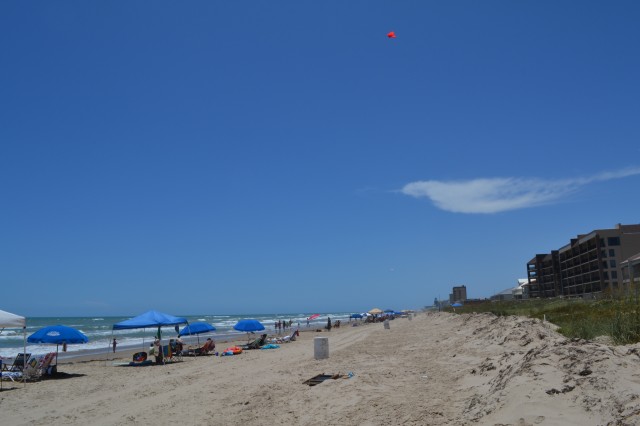 The beach, and here you can see Erin's Kite that she flew.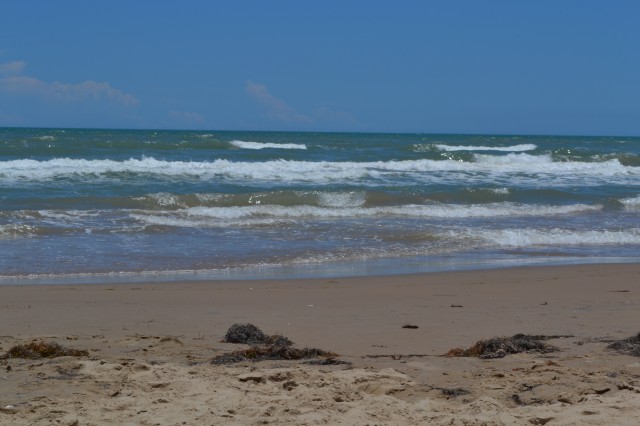 The beach.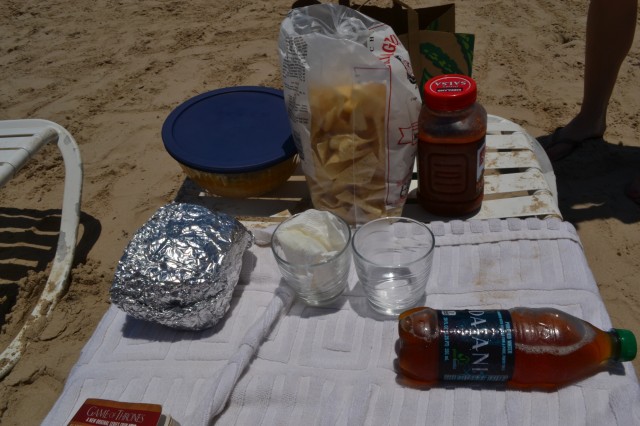 One of the lunches that we packed to eat….shhhh about the glass we forgot until we were done eating.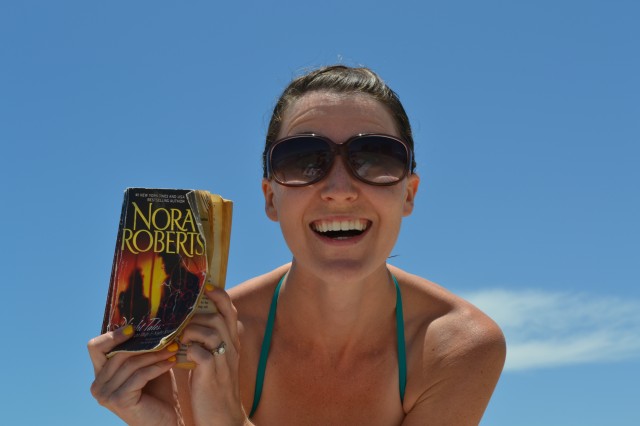 Beth and I had brought books to read, but Erin hadn't so she found this romance novel in the condo and tried to read it. Not sure how far she actually got in it. ;p
Beth was reading 1984!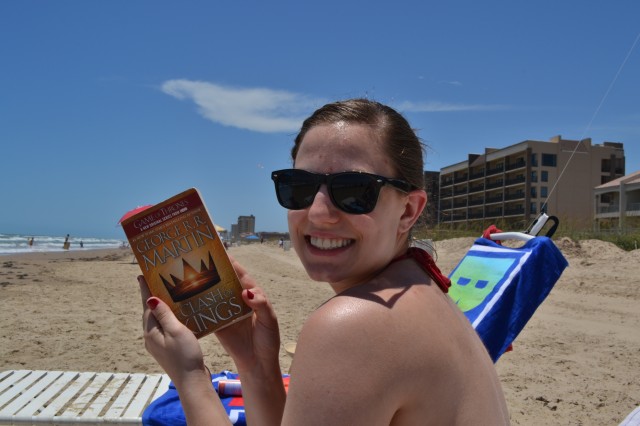 I was reading the second book in the Game of Thrones series.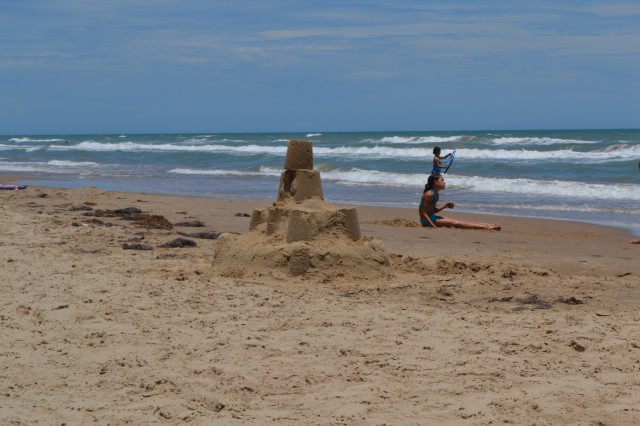 A sand castle we tried to get a picture in front of and was an epic fail.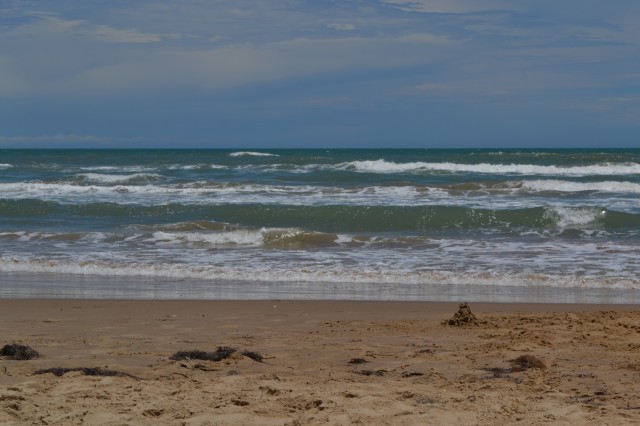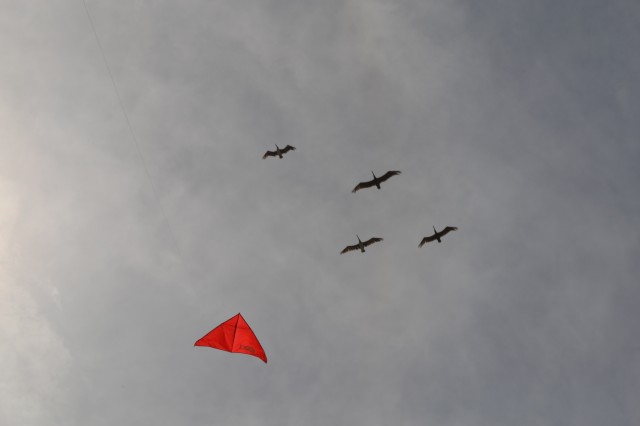 Erin's kite with some pelicans.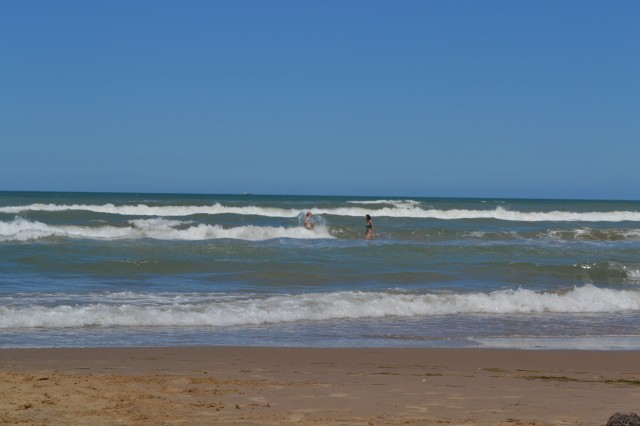 I totally did get in the water and swim,but not as much as Erin and Beth did.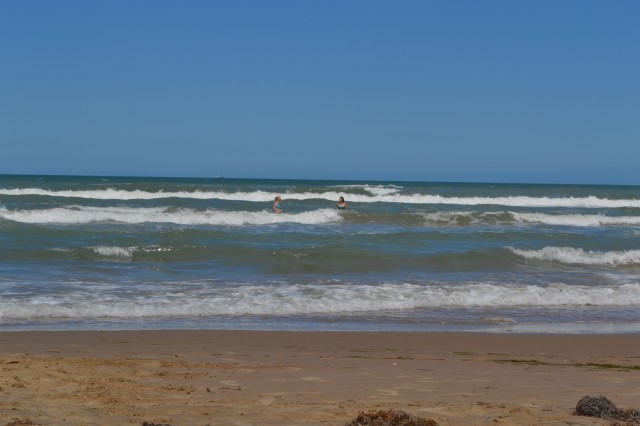 More pictures of them.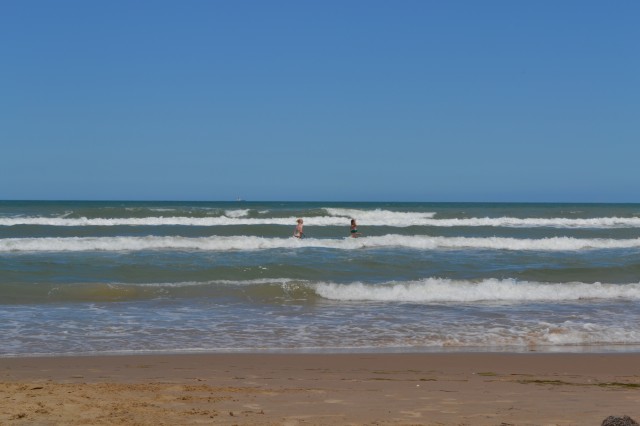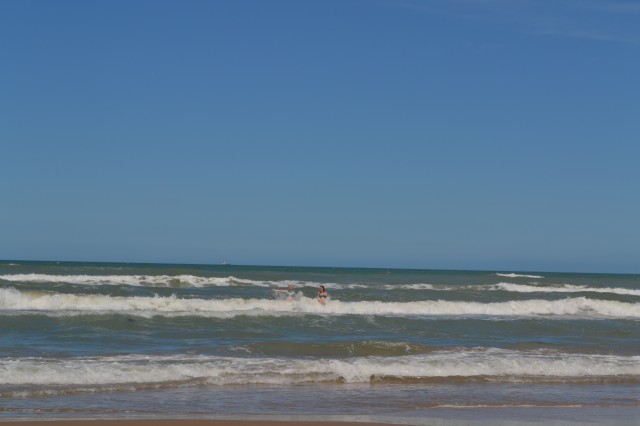 We always knew where our area was due to Erin's kite.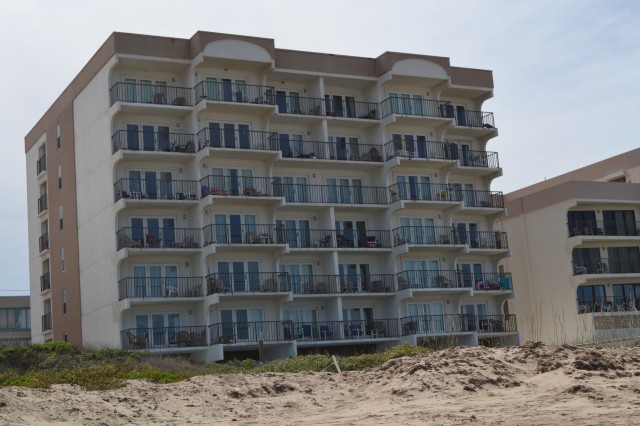 Here is the building we were in.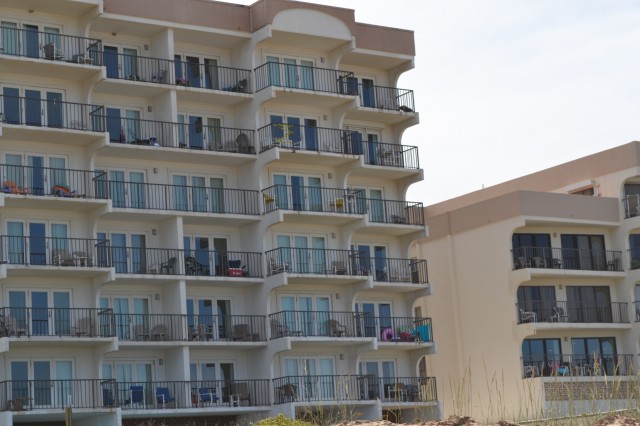 Our room was the three down from the top and the second over from the right.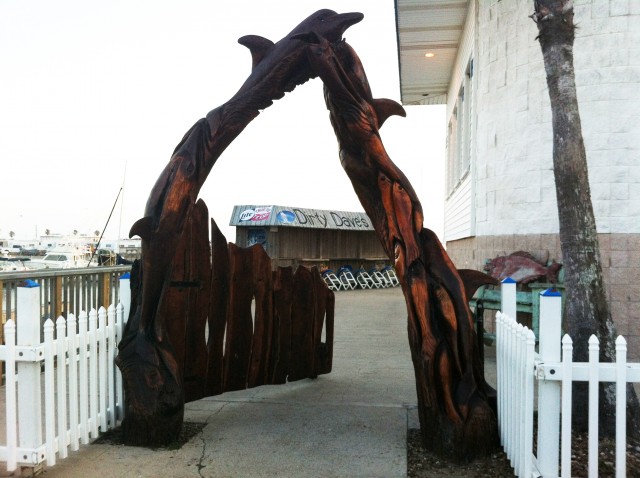 A beautiful hand carved arch letting you in to the Marina.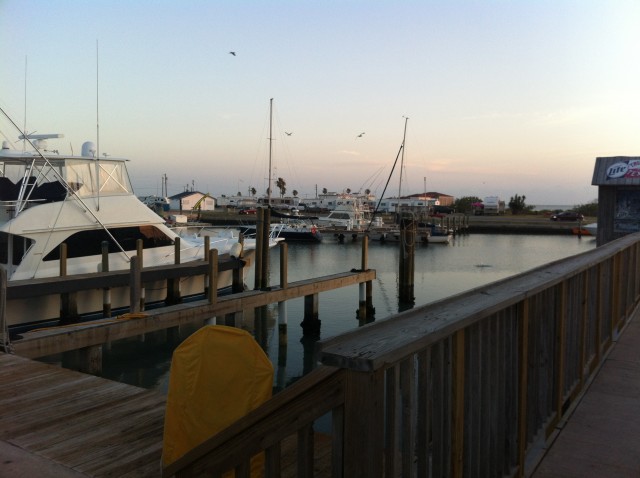 The Marina.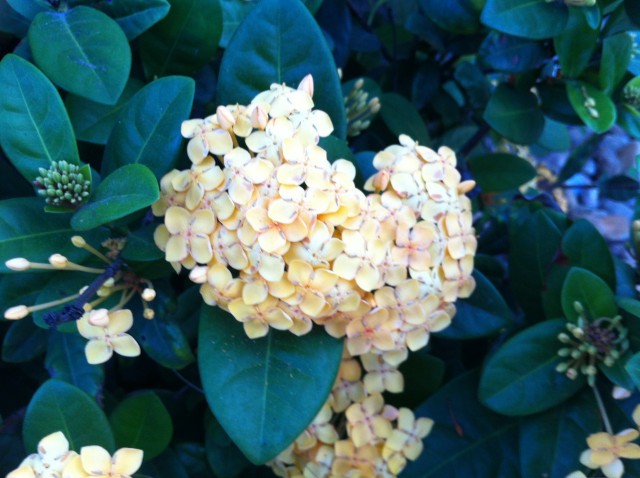 Some pretty flowers.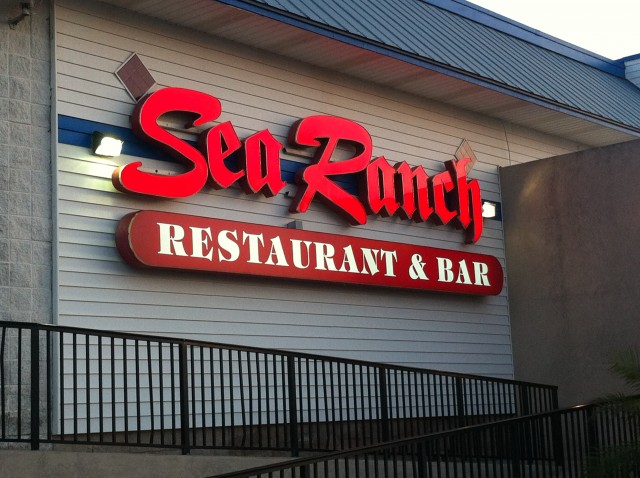 On our first night we went to our "fancy" dinner at the Sea Ranch. It was Wonderful!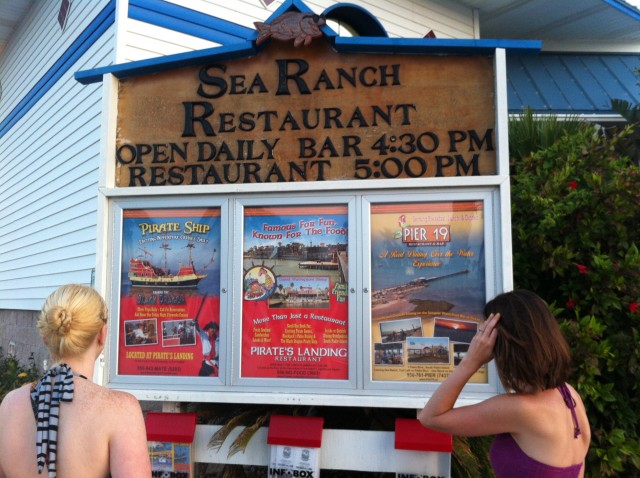 Beth and Erin outside of the Sea Ranch Restuarant and looking to see what else we could do on the Island.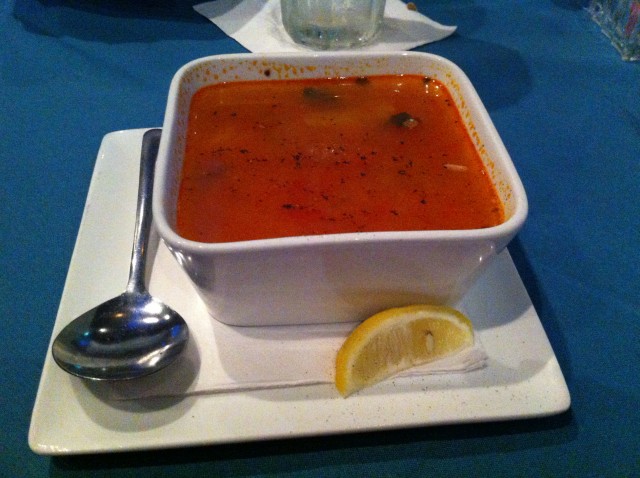 My fish soup which was amazing!
I totally got shrimp with a side of scallop that was amazing and I forgot to take a picture of.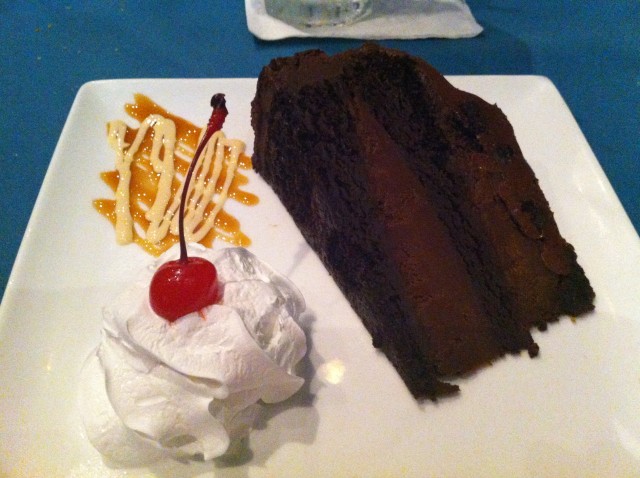 We each got a different dessert and then shared them all. I got a chocolate cake, Beth got a pecan pie, and Erin a carrot cake.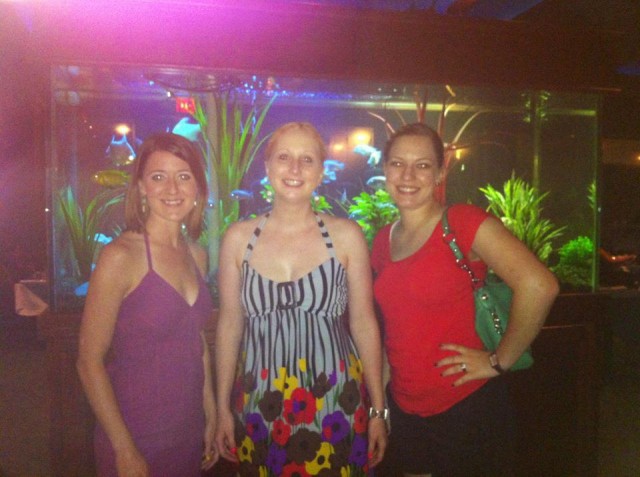 We asked someone to get a picture of us on Beth's phone.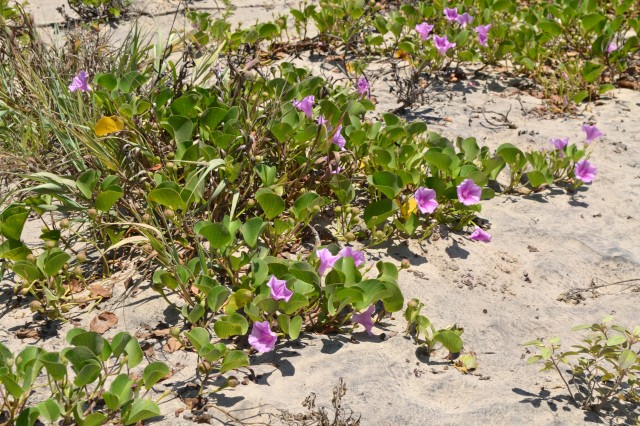 On the walk to the beach there were these pretty blooms.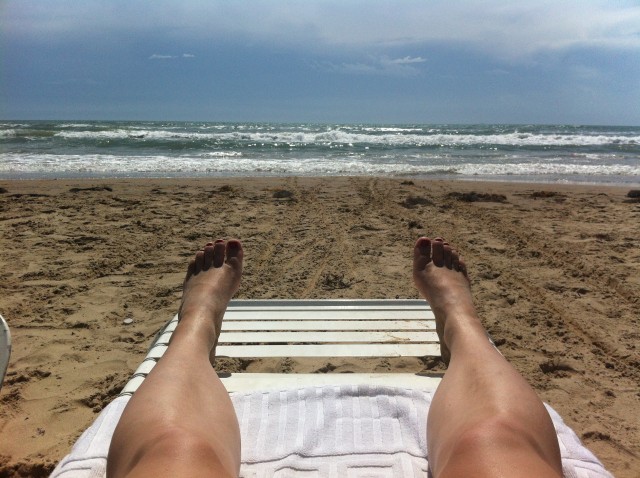 The classic beach picture.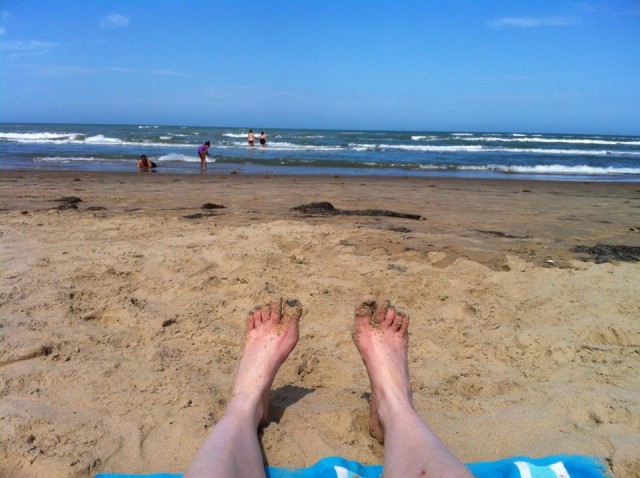 Beth's Picture.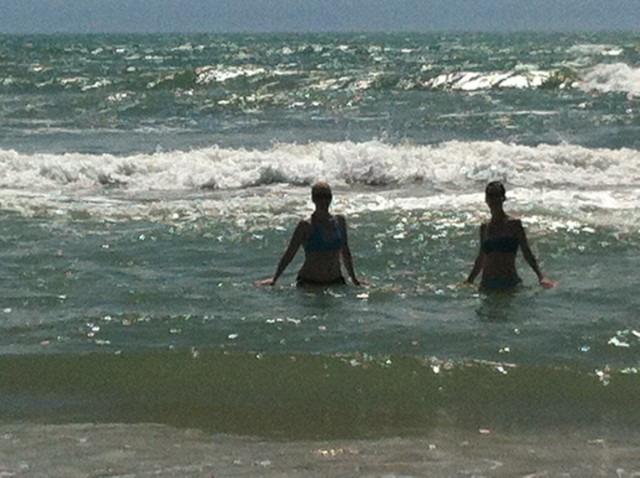 Beth and Erin.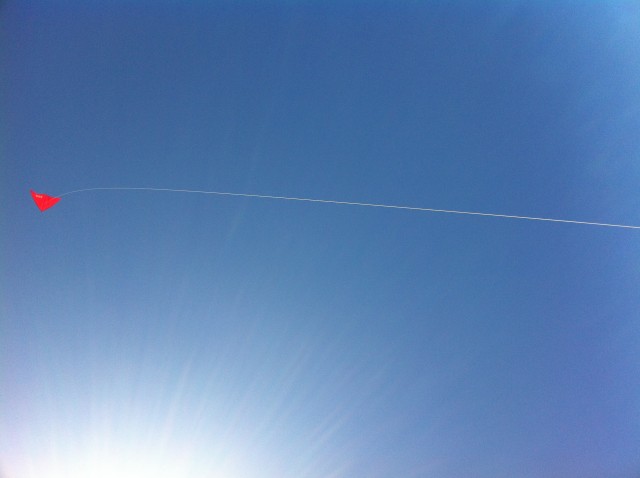 A fun picture I got of the kite.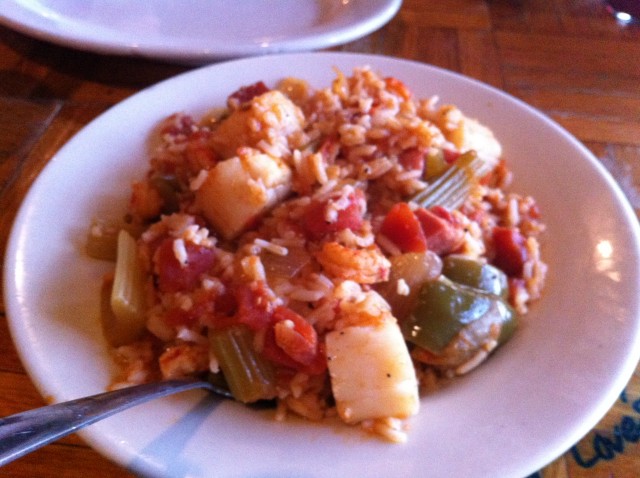 On the second evening, we went to a place called Daddy's Seafood and Cajun Kitchen. It was really good and here is the Jambalaya that I got. It had a feel similar to Dan's Hamburgers if you have ever been there in Austin.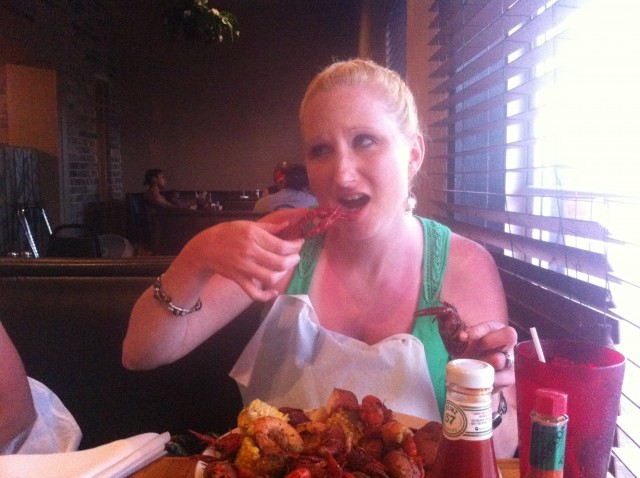 Beth got a Crawfish boil plate without knowing it would have fed us All!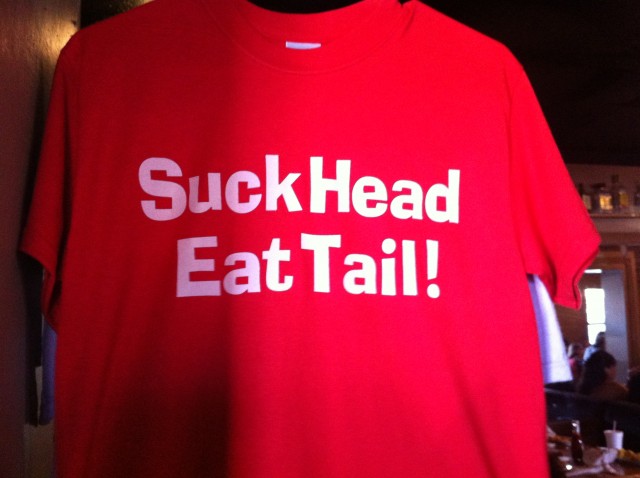 This was a shirt they were selling there, and if you have ever eaten Crawfish, you understand this!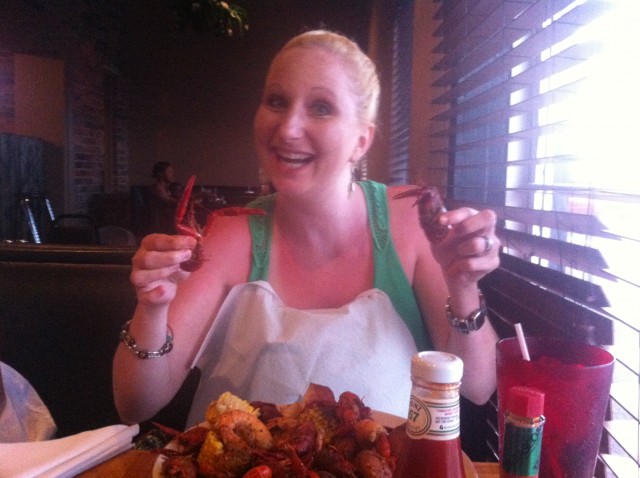 Beth being entertaining! Erin had also gotten the Jambalaya which was tasty. That night we got back to the condo and packed our things and nursed our very burnt bodies. We wore TONS of sunscreen and reapplied many times,but I don't think any of us were used to spending over  3 hours on one day and over 6 on the second day in the sun.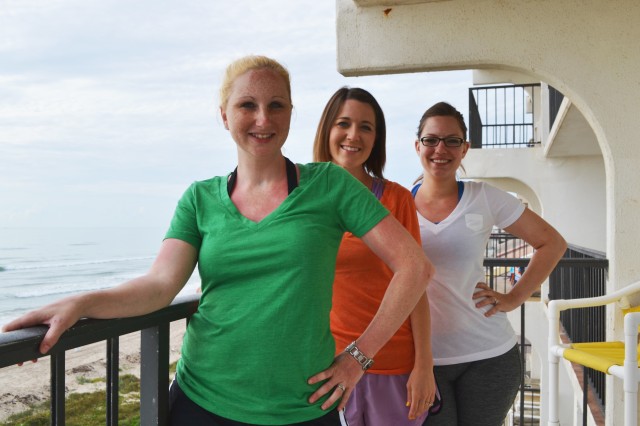 Here is a picture of us right before we left, and Beth was a genius and found out that white vinegar is AMAZING for sun burns. We put it in spray bottle and spritzed every  few hours, and it worked wonders. Also, since we were all burnt anyway, we thought the smell didn't linger and were excited. Once we got home we were all informed by 0ur husbands that the scent was indeed still there and HORRIBLE! 🙂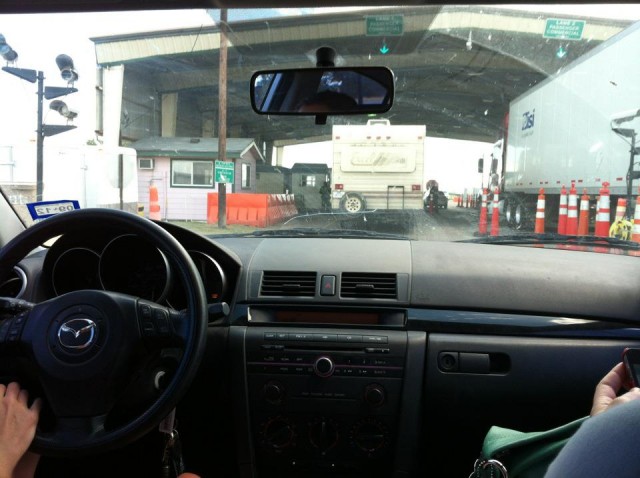 We also made it through the inspections on the way home as well. On the way home, I also had my first Whataburger breakfast which I have to say was really good. Â Also, I had Jack in the Box for the first time in my life (the "jack" mascot kinda freaks me out a bit) which was lunch,but I ordred breakfast food for lunch cause I am sucker for breakfast. We all tried to keep this trip as inexpensive as possible, and I know for my portion of the trip(split gas, groceries, and other items) was less than $70 which I would say was pretty good! I was so blessed to be on this trip and get to know Erin and Beth better. Oh, and yes, of course we sang at the top of our lungs to songs like Wide Open Spaces and If I Die Young on the way. Thanks Erin and Beth for such a great and relaxing Vaca!!!!