One day after seeing so many beautiful pictures of french Macarons, I decided it was time to attempt them. I made these before the Super Bowl, and I decided this was the dessert of choice for me to bring. I ended up making the Macarons three different times. The first two they tasted great but didn't have the official "look" so I tried again. Below I will share what I learned, what recipe, I used and the myths I decided to not care about.
HERE is the recipe that I used only with out adding the cocoa to make them chocolate. I loved her recipe, the only issue had was with the egg whites. I didn't know how stiff to beat them, and this was the main reason my two first batches failed. Â Without having ever made them it is hard to know the "correct" consistency for them.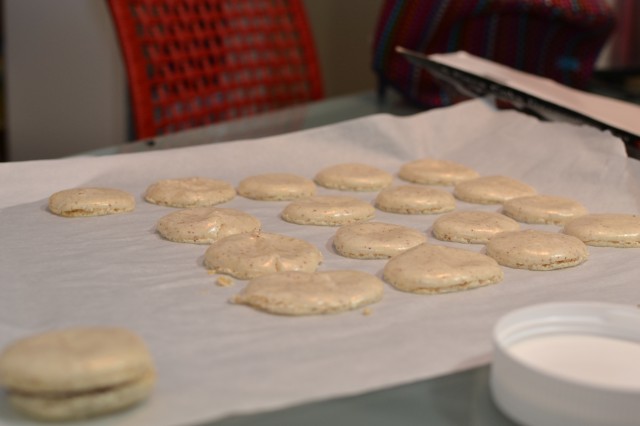 Here you can see my first attempt I followed the recipe above just step by step and because I didn't know what consistency the whites were supposed to be I under beat them which is why they failed. Also, I didn't know to draw circles on the bottom of the parchment paper so you now what size to pipe them.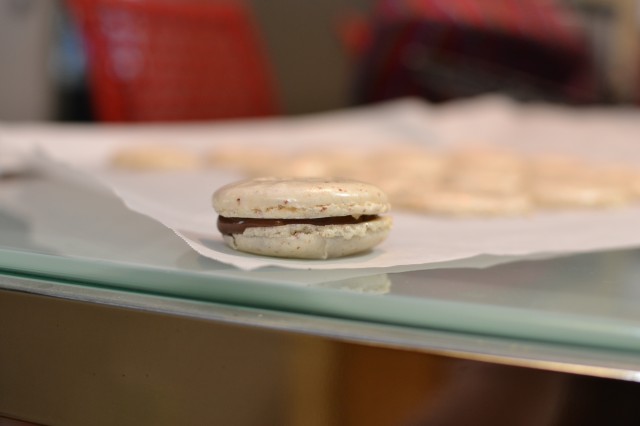 So my first attempt the eggs were under beaten. They don't look horrible but they still tasted delicious. I used Nutella as my filing and it was perfect. The almond meal I used had bits of the almond shell in them which gives them a nice speckled look.
The second attempt I over beat them which meant all of the shells where falling apart, also if the shell cracks on top while in the oven, your oven is too hot.
Once the first two batches failed, I found THIS blog that gives nice pictures so you know exactly how the egg whites should look.
IT is important to sift your flour, reprocess your flour and other ingredients and to get your egg whites at room temperature. People swear you need aged egg whites, etc, but I was glad I read THIS article about the myths of Macarons. This article was really helpful in not wasting my time. So, I followed the first recipe, now knew how stiff to whip the whites, and had drawn up nice templates on the size for my macarons, and came up with some beautiful cookies.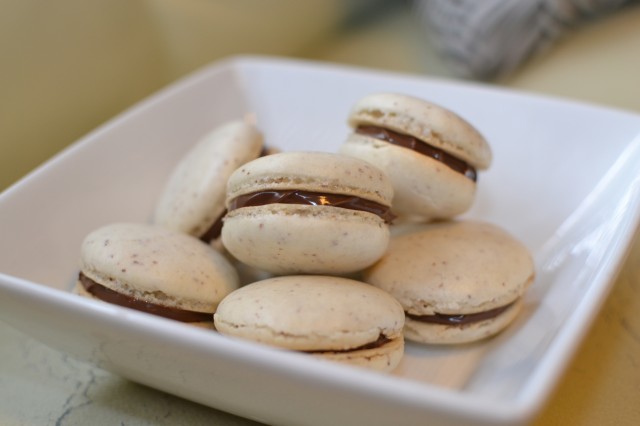 Here is how they turned out. I love how they look, they tasted even better to where Grant mentions that I should make them again, so eventually I will have to.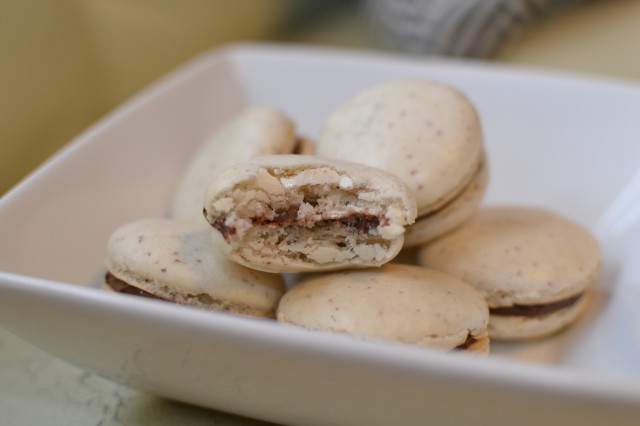 Here you can kind of see the consistency that they are they have a shell on the outside but very soft and chewy on the inside. I know people dye them all different colors and flavors,but I just loved this natural look!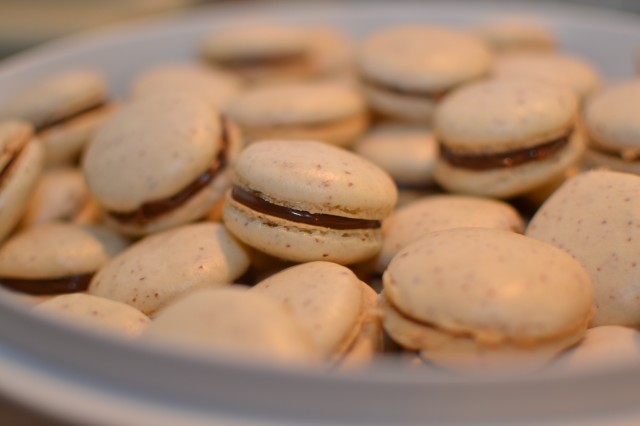 Also, I don't think they take more time then any other cookie. Once you have made them they become quiet manageable, and I made over 80 of these puppies to bring with me to the party. They turned out wonderful and I am pretty proud that perseverance and research paid off.
Next, I want to make these:
Sparkly Vanilla Bean Macarons with Three Christmas Inspired Frostings
Read More http://www.kevinandamanda.com/recipes/dessert/sparkly-vanilla-bean-macarons-with-three-christmas-inspired-frostings.html#ixzz1q5BmsHG8
&
Easy Peppermint Macarons
http://www.yummymummykitchen.com/2011/12/easy-peppermint-macarons-holiday-decor.html?showComment=1323325511515#c4468338497114611033
Have you ever made French Macarons? Did they turn out?