Grant and I have been so blessed with everything that has been going on lately, but with the blessings have come busyness! Grant started on Thursday and has been doing orientation which he is doing for the remainder of this week as well. So, he hasn't really gotten to do what his job is per say. The orientation is pretty good just not Grant's favorite activity since he is an introvert. It has been a nice change for both of us for him to be working, Grant thrives with routines, and now he feels he finally has one. I am excited because I know he is happy working. The biggest change for me is that I have to plan ahead a little bit more with my meals. I was always able to call Grant around lunch time and have him take whatever meal we were having out of the freezer so it would be ready when we got home to cook or bake.
We have also been very busy with our young married's group the last month or so. Tonight it seems is the first night without plans, so all of the household duties are actually getting done. In March, Grant will have to be in Chicago for 2 weeks straight, then home for a weekend and then another week in Chicago for more training with the main company his team will be supporting. Other than that not much as changed. I think I know more pregnant people than non-pregnant people in our young married's group which means baby showers. I have been working on shower gifts for a while now, and am even helping to host another one so I will post pictures once the event happens. Attached are some random things I had meant to post about since before Thanksgiving!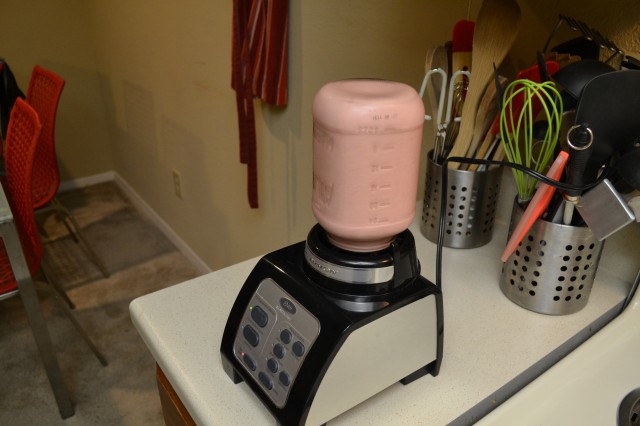 I broke our blender jar which really stinks. Grant and I combed thrift stores and craigslist to try and find an attachment,but in the mean time, I found on pinterest that you can use a mason jar since they tend to have the same grooves and size top/base. So, I still got to have smoothies!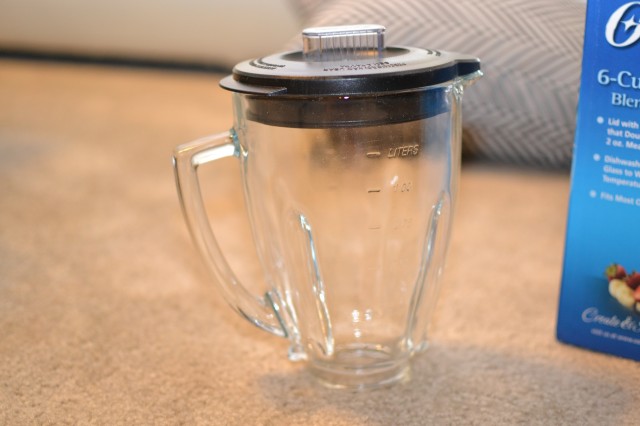 We then found a replacement jar which you cannot buy through Oster's Website of course!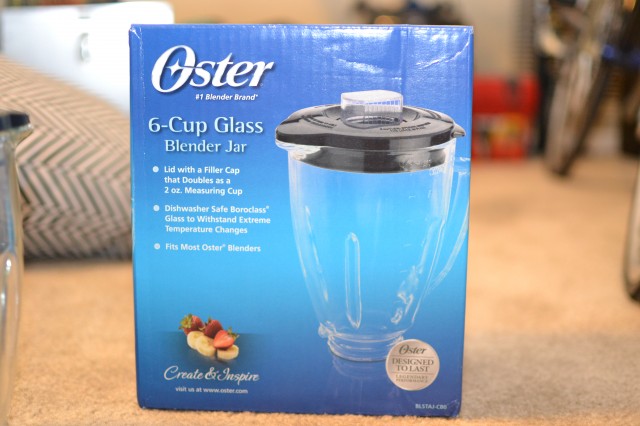 Walmart carried the replacements which was around $15.00 which isn't horribly expensive, but I just wish I hadn't broken the first one.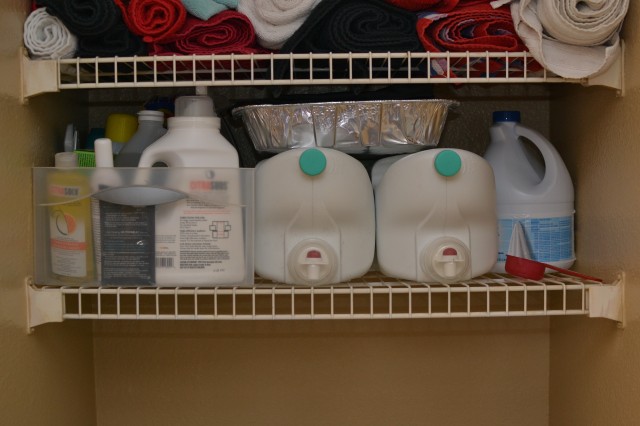 I did some organizing of the apartment in general,but the pantry and laundry area got special attention this time! I just can't handle clutter very well.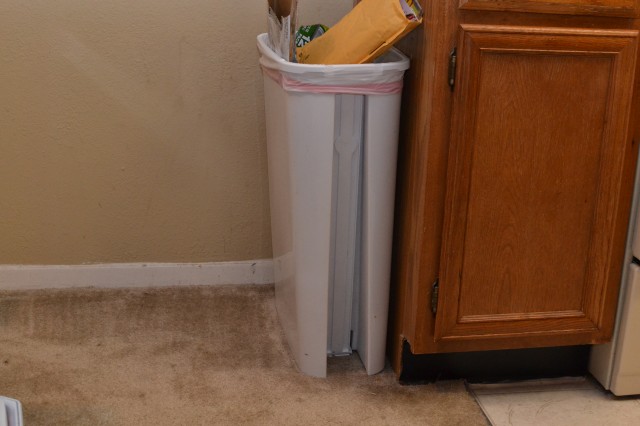 Around Christmas time, I decided that I wanted a new trash can using my allowance. I looked around and gave Grant the information on the ones I was looking at to see which he would be ok with me getting. Above you can see our current trash can; not to shabby as it was free but just getting old an smelly.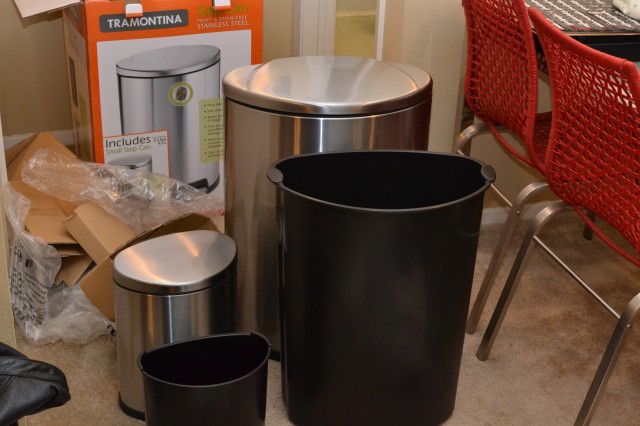 It is insane how expensive trash cans are, but I was able to find the two above (the black things are the inserts that the trash bags go around and fit inside the stainless part) from Sam's Club for $60.00 which really wasn't that bad.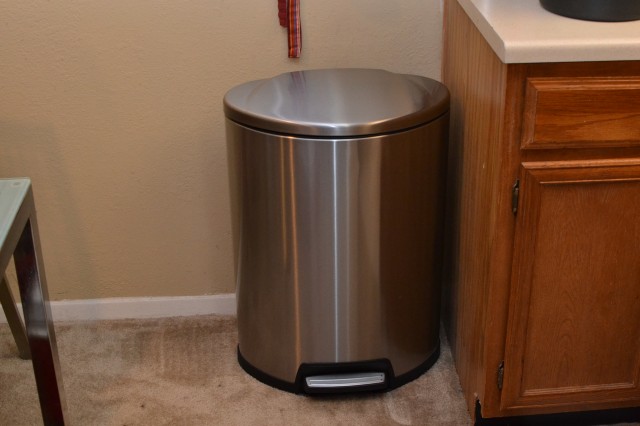 Here you can see it in the new place, and boy do I like it. It even has a slow closing lid which is nice!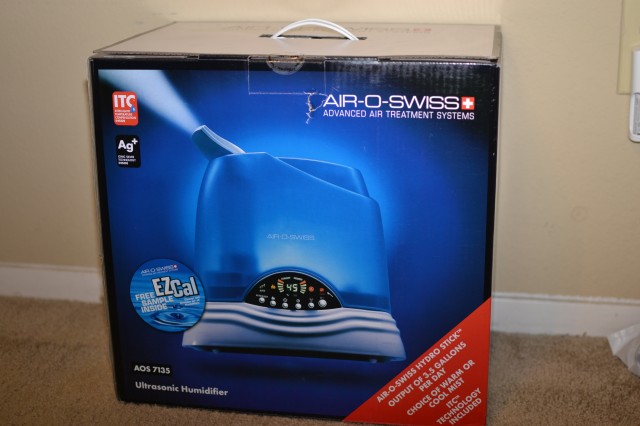 Grant and I felt like old people buying a humidifier before Thanksgiving ,but it has really helped this winter with our heating bill as well as not having as dry of skin which has been nice.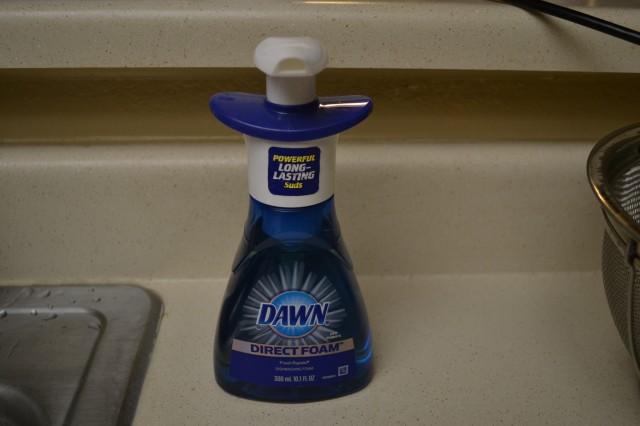 I saw on the house of hepworth's blog that you can spray paint your bottles. I already make my own soap to go inside which is like 1/8 regular dish soap and the rest water and it will foam just like the original stuff inside. Anyway, I took off all of the labels, and then spray painted it silver.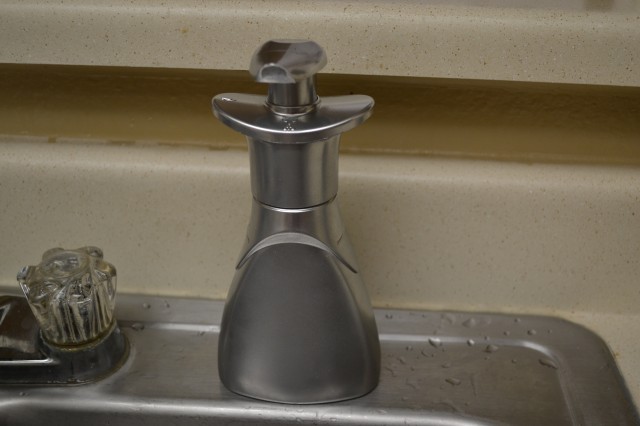 It turned out pretty good looking!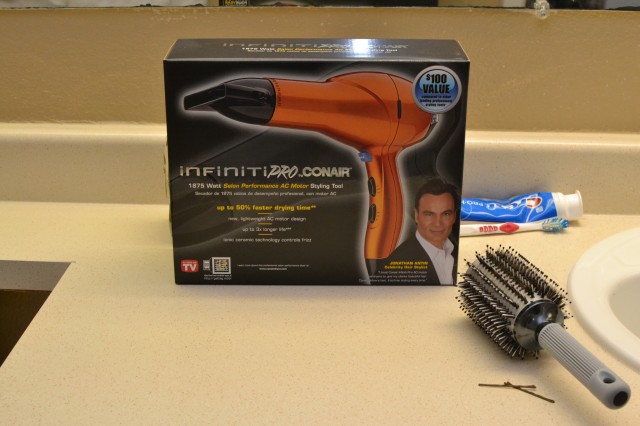 Right after Thanksgiving, my hair dryer died… it started sparking while I was using it and I had had enough. It already had a faulty connection, and was very glad to see it go,but not excited about having to purchase a new one! Over Christmas break, I was able to try Tanya's new hair dryer which was nice,but more suited for people with curly hair. I then found this one that works much better for straight hair. I love it!
I know these are random things to hair,but there you have it. I hope you all have a great week!