For Ashley's Baby Shower, I also made Whoopi Pies and forgot to add them in the pictures. So below is how I made them and then the recipe that I used. They turned out really good and they remind me of cakesters a little bit. I bought a Whoopi pie pan, and the funny thing is I like the shape of the Whoopi pies better without it. This pan though, happens to be the perfect shape and size for baking eggs for my breakfast sandwiches that I make.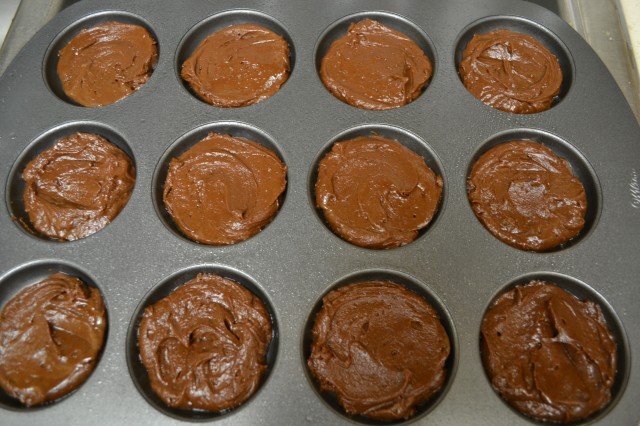 Here is the batter in the pan.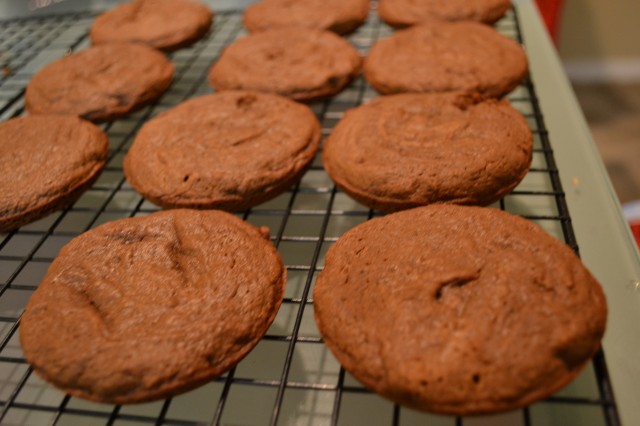 Here they are on the cooling rack.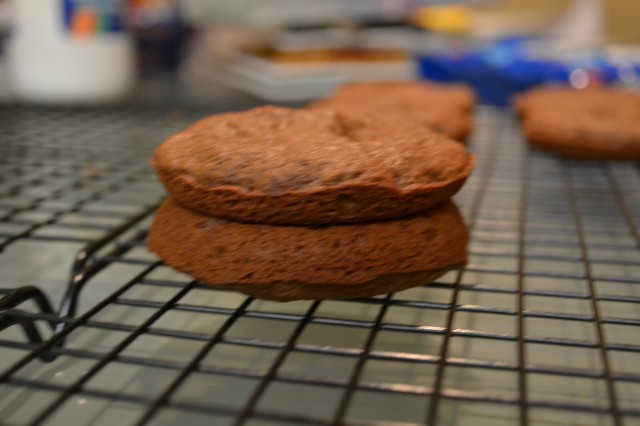 You then put them together like so only with icing in between, sorry for the blurry picture.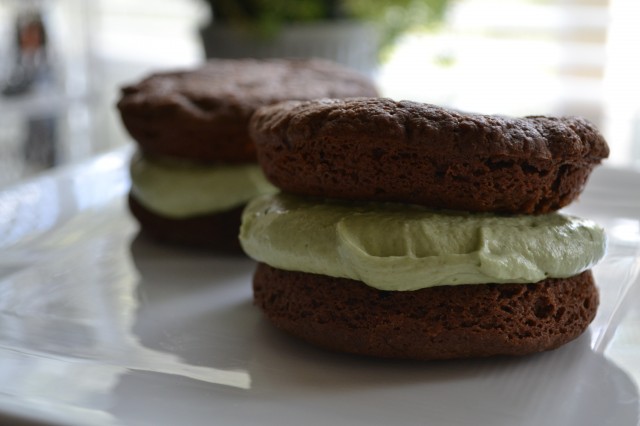 Here is the finished product, for the baby shower we were doing the colors pink, blue, and green. None of the food was really green so I figured the icing on this could be green and people would still eat it. They tasted great, I hope you enjoy making them yourselves!
Rachel's Whoopie Pies
1 (12oz) miniature semisweet chocolate pieces
2 Tbsp. of milk
3/4 cup butter, softened
1/4 cup creamy peanut butter
1 1/2 cups sugar
1 tsp. baking soda
1 tsp. baking powder
2 eggs
1/2 cup milk
1 tsp. vanilla
1/2 cup unsweetened cocoa powder
3 cups all-purpose flour
1 recipe filling
1. Preheat oven to 350 degrees. Set aside 1/4 cup chocolate pieces to sprinkle on cookies. In a microwave safe bowl combine 1 cup of the chocolate pieces and 2 tablespoons milk. Microwave on medium for 1 minute or until melted; stir. Set aside
2. In bowl beat butter and peanut butter with electric mixer until combined. Add sugar, soda, baking powder, and 1/2 teaspoon salt; beat until combined. Stir in remaining chocolate pieces. Drop by rounded teaspoons 2 inch. apart onto greased cookie sheets. Sprinkle with reserved chocolate pieces. Bake 9 minutes. Cool on sheets 1 minute, transfer to wire racks and cool completely. To assemble, spread flat sides of half cookies with filling
FILLING
In bowl beat 1 cup softened butter, 1 cup creamy peanut butter, 1 cup marshmallow creme and 2 cups powdered sugar with electric mixer until combined. If needed beat in 2 tablespoons milk until spreading consistency.
It ends up making a lot of cookies. Hope you enjoy them.