Grant and I eat pizza at least once a week. Grant loves pizza and would ask for it every night for dinner if  I would let him. My Aunt Irene gave me a teflon sheet the last time she visited America for my Cousin's wedding. The teflon can be used as a liner in the oven to catch drips or to bake on, and I am sure many other uses. This teflon sheet made making a crispy pizza heaven! We use a stone to cook our pizza on because we think it makes it taste better than a cookie sheet. The issue with a stone though is if you put the pizza on it while the stone is cold it takes a long time for it to get hot and the middle of the pizza can still be doughy,but the top could be burning. So you need to heat the stone in the oven, then place your pizza on top.  This is hard though, you need a pizza peel,but then you add either a ton of flour or cornmeal, and I don't like the bottom of the pizzas to have either on them. They still can stick or fold in half. So, this is the method that we came up with!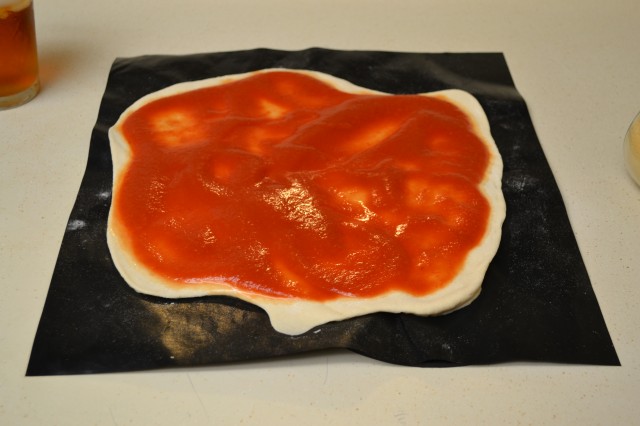 Here you can see the pizza; I roll the dough out on the telfon sheet.
Here is the recipe that we use for our pizza. We normally cut it into 8 pieces, and we like a thin crust. I make the typical dough recipe, and then cut it in half. I use half for the pizza we eat right then and there, and the other half I freeze until we want pizza again. It takes about 3 to 4 hours to thaw so I take it out in the morning or after lunch so it is thawed by dinner.
Pizza
Dough:
1 pkg. yeast (2 1/4 teaspoons if you use the jars of yeast)
1 cup warm water
1 tsp. sugar
1 tsp. salt
1 Tbl. oil
2 1/2 cups flour
Dissolve yeast in warm water then add sugar, it is ready once it is foamy. In the other bowl, mix dry ingredients then combine all together. Kneed dough for a few minutes (I just put everything in my Kitchenaid mixer and let the kneading hook kneed while I collect the other ingredients) then let rise for 5-10 mins (I don't let is rise because we prefer the thin crust and it goes faster). Oil pizza stone if it is not seasoned, and when done rising roll out on the pizza stone. (I use a rolling pin since that is easiest for me.)
Sauce:
Tomato Sauce
Pepper
Salt
Italian Seasoning
Basil
Parsley
Garlic Powder (This Makes a HUGE difference!)
Toppings:
cheese
Pepperoni
whatever else you want
Spread tomato sauce on the pizza dough, add all of the  seasonings. Then put cheese or pepperoni or both on top.
Then bake for 10 mins. at 500°F, and check on it to see if it is done.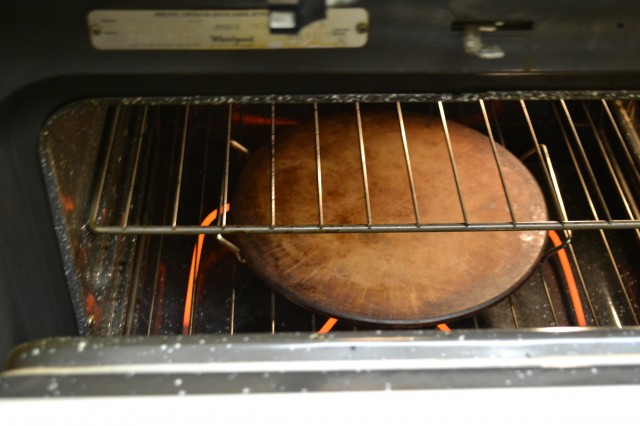 Here you can see that we heat the stone first in the oven while I start making the pizza dough or start working with it if it a thaw dough.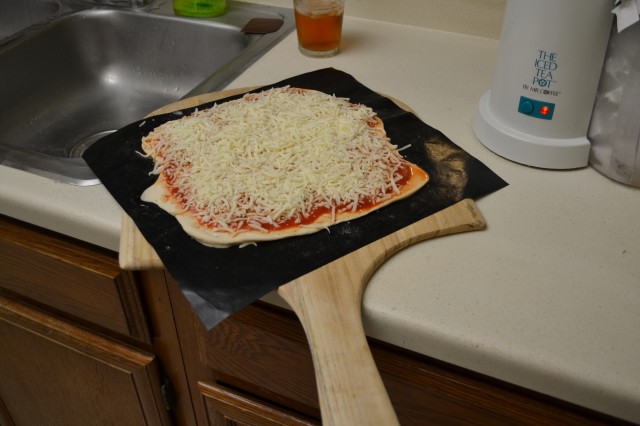 I then put the pizza which is on the teflon sheet ont he pizza peel. I got my pizza peel for $10 at Target. It isn't the best quality,but it works great for what we need.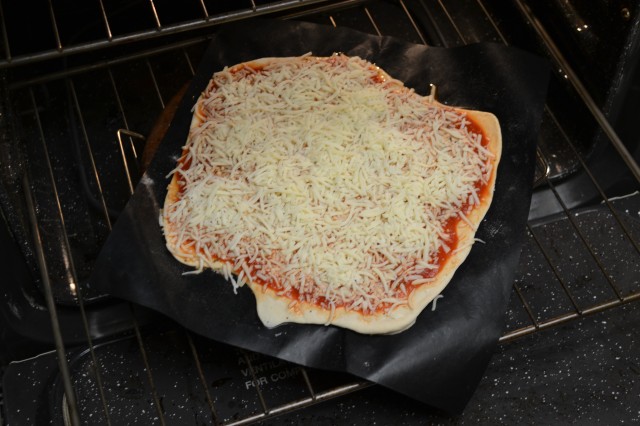 You then hold on to the end of the teflon and slide it onto the hot stone;be careful not to burn yourself!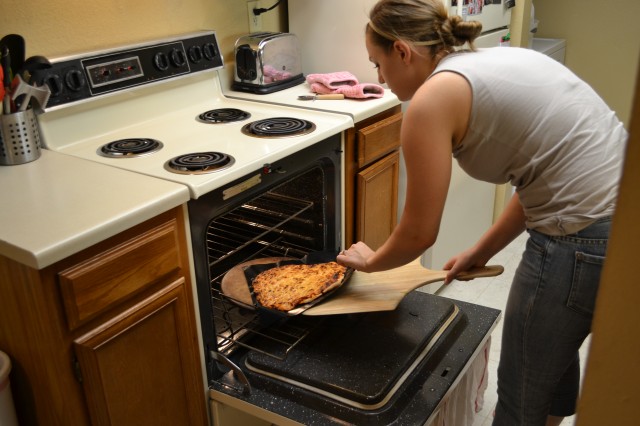 Once the pizza is done, do the same in reverse. I always grab the teflon with my hand since it isn't hot even after having been in the HOT oven for 10 mintues. I pull the teflon sheet onto the pizza peel.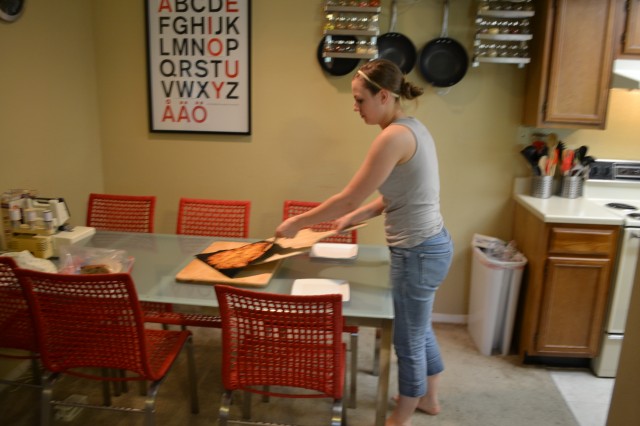 Then we like to put our pizza on a cutting board, so I place the telfon sheet on the cutting board.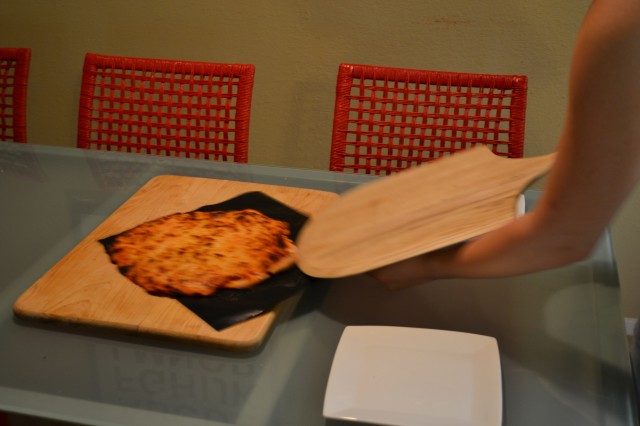 Then you keep hold of the teflon sheet and pull it out from the pizza, and push the edge of the pizza to keep it from pulling up with the sheet. I have never had it stick.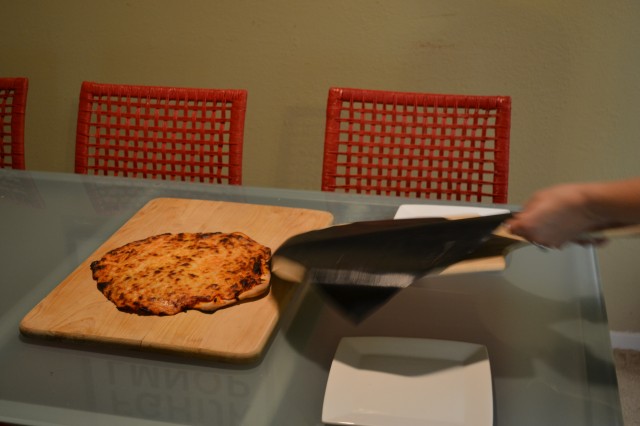 Here you can see it pulled away really easily.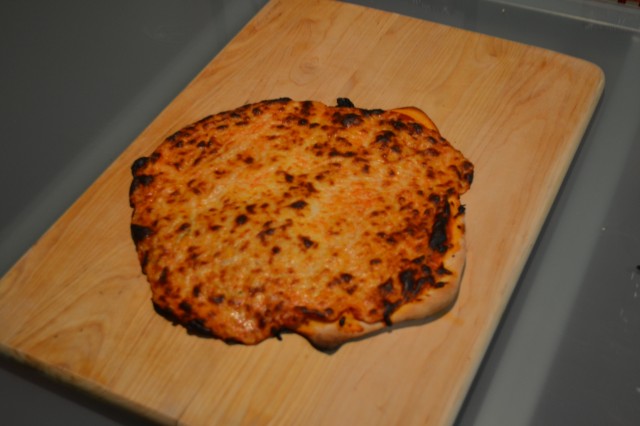 Woot, complete success! A hot pizza that is nice and crispy. This method is also great if you need to cook more than one pizza. You now have the teflon sheet to start the process over again. Eat this pizza while the other one is in the oven.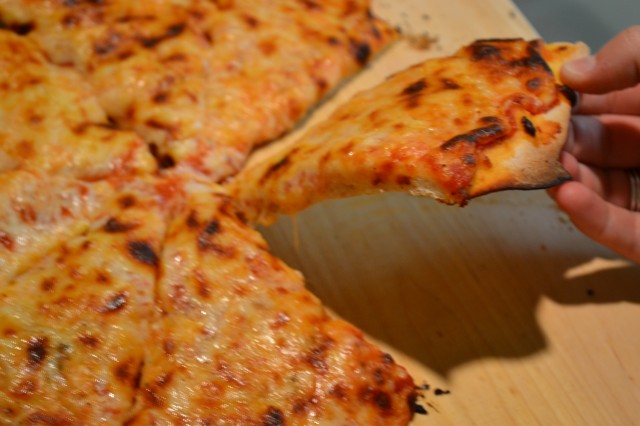 We were trying to take a nice lift the pizza picture,but since our food is edible and not engineered for a good photo, this will have to do!
I hope you all have had a great weekend!