One of my greatest weaknesses are molten cakes! A lot of restaurants carry them; I like them so much that my mother in law will give me Applebee's gift cards so that I can go lots of times just for the dessert!  I don't get them a lot,but I have always been on a search for a good recipe. The internet is littered with recipes,but I just never liked them. They always tasted to eggy, and just not sweet enough for my taste. I found this recipe, and I gave it my best effort. They turned out wonderful!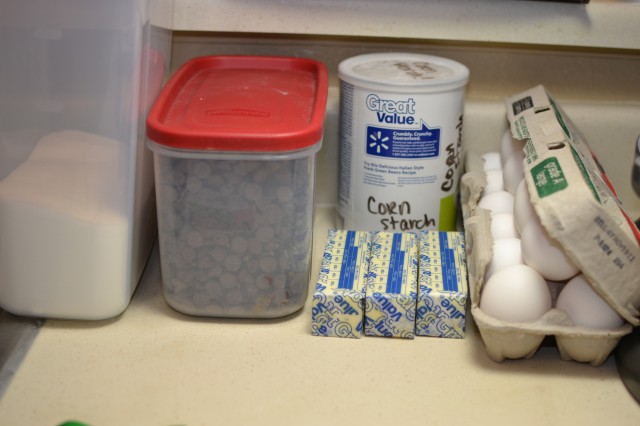 Here are the ingredients that you need: sugar, butter, eggs, chocolate, and corn starch. I never said these were healthy. The recipe calls for Baker's chocolate,but I just have always preferred a milk chocolate taste. Using regular chocolate chips also makes it taste sweeter. I also don't have lots of baker's chooclate at home so it is cheaper to use the chips for us.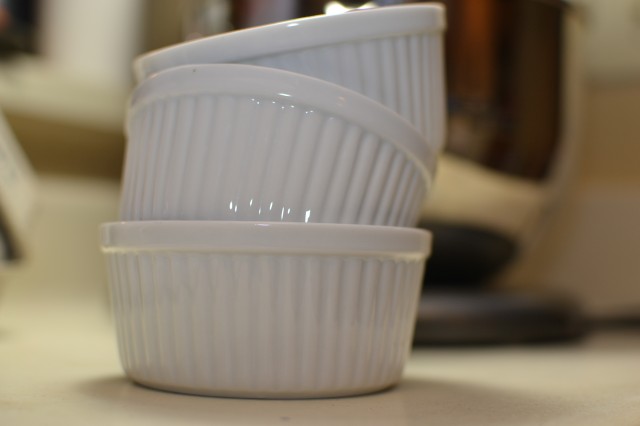 One of the other things you will need are ramekin dishes or some small oven safe dish that you can bake these puppies in. I bought mine at Target for pretty cheap. The recipe that I adapted from says you need soufflé rings as well,but I don't have a problem serving these cakes in the dish they were baked it. I don't take the time to line the ramekins with parchment paper or the rings,but you certainly can if you feel up to it. Always preheat, otherwise the cooking might not be consistant.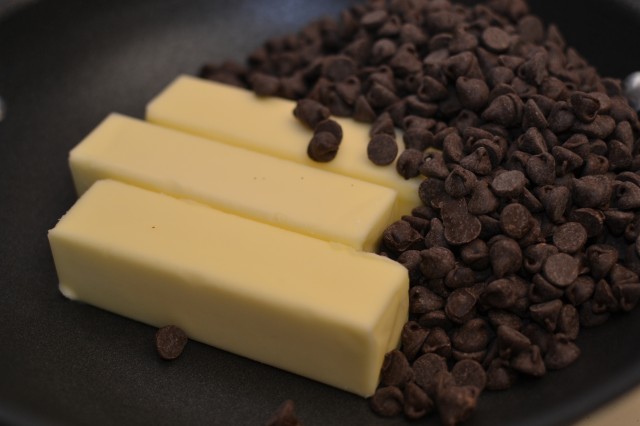 First, I take the butter and chocolate and put it in a pan until it is all heated and gooey. Also, I am making a double recipe so that is why it looks like so much as well.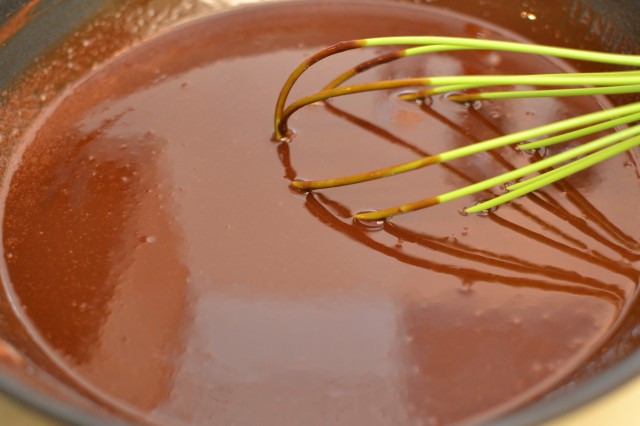 Once the butter and chocolate have melted, I pour it into my Kitchenaid mixer. You don't need a mixer for this,but it does make it faster and more of a hands free recipe if you have one.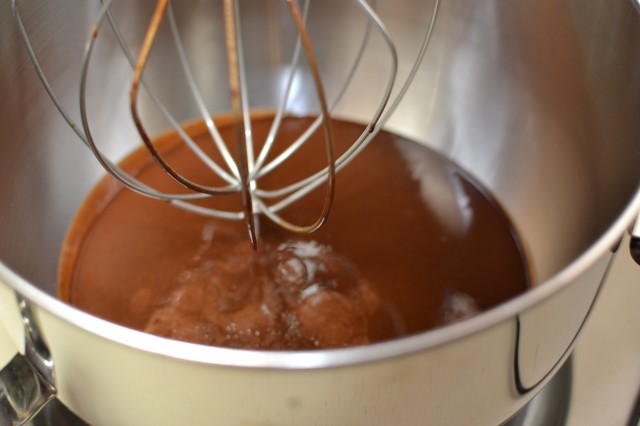 Here you can see it in the mixer now, I then let it start mixing. This recipe contains a lot of eggs, and I like to get the mixer going so it can start to cool the mixture a little bit.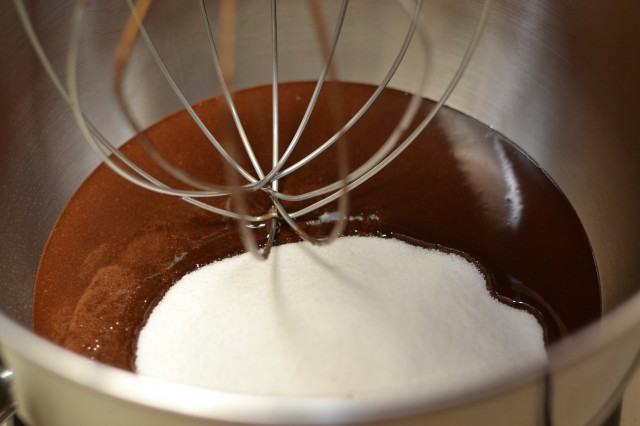 I add the sugar next because in my mind it makes sense to put the sugar in next. I figure this is the item we want to start dissolving. So I mix it in and keep going.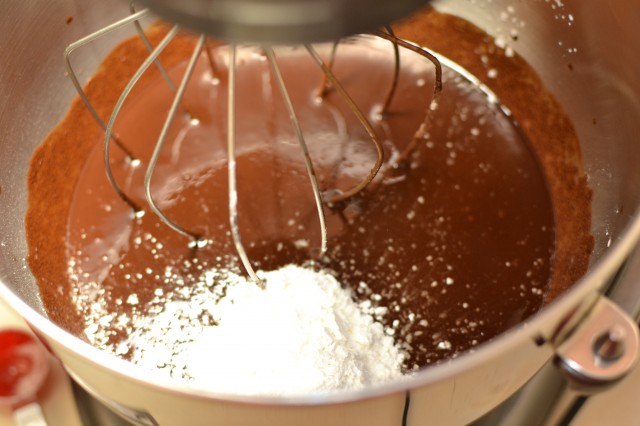 Then I add in the cornstarch; once you add this in you might need to scrape the edges to make sure there aren't any clumps left.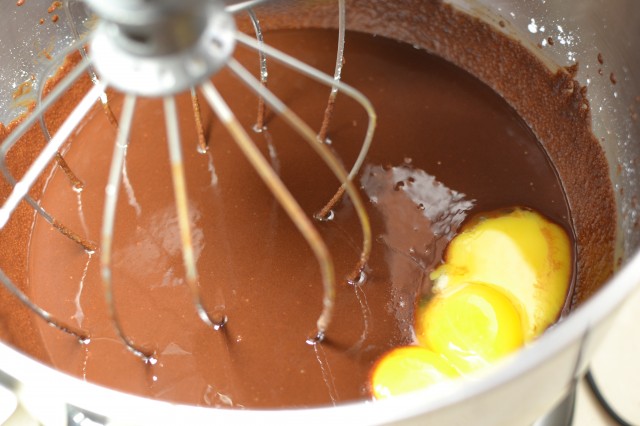 Then I like to add in the egg yolks first encase I mess up and a whole egg gets in there I can always try again so I get the right mixture. Also, I like to add the eggs in while the mixer is mixing. Since the mixture is hot, I don't want my eggs to start cooking. I took a stationary picture just to show the process.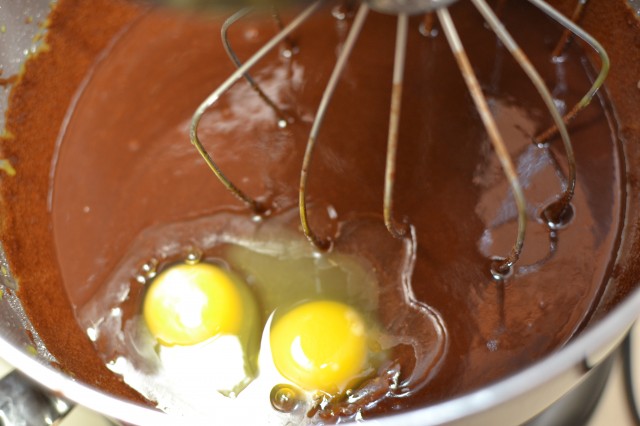 Next I add the whole eggs to the batter and mix some more. The I normally stop and scrape the bowl again just to be sure and then I let the mixer just mix until I have everything else ready.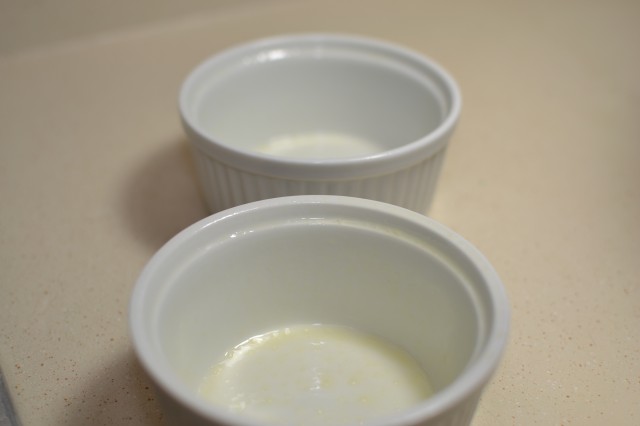 I liberally spray the ramekins,but you can always use a stick of butter or parchment paper rather than the spray if you prefer.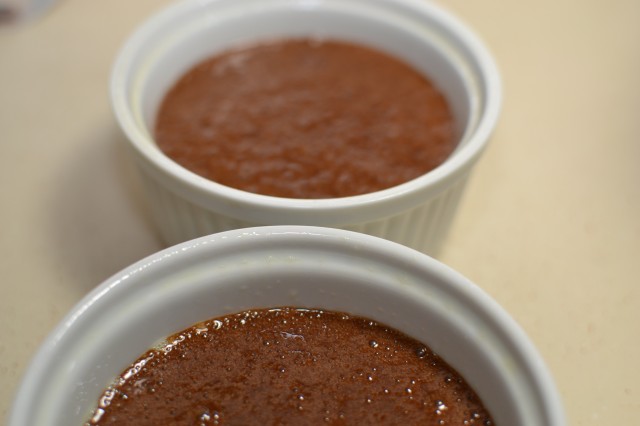 The original recipe says to let the batter sit overnight. I will say that they are nicer and gooey if you wait,but they also taste great if you bake some right then and there. Just don't over bake!!!! If you over bake you will have a cake, a good cake but not molten cake.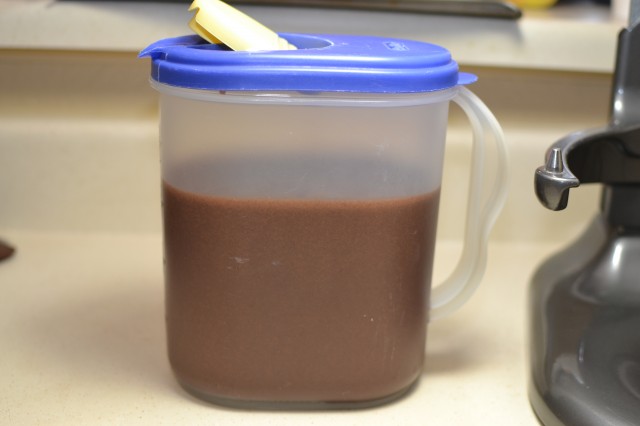 I made a double recipe on purpose because this batter lasts for 10 days in the fridge. I prefer to put it in a container that I can pour from, but if you want easy access which is very dangerous.  You can spray ramekins, fill them 3/4 of the way up, and cover with saran wrap and pop in the fridge. If you ever want a molton cake, preheat the oven and bake… but they are hard to resist!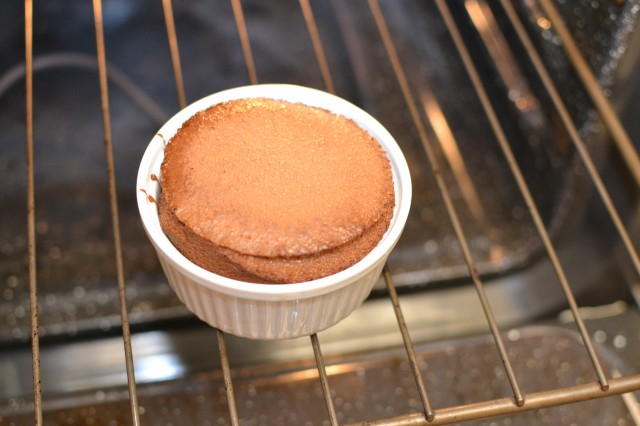 Each oven is different. In my oven, I bake for 18-20 minutes depending on how molten you want it. 99% of the time they don't look finished on top,but they are! If you wait too long, they will bake all the way through.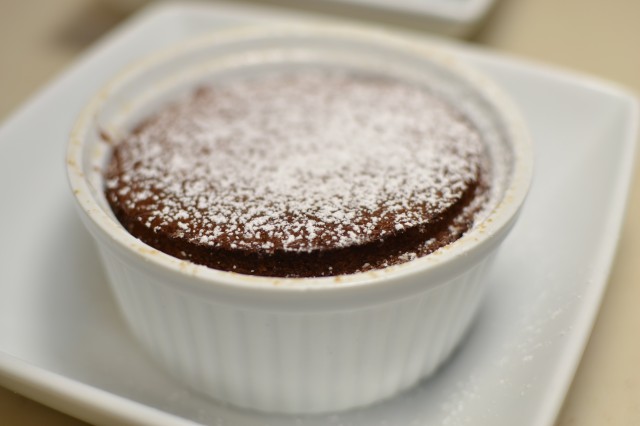 You can add some powdered sugar, normally I don't,but what they hey it looks nicer for pictures.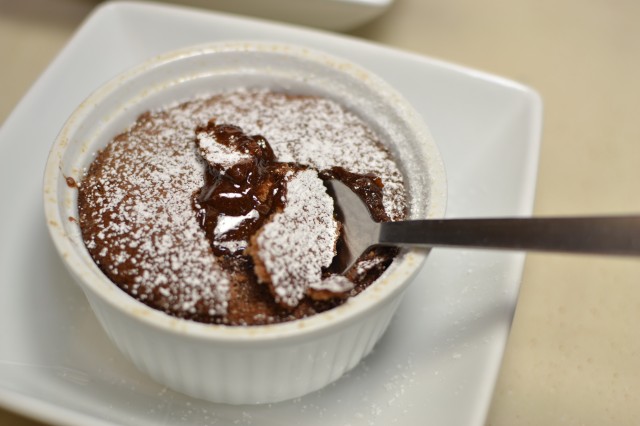 MMMMmmm… Molten!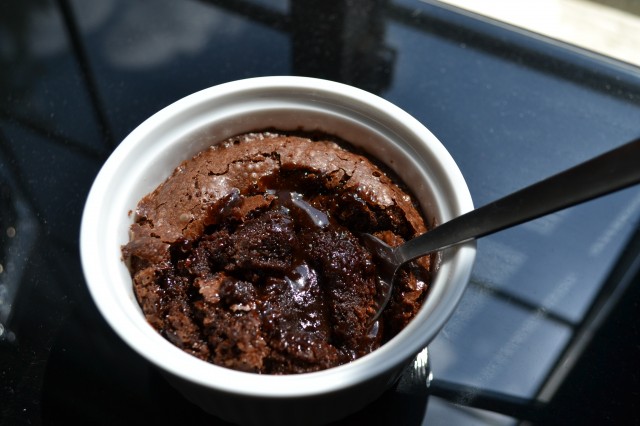 Here is one without the powdered sugar.
This recipe was adapted from this recipe. She makes them look great too,but they seem more complicated than they need to be!
Molten Cakes
Batter:
8 oz. good quality semi-sweet dark chocolate (i.e. Guittard, Vahlrona, Callebeaut – I used a Ghirardelli baking bar) I use chocolate chips
12 Tablespoons butter
1 cup granulated sugar
3 Tablespoons cornstarch
4 whole eggs plus 4 egg yolks
Directions:
Preheat oven to 400°.
To make the batter, melt butter and chocolate in a sauce pan. Add to a different bowl and mix to start cooling the batter.
Add in the sugar and mix.
Add in the Cornstarch and make sure to get out the clumps.
While the batter is being mixed, add in egg yolks and whole eggs.
Mix until combined.
Either Pour into a bowl/pitcher and refrigerate overnight or line the ramekins with pam. You can also go on her site and see the directions for using a souffle ring and parchment paper. Fill each ramekin with batter ¾ of the way full. Bake on top oven rack for 26-28 minutes. My ramekins were a little smaller so I baked them for 20-23 minutes.
You just want to make sure the tops are set but the middle is still gooey. Remove baking sheet from oven. If using ramekins, use a knife to and run it around the edge then carefully invert and place on a serving dish or eat straight out of the dish itself. Sprinkle with powdered sugar if desired. Serve immediately.
Left over batter can be refrigerated for up to 10 days.