Simon and Sarah have a very busy summer schedule. They go from Searcy to Dimebox to help my parents get some work done on their proptery, to Searcy for Sarah to take a class or two, to Dimebox, to Searcy again. This last time that they were in Dime Box, they came to visit us on the weekend. Grant and I try to be good hosts,but we just are kind of boring since we don't like spending money very much.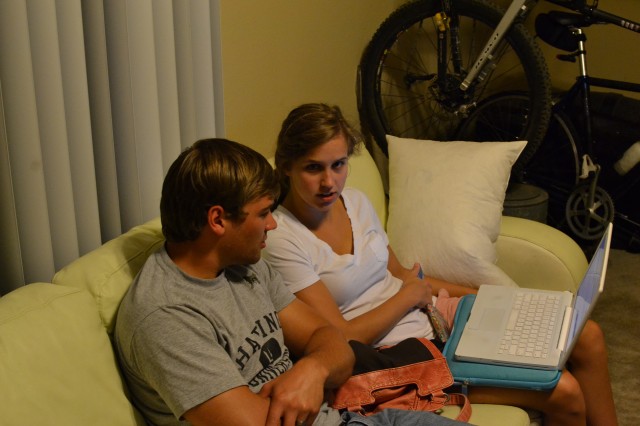 I don't know what they were talking about,but Grant likes to take random candid pictures, hence the look on Sarah's face. We played tons of Yahtzee and catch phrase which was lots of fun. We heard great stories of their recent travels and made lots of food!!!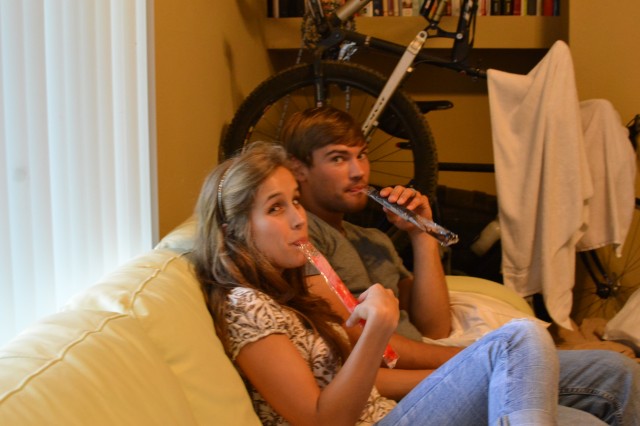 Here you can see the ice pops. Grant LOVES to eat ice pops. When Mia, Ally, and Emi come over he shares with them. Ally and Emi haven't quiet grasped the concept of how they work,but we serve it to them in a bowl which works fine.  We love these because they are very inexpensive since we get the cheapest ones we can, and they can really help cool you off. We have had 100-104 degree weather for the last month or two, and in our inefficient apartment you can tell.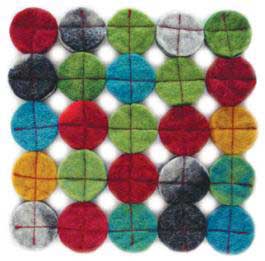 During their visit, Sarah and I had a fun time talking about DIY & crafts and things we were wanting to work on. I bought some felt for a project I have yet to start, and Sarah got some wool. She then learned to felt it and was planning on making a really cool trivet that they found in Europe. Hers had and will look much better than the one above, but just to give you an idea. During that Weekend I was able to do my first spout of dying which deserves its own post.
We made lots of our favorite dishes this weekend from pizza which I have finally perfected since Irene my Aunt gave me this awesome Teflon Sheet which makes the pizza process so much easier. I will be posting about this soon. We made German Mozzarella Bake which I will post about soon too, and we also made Dampf Nudeln. This is a dish that I last remember having at my Aunt Irene's house as well. Simon really likes this and so do I; it is very sweet and filling.
I make the dough in the bread machine on the dough cycle adding the ingredients the way the bread machine recommends. Then I form them into 8 rolls, if you make the full recipe below.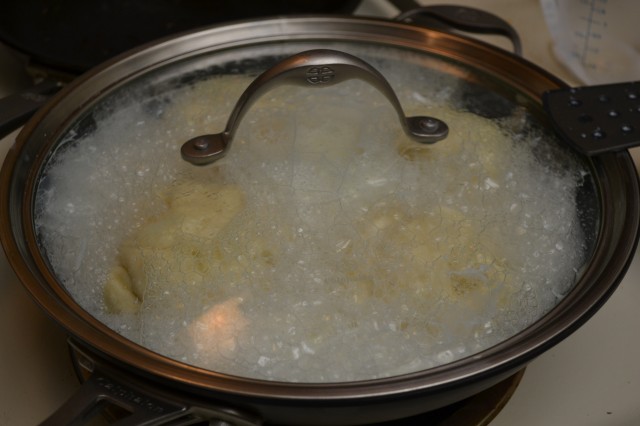 Dampf means steam in German. You have to steam these rolls. So you make the "Steaming Mixture" below put it in a skillet or saucepan with a lid and bring to a boil. Then you lower the heat to a simmer and drop 4 of the rolls in it. This will need to steam for 20 minutes. At the 10 minute mark and the 15 minute mark, I open the lid and make sure that the bottoms aren't sticking and close the lid again.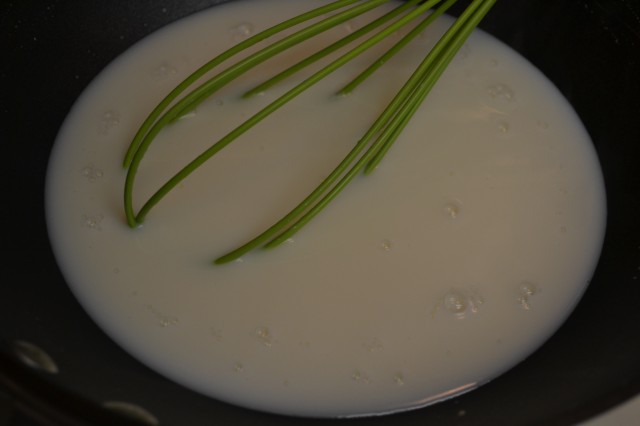 While the rolls are steaming and such, I start the Vanilla Sauce which goes on top of the rolls when you serve them. You add all of the ingredients, stir and raise the temperature. It will start to thicken, and once it is the consistency of a thin pudding it is ready. If you really want a thicker sauce you can wait for that.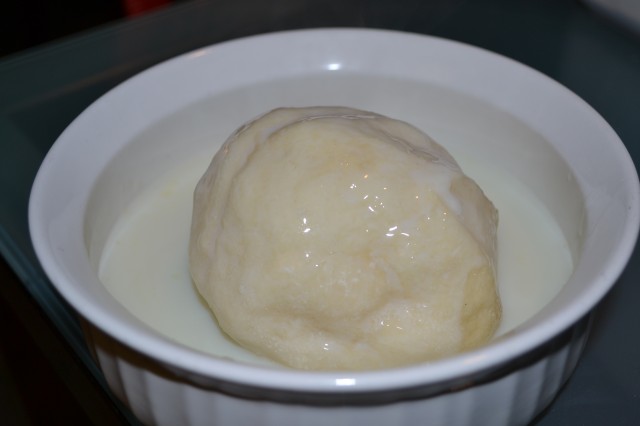 This dish is very filling and one roll is enough for a meal. I have had it served as a dinner or a lunch before. Grant thinks it should be a dessert; you could make 1/4 of the sized rolls and serve the as a dessert which would be amazing too. To me it is hard to find good dessert that don't involve chocolate, and this is one of them.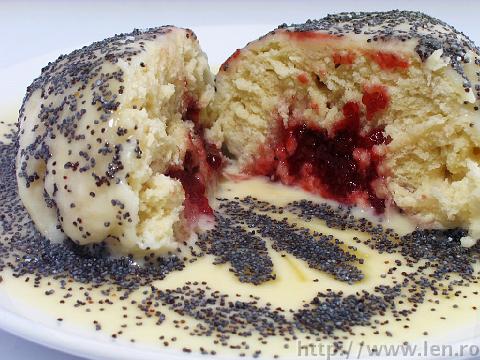 (I didn't take this picture myself,but found it on google images)
There is also a variance of this dish, where the rolls have a filling similar to a jelly doughnut. You fill it with plum marmalade or something similar, poppy seeds, and a little sugar. Then when served, you serve it with vanilla sauce,or a buttery poppy-seed sauce. These are great too,but I know for a fact Grant wouldn't eat those. This variation is called Germknoedel.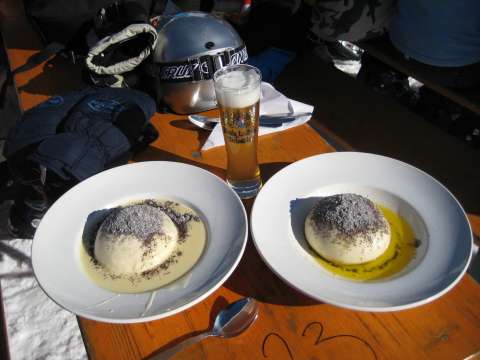 Here is another Google Image showing the difference between the two different sauces.
Dampf Nudeln or Germknoedel mit Vanillesauce:
1 cup warm milk
3 ¾ cups to 4 cups flour
2 tbsp + 1 tsp sugar
1 packet of yeast
2 eggs
1 tsp salt
lemon zest
plum filling( if you are doing the Germknoedel, if you are doing plain you can leave it out)
1 tblsp vanilla extract
Put the above things into a bread maker starting with the liquid ingredients, then the dry ingredients. Make sure that the salt and the yeast don't touch! Take the dough after the dough cycle on the bread machine out and squish out the air and separate into rolls. To make Germknoedel, fill the rolls with the plum filling. Put whichever kind knoedel made in a saucepan, with the following ingredients.
"Steaming Mixture"
1 cup milk
2 Tblsp butter
3 Tblsp sugar
Dash of salt
Put on medium to low for over 20 minutes so they rise, make sure they don't burn on the bottom. Then serve with either vanilla sauce and toppings.
"Vanillesauce"
3 Tblsp sugar
2 Tblsp cornstarch
2 cups milk
dash of salt
1 Tblsp butter
½ tsp vanilla
Put all of these ingredients into a sauce pan until hot and thickened, and then pour over the steamed Knoedel.
Additional Seasonings:
cup poppy seeds
cup sugar
Sprinkle this over either the plain or the germknoedel on top of the vanillesauce.