It is funny what happens with recipes, it might never have been yours, but once you start making it people start associating it with you. I have this cookie recipe that was my 6th grade teachers that my older sister got from her. I made it a lot when I was younger, and everyone says it is mine now. I never really cared about whose recipe it was; if I wanted to eat it at a family gathering, and no one else was making it then I would make it.
I have to give a disclaimer for this recipe, it is a very thick recipe. If you are using a normal hand held mixer, you have to be careful because I have ruined one or two hand mixers which you want to avoid. I use my pro Kitchenaid which makes it without any difficulties. If you have a regular Kitchen Aid then you should be fine too. If you have it at the "right" consistency, then it is very mold-able where you could roll it into balls without it sticking to anything. If that is how you want it, then you can follow the recipe below.
Chocolate Chip Cookies
1 1/2 Cups unsalted butter
1 1/2 Cups white sugar
1 1/2 Cups brown sugar
1 Tbl. vanilla extract
2 eggs
3 1/2 or 4 cups flour *
2 tsp. Baking soda
1 tsp. salt
12 Oz. chocolate chips
Cream butter and sugars.  Add the vanilla and the eggs.  Mix in baking soda and salt, and once that is mixed in add the flour. Then add the add chocolate chips, if you want you could add nuts.  If you are using a Kitchen Aid, be careful because the mixer might crush your chocolate chips. I normally hand mix in the chocolate chips to make sure they are evenly dispersed. Bake at 350°F about 7 to 10 min. depending on the oven.
* Grant prefers the cookies to be flatter, then the dough will be a little bit more sticky will flatten out meaning you need to leave more room on the cookie sheet, and you only use 3 1/2 cups of flour rather than 4 cups.*
* The best way to have this cookie recipe be success is to NOT over cook them. The cookies won't look done after 7 minutes, but if you look at the part of the cookie that is on the cookies sheet, and it is just slightly light brown, then they are done. (My newer oven is hotter so now it takes 8 minutes) Now they will be very soft and gooey, so you need to let them cool for a minute or two before moving them to a wire cooling rack.*
Me using my AMAZING Kitchen Aid Mixer. I never grew up with one of these, but once you know a few tricks they are amazing! * Just a hint, the attachments come at a factory setting meaning they might not scrape the bottom of the bowl like they should. Using the hand book as a guide, put a penny or dime in the bottom, and then adjust the attachment until it moves the coin. Now the mixer will scrape well enough that you barely have to use a spatula.*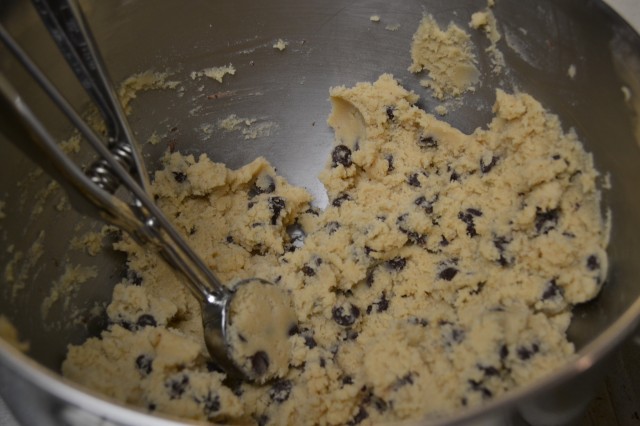 This recipe was done with the 4 1/2 cups of flour to make it thicker, you can see how impressions can easily be left in the dough. I love to use my cookie dough scoop because it makes everything so much easier. I normally use the medium scoop for these cookies.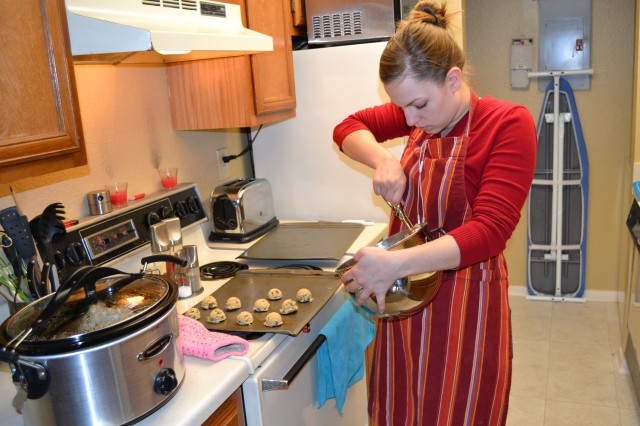 I would also recommend getting a scooper with metal parts, I have broken one with plastic parts after making way to many cookies in one sitting.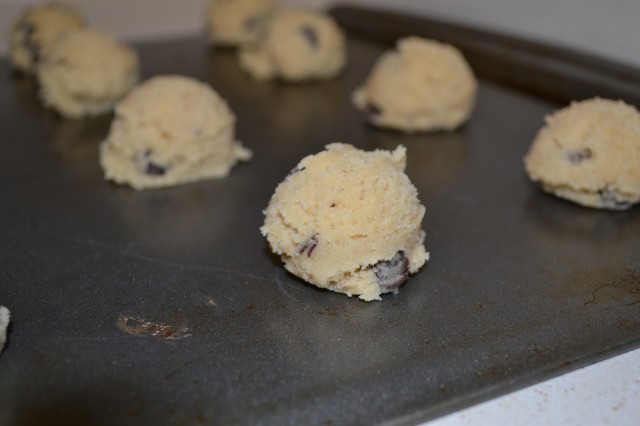 Beautifully shaped. Here I also show it with a regular cookie sheet, but now I use these Prism cookie sheets, they really help cookies not over bake.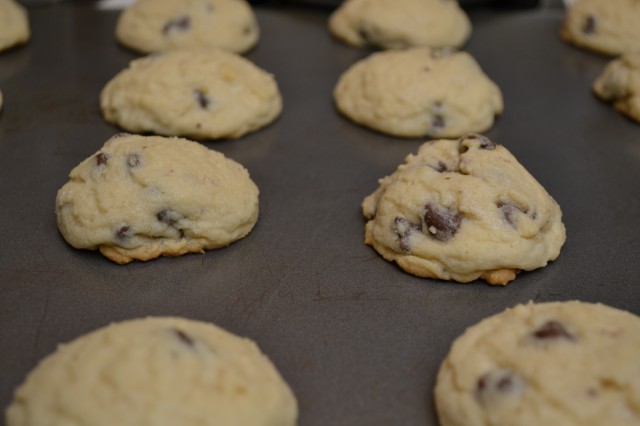 Here you can see that they might not look done, but that little light brown section shows us that it is!
Me arranging the cookies on a sheet for the light box photo shoot.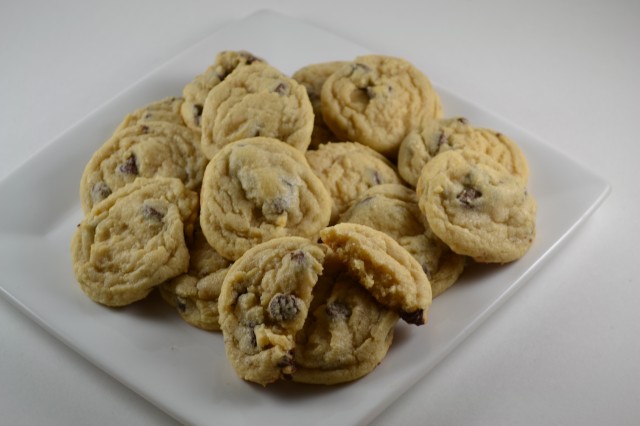 The cookies in all of their glory… yum! Hope you enjoy!