It is no surprise that I love most Mexican foods, I'm not a fan of mole or tamales,but enchiladas, burritos, tacos, fajitas, and quesadillas are some of my favorite foods. is a classic enchilada recipe that our friend made for us when we had Reese as a newborn. She was kind enough to share it with me.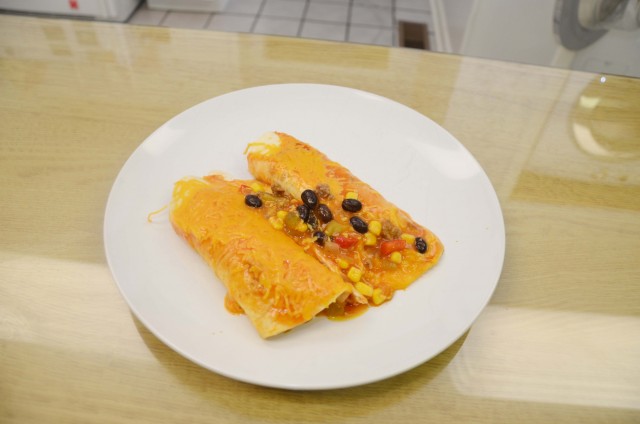 Some foods just aren't easy to get very beautiful pictures of,but trust me, they taste yummy. 🙂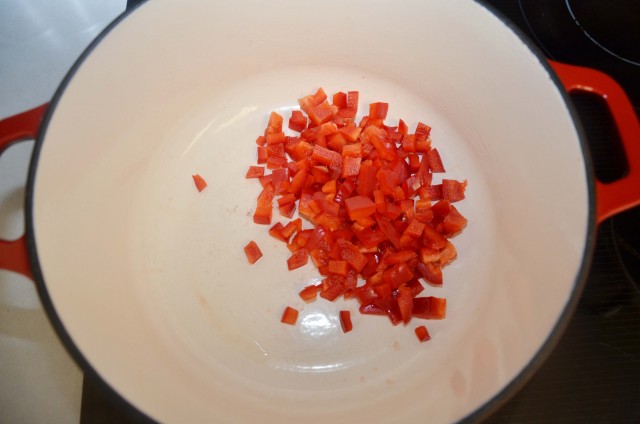 Chop your bell pepper and add to a pot/pan/skillet.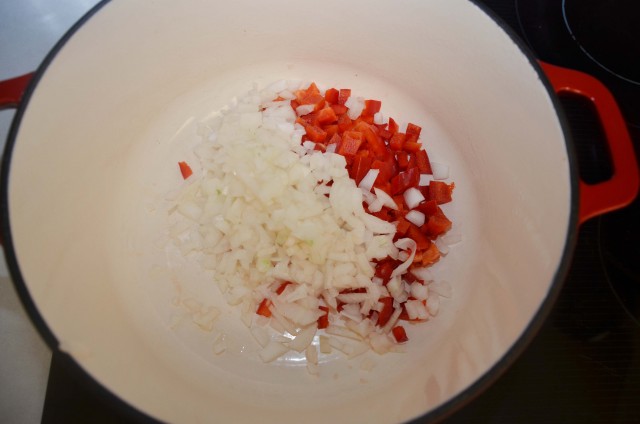 Add your chopped onions.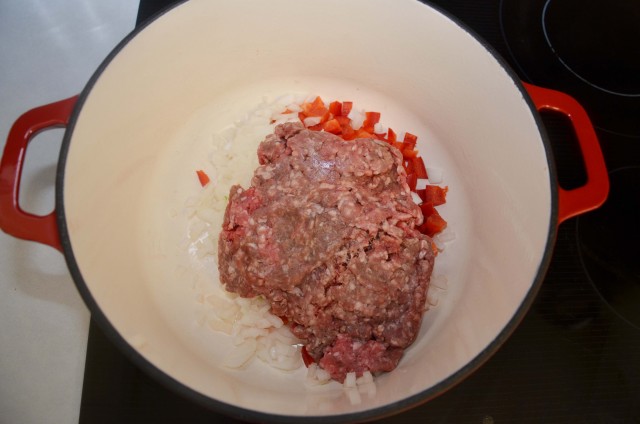 Next your ground beef.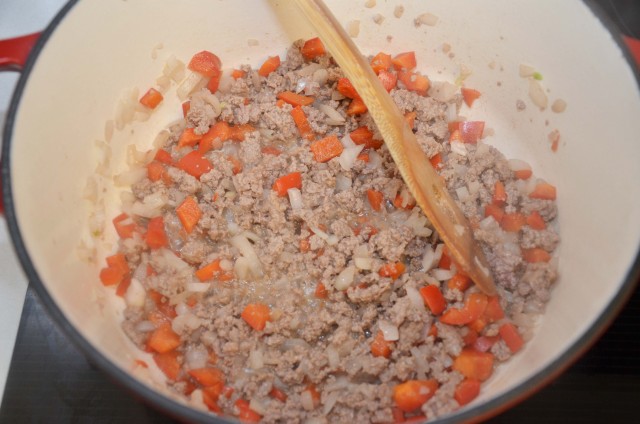 Brown the meat and make sure the onions are silvery and translucent.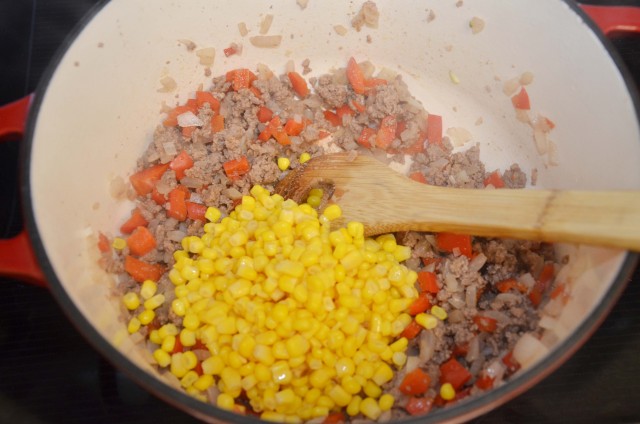 Add the can of corn.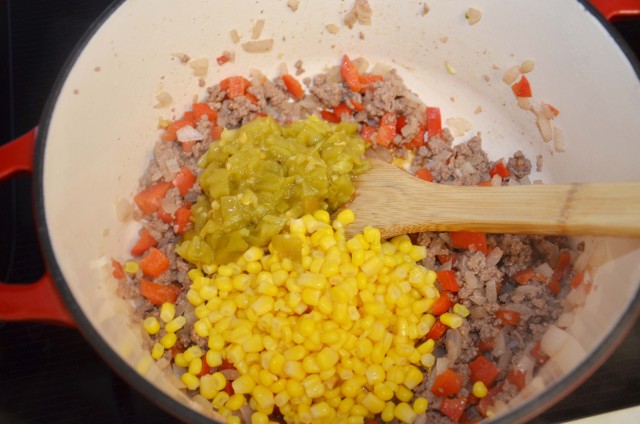 Then add the green chilies.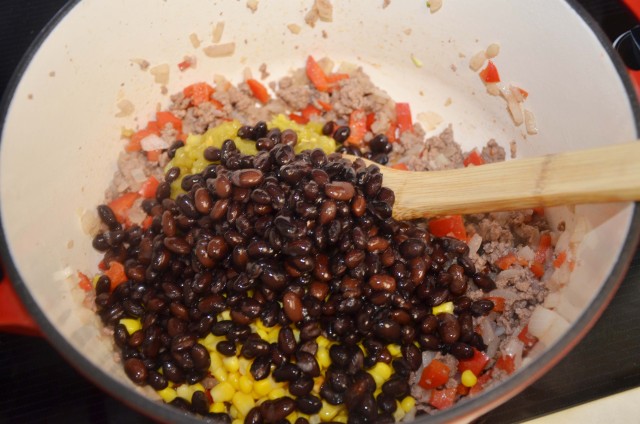 I added a can of black beans,but if you prefer a different kind you can add those instead.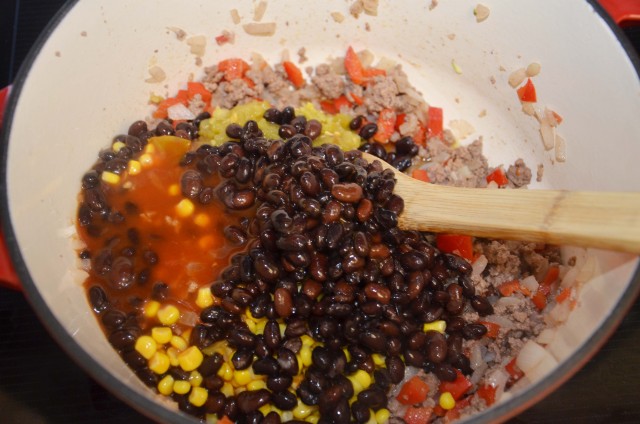 Then add a can of red enchilada sauce, I did the mild kind since Reese was eating with us,but the medium tastes really good in this. I have made it with the green enchilada sauce once since I grabbed the wrong can accidentally. It tasted good,but not as good as with the red sauce in my opinion.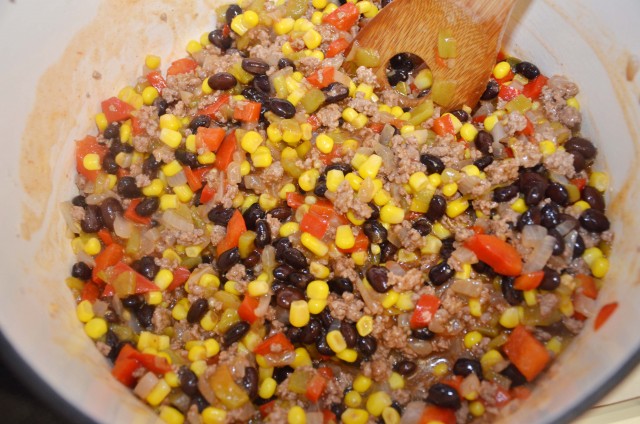 Mix well.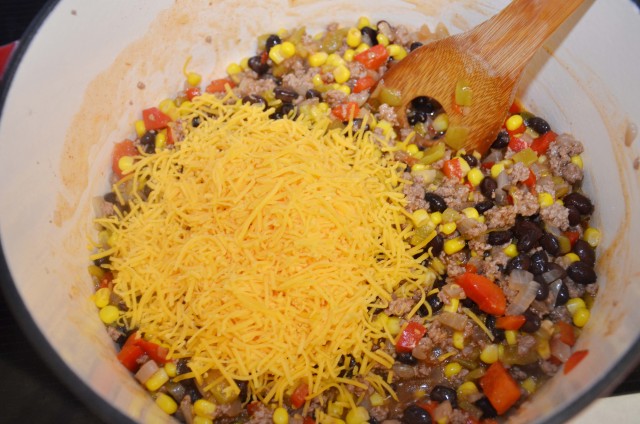 Add the shredded cheese.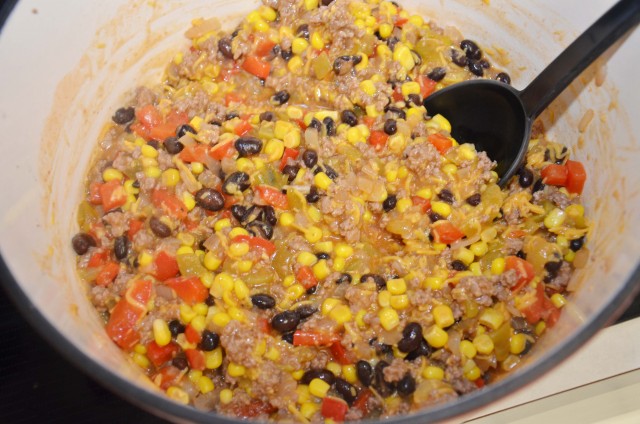 Mix well.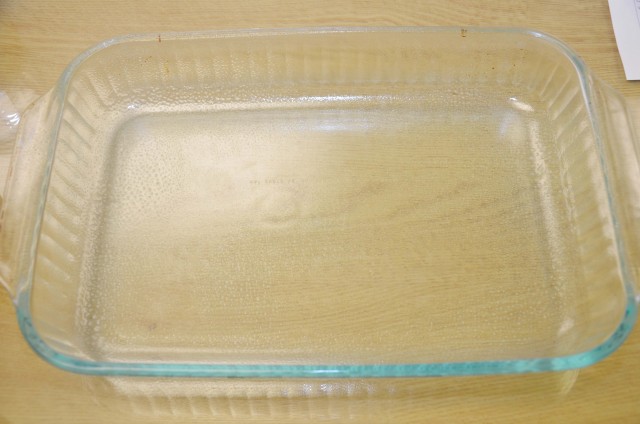 Grease your pan so the tortillas come out easier after being baked. The original recipe calls for adding half of the second can of sauce to the bottom of the pan,but I prefer just dumping it all on the top at the end.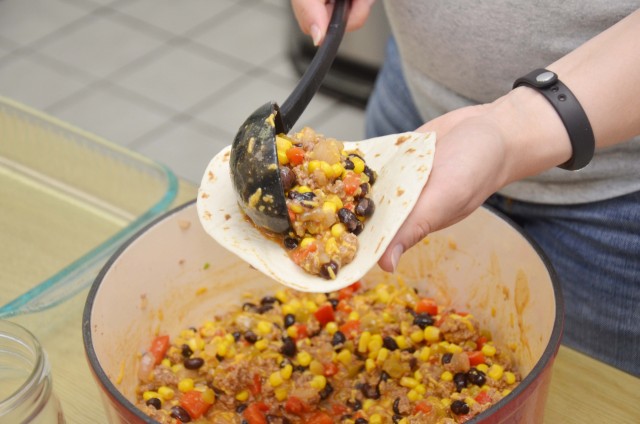 Fill your tortillas.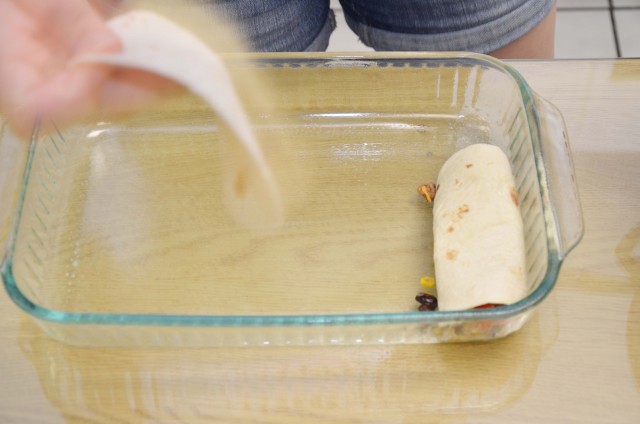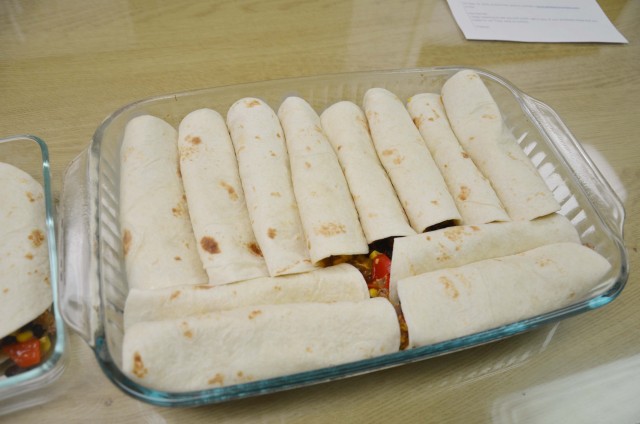 For me the recipe made a while 9×13, and then another small baking dish that I cooked later for Grant's lunch.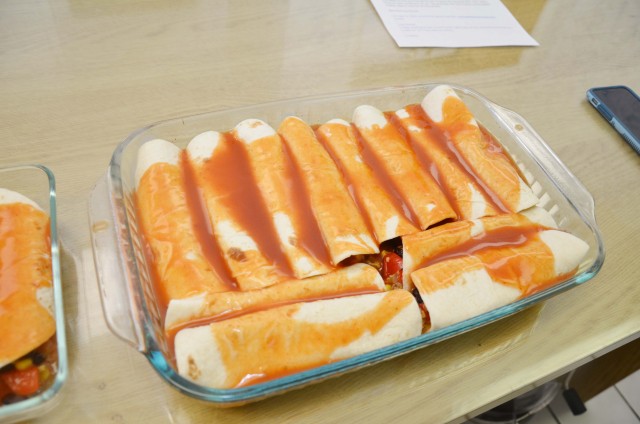 If I had rolled them tighter then they might all have fit into the 9×13,but I wasn't too concerned about that.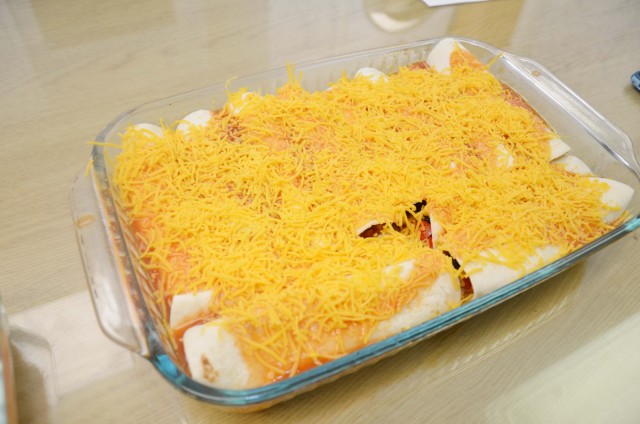 Add the cheese on top.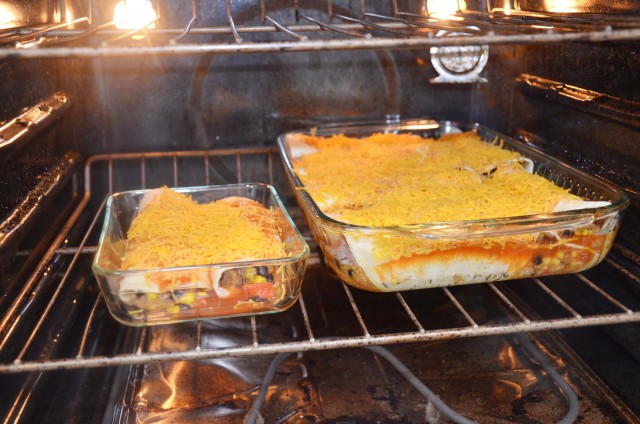 Bake them, the recipe calls to add foil on top,but then all that happens is the cheese sticks to the foil, so I leave it off.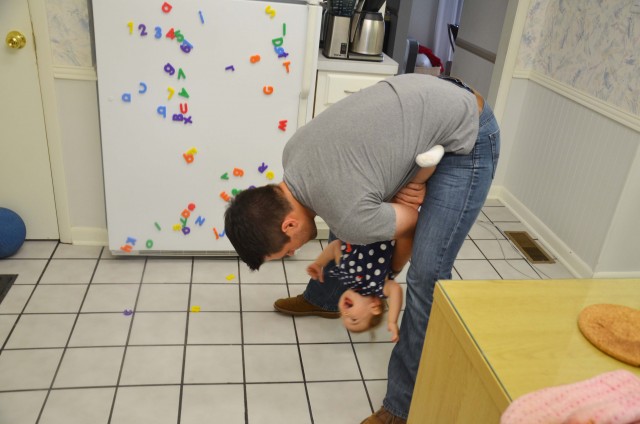 Take a break to play while they are heating up.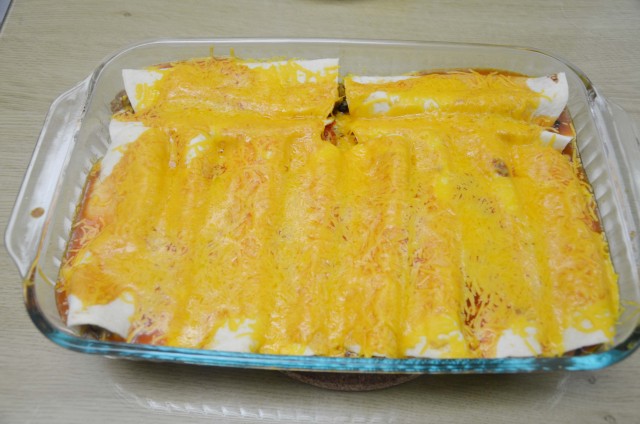 Done and ready to eat.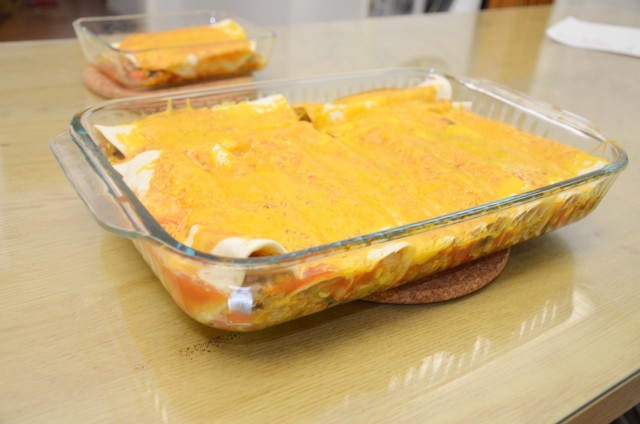 I don't think these would freeze well because the tortillas would get soggy. You can always make these with corn tortillas,but we prefer flour.
Enchiladas
Enchilada

Filling:
1 can 
Enchilada
Or Red Sauce
1 pound Ground Beef
1/2 Medium Onion, Finely Diced
1 cans (4 Ounce) Diced Green Chilies
1 cup shredded cheese
1 can black beans drained
1 can of corn drained
Flour tortillas
Assembly:
1 cup shredded cheese
1 can Enchilada Or Red Sauce
Instructions:
Brown ground beef, chopped bell pepper, and onions in a pan.  Next add green chilies, beans, corn, enchilada sauce, and cheese.  Spoon the filing into each tortilla, roll up, and place in a greased casserole dish.  Top
enchilada
with second can of sauce and shredded cheese. Bake in oven for 25 mins at 350 F or until hot and bubbling.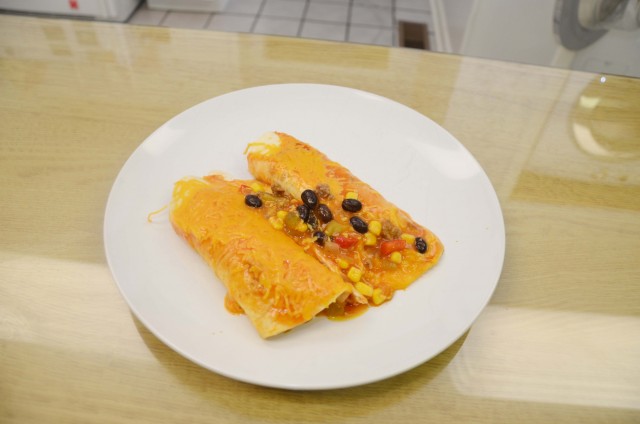 Enjoy, and let me know if you have any questions on this dish.