This will be a post completely about purses, so if this doesn't interest you, sorry and please skip reading this! 🙂 I was wanting to find a knock of Celine bag since I can't afford or justify spending $3,000+ on a purse. It is hard to find reputable companies that sell knock offs. There are places claiming to sell the real thing which is really a knock off but still over priced or it is a scam. I finally found two websites that had lots of reviews from blogger and youtubers. These bags aren't marketed as knock offs,but look pretty close to the Celine bags. All of the reviews I found online had very dim photos where it was hard to tell what the bags really looked like, and I wanted them compared. So here is my comparison.
I bought two bags the left one is from Bag Inc and the right one is from VJ Style.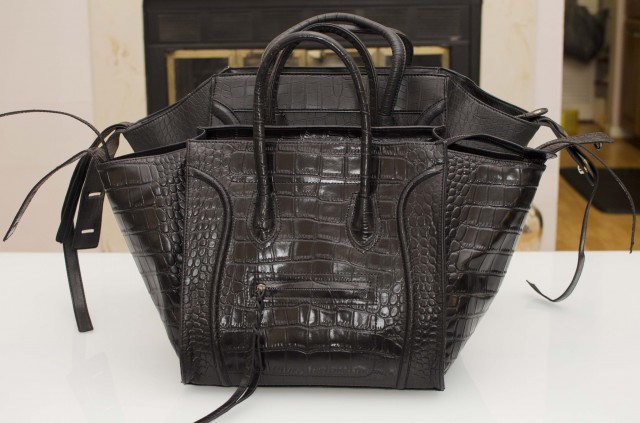 Both bags have different pros and cons so I am just trying to show enough information so you can see which bag would fit your needs.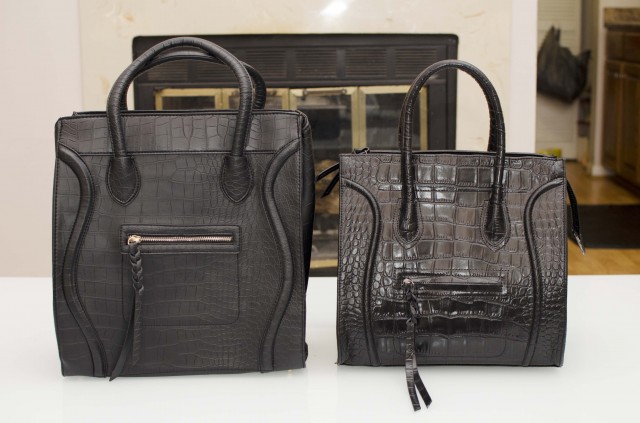 The VJ Style Bag(left) was the cheaper of the two at around $47 with free shipping,but you would have to pay for return shipping yourself. This is what I ended up doing mainly because the pictures on their website and what I got in person were so different. The Bag Inc bag(right) was more expensive around $109 because it is real leather(they always have coupon codes) with free shipping and free returns.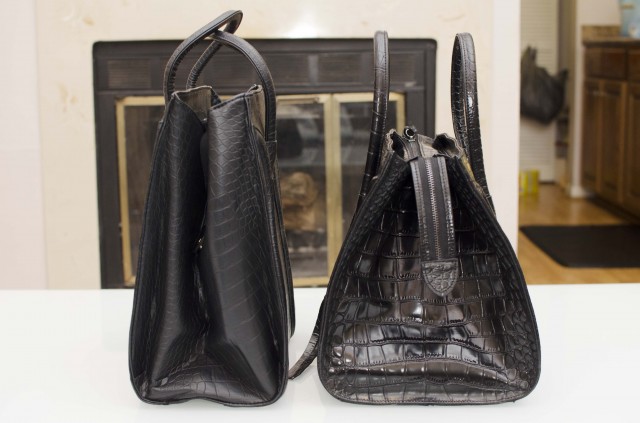 The VJ Style Bag(Left) is a lot lighter and taller than the Bag Inc bag which is more heavy and more squat.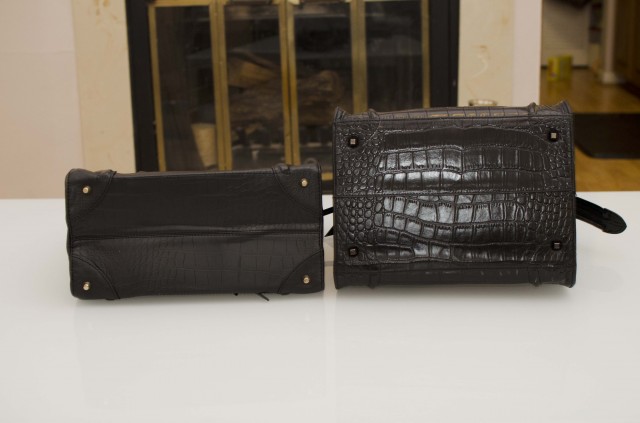 One of the main ways you can tell a knock off is if they have a seam on the bottom of the bag, these both do,but I knew that in advance.
It can be worn open.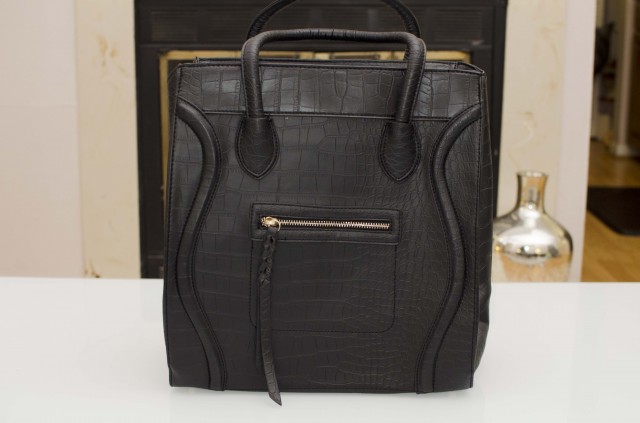 It can be worn more compact as well.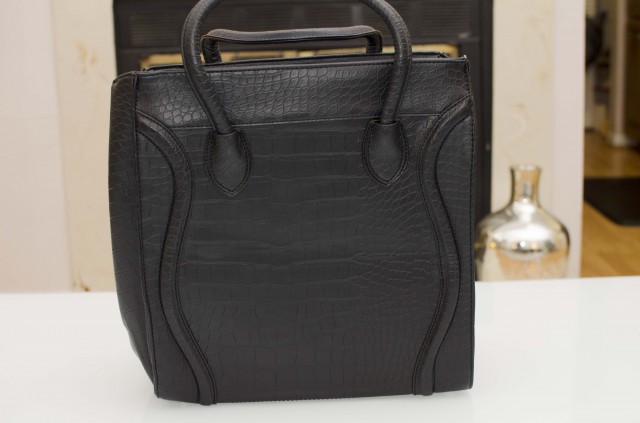 The back side of the purse, the straps and slightly weird shape is only due to shipping, I think it would have easily straightened out after a few days.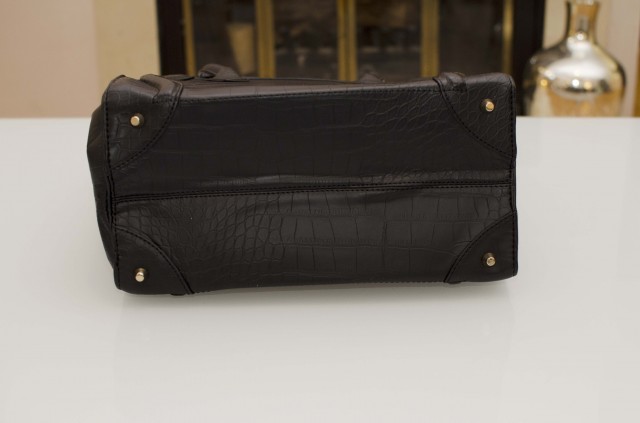 The bottom; the shipping took around 3 weeks,but since it was free I couldn't really complain.
This purse has a way to keep the zipper from flapping around when worn shut.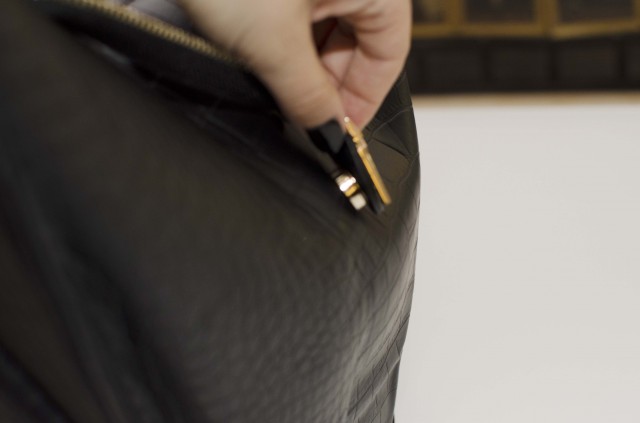 It has a magnetic snap.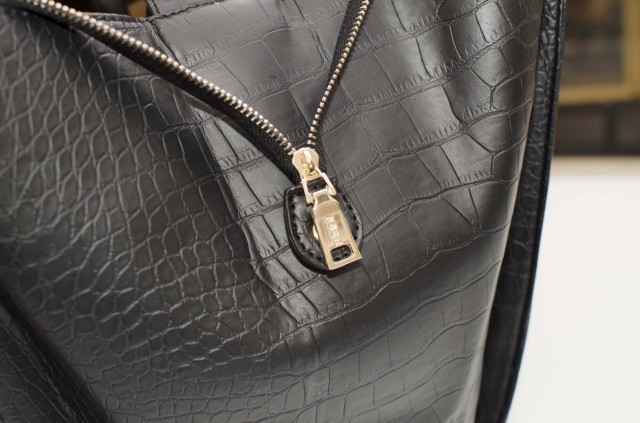 Here it is snapped which can also be this way when the bag is unzipped as you see here.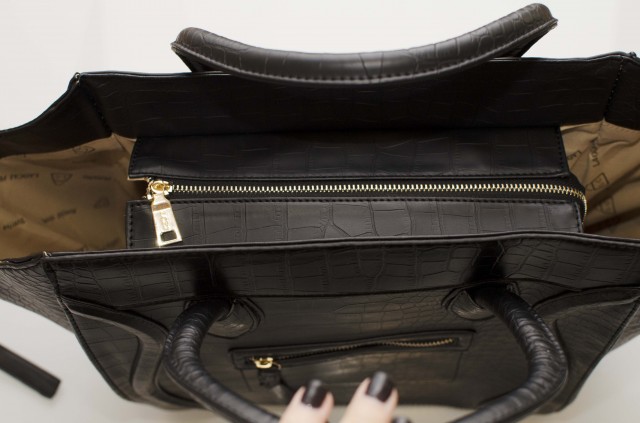 You can have it zipped in the center so it keeps its shape but not snapped on.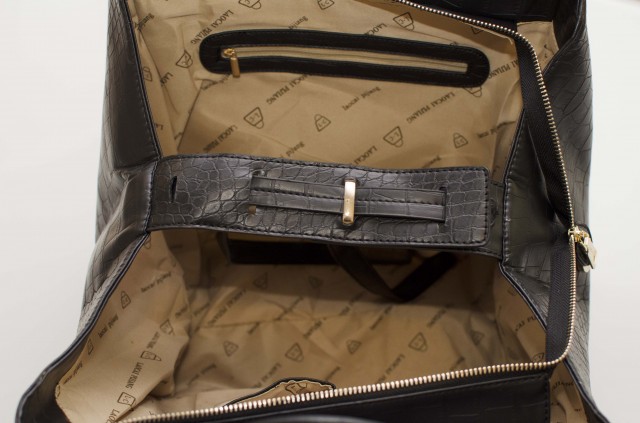 Here is one of the closures it has if you don't want to use the zipper, or you can use them together to get the boxy look.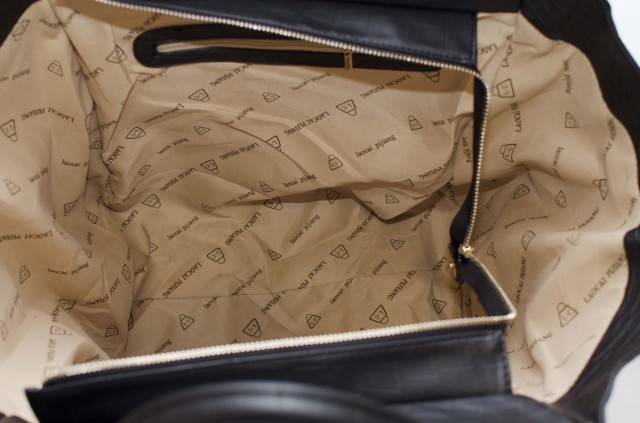 You can also leave it completely open.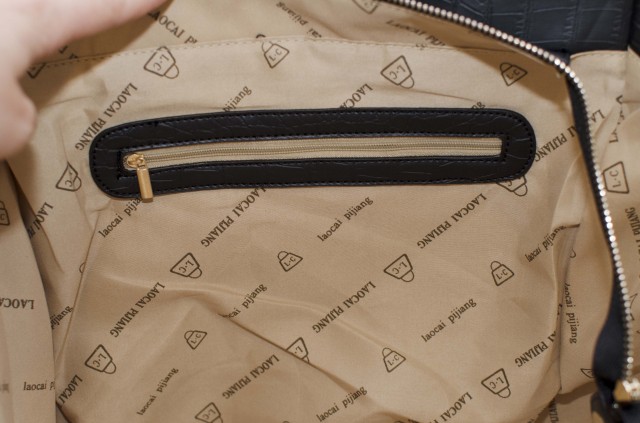 It has a large zippered pocket, and here you can see the lining. This lining was completely different than their pictures online.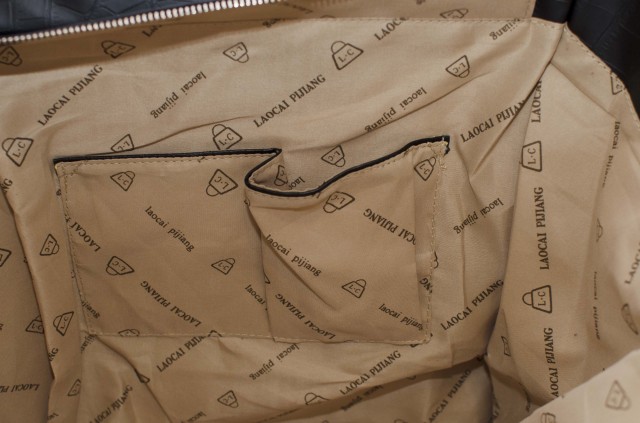 On the other side of the purse, it has two interior pockets as well.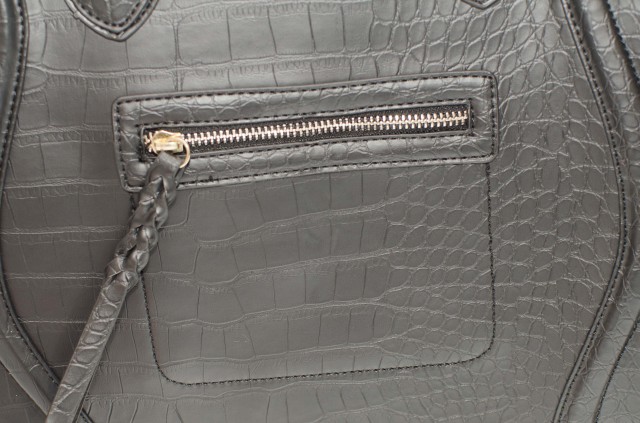 It has an exterior Pocket as well which was just large enough to squeeze an iphone in. I wouldn't recommend this because it is very hard to get in and out. As you can see the hardware on this purse is gold, where I prefer silver or black hardware better.  Also, I do prefer the more matte look that this purse has,but since it isn't real leather, I don't know how the wear and tear would be on this bag. I would say this purse is better if you have a lower budget to spend, want a lighter weight purse, want something more for binders/folders, and if you don't care about it looking very close to a true Celine Bag.
http://www.vjstyle.com/shop-womens-bags/crocodile-shopper-bag#customer-reviews – I am in no way being compensated for this post, nor does this company know that I even wrote a review. This company does have very good customer service and always answered any of my questions.
This purse can also be worn open.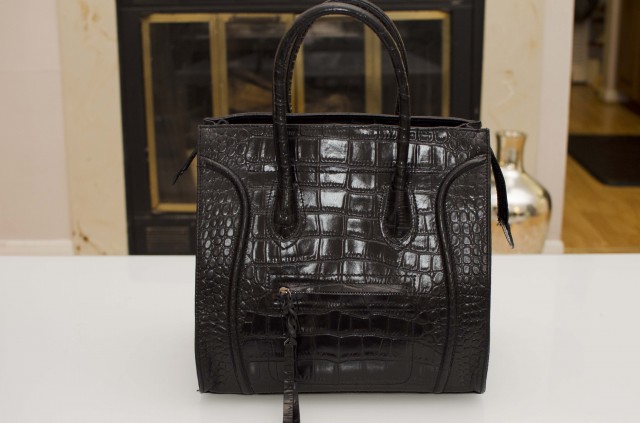 You can also wear it more closed and square as well.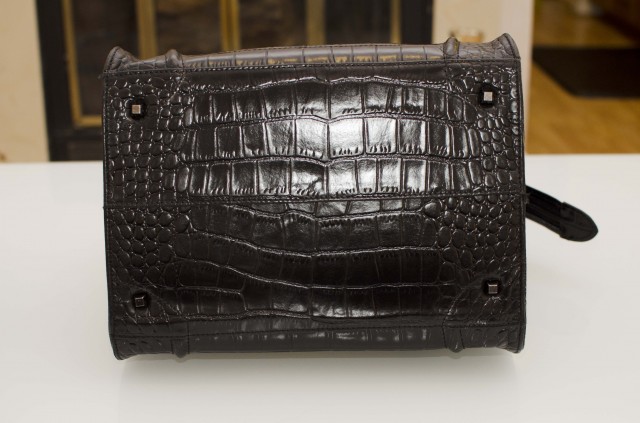 This is the bottoms of the bag, and as you can tell the hardware on this bag is black which I prefer and is closer to the true Celine bag.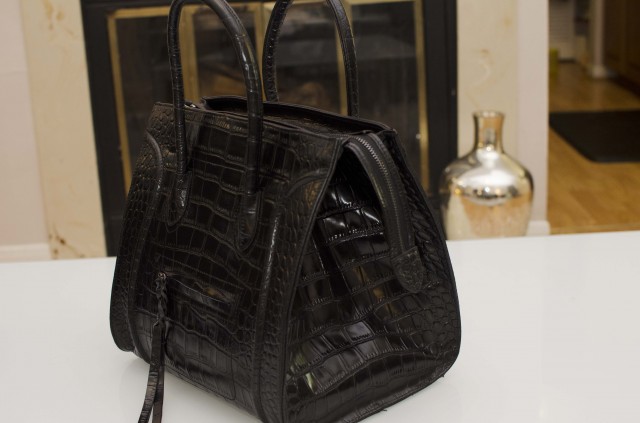 A side view.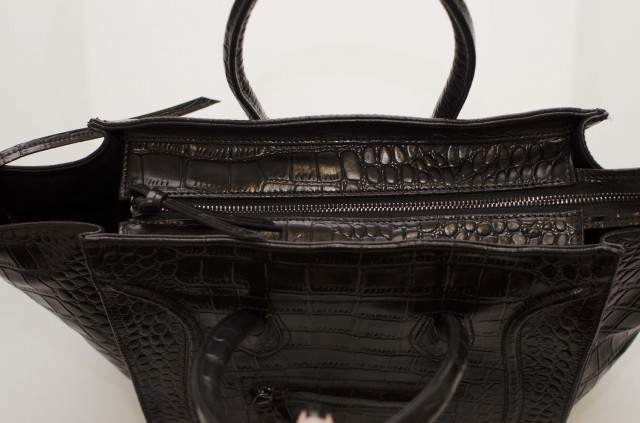 This can be worn wide with the zipper closed as well.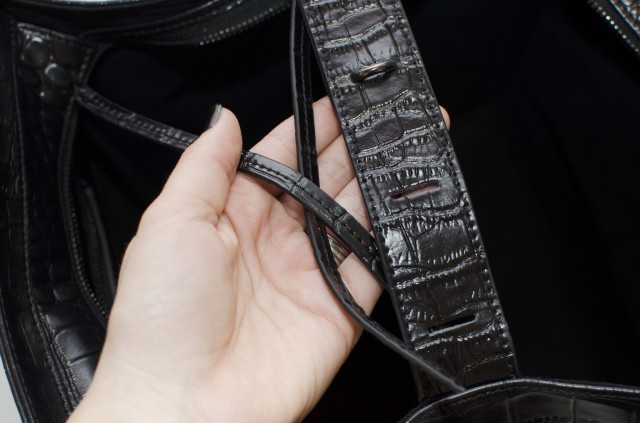 It also has the same type of closure as the other bag does.
The inside is VERY large so you can store sooo much stuff in it. It has a felty/suede feeling interior which is also more like a true Celine bag.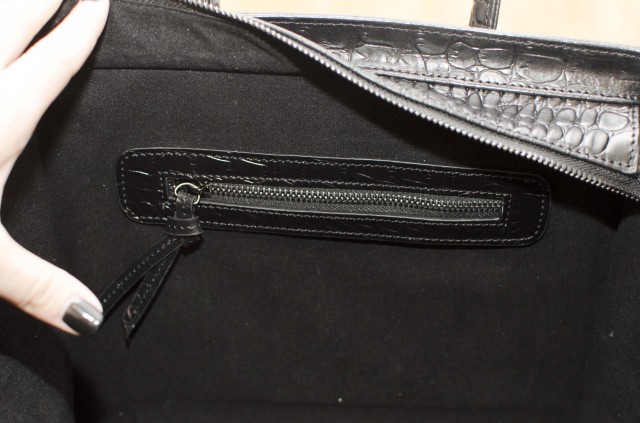 It has one zippered pocket inside that easily fits an iphone.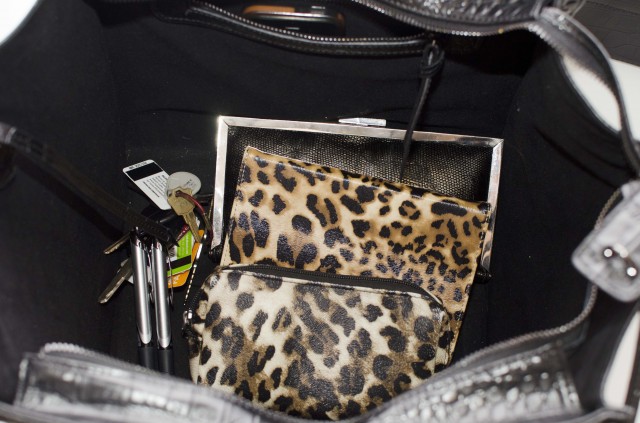 Here is just a quick shot of my wallet, keys, two pens, kindle, make up purse, iphone in zippered pocket, and there is still a bunch of room left over. (It does fit binders and folders too,but can easily get very heavy because you can fit so much in.)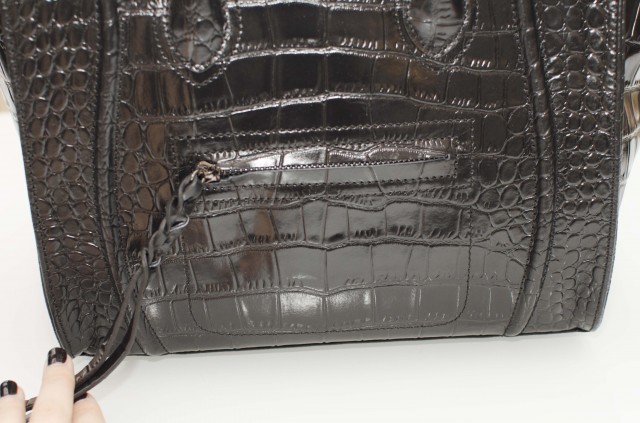 Here is the front pocket.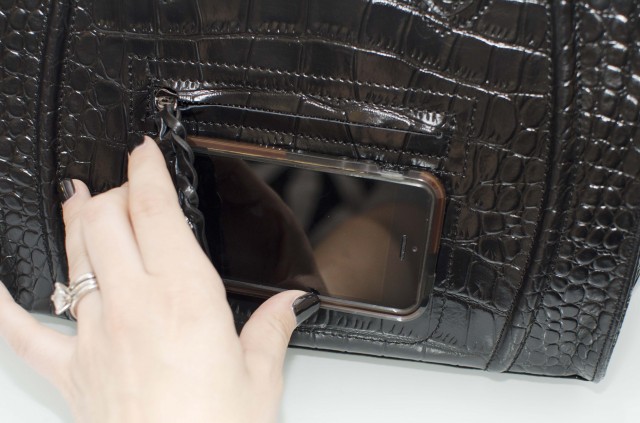 It can hold an iphone,but just like the other bag it is a pain to take out and put in so this is just for reference.


This purse is heavier, it is real leather, it has more of a glossy look, but you can tell it is really sturdy. It is more expensive, it has way faster shipping (around a week) and has free returns which is nice. It has the black hardware, it is the closest I can find to a Celine purse, and boy does it hold a lot of stuff.

http://www.baginc.com/whitney-cowhide-leather-bag-in-croc-effect-black.html – I am in no way being compensated for this post, nor does this company know that I even wrote a review. I never had to contact their customer support so I cannot say how good or bad it is.
Thanks for reading, and please let me know if you have any questions on this!