I have been having weird issues with my back/shoulder. No pain, but I noticed a while ago that one shoulder was higher than the other. We were pretty sure it was from the type of purse I was carrying. So I switched to a messenger/cross body purse so it wouldn't get worse. Two months ago, I started going once a week to this spine care specialist/chiropractor(all of the hospitals and physical rehab places only refer to him). Anyway, he looked at my shoulder and said it is an easy fix because there is no damage yet,but if I had waited 20 years or so, I would have needed rotator cuff surgery which would have been painful, long recovery, and expensive. So he did tissue massages to loosen the muscles so they can start going to the right places, gave me exercises to do at home, and told me the best thing I can do is get a standing desk at home. He said the purse did a little,but mainly it is sitting at a computer which go figure I do all day.  He said that when you stand your head weighs about the equivalent of 10 pounds and your back, neck, and shoulder muscles all go back and forth maintaining balance. He said when you sit, your head shifts forward and your head weighs the equivalent of 25 pounds and it is only your neck muscles that get the strain. He said this is why so many people have a lot of neck strain among other health issues from sitting all day. I don't have that issue,but with bending forward and using my mouse with my right hand, the right shoulder was slowly starting to turn in. It will slowly fix itself with a standing desk since your posture is different when you stand.  We were worried about going to a chiropractor because we have been to some who never have an ending date they just always want you to come back and pay even if you don't need it. So luckily, I am already down to once every two weeks, and next month it will change to once a  month, and then only when I feel like I need to go. So, I am happy we decided to have me go just in case because we are trying to take care of ourselves as preventative maintenance.
I am not posting this as saying that everyone who sits down all day is doing it wrong, I am just saying what I was told and am trying to do. I know my sister is a stay at home mom, and she is so busy through out the day that she might sit down after dinner for the first time. So, this doesn't apply to everyone, and at some work places you cannot have a standing desk. Since I am lucky enough to work from home this was doable.
Our next issue was getting a standing desk. First of all, I have a desk that I like and would rather not store it so after looking at prices for a new desk, we decided to find a way to raise my current desk.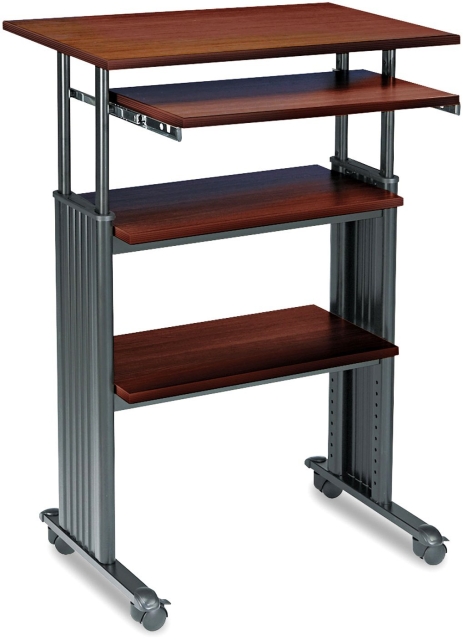 Safco 1929CY Adjustable Height Stand-Up Workstation, 29w x 19-3/4d x 49h, Cherry PVC Top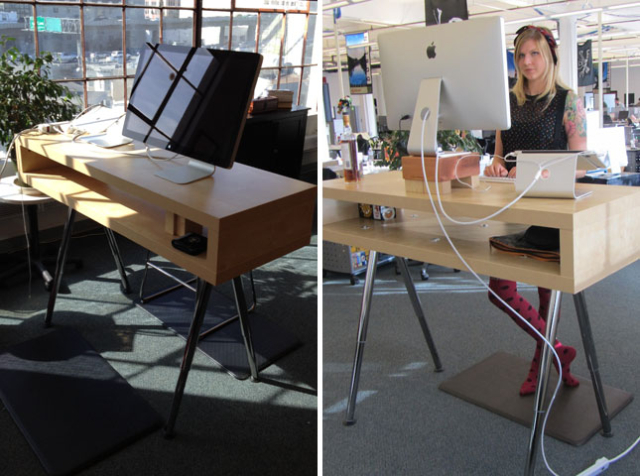 There are a lot of DIY tutorials, and this one was around $150 with the items purchased from Ikea, and it had a better look than most, but still not a way to edit my current desk.
Ikea now sells a very nice adjustable desk that has a great warranty on it too.
HERE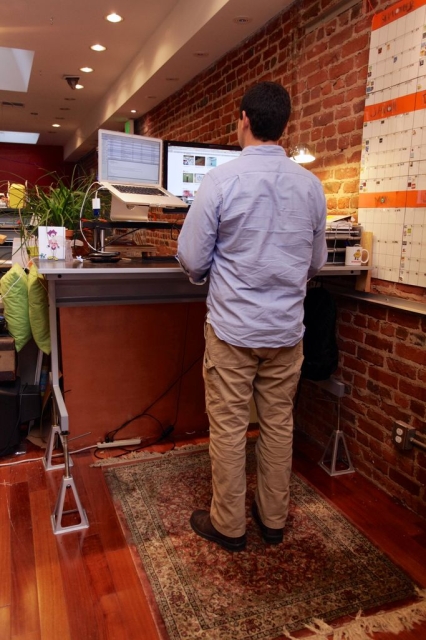 Eventually Grant found the above tutorial on
Instructables
that was closer to what we were looking for. A cheap way to raise my desk. We looked at just getting a small portion of my desk raised, but a lot of the reviews were saying that it was really awkward and was much nicer to raise the whole desk.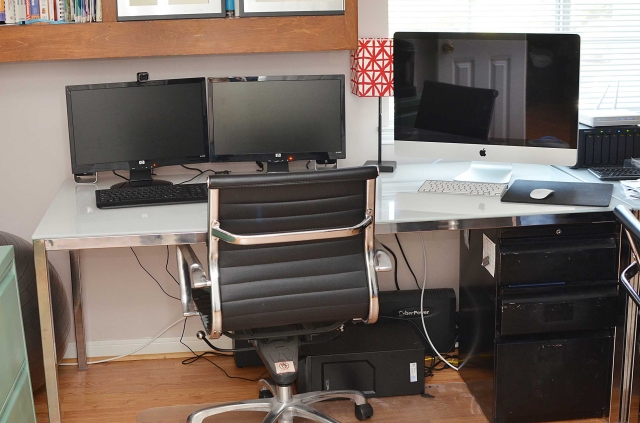 So here is my desk starting out which is an Ikea Torsby dining table.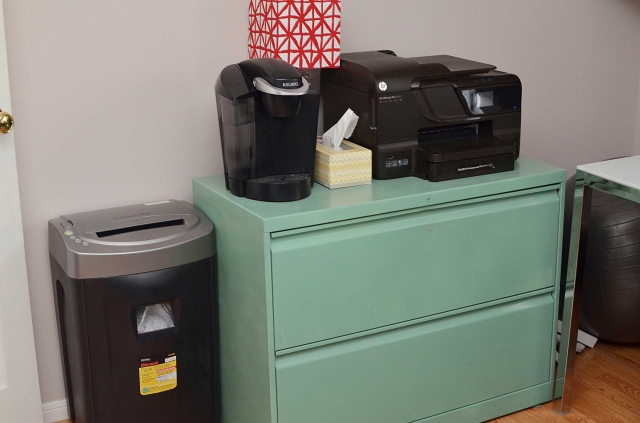 The filing cabinet area that the desk will have to go over due to a built in shelf on the wall in that room.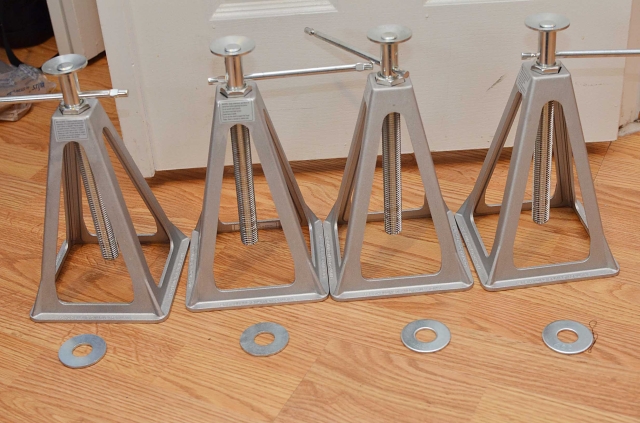 Camco 44560 Olympian RV Aluminum Stack Jack Stand – 4 pack
So we bought the same Aluminum Jack Stands for around $35 on Amazon, then 4 washers to help displace the weight, and we are still looking for one more set of nuts. The regular threads aren't working that home depot and lowes sell.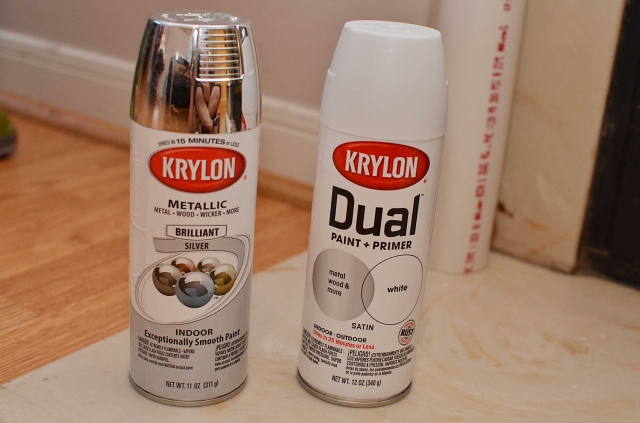 I bought Krylon paint and primer.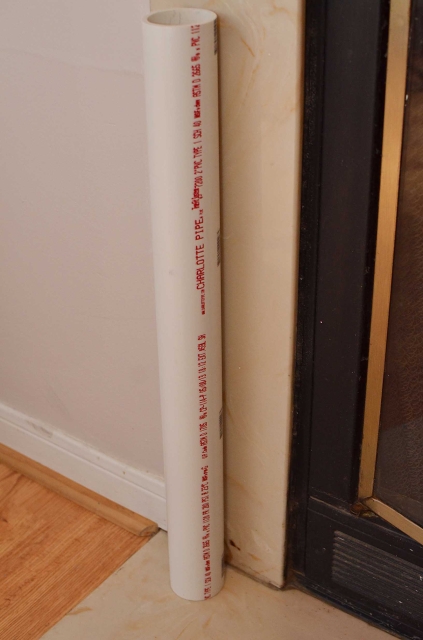 Then some PVC pipe because we wanted to make sure that my desk couldn't be pushed off of the stands since it is a different type of desk than the one in the tutorial.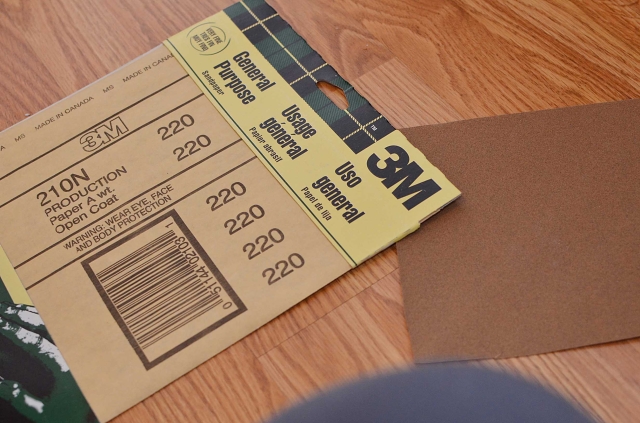 Some sand paper.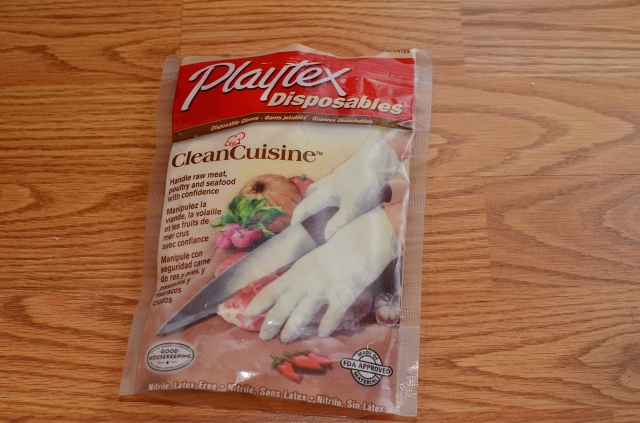 Gloves and a face mask if you want one.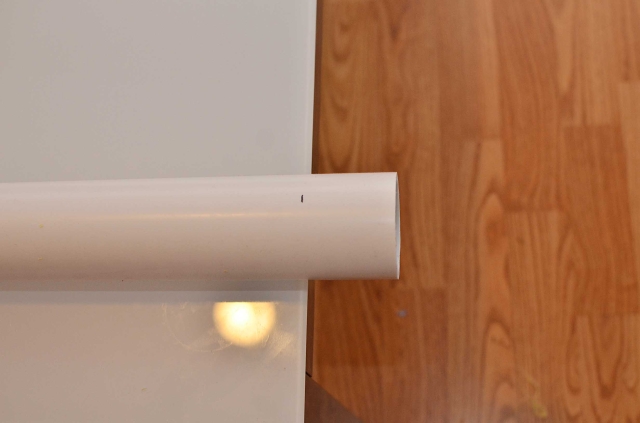 Mark with a sharpie where to cut.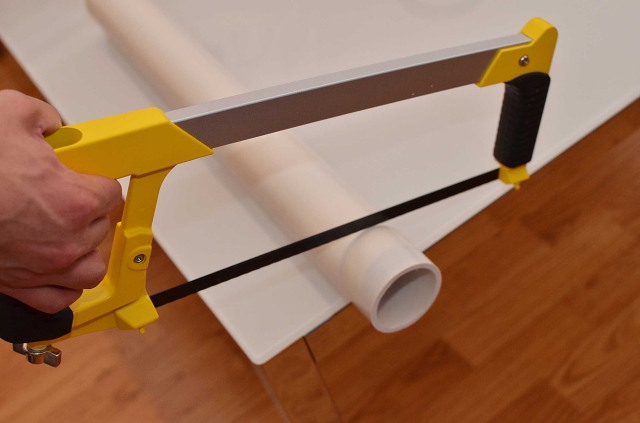 DEWALT DW3970 12-Inch High Tension Hack Saw Frame
Use a hack saw to cut off the portion you measured.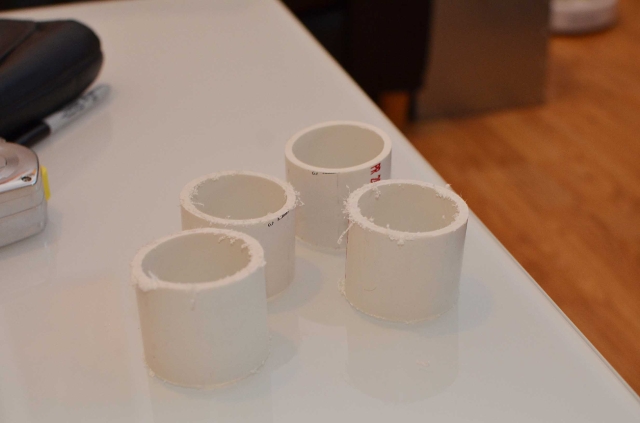 Like so.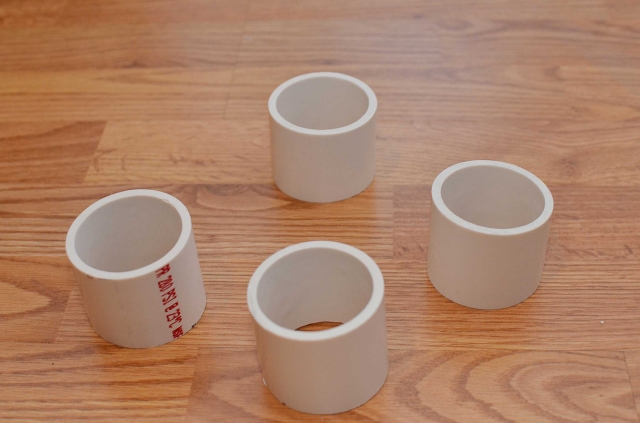 Sand off all of the raw pieces.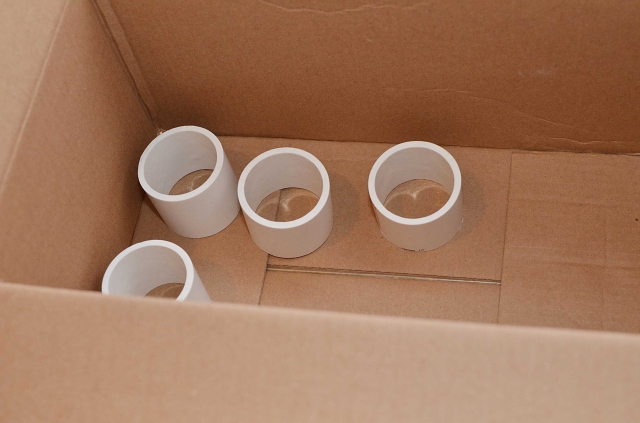 Put them in a box or on a tarp so you can spray and prime them according to the directions on the can.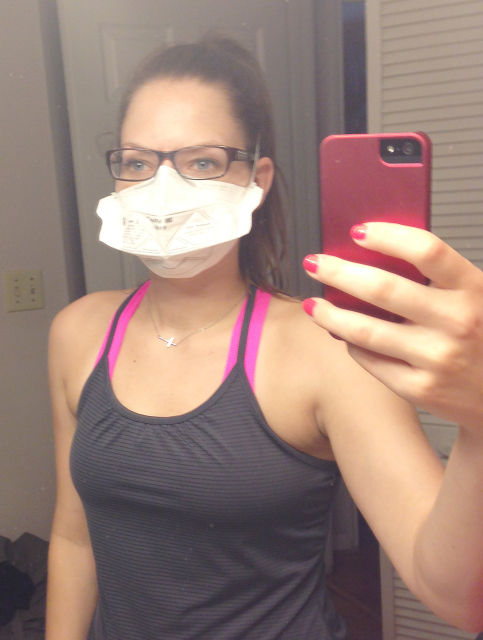 Freak out all of the neighbors while wearing the face-mask so you don't breathe in fumes. I like to wear rubber gloves(not shown while spray painting so my fingers aren't weirdly colored for days).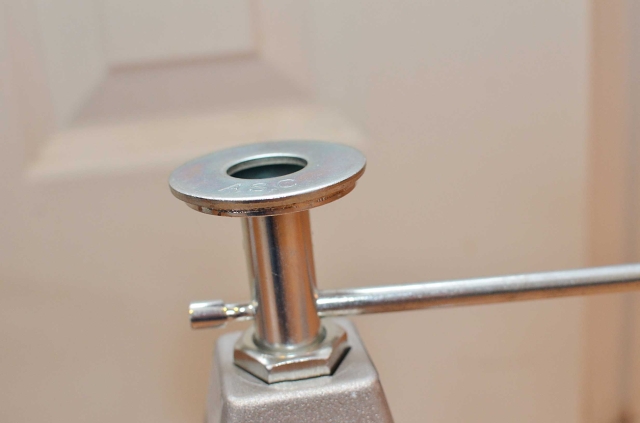 We placed the extra washers on top of each jack.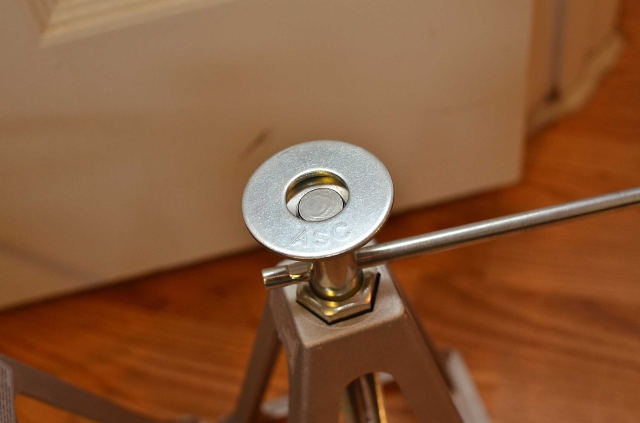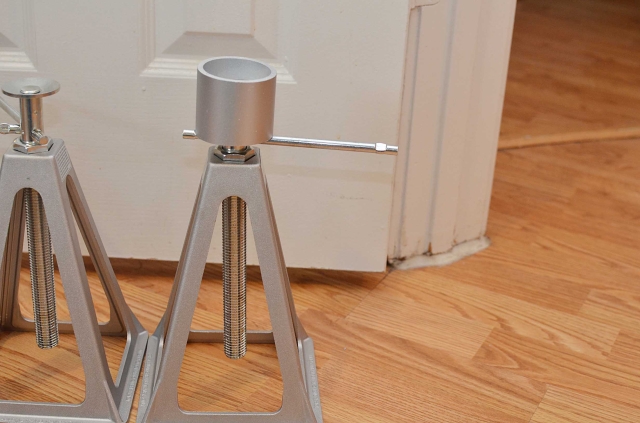 Then placed the spray painted PVC portions on top of that.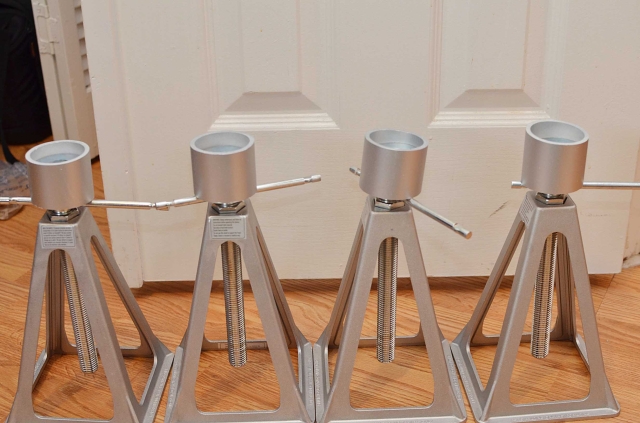 This way they will keep my desk legs from being pushed off of the small circle.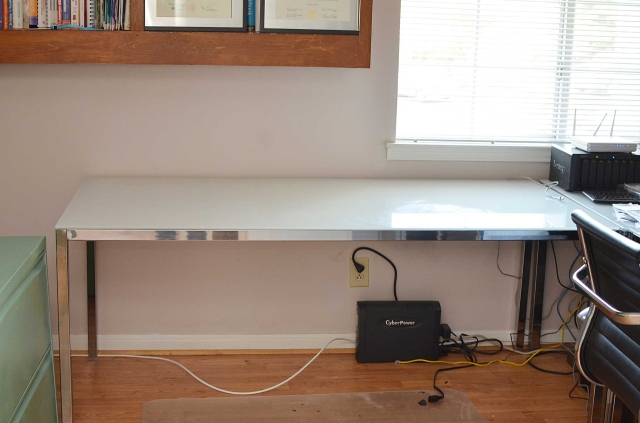 Clean off your desk and unplug the craziness of wires and cables.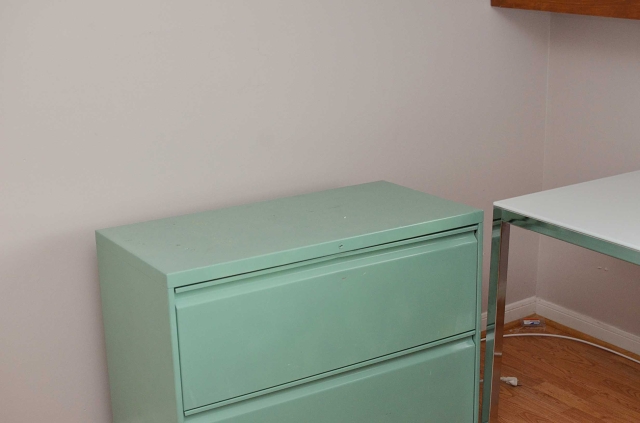 Clear off and clean the top of the cabinet.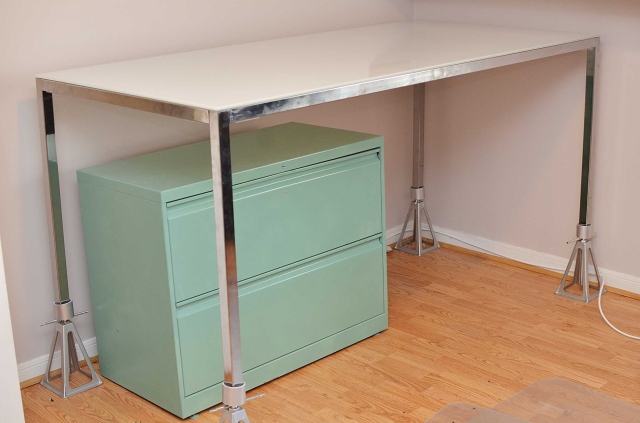 Move desk over and place on the mounts.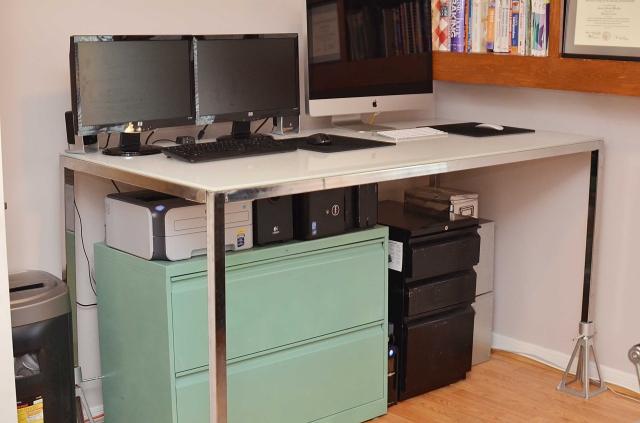 Then set everything on top; I used it like this for the first two days,but knew we would need to raise it more.
Dual LCD Monitor Stand desk clamp holds up to 24″ lcd monitors
We bought these Monitor mounts for my work monitors since they sat way too low. It was surprisingly cheap for this mount that had great reviews.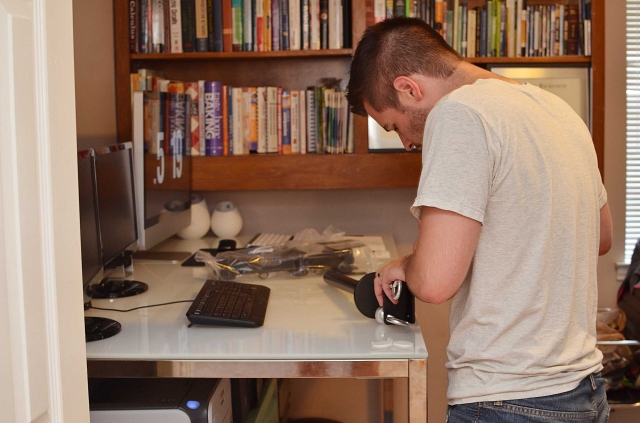 Grant setting everything up.
So once that was all set up and moved to the correct height, we raised the desk as well.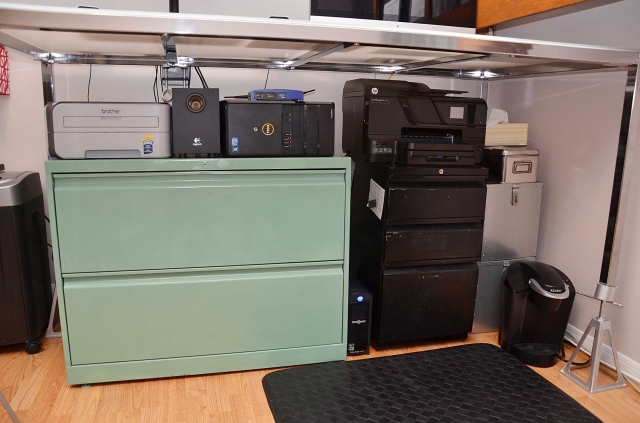 Here is everything that I have underneath, both printers(work and personal), work sub, and work computer as well as the foam mat from our kitchen.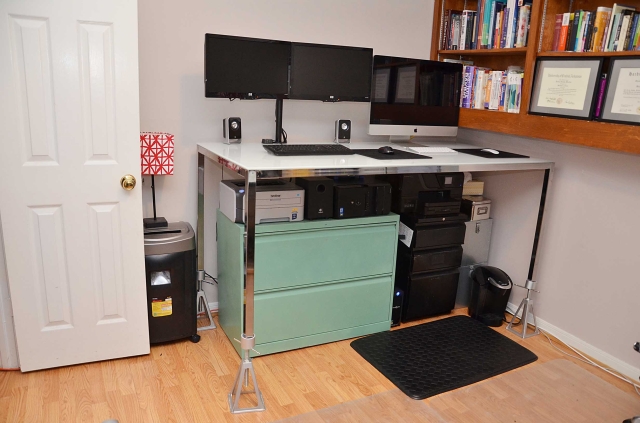 So here is what it looks like now being raised to the correct height. I have been using it over a week and have adjusted to using it faster than I expected. I am not as sore as I expected. They say to stand 70% of the time and sit 30% of the time. So whenever I eat, I will make sure to eat at the kitchen table, or when I take a phone call I will sit in Grant's chair behind me.  I sometimes sit on the couch in the evenings after work so I figure that should all add up to around the 70/30 ratio. Also, a lot of people get a barstool chair which fits completely under the table for when they don't want to stand, but I want to wait and see how everything goes before buying a barstool.
I might raise my iMac, but it is a pretty good height already so we will see.
So far, my chiropractor has been happy with the changes he has seen in my shoulder. I also have felt more active. When I stand at the desk more, I have been more in the mood to do chores and other things since I am already up and moving. Our condo has been a lot cleaner which is nice. I have been doing dishes in the morning before work, laundry on my lunch break, and general cleaning and cooking after work. I like that this is a nice cheaper fix, and it isn't permanent. I see this as a long term thing, but I really didn't want to mess up my table.
It cost us a total of $50 for all of the supplies which included the Aluminum jacks, spray paint, primer, washers, and PVC pipe. We had all of the other supplies but still way cheaper than most of the other ideas we could find.
http://www.liakeyes.com/the-benefits-of-a-standing-desk/ An interesting article about some of the health benefits of a standing desk.
Please let me know if you have questions or if I have left something out.