I just wanted to take a moment and do a review of my own experiences with some of the different Gel Polish Brands. When I started looking into doing my own gel nails at home, I kept trying to find a review of the differences of some of the common brands. I never really found any because all the reviews were sponsored by one of the brands. I am not sponsored and haven't gotten any of my polishes for free or by any of those companies. I am just showing the brands that I thought were the most affordable and readily available. I got the brands below at Target, Walmart, and Amazon.com; I know that Sephora and Ulta have their own brands, but I normally don't shop at those stores, and I just assumed they are more expensive. I could be wrong on that though.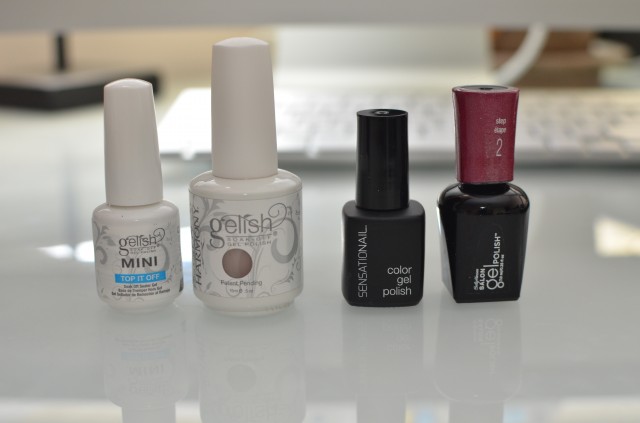 So here are the different brands that I have: Gelish(which is considered the salon Brand), Sensationail(sold at Walmart and the cheapest price wise), and Sally Hansen(sold at Target and Walmart).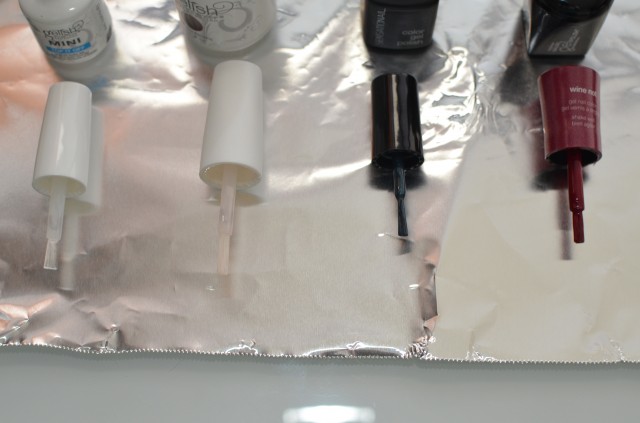 I honestly felt that most of the actual polish of the different brands all work the same. It comes down to how good of a job you do painting it, not getting it on your cuticles, and how tough you are on your nails.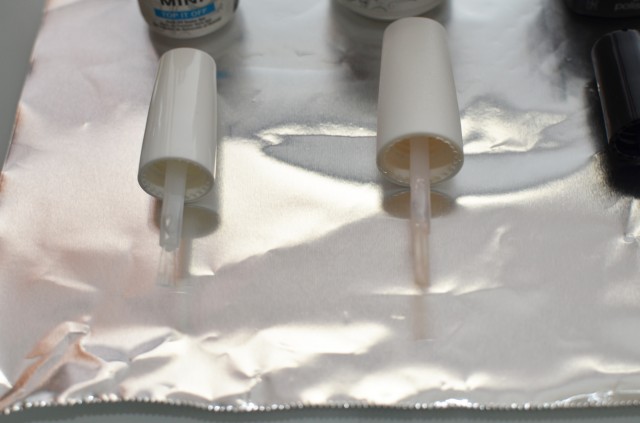 They all however have different shaped brushes. The Gelish Mini which is the left one is sold at Sally's Beauty and costs between $12-$16 a bottle depending on their sales plus Tax. It has a shorter, wider square brush, and it comes with 0.3 FL ounces in the bottle. The regular sized or larger sized bottles from Gelish which is on the right has.5 FL ounces in each bottle. I have only been able to find these on Amazon, but they tend to cost between $11-$12 dollars. You have to watch because some places will charge less, but then more on shipping. I don't have to pay tax on amazon, but you get more polish for the price. This one also has a square wide brush similar to the mini's brush.
Both of these polishes are fairly thick which can make it harder to get the nice thin coats that really make the gel polish last and look great. Since this is the Salon brand that has been around for a while, it has a lot of colors to choose from.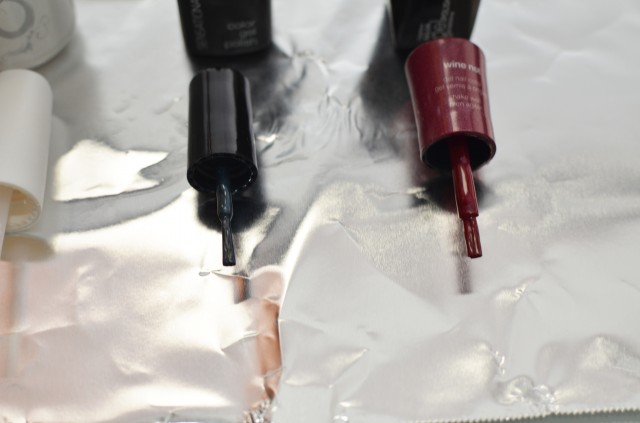 The on the left we have the Sensationail polish whose brush is almost identical to a typical nail polish brush where it tapers from a wider bottom to a smaller top. This polish is the cheapest around $10 at Walmart with a pretty good color selection of colors, and they almost always have coupons to get them even cheaper, but you do pay tax on it . The Sensationail has the thinnest polish and the smallest brush so for me made it the easiest to make the polish look great. The Sensationail comes in  .25 FL ounce bottles. Then on the right we have the Sally Hansen polish which has the smallest color selection of all of the ones I have mentioned so far,but I feel like their colors are the most "professional" everyday colors. The polish is a little thicker than the Sensationail, closer to the Gelish brand. The brush is a little smaller than the Gelish brushes,but still larger and more square than the Sensationail. The Sally Hansen brand is sold at Walmart and Target, and it costs around $12 then you also pay tax. They have coupons for this brand as well sometimes, and it also comes with .25 FL ounces per bottle.
This is not a review to say one of these brands is better than another, just to give you an idea of your options. I think the final choice will come down to wanting a certain color that only one of these brands might have. I think I personally prefer the Sensationail because of price and easier application,but I will continue to use my other brands just as often. I hope this is helpful, and please let  me know if you have any questions.
Again, I haven't been paid or anything, I just wanted to give some information to those who might be interested.
If you are interested in my CND Shellac Review, Click Here!