After much digging in the fridge and online searching, I decided to try my hand at a new type of omelet, and it was super delicious. The one good thing to say about the Keto diet is it helps me try new recipes more so than I used to. I mean I rarely made the same dishes repeatedly unless Grant wanted them,but I just had a larger arsenal of great recipes that I am trying to build now for us. We are still enjoying this diet and have noticed that both of our skin is much clearer as in hardly any acne which is wonderful!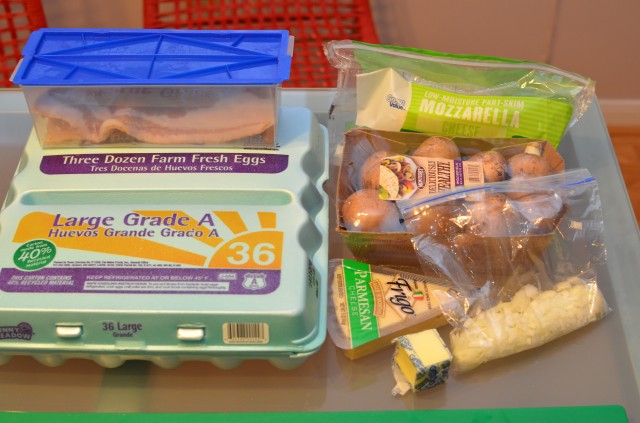 Gather your ingredients: I used eggs, mushrooms, bacon, onion, butter, mozzarella, and parmesan cheese,but you can always add other veggies that you prefer.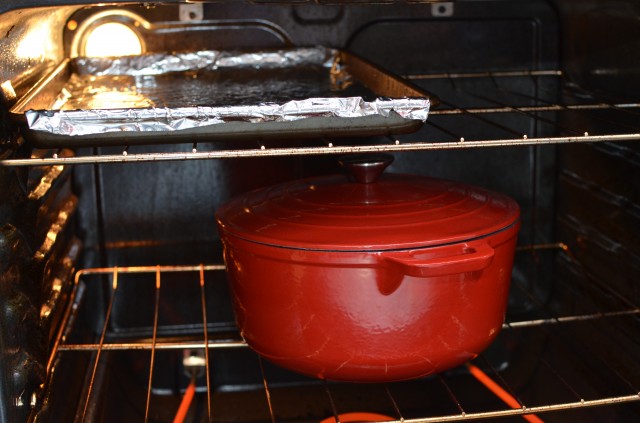 You can make the omelet portion in a skillet, but this method was very nice and fast! Preheat the oven to 350F and preheat your dutch oven with a lid. Ignore the cookie sheet, I ended up not using it. Also, you don't need a very expensive dutch oven, I got mine for $30 at Aldi. It is completely glazed on the inside, and it is important to make sure the knob is metal or cast iron so the lid can be in the oven as well. I know that Ikea sells ones very similar in look and price.
I had left over onion from a previous time so I just threw it in the skillet,but I would use one small onion for this recipe.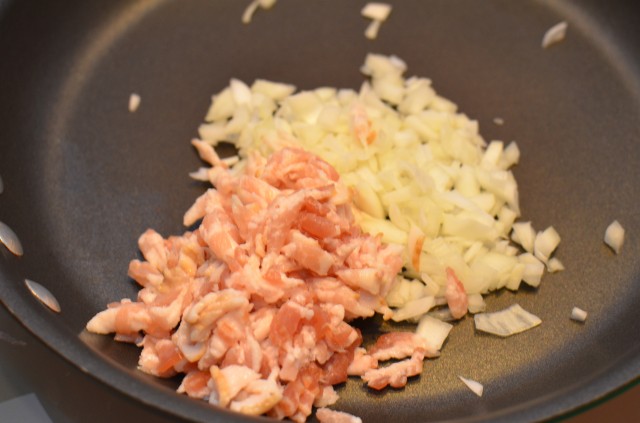 Cut up 4 slices of bacon, I prefer to use my kitchen shears.
Chop up mushrooms, I used around 4-5oz.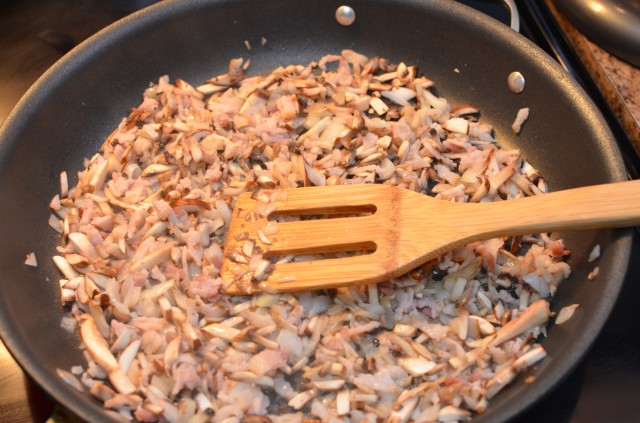 Add butter or bacon grease if it needs it.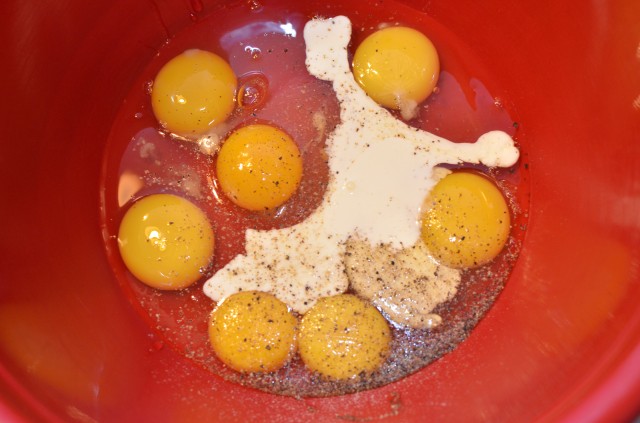 Add the eggs, egg yolks, salt, pepper, and heavy whipping cream.
Mix as well as possible.
Once heated, spray or butter your dutch oven and pour half of the egg mixture into it.
Place lid on top and close the oven and let it cook for 2-3 mins and then check on it, if it isn't completely cooked wait another minute or two.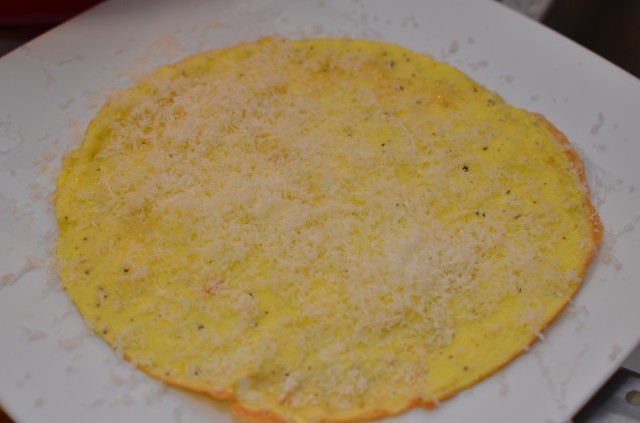 Use a spatula to take the egg portion out of the dutch oven which is super easy. I then topped it with cheese (mozzarella and parmesan).
Cook the filling until everything is cooked.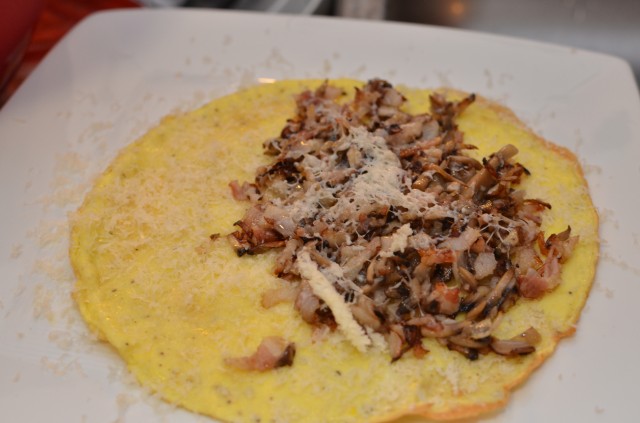 Add the finished filling ingredients and then top with more cheese.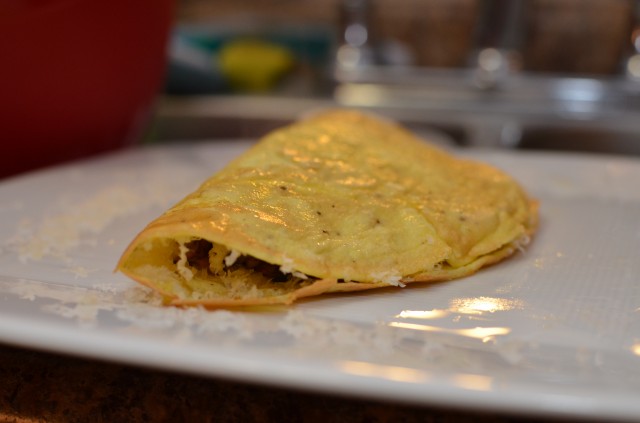 Fold over.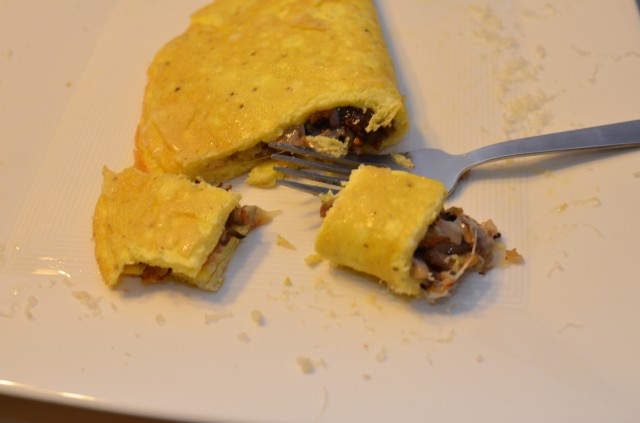 Then enjoy!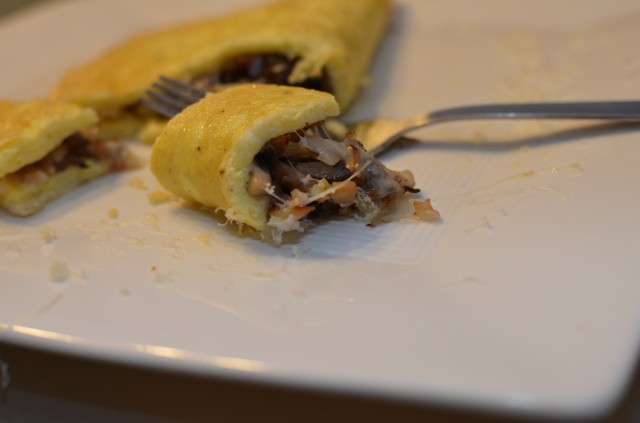 This recipe was AMAZING, and we will be making it again and again. I honestly don't have any things that I would change on it! You could make it like a regular omelet with all of the filling ingredients in the egg mixture, but I felt this way there weren't weird uncooked portions and all of the filling was cooked and not crunchy like the onions for instance.
Keto Omelet Dinner (adapted from this recipe)
Serving Size: Â 2 omelets
Ingredients:
Onions – 1, thinly sliced or chopped
Mushrooms – 4-5 oz. chopped
Butter or Bacon Grease – 2 tablespoons
Mozzarella & Parmesan cheese – 1/4 -1/2 cup
Bacon – 4 slices, diced
Eggs – 4
Egg Yolks – 2
Heavy Whipping Cream – 3 tablespoons
Salt and Pepper – 1/2 teaspoon each
Directions:
Preheat the oven and dutch oven with lid at 350F. Chop the onions, mushrooms, and bacon and add to skillet with butter or fat of choice and start sautéing. Mix the eggs, egg yolks, heavy whipping cream, salt, and pepper. Stir well. Add half the egg mixture into the sprayed or buttered dutch oven for 2-3 mins or until done make sure the lid is on. Once done, remove from dutch oven place on plate with cheeses, saute mixture, and fold over and enjoy. Â Once the first omlete is removed from the dutch oven, rebutter or spray, and add the last of the egg mixture and replace lid. This omelet will take a little longer than 3 mins to cook but check on it occasionally. When done, top with cheeses, and toppings.