I am sorry for this long absence! The week before last, I was feeling a little bit under the weather but just couldn't shake it. This last week, I really started feeling bad but couldn't take any sick time due to the fact that one of my coworkers was out for spring break. I was doing her job and mine so couldn't afford to take that time off. It was all I could do to finish all the work and get dinner ready before just laying around. Needless to say blogging was the last thing on my mind. I finally went to the doctor on Thursday and have a sinus infection. Now that I have drugs, I am much happier and will hopefully get back on the blogging bandwagon.
I spent most of Sunday sweeping and mopping our entire condo, cleaning the kitchen top to bottom, washing and putting away all the dishes, and folding and washing all the laundry. Everything always gets a little behind whenever I am sick,but since the weather was warmer I decided to go all out. I know our place will get messy and dusty again, but boy is it nice to see it so clean.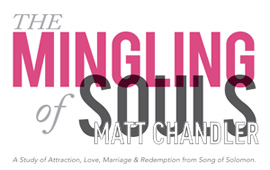 While we were still in Austin, our Group had a Wednesday Study where we were working through a series called The Mingling of Souls by Matt Chandler. It was a great series, and we were able to complete it by ourselves since our move. It is very funny, down to earth series that I feel like could help couples that aren't married, couples that are married, and older married couples. The series is based on the book of Song of Solomon. Â I hope you give it a chance especially if your church already has the series to where you can watch it for free. I thought the videos were plenty, we didn't realize use the user guide,but it did help with group discussion.
In this series, there was great conflict practices on how to argue with your spouse in a healthy way, how to be more intimate, and how to build romance over time. Â Grant and I both really enjoyed it. I think the first few videos can be found for free on Vimeo too. We aren't big on most video series,but this one was awesome.
I hope you have a great week!