This is one of those dishes that I LOVE LOVE LOVE, Grant is weird about textures but even if something isn't his favorite as long as there are no peas I don't get any complaints especially since he didn't have to cook.  I always get this soup at Olive Garden, and I think this is delicious. Grant thinks it is good,but he just isn't a HUGE soup person. Anyway, this recipe is super easy and you can make it either in a stock pot on the stove or in a crock pot.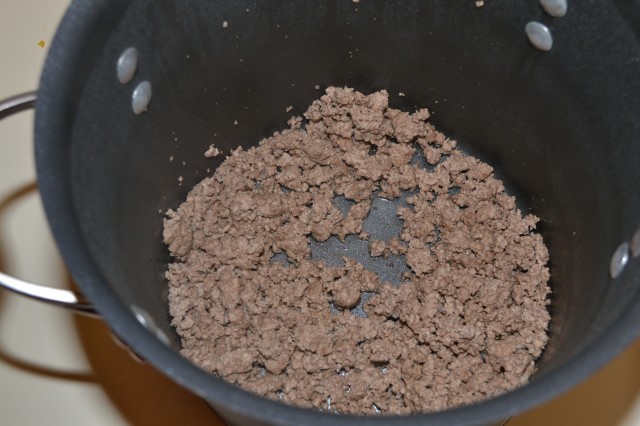 No matter how you prepare you need to brown and drain the beef and then either leave it here in the stock pot, or add it to a crock pot.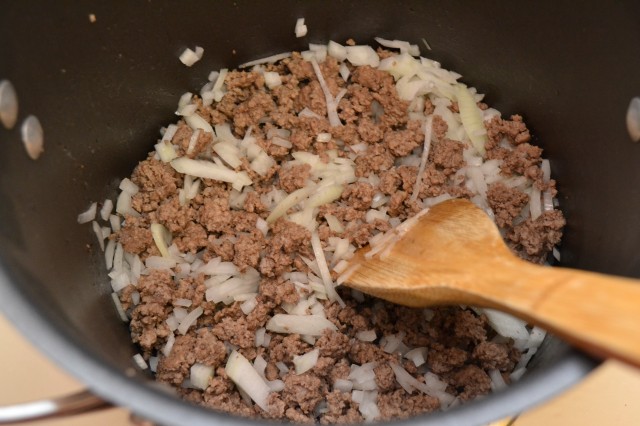 If not making it in a crock pot, add onions and garlic.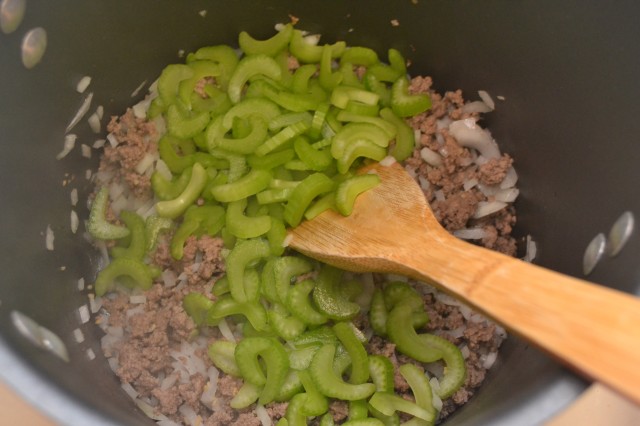 Add Celery.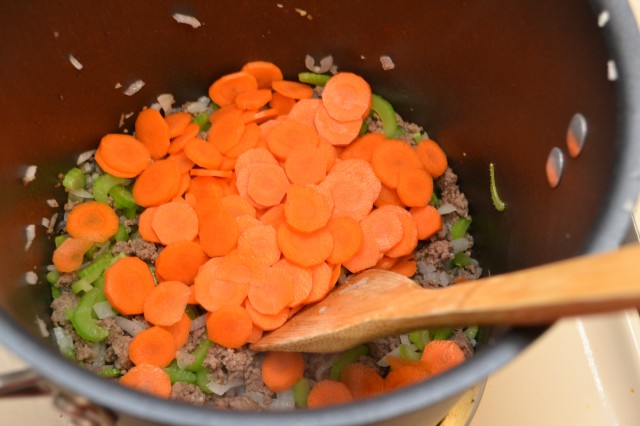 Then add the carrots, the recipe says Julienned carrots,but I was being lazy and cut them this way. Then Saute for 10 mins.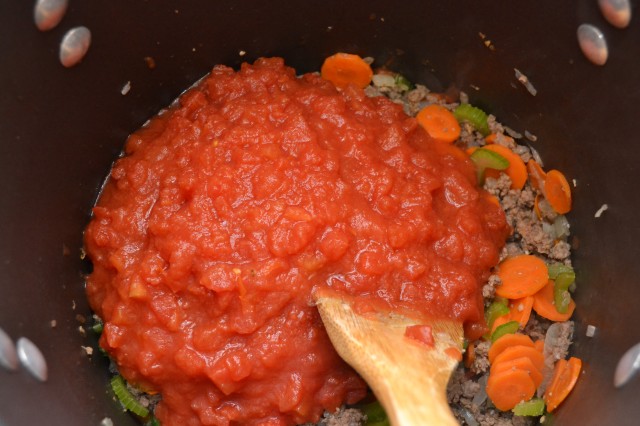 Add Diced Tomatoes and Tomato sauce.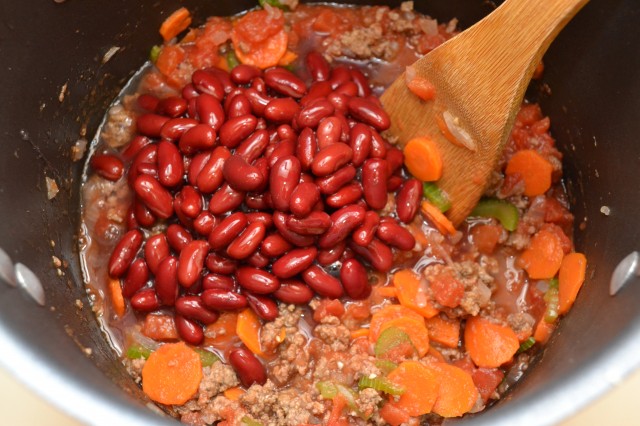 Add Kidney Beans with the liquid.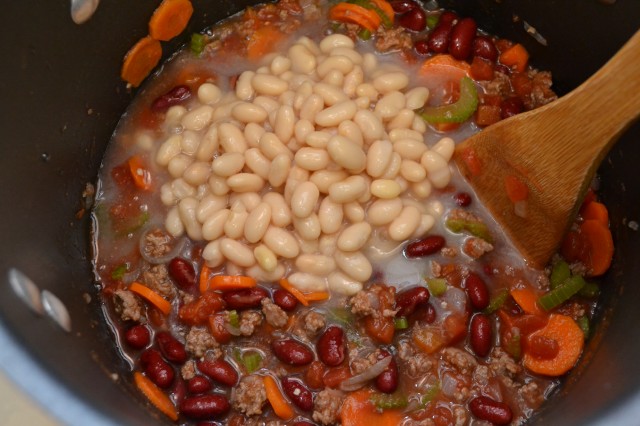 Add great northern beans with the liquid.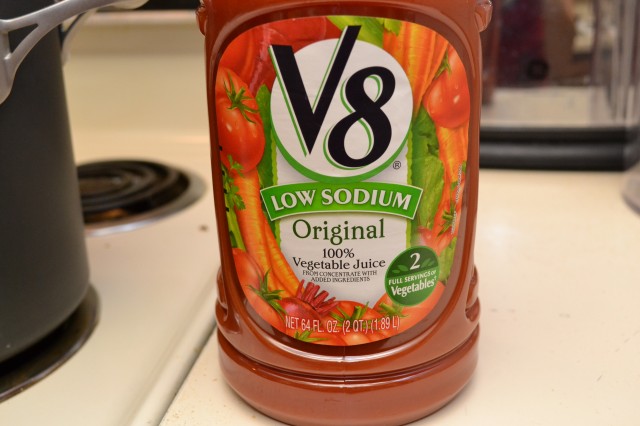 Add V8 which is the secret sauce; the original recipe called for 12 oz. but then it was more like a thick stew, and I wanted the consistency to be closer to Olive Garden's recipe so I add all 64 oz.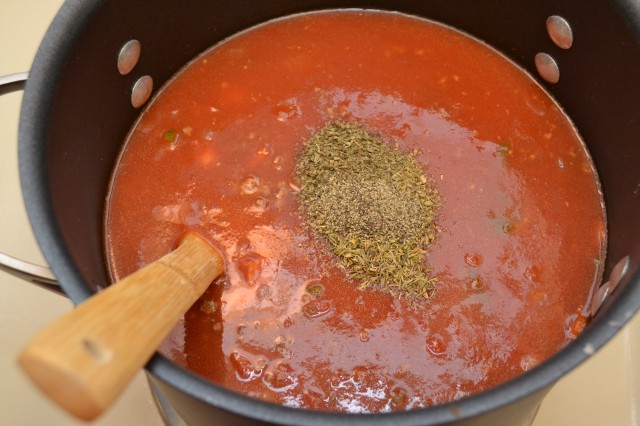 Add the seasonings and stir.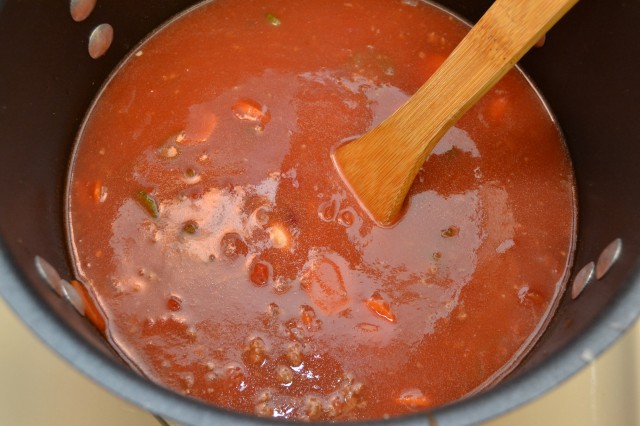 Then let it cook for about 50 minutes and cook pasta and add to it before serving. You could cook this in a pressure cooker to speed up the 50 minute time OR after browning the beef put everything in a crock pot and let it cook for 4 hours on high that way you don't have to watch it.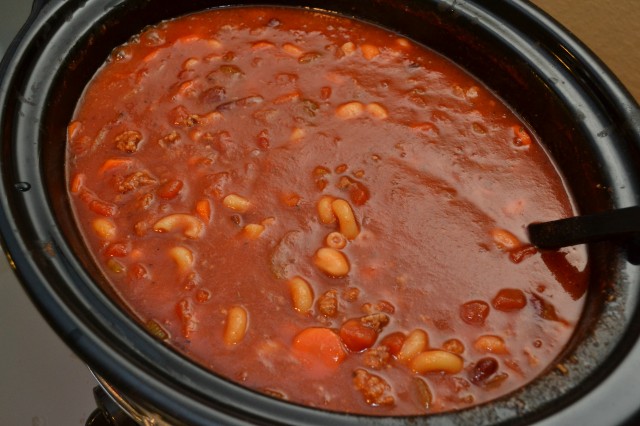 When I make it in the crock pot I add the uncooked noodles and they cook perfectly by the time the 4 hours is over,but if you prefer you can boil them before serving.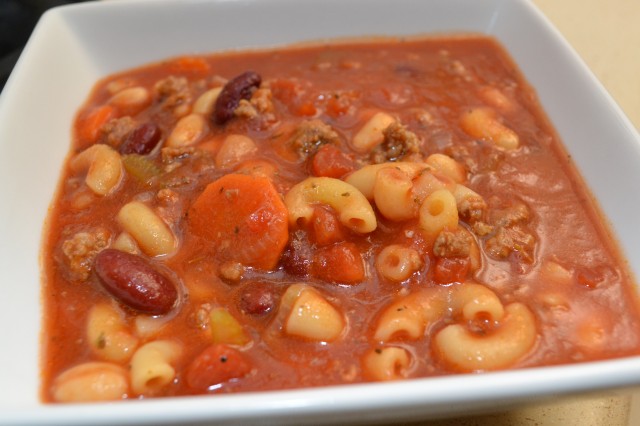 And Enjoy, this freezes well, and it is really good for left overs.
Pasta E Fagioli
Ingredients:
1 pound of ground beef
1 small onion, diced (1 cup)
1 large carrot, julienned (1 cup)
3 Stalks of celery, chopped (1 cup)
2 cloves garlic, minced
2 (14.5 oz cans) diced tomatoes
1 (15 oz. can) red kidney beans (with liquid)
1 (15 oz. can) great northern beans (with liquid)
1 (15 oz. can) tomato sauce
1 (64 oz.) v-8 juice(I use a full 64 oz. container of V-8, gives better consistency)
1 tablespoon white vinegar
1 ½ teaspoons salt
1 teaspoon oregano
1 teaspoon basil
½ teaspoon pepper
½ teaspoon thyme
½ pound (1/2 pkg.) ditali pasta or elbow if you can't find the other
Stove Top Instructions:
1. Brown the ground beef in a saucepan or pot over medium heat. Drain off most of the fat.
2. Add onion, carrot, celery, and garlic to saucepan and saute for 10 minutes.
3. Add remaining ingredients, except pasta, and simmer for 1 hour.
4. About 50 minutes into the simmering, cook the pasta in 1 ½ to 2 quarts of boiling water over high heat. Cook for 10 minutes or just until pasta is al dente, or slightly tough. Drain.
5. Add the pasta to the large pot of soup. Simmer for 5-10 minutes more and serve.
Crock Pot Instructions:
1. Brown the ground beef in a skillet and add to the crock pot.
2. Add remaining ingredients and cook on low for 4 hours. *I add the noodles because they are cooked by the time it is done,but if you are worried about them being overcooked cook them before serving.*
This soup is great as left overs and also freezes well.