Saturday the 13th was an insane day for us. Grant and I tried to sleep in but were awake at 6am. We got up, showered, and I continued packing up the last minute items so when our help came it would all be ready. Grant went to get the penske truck only to find out I had to come with him, so he came and got me, and we went there together. After I dropped him off, I went to einstein's bagels to pick up breakfast for everyone who was helping us move. Then I went to Walmart to get water and orange juice. If you EVER have people help you pack/move, then remember to always feed them well and have lots of water. I had cleaned all of the appliances except the fridge in advanced because I just hadn't gotten to it yet.  Everyone arrived at 10am to help us pack the penske truck. We had around 5 people in addition to Grant and I. The guys started with packing the larger items while we girls brought down everything we could so they could pack things better. As most of the things got moved out, Brandie cleaned the fridge out which was a huge help while Beth vacuumed the areas that Grant and I couldn't get to because of boxes. Once we got to the last couple of items, I went and deep cleaned and wiped down as much as I possibly could. We had the penske, Grant's truck, and my car ready and packed by 1:00pm. All of our help said bye and left while we went to the office to turn in our keys. We are so grateful for all of the help that we got especially since Austin isn't that humid,but that Saturday it was. It just misted all day so it was pretty miserable. Right after turning in the keys, we went to Cedar Park, TX to Nick and Beth's house to shower before we left on our trip.
After our shower we left Austin which felt weird. We knew that we were leaving for good,but Grant and I have moved, driven penske trucks,etc. so many times that it didn't feel like it was us or that it was real. I think once we are gone for a few months, it might sink in.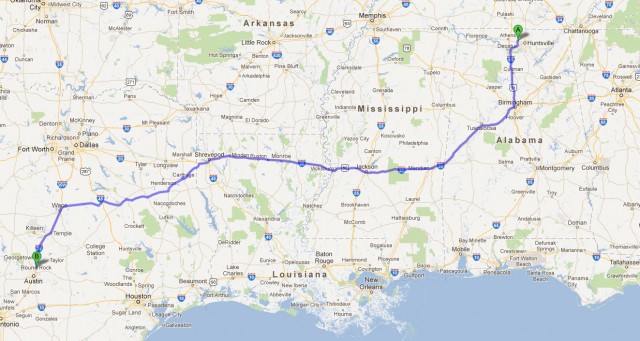 Here is the route that we ended up taking; we were going to go to Dallas, Little Rock, Memphis,etc. but our great friends informed us that there was a huge game in Dallas so we took that route instead. It was a nice route, and it was fun to see areas that I had never driven through before.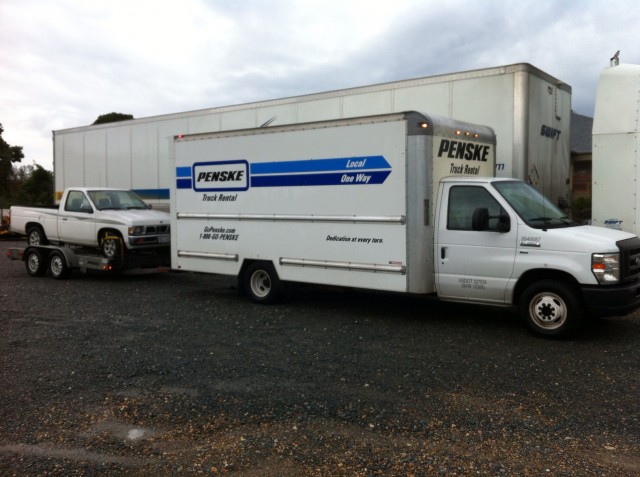 Here is our penske truck pulling Grant's truck, and then I drove my car as well.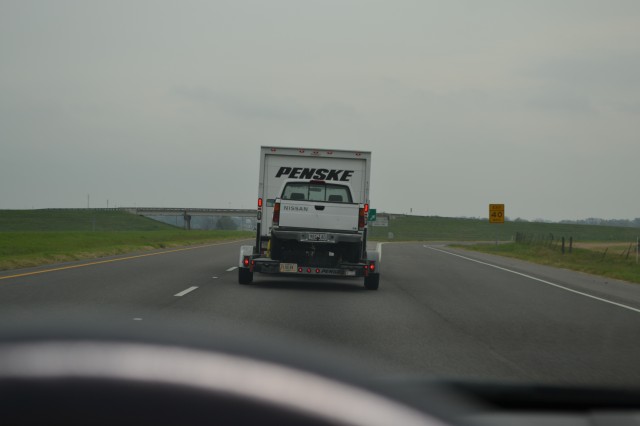 This was my view for most of the drive. 🙂 On Saturday, we drove from 1:30pm from Austin until right after Shreveport, LA to sleep. I didn't get a "Welcome to Louisiana" sign picture because it was dark at the time.
We stopped at a Best Western that was totally weird. Watch the video to see why.
As we were leaving Shreveport, we hit some crazy stormy weather.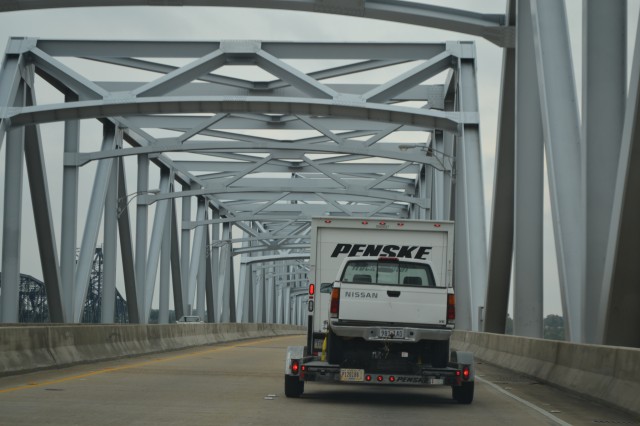 This was right before Mississippi where we crossed a huge bridge!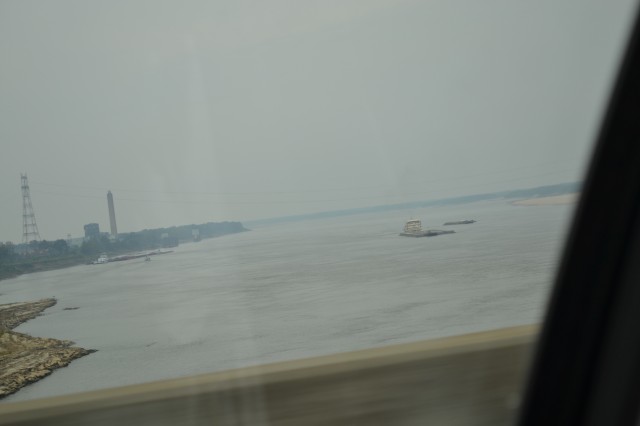 The Mississippi River.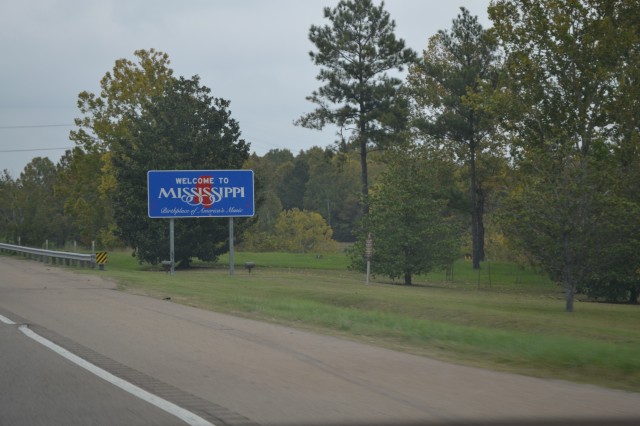 Woohoo!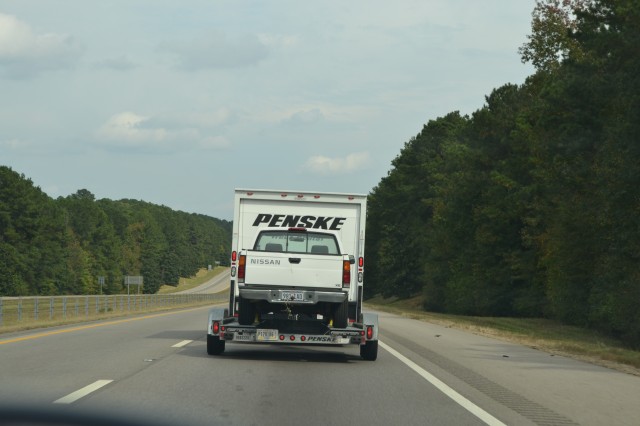 Starting to get hillier and more tree filled.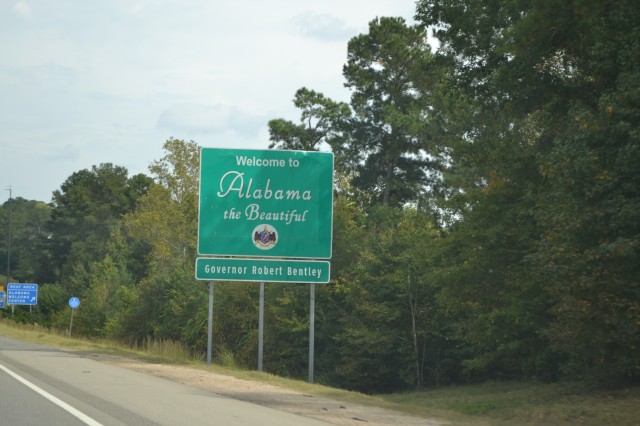 Bama!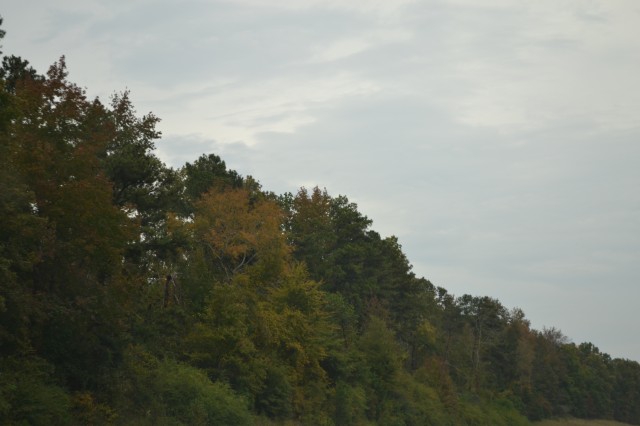 Not the best picture,but you can actually see the leaves changing colors!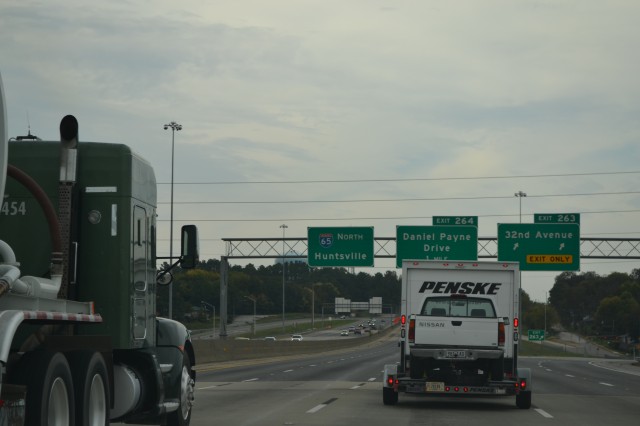 Here was the first time we saw "Huntsville" on any signs.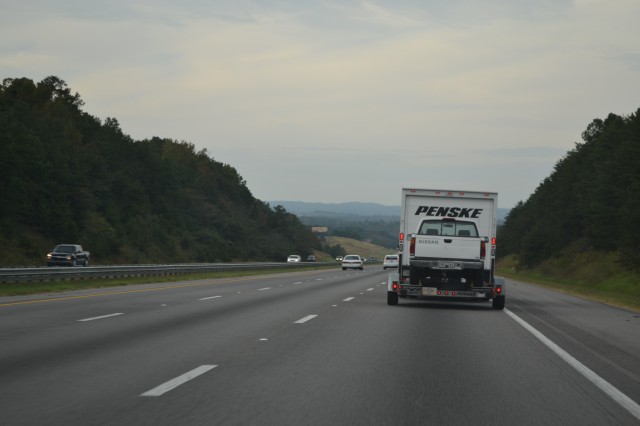 This was the view all the way from Birmingham to Huntsville, it was so beautiful. I am sure Grant hated it with the Penske truck because of the hills,but I was enjoying the views.
When we arrived, we went to our friend's Andrew's house and spent the night there. They were such great hosts even with a 6 week old baby girl, and we were able to go out to eat with them for dinner in one of the many shopping areas. This one was very nice AND they had an H&M there!!!!!!!!!!!!!!!!!!!!!!!!!!!!!!!!!!!!!!!!!!!!!!!!!!!!!!!!!!!!!!!!!!!!!!!!!!!!!!!!!!!!!!!! Grant and I are very surprised with Huntsville so far. It is definitely not Austin,but there are a lot of different aspects that we like so far. We met with the Condo owner on Monday the 15th, and were able to start moving in on Tuesday the 16th. Pictures and video tours to come. We are pretty excited with how huge the condo is; it has some ghetto features,but the location is GREAT. We will be here for at least a year and will decide later whether we want to renew or move in a year.