This is a recipe that I have been making a LOT! I love having a warm breakfast, but it needs to be fast too. I eat at work and so normally it is instant oatmeal or a breakfast sandwich. I love cooked oatmeal better than instant, but as long as it isn't cereal, I won't complain. Some mornings I don't mind cereal either, but something warm is great too. I got a free coupon for the McDonalds maple brown sugar oatmeal. I went and tried it, and of course it was great! The calories aren't that bad, but it is knowing all of the extra bad stuff that they are putting in that makes me not want to eat it. Also, the price, I can buy everything and make a TON of them at home for much cheaper. So, I was on the hunt for  a copy cat recipe and one that was doable at work.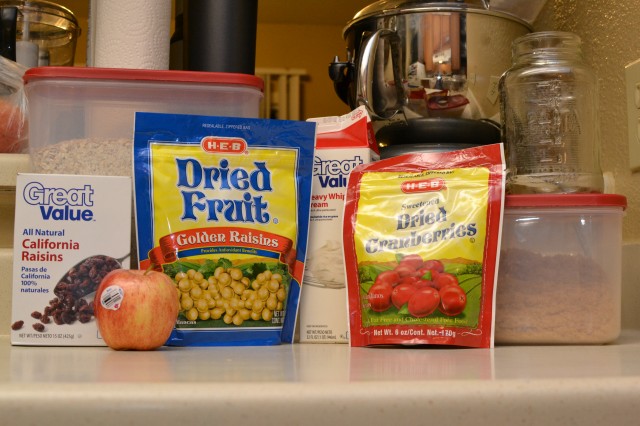 Here you can see the main ingredients that I used.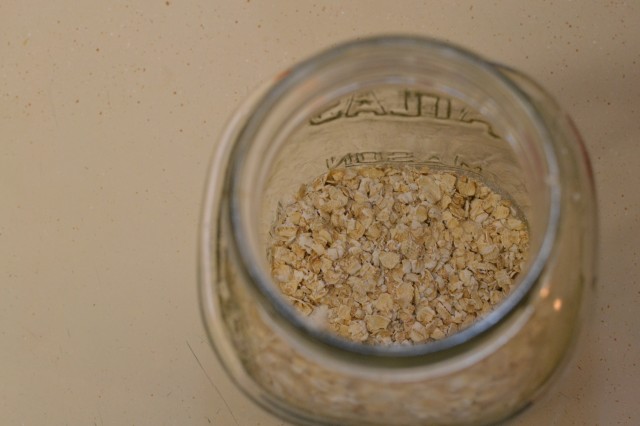 First put 1/2 cup of the oats in a microwave safe jar with enough room for it to expand. I used a mason jar, but you don't have to.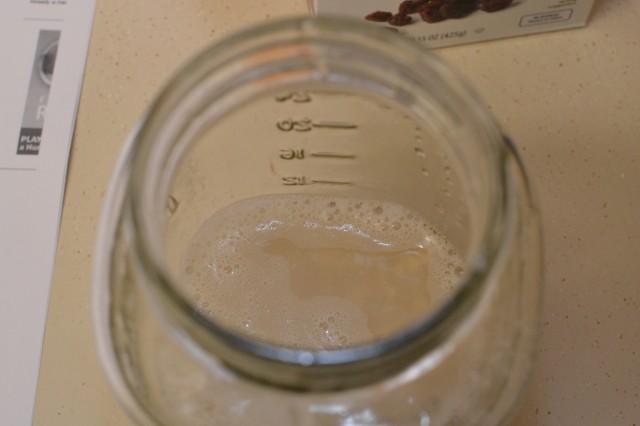 Next add 1 cup of water.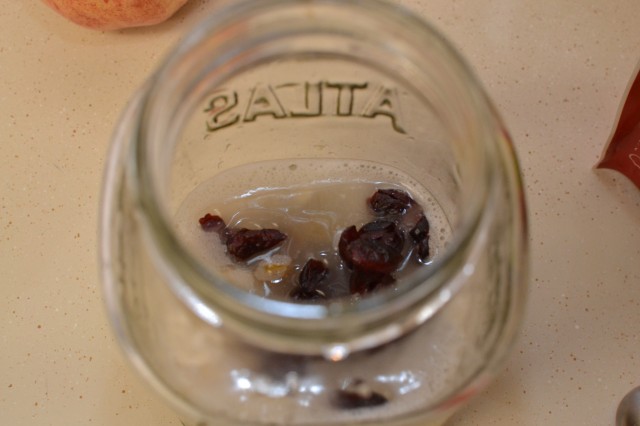 Then I added 1 Tablespoon of the craisins, raisins, and golden raisins. You can omit and add more of the ones you like,but they are good for you and really make the oatmeal taste sweeter.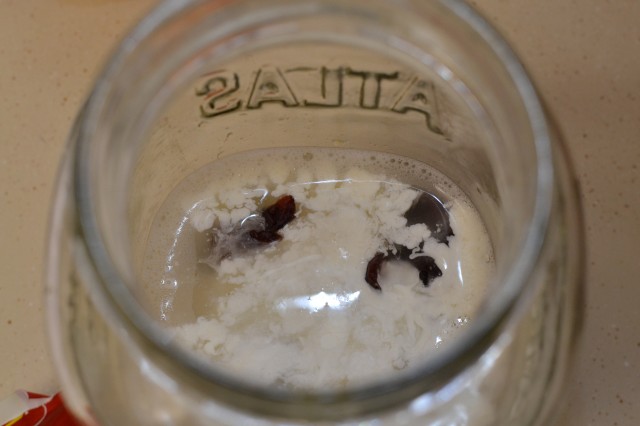 Then add 2 tablespoons of cream, milk, or half & half. I added cream,but that is because I had some in the fridge that I didn't want to go bad.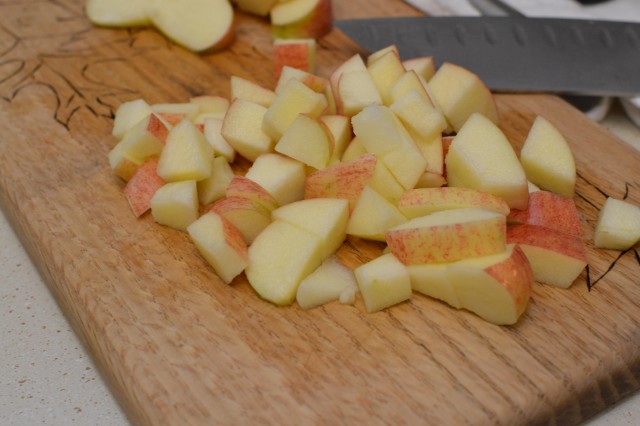 Then chop up an apple, I chop the whole apple and use one third of it per recipe. I used gala above and it was great. The blog that I will link below says two different methods of cooking, and they both work great, but I found I like the microwaved version the best.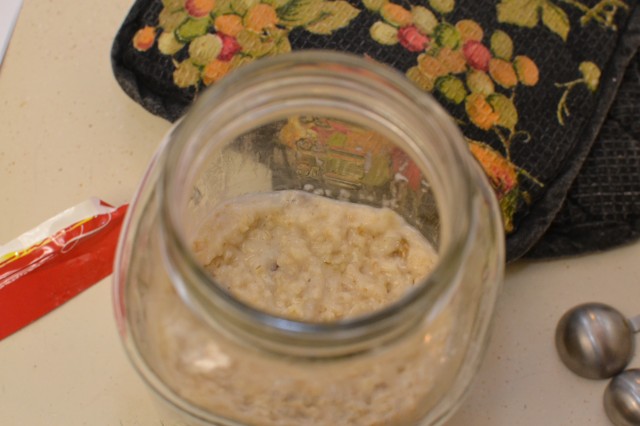 Here you can kinda see the oatmeal after I have microwaved it for one minute, stirred, microwaved for another minute and then took out. I prefer my oatmeal a little bit more moist, but if you prefer it more thick, then just microwave for an extra 15 seconds at the end.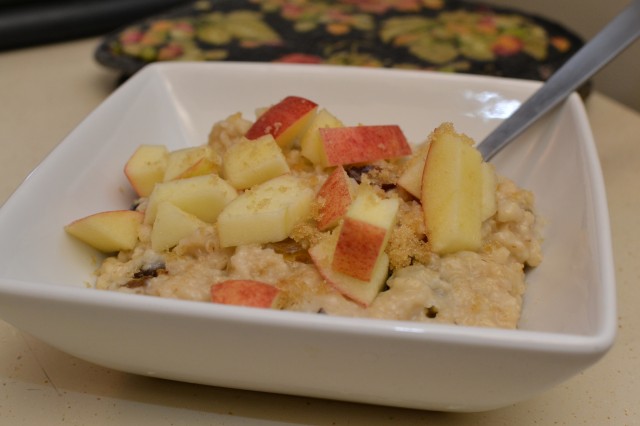 Since I was eating this one at home, I added the brown sugar on top of the apples. I now always make a to go version for work so I have an AMAZING breakfast, and in that one, I will add 1 Tablespoon of brown sugar per recipe. The original recipe called for 1 teaspoon,but I have a bad sweet tooth.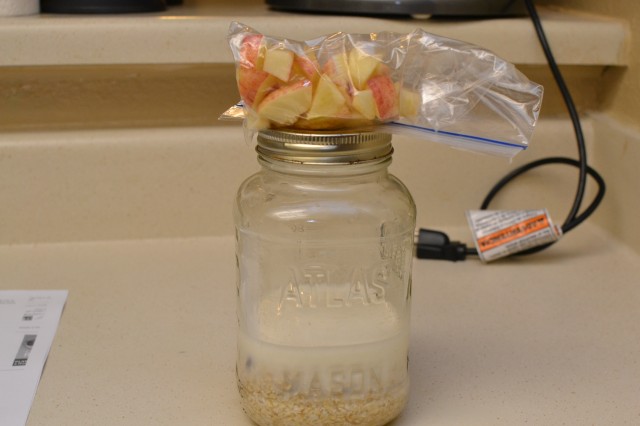 Here you can see my "TO GO" version that I take to work. Obviously a smaller mason jar would be better,but this is the only size I have with a fitting lid at the moment. Also, please don't microwave with the metal lid on.
McDonald's Maple Brown Sugar & Fruit Oatmeal Copy Cat Recipe:
Recipe adapted from HERE.
Ingredients:
1/2 cup rolled oats
1 cup water
1 tbsp. raisins
1 tbsp. golden raisins
1 tbsp. dried cranberries
1 tbsp. brown sugar
2 tbsp. half and half, cream or milk
1/4 of a small apple
Special equipment: 
Canning jar or other microwave safe container
Servings: one
Recipe
Place oats, dried fruit, sugar and cream in jar and cover with one cup of water. Screw on the lid and shake to mix. If you're using a bowl, stir it with a spoon and then cover with a plate before microwaving.
Dice the apple and store in a plastic bag. When ready to prepare remove the jar's lid and microwave the jar for one minute, and stir the contents. Then microwave again for about 1minute to 1 minute and 15 seconds depending on how thick you prefer your oatmeal.  Stir in the apples and you're ready to go!
Of course, you don't have to use apples at all. Nuts are a great addition, as are tons of other mix-ins. I am so happy about this recipe I have had it for more than a week straight, and I am still craving it. I was considering making a weeks worth and putting it in containers in the fridge. I just need more containers for that, but who knows might be a weekend project.