I decided to enter a contest at www.prudentbaby.com. In this contest, you make a stocking that has knit fabric somehow incorporated, and the winner gets a serger. I figured I might as well try even though I figure I won't win. Grant and I need stockings, but I wanted at least three; an uneven number cause I like how that looks on a fire place. I used the stocking tutorial from Fabric Worm,and I show below how I made the stocking.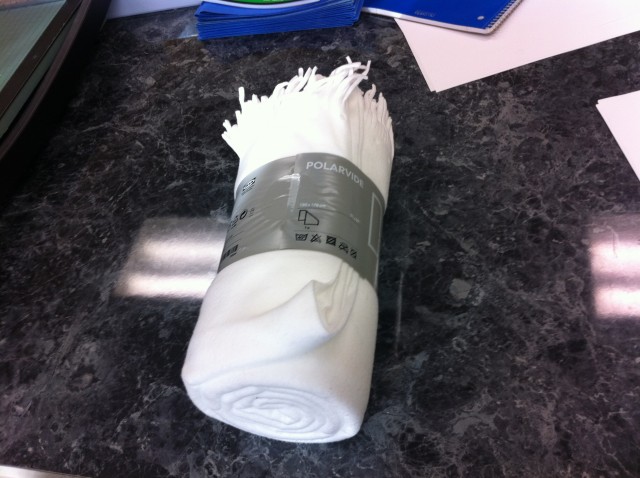 My main material was an Ikea Fleece Throw Blanket since it is cheaper to buy the 3 dollar blanket than the same amount of material at Joanns.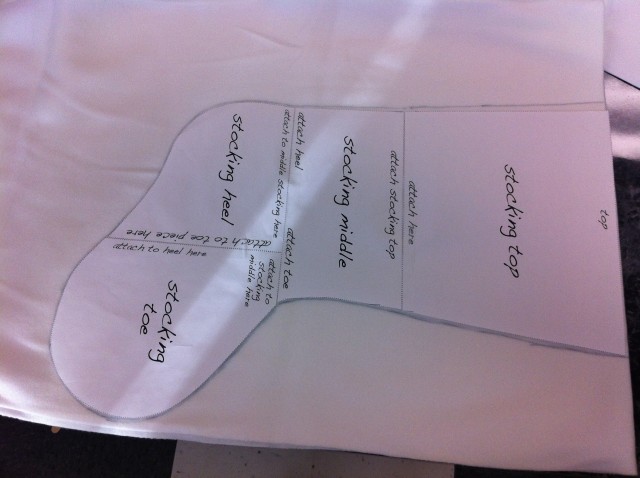 I kept the fabric doubled, and put the pattern piece on top.
I then had the traced portion that I then cut with scissors.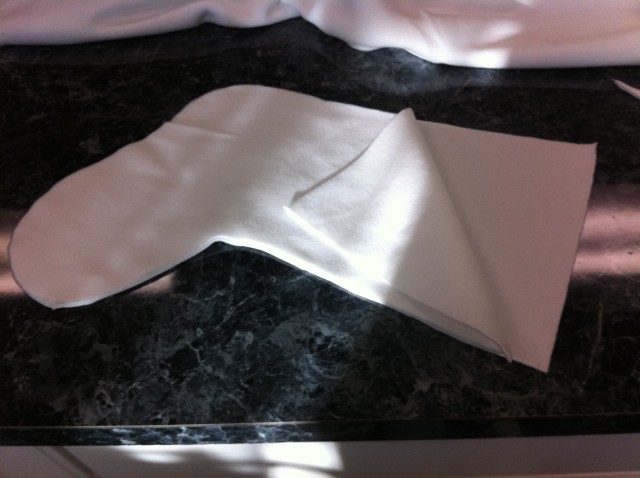 Since I had it doubled, I have both pieces ready after my one time cutting around it.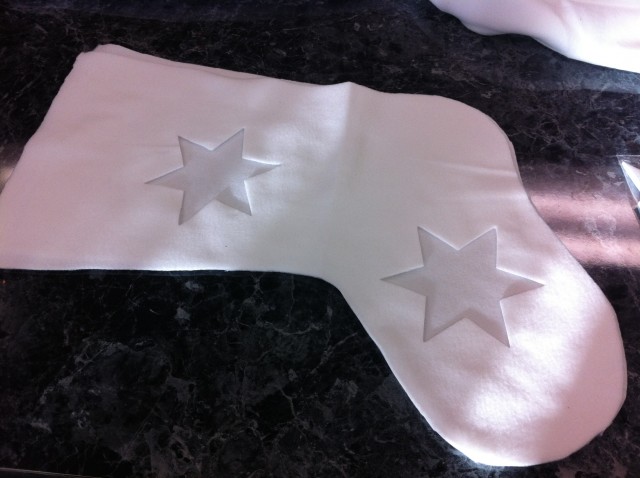 I used the die cutter that my church had to cut out those stars. This is our generic stocking without a name on it, later I can always add a name if we need.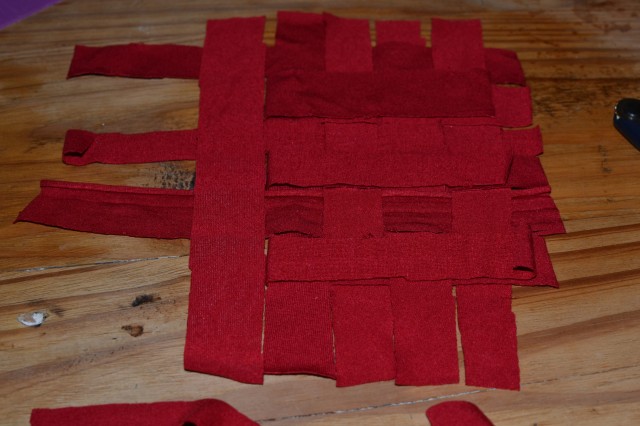 I cut my knit fabric which I needed in this stocking into strips and started reasearching. I tried weaving with cut seams,but the raw edges looked crappy. I was inspired from this purse, and so I ended up having to sewing all of my strips into channels.
Here you can see the long channel sewn.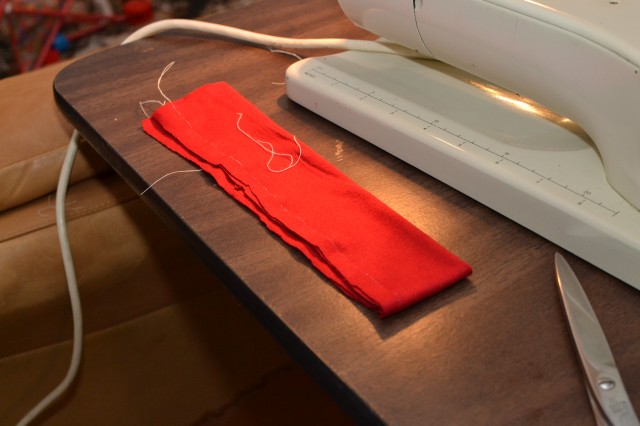 I then folded in half because they were so long.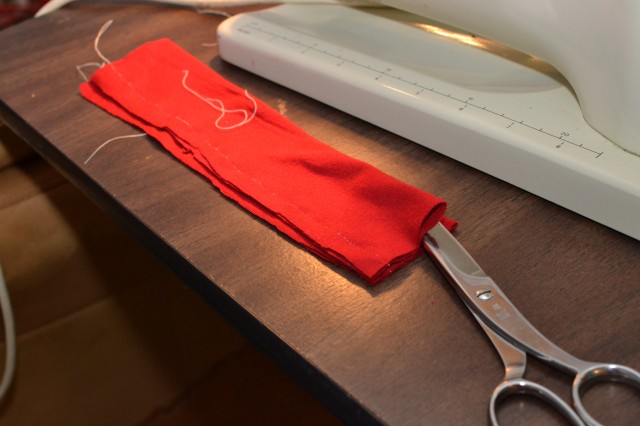 Then I cut them in half so that I didn't have to sew as many channels since the stars were only so wide.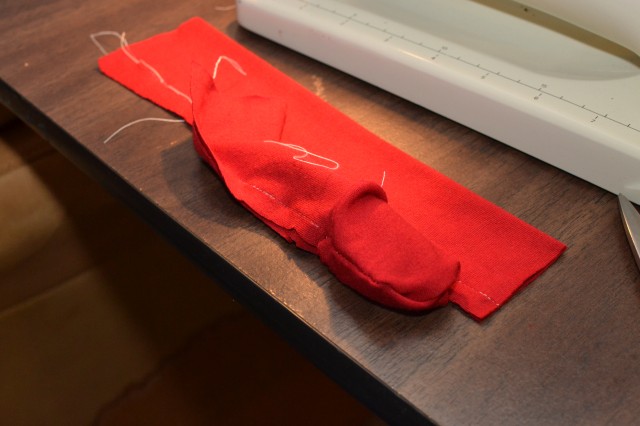 I turned the channels right side out to hide the raw edges.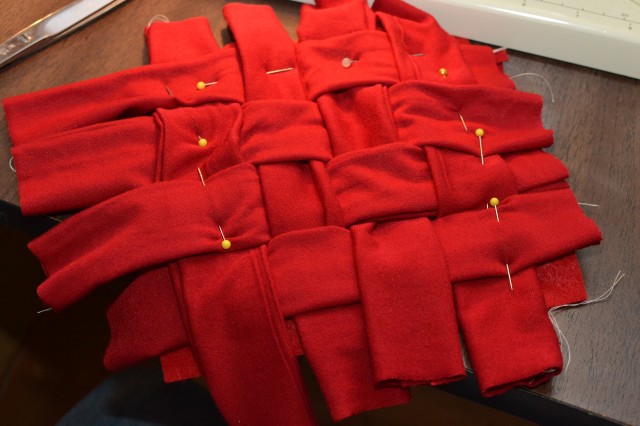 I laid a piece of red felt on to the table and wove on top of it and then pinned to it.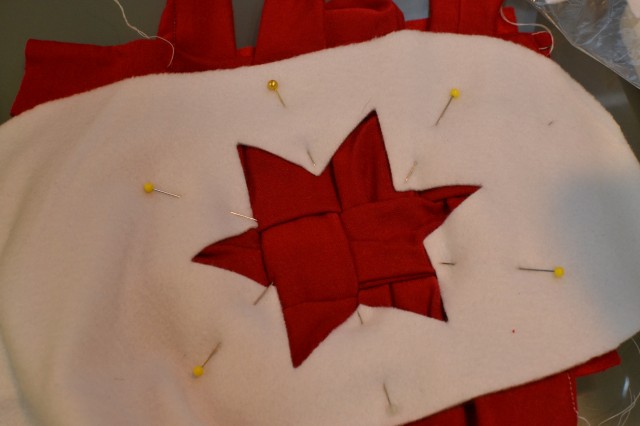 I pinned the side I wanted up, on top of the woven area. I stitched around all of the edges with my sewing machine since it would hold longer.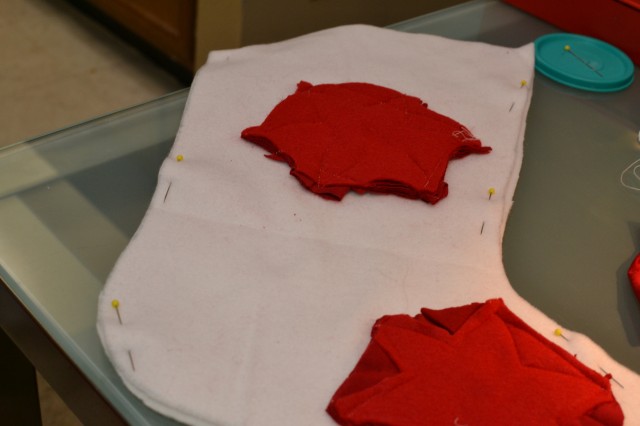 I cut off the excess felt and channels of jersey and laid both pieces right sides together to start sewing my stocking.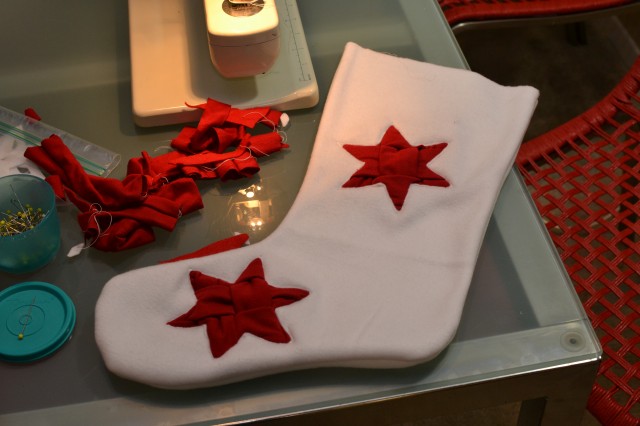 I sewed all the way around and then turned right side out, and you can see the stocking taking shape already.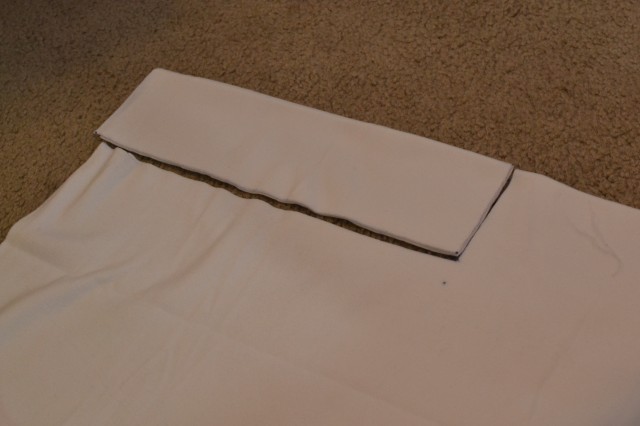 Next, I need the cuff, for this stocking I decided to do a straight one, where our personal stockings might have an angled top.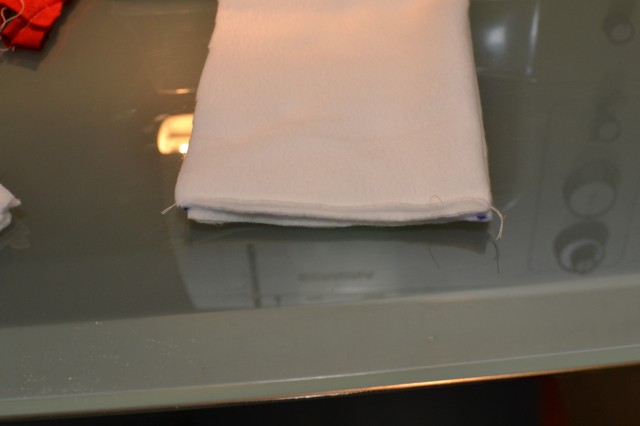 Fold the strip to make the cuff and sew one end to make a wide tube.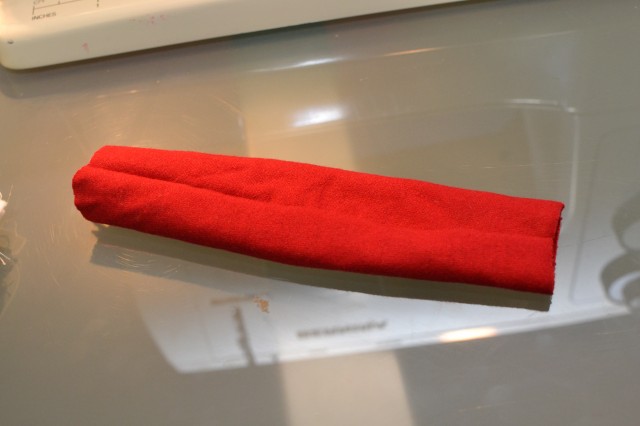 I used a left over channel from the sewing to use as my "hook" portion.
While the stocking is right side out, put the hanger in the spot you want, and the cuff inside.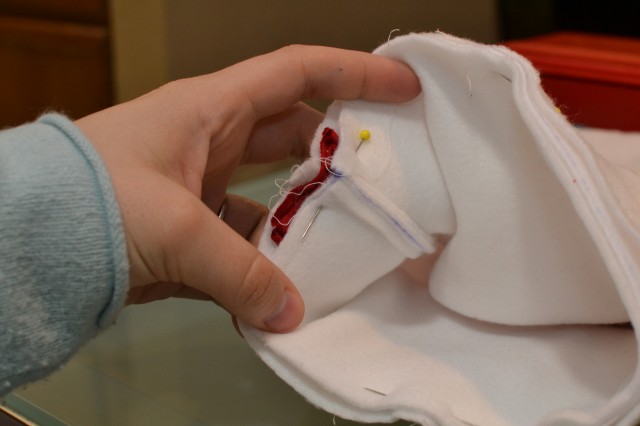 It took me a few times to make sure that the seam was in the correct spot so after it was sewed you turn the cuff right side out. I wanted to make sure that the seam on the cuff was hidden.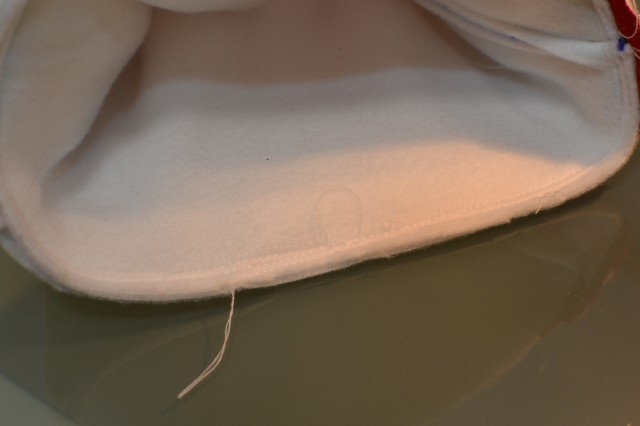 I sewed a double line just to reinforce the cuff.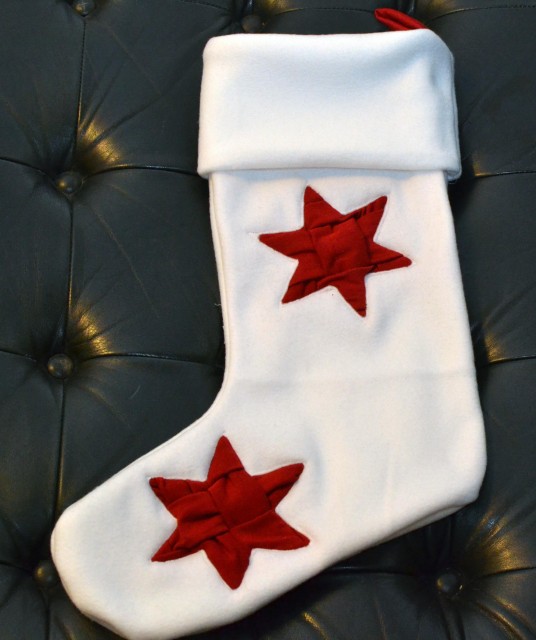 When turned right side out the cuff seam is hidden and the hanger comes out where I wanted it to.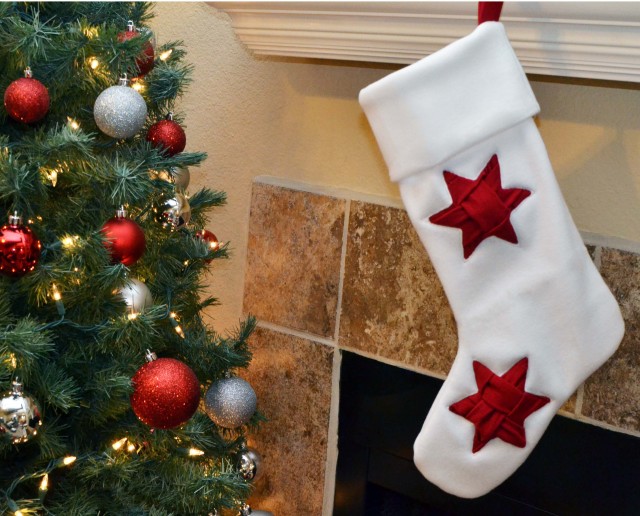 So, here is my final version. I used the fleece blanket as my main fabric because it has nice body to it, it doesn't fray, and is just really nice to work with. Have you made any stockings this year?