So my company has cut some of our hours until business picks up which means that I have had a little bit more time at home. Yesterday, I got almost a half day off, so I had a few errands to run.  There was  a framed art piece at Ikea that I wanted, and wanted to make sure that it wouldn't be discontinued.This is Ikea's habit with us. We drool over something, and as soon as we can afford, have room for it, or need it, it is gone. We search craigslist,and most of the time we can't find it. A great example is the Arild couch that we want.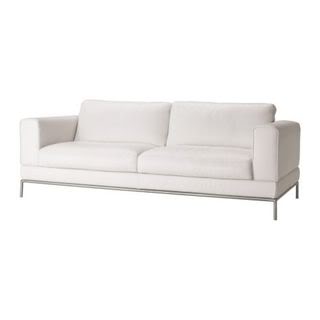 This is the couch that we want,but it isn't sold at Ikea and when we went to go buy it because we had an apartment, no couch to be seen. We are looking at a few others that Ikea has,but nothing will compare to the one above. We have searched craigslist to no avail. So, lately there has been this table we have been eying. I was at Ikea with a friend last week, and I even showed it to her. It is perfect, the industrial, modern look we want with a very durable and functional parts. A table that will last us a while. We go there yesterday during my time off, and it is gone!!!! None in stock in any stores in Texas, no display models to buy… Gone! So, we get home pretty depressed because the couch we were eying instead of the one above wasn't exactly as we were expecting, then the table is gone.  We search craigslist, and there is one! We contact the seller they are moving to new york, and we drive 45 minutes to get it.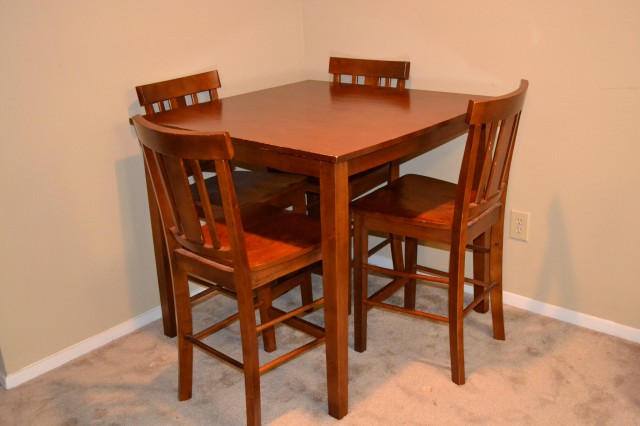 Here is our current table which we will be selling now. There is nothing wrong with it, but lately we have been participating in "supper for six" with our church and it is really ghetto to have four at this table and have two at a folding table that they brought since we don't have one of those either. So, the torsby table at Ikea is $199 + tax. The craigslist posting was for $150 with 6 chairs. The chairs would have been our problem too. We would have the table without any chairs that fit with it. The chairs they had weren't our favorite,but they sell for $70 a piece at Ikea which we think is crazy,but now we have six and they all match so I am not complaining.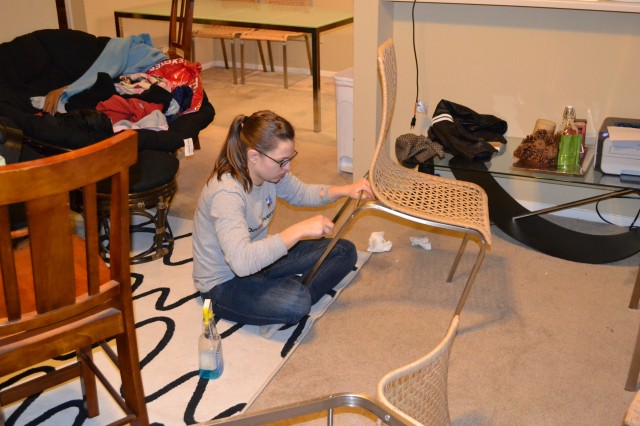 Of course it was raining when we picked everything up in Grant's truck, so here you can see me cleaning off the chairs.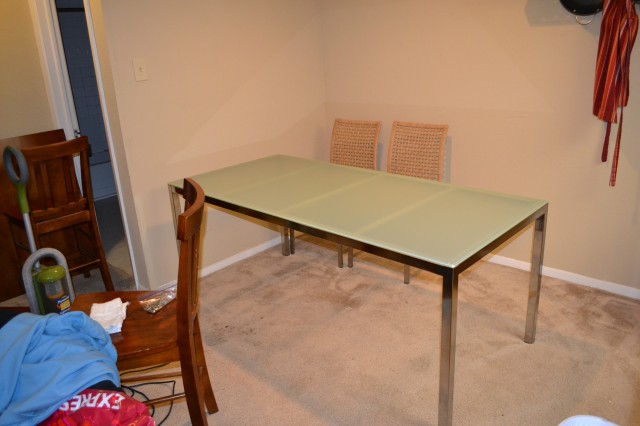 Here you can see the table in our dining room, not the most space ever,but for now it works fine.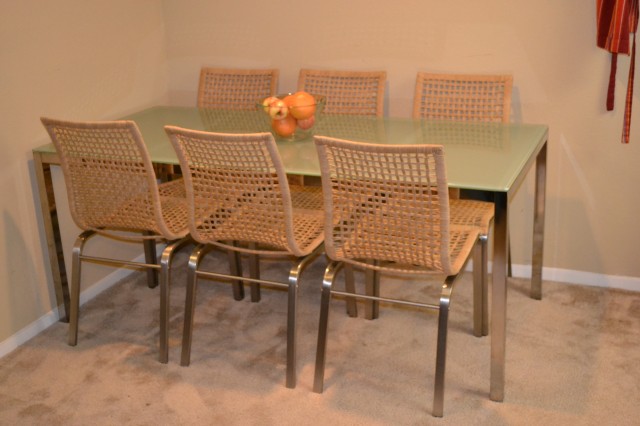 I am VERY happy with the table, and I will be painting the chairs soon so that they look  more to our style. We were totally happy with craigslist, and wish that Ikea would send out notices when items will be discontinued especially since this might stimulate purchases from people like us that were holding off. Oh well, more pictures to come once the chairs our painted, and my new art is hung!