Spice Racks, something that most people don't give a lot of thought about,but not me. I was thinking about how to have my spices for  over a week. Researching ways, Anthony was even nice enough to bring a printers' tray from Houston with him that I could use. Well, the printers' tray didn't get used because the compartments weren't like I wanted them to be. So pretty much, plan B.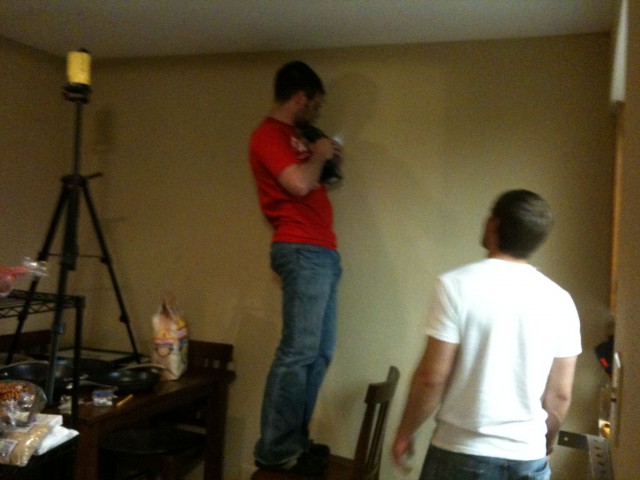 Again, this is another project that Simon was here for. I needed a place to store our nice pots and pans, and my spice rack.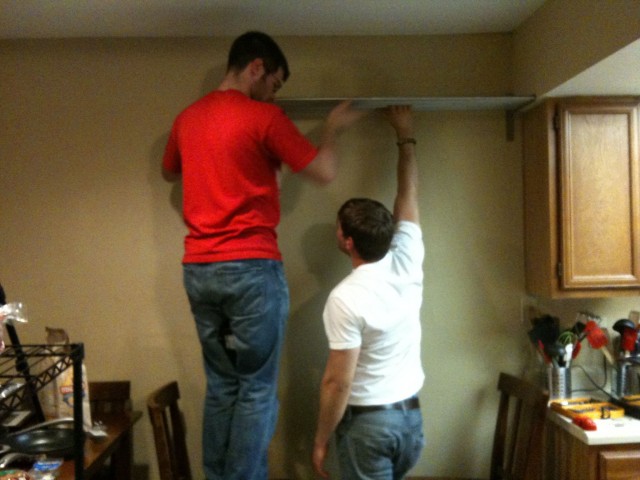 Here you can see the guys hard a work holding the shelf up to the right height making sure I approved.

Even though it looks crooked, it isn't I think the wall is bowed. But here you can see the pot and pan side of it.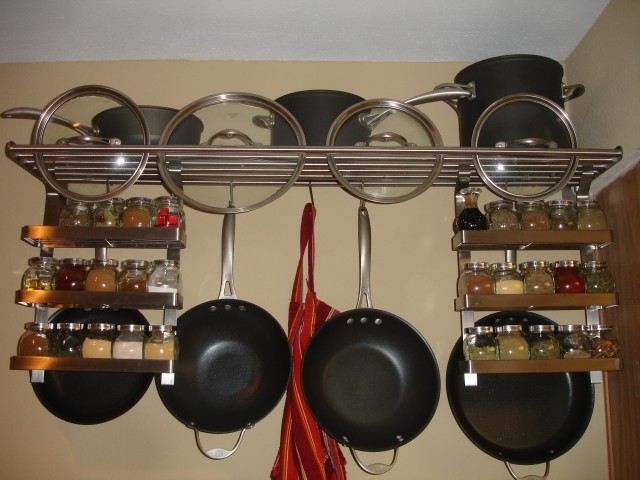 Now you can see the spice racks attached!I am very happy with them, and even the extra hook that they made us pay for came in handy for my apron. This gave me more space in my cabinets to put my bread maker and rice cooker.Again, I am sure Grant and Simon were so happy to be done with those projects. Soon to come.. Mirror Tiles… Just Joking, Grant will want to kill me if I make him do any more stuff around the house this week.
Shelf we used -Â http://www.ikea.com/us/en/catalog/products/00011428/
Spice Racks we used -Â http://everythingikea.com/series/grundtal-series/grundtal-kitchen-series/grundtal-ikea-spice-rack-stainless-steel
S Hooks we used -Â http://www.ikea.com/us/en/catalog/products/70011397/
Another Version I found online:Â http://www.ikeahackers.net/2009/09/spice-up-your-grundtal-racks.html
If you want to a spice rack in cabinets, here is a cool version too! http://smallhomebigstart.blogspot.com/2011/08/cooking-with-spices.html