So, We are about to embark on a non-straight-wall-shelf-hanging adventure. This is at our apartment, and it is the only area we could think of to use for book storage.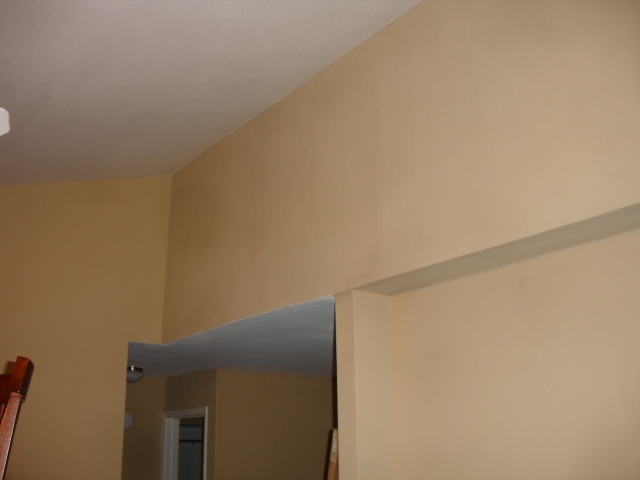 We are on the third floor, so this is the only are in our apartment that has a higher peak.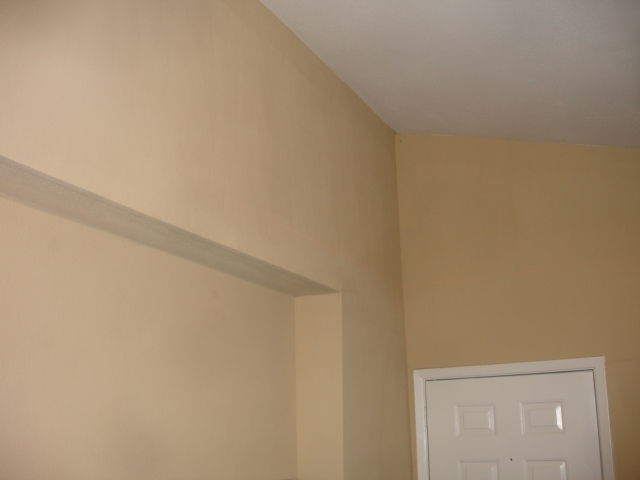 Here is the other side where we would like it to wrap around above the door.
Here are some pictures that Grant showed me after I got home, So, I don't know why or how they did some of the what they did. So, bear with me!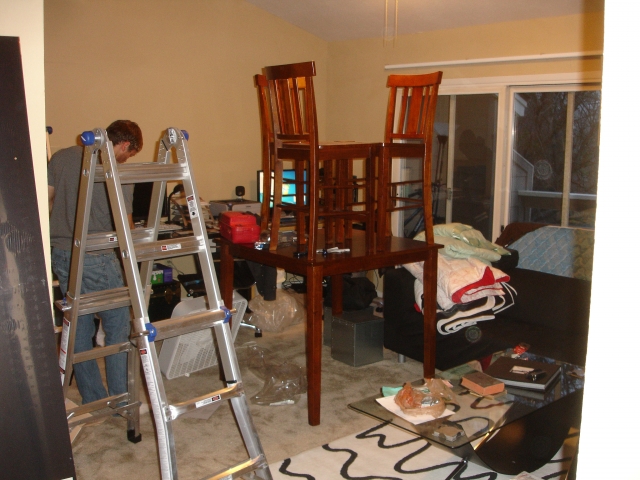 Grant and Simon were such troopers! I hope that Simon didn't feel like he was only here to help us get stuff done in our place! He was an amazing help though! Here you can see their stack of my table and chairs so the lazer level could sit on there for the lower of the two shelves.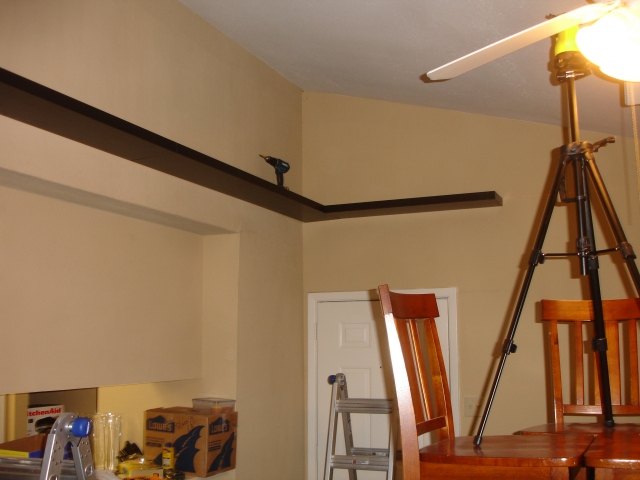 Here you see the bottom shelf completed when I got home from work on day one. Don't ask me why they did the bottom shelf first, but it all worked out in the end!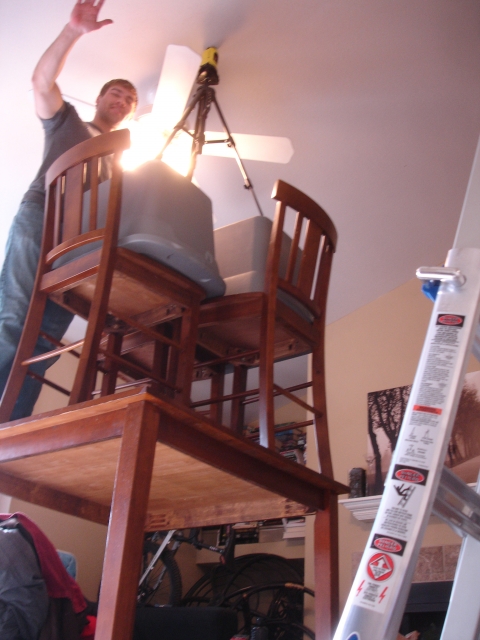 On day two, the bins were added so that the level was the right height for the higher shelves.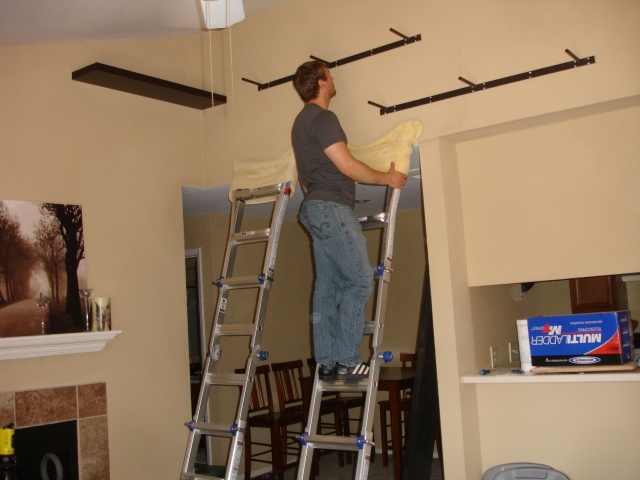 Here you can Simon  on his ladder… I'm not sure what he is doing,but yeah, you can see how the shelves are held up.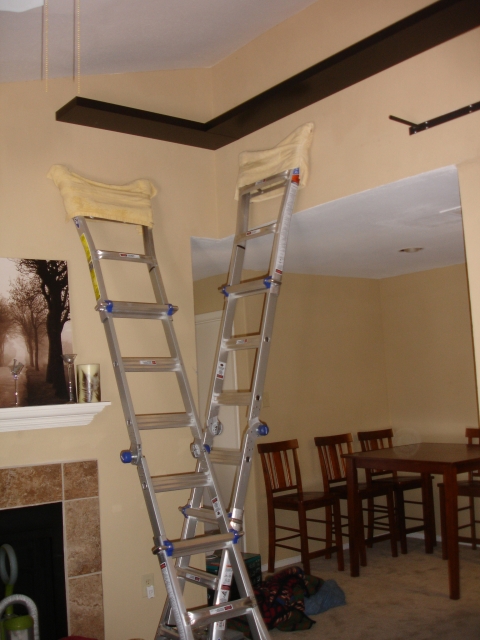 Here you can see the ladder criss cross that they used on the corners… Yeah,  doesn't look like the safest,but as long as my shelves go up and no trips to the emergency room, I don't care how it is done.
The Shelves are now completed! They look GREAT!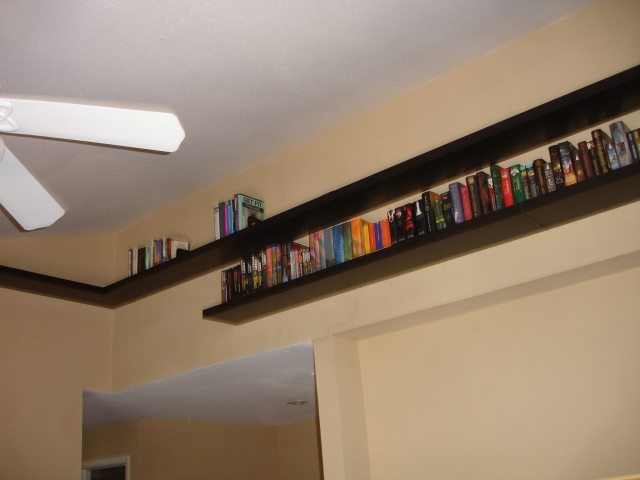 The lower shelf are my fantasy books, and then some of the good literature that we own.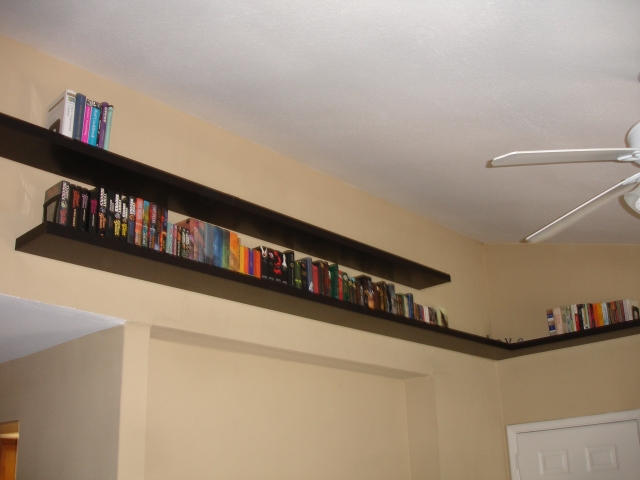 So, you can see how it goes around the corners.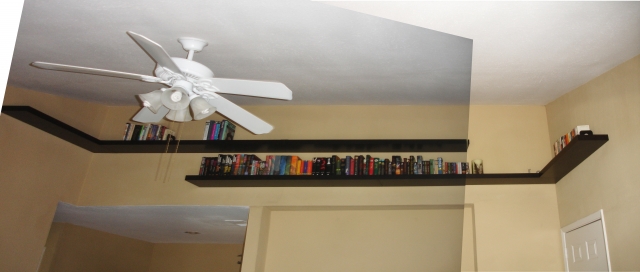 Here is the view you would get if you sat on our couch and looked up or toward our kitchen. I am so happy with how they turned out, and I guess I will just have to get some more books to fill them up the rest of the way!
We used Lack shelves from Ikea found here. http://www.ikea.com/us/en/catalog/products/60103750/#/40103751
We didn't hit as many studs as we wanted, so we used these hinged dry wall anchors which we bought from Home Depot to make everything more secure. http://www.todayshomeowner.com/images/article/wall-anchors-2.jpg
Please let me know if you have any other questions!