I have two house plants at the moment. I cannot say that I have a black thumb because my peace lily is a few years old now, and I haven't killed it yet. Honestly, I am surprised I haven't,but I'm not complaining since they are pretty hardy. It hasn't died yet and has bloomed each year. I then branched out and got a Fiddleleaf Fig Tree Ficus
 that you see on all the blogs because they are just so pretty. I couldn't find one ANYWHERE here. I called every nursery, home depot, and lowes to no avail, so I ended up buying it via Amazon.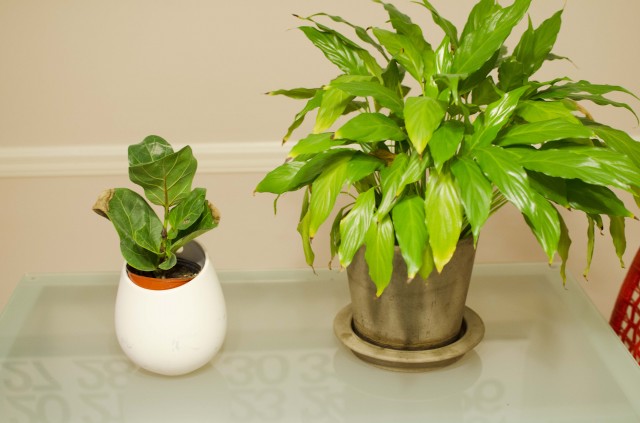 Here are my two plants looking okay. The peace lily was shipped which probably wasn't very good for it, and I was always afraid I was over or under watering. Anyway, my mom told me that I couldn't repot until around February so I set a date on the calendar so I wouldn't forget to do it.
I got some Miracle-Gro Potting Mix
, and this was the only one I could find at Walmart that looked good.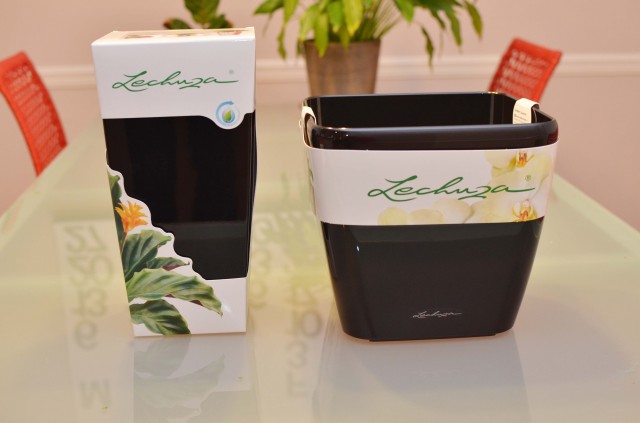 I then decided to buy two of these Lechuza planters. I loved how they looked, I liked that they can be used indoor or outdoor(has a drain in the bottom with a plug for outdoor use), are shatterproof, and have an irrigation system/tank that means once your plants are acclimated to it, you can wait around 3 months between waterings. Which for me equals perfect! I never think to have people water my plants when we leave for a longer period so these will be perfect.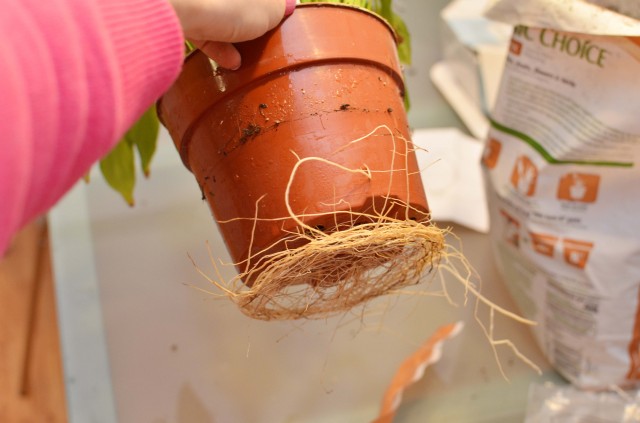 You know your plant needs to be repotted when you see this!!!! I knew this plant needed to be replanted, but it wasn't the time to replant so I waited until February like I was told so I didn't kill the plants. It took a while to carefully cut the pot off of the plant to make sure to not damage those impressive roots.
The Lechuza Quadro 21 Self-Watering Planter for this peace lily plant has stand offs which keep the roots out of standing wanter, a meter so you can see how much water is in the tank, and some small gravel which helps the roots too.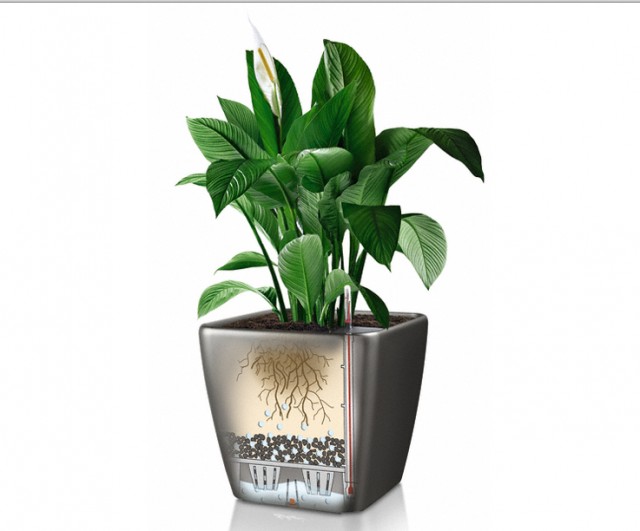 Here you can see how it works when planted.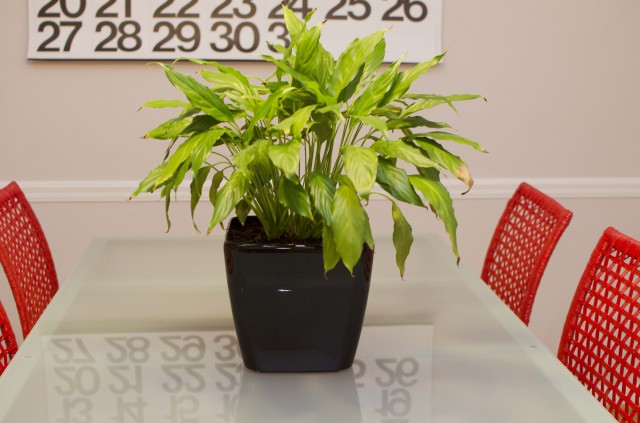 And boom so much prettier, it has been a month and so far my plant seems to like it.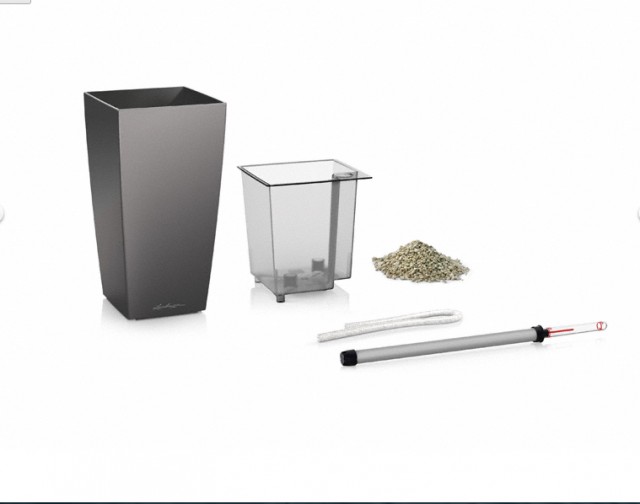 The Lechuza Maxi Cubi Self-Watering Planter
 has a wick which extends to the water portion below, the same water gauge, and then completely gravel instead of dirt.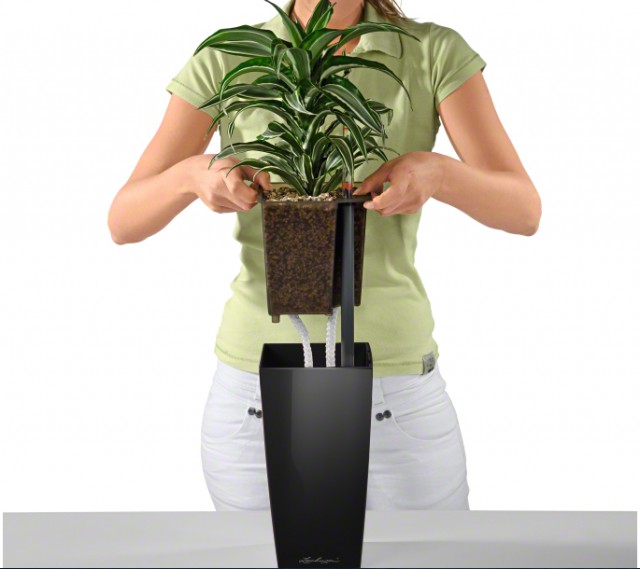 Here you can see an illustration of it complete.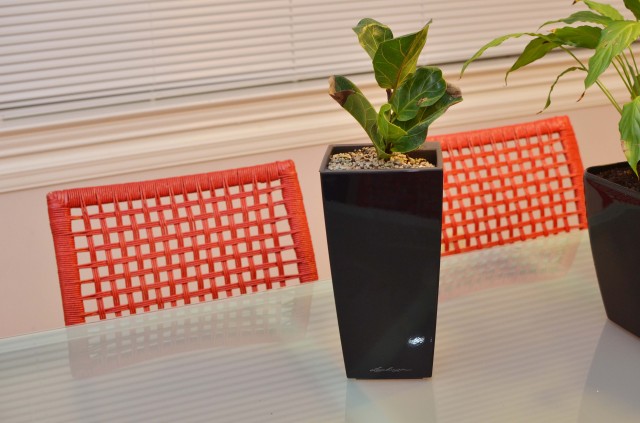 So here is this little sucker so far. I feel so much less worried about it since I know once it is acclimated, that I'm not over watering or under watering since there is the gauge! I will update pictures later which hopefully show these plants flourishing!
I will say these planters are much cheaper on their website than on Amazon.com, but who knows you might find a deal.
I wasn't paid for anything for this post, I just read reviews on Amazon and watched their videos, and this company has no clue about me. So far I really like them, and they sell a bunch of different styles of planters not only sleek ones like these. I just figured I would share about them so far.
UPDATE!!!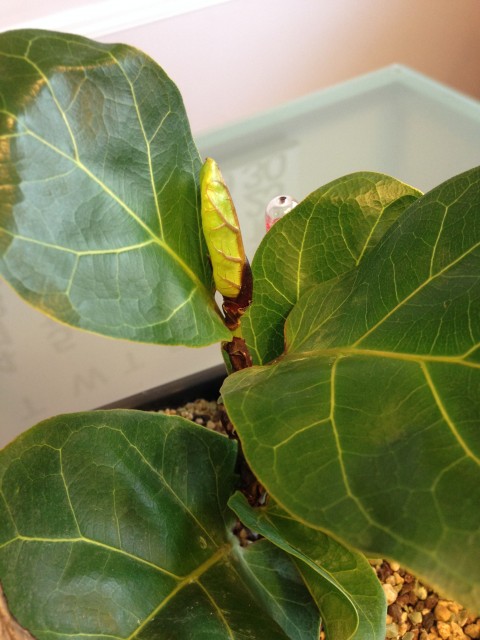 I just saw this on my fiddle leaf plant, so I guess I'm not killing it after all!!!!