Recently, I went to BJ's Brewhouse with my friends Catherine and Mhari. I normally love salads,but I don't order them at restaurants. I want something that I can't make or have at home. This time was an exception. I got their crispy honey mustard salad and was hooked. This salad was soo good,but also so easy to make at home. So below you can find my recipe.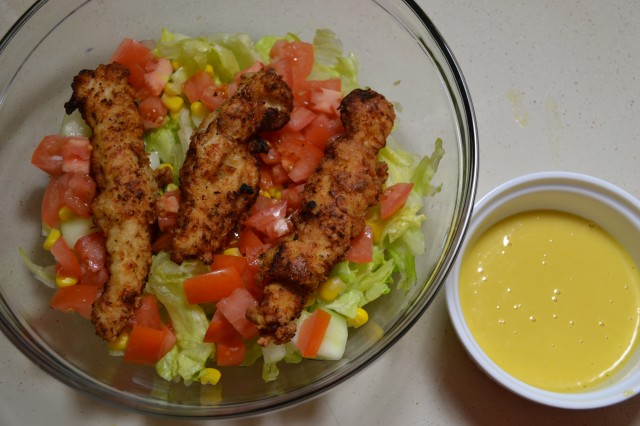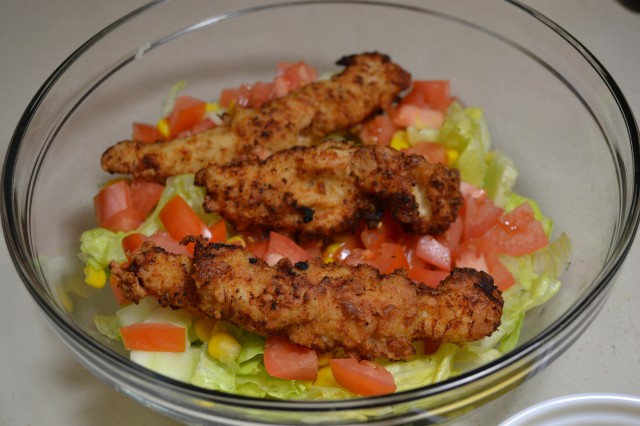 Honey Mustard Crisp Salad
Chicken Strips:
Ingredients
1 package Chicken Breasts, Cut Into Strips (sometimes Called "tenders" Or "strips")
Buttermilk
1-1/2 cup Flour
2 teaspoons (to 3 Teaspoons) Lawry's Seasoning Salt (or Spices Of Your Choosing)
Vegetable Oil
Preparation Instructions
Start by rinsing and drying your chicken strips. Next, in a bowl submerge the chicken strips in buttermilk for 15 to 20 minutes (or longer if you'd like). ( I use regular milk, or you can add some lemon juice to the milk and your set)
In another bowl combine about 1 ½ cups flour and 2 to 3 teaspoons of Lawry's Seasoning Salt (or other seasonings if you prefer). Mix this together well. Next, add about ¼ to ½ cup of buttermilk into the flour mixture and stir lightly with a fork as you add it.
Heat about 1 inch of vegetable oil in a large skillet over medium-low to medium heat.
Remove a few of the buttermilk-soaked strips and place them in the flour mixture, turning them over to coat them thoroughly. Place them on a plate. Continue coating chicken strips until they are all ready to cook.
When the oil is sufficiently heated, begin cooking the strips a few at a time. Cook them for about a minute and a half or so on each side. When golden and crispy, remove them to a paper towel-lined plate.
You can also buy premade fried chicken if you prefer, but this recipe makes amazing chicken strips, Grant loves these. I normally make the whole recipe, use some for the salad and the rest for dinner the next day. I also use Bill's Season all for the chicken which can be bought here. Recipe above is from the amazing Pioneer Woman via Here. She has step by step pictures on her blog on how to make it, so if you have any questions see her link.
Homemade Honey Mustard Dressing:
I know you can buy Honey Mustard Dressing at the store,but I didn't know what kinds were good, I wanted one that tasted like the restaurants, and I wanted to be able to make it with stuff I always have in the house. We also don't eat it very often since Grant isn't normally a fan of mustard in general so I didn't want to have a huge amount that always took up fridge space so I found this AMAZING recipe here.
Ingredients
1/4 cup mayonnaise
1 tablespoon prepared mustard
1 tablespoon honey
1/2 tablespoon lemon juice
Directions
In a small bowl, whisk together the mayonnaise, mustard, honey, and lemon juice. Store covered in the refrigerator.
Salad:
Lettuce
Chopped Tomatoes
Canned Corn
Peeled, chopped cucmber
Hard boiled egg chopped
Stripes of Fried Chicken
Directions
Chop all of the ingredients above, put into a bowl, and serve with Honey Mustard Dressing. I also put this together in a tupperware and kept the dressing separate, and it turned out to be an excellent lunch! Grant doesn't normally like anything mustard as I stated above,but he really really liked this recipe. Whenever I make something new I always ask him how he liked it, and if he would want me to make it again. It might be good,but not something he would want a lot,but this one he was happy with me making more often.  If you are serving two people then the above serving size of the dressing is fine, any more than two people and you for sure want to double. I love to drown my salad in dressing so I made a double recipe and had just enough left over for the salad I had for lunch. I hope you enjoy!